17 May, 2021 | Carp | Angler Blogs | Articles
0 Comments
Ian Russell's Diary April 2021
Ian reflects on another action-packed month of fishing including an end-of-season session on one of his favourite lakes, not to mention a snag feature at Thorney Weir for Total Carp Magazine. Will his Ronnie-rigged Hit N Run pop-ups produce the goods?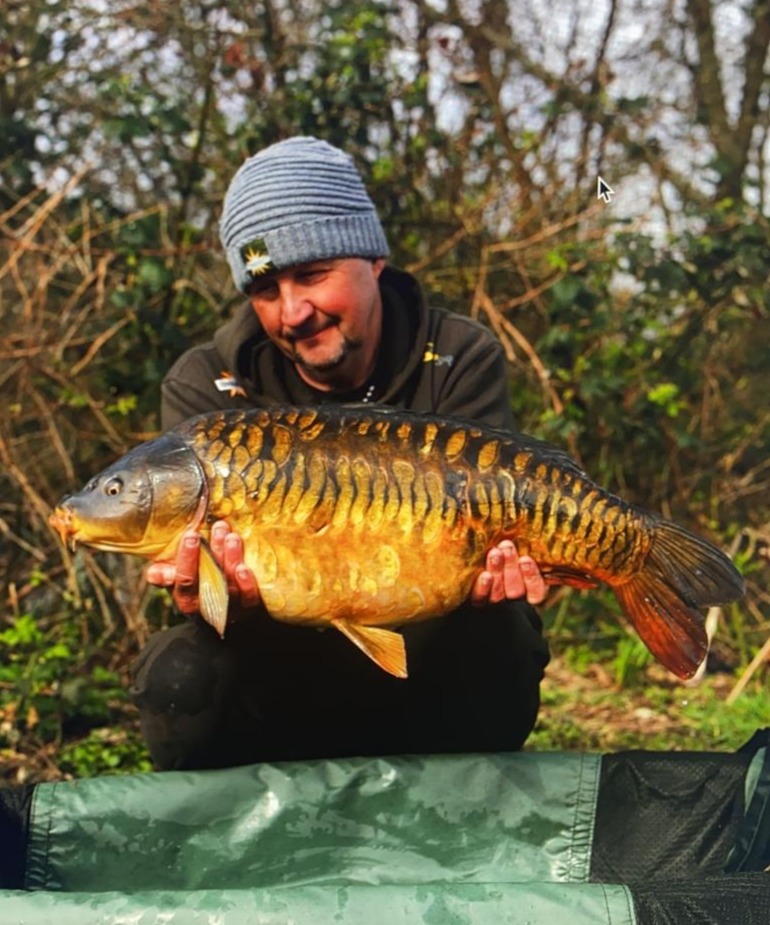 The start of April saw me filming the first episode of my new series with Dynamite Baits/Carp Spirit called Carp Pursuit, where I'm set a certain tactical challenge for the trip. We chose Willow Park in Hampshire for the opening episode and to say went well would be an understatement! You will have to watch it for more information…
LINK: Carp Pursuit: Episode One
When filming finished, my attentions switched over to my personal fishing and I headed over to my favourite W1 venue which was about to close to allow for spawning. I set up on showing fish in peg 27 which has produced well for me in the past but does require a long cast to reach the mark. So, with the rods wrapped at 31.5 lengths I Spombed out a bucket of mixed Dynamite corn, hemp and 12mm Monster Tiger Nut baits . I then made up a second batch for the next day as this gives the boilies a chance to soak up the hemp water. My rigs were Ronnies with Razor Point size 6 Medium Curve hooks and Yellow or Pink Hit N Run pop ups. These were all blasted out to the baited area and myself and Matty, who was in peg 26, sat back to enjoy the trip.
All was quiet for the first night so I just left the rods out – there's no need to refresh the hookbaits as the 15mm Hit N Runs are always good for a couple of nights. The following morning at first light one of the rods took off and a fair old tussle followed before I netted a lovely 32lb fully-scaled mirror. As I put the rod down one of the others took off as well! A lovely 16lb mirror was the culprit.
With the feeding spell over we attended to the pics and laughed the day away. At dusk I put the second bucket of bait over the spot and I again cast all three rods as tight as possible at that range to the spot. The pattern repeated itself and at first light, one of the rods took off again. After a good fight a 34lb VS mirror was scooped up before, yep, you guessed it, one of the other rods took off and I landed what has to be described as a pretty amazing-looking mirror at 32lb. Just like that, it was again the end of a very short feeding spell.
That was it for me as the lake was due to close a few days later. I added up my tally for the season and in a total of 42 nights I landed 32 carp and lost 8 – more than happy with that result! I do plan on doing most of my personal fishing over on W1 again when the new ticket starts.
A Total Carp Magazine feature was next based on snag fishing, but you will need to purchase the mag to check out how I got on. I had never fished over on the Mets Lake at Thorney Weir so I planned a couple of nights over there. After a good look around I settled into a swim called the 'Cut Through' and positioned two rods by the far margin snags and one down my left margin where I had seen a large mirror sneaking about. Ronnies with Yellow Hit N Runs were again my weapons of choice.
During the morning I a fast take which resulted in a beautiful Zip Linear of 27lb. I may not have had any really big fish of late but I certainly have had some lookers.
That was unfortunately my only action but I was certainly not disappointed. Another episode of Carp Pursuit was then filmed and my month drew to an end. W1 opens again on May 1st and I will certainly be present at the draw with my fingers crossed.
Tight lines – Ian Russell