18 June, 2020 | Carp | Articles | News
1 Comments
Ian Russell's Diary June 2020
This month Ian travels to Layfield Lakes to target some of Pine Lake's lovely scaly carp.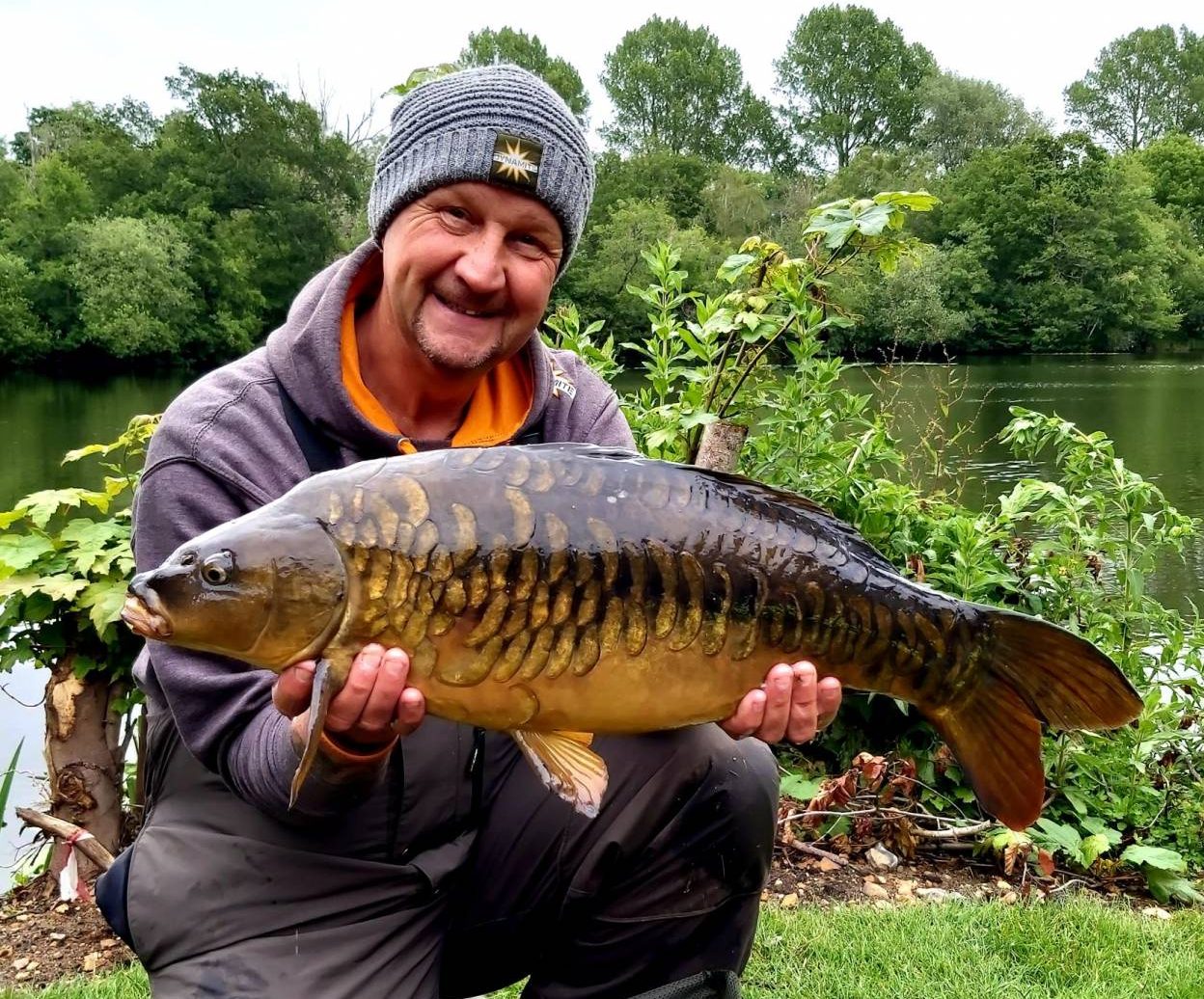 Ian continues..
It's so lovely to be released from lockdown and be able, all be it with restrictions, to go fishing once again. My first choice of venue was RK Leisure's W1 North lake but with so many people on Furlough and out fishing the lake was absolutely rammed and after doing 5 overnight trips and not getting anywhere near a carp I have chosen to look elsewhere.
Layfield Lakes
So it was lovely to get an invite to visit Layfield Lakes in Norfolk from Fishery owner Darren and to fish near (but not too near) my good friend Tony I jumped at the chance. On arrival I was greeted by Darren and given a tour of this lovely complex of lakes by Tony. There really is something for every type of fishing situation on site and plenty of really scaly carp to go at as well.
We ended up settling on Pine Lake which is the largest on site and is like a maze with so many little bays and cut throughs =, lots and lots of lily pad beds and cabbages, it's a real gem of a lake. With a stock of around 700 carp which includes a good few 30's and several 40's I was busting to get set up.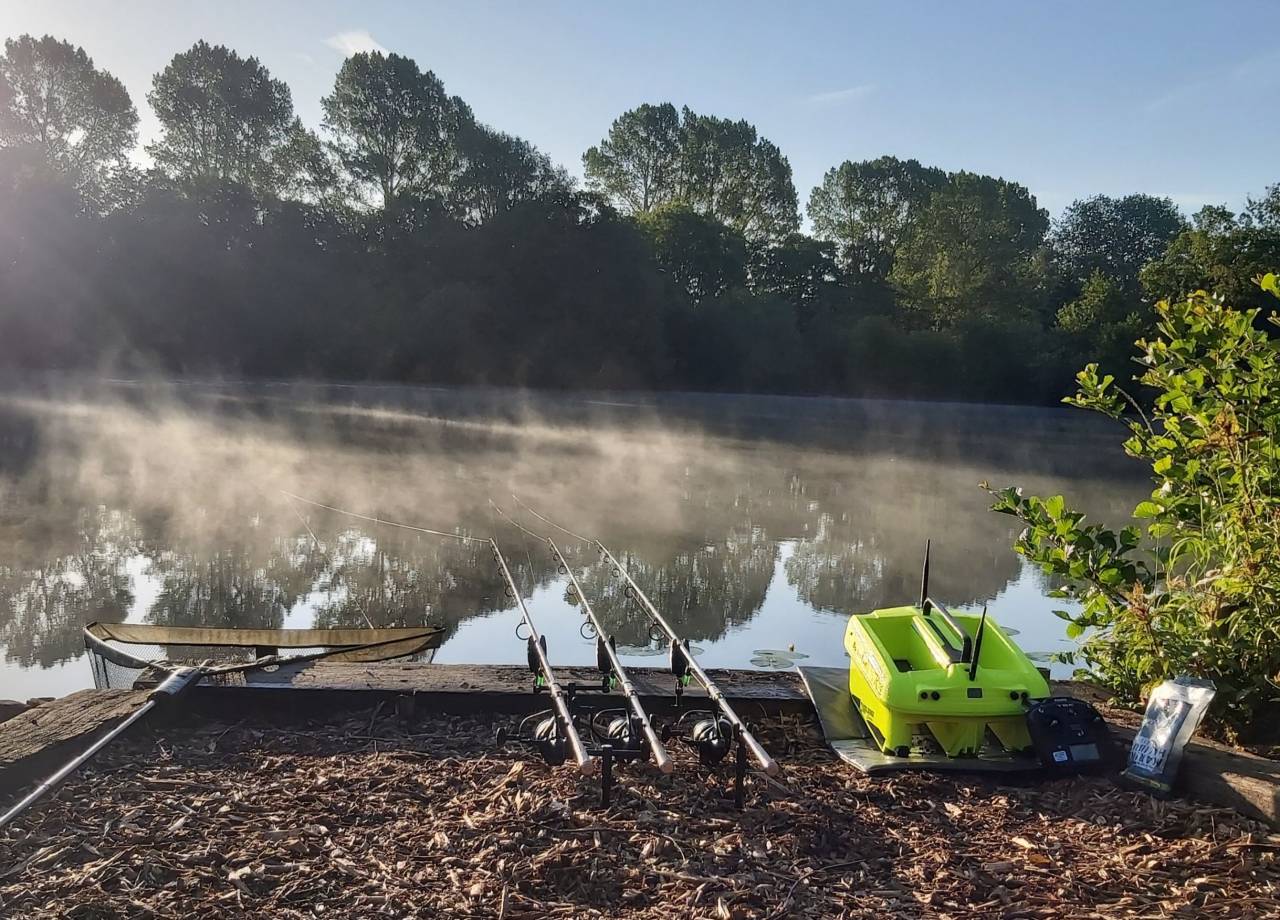 The swims
We chose pegs 2 and 3 with me being in peg 2. These are in a largish bay and peg 2 has access to a large set of lily pads on a raised area about 70 yards out. Now the fishery allows bait boats so as I rarely get to use my Carplounge RT4 in England I definitely had that on board.
I set up my Carp Spirit Everest bivvy and sorted all my tackle before mapping out the swim with the boat. Now I understand these are not everyone's cup of tea but when used sensibly I see no problem with using them at all. The water in front of me dropped rapidly to 18 feet and rose up to 6 feet just in front of the pads.
Although I also had access to a small section of far bank margin the odd fish I was seeing were in the pads so all three rods were spread along the front edge of these. Rig choice was my fav Ronnie comprising of Carpspirit size 6 medium curve hooks and a 8 inch 23lb Carpspirit OptiMex flouro carbon boom. On this were 12mm pink Hit n' Run pop ups. In the boat with this went a small handful of 12mm CompleX-T boilies and half a bag of CompleX-T 4mm pellets.
The catching commences..
All set up I popped the kettle on with Tony using similar tactics next door. During the afternoon a few fish showed but as evening drew in as on most venues the fish really started to show strongly and the right rod fished to the end of the pads was away. This was definitely not a carp though but a tench and at 8lbs 11oz I was certainly not complaining.
Away again…
An hour later the same rod was away again and after a right old tussle a nice mirror carrying spawning scars was netted. 21lbs 4oz and I was very pleased.
All the other rods remained quiet and the display of shows gradually ground to a halt. Overnight nothing happened but at first light the same rod threw up a mid-double fully scales mirror, they were certainly liking the CompleX-T.
We spent the day laughing and chatting and bailiffs Lee and Stuart popped over ( at a distance ) for a chat and Lee said he had caught a 14lbs Tench the other week, now that is truly humongous! Both are great guys who are absolutely full of information about the lakes so well worth listening too.
The second evening about the same time bought another right hand rod take and another scaley mid double was netted.
The bay was noticeably quieter on the fish showing side this evening though. We smashed Tony's chilli and rice and crashed out. First light and yet again that right rod was away and to the lovely sound of Tony snoring loudly I had an upper double mirror.
End of the session..
Before we knew it we were packing up at midday. What a great trip to a truly amazing complex of lakes. A big thank you to Darren the owner for allowing me a couple of days of really nice fishing and to, of course snoring Tony for inviting me as his guest. Now a long drive home and try and find somewhere not busy.
Although in my absence my big brother Matty had by some miracle got into a good peg on W1 and helped himself to the biggest in the lake, Mikes Pet at 48lbs. Also a well done to Dynamites Mike Tobin on nabbing what was my dream carp from RK Boat pool, The Square common at a spawned out weight of 38lbs.
Till next month, take care, Ian