9 December, 2019 | Carp | Articles | News
0 Comments
Ian Russell's Diary December 2019
This month Ian's highlight is an epic carp fishing trip to RK Leisure's Boat Pool where he banked no less than five thirties…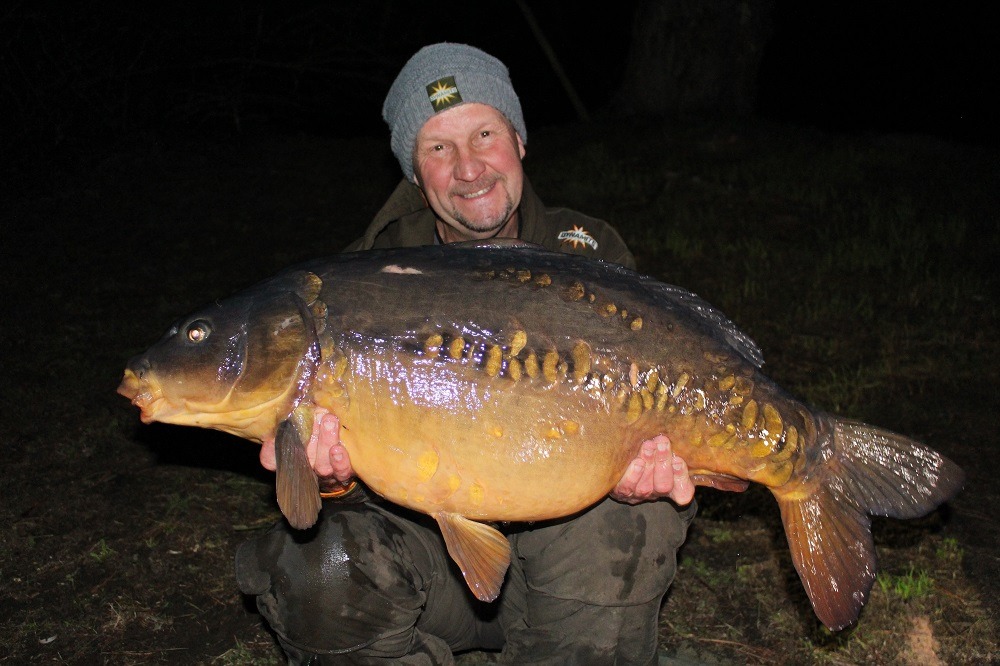 Ian continues..
Again this month has been a bumper one for me from a variety of venues. The Monster Tiger Nut boilies ruling the waves yet again.
One of my main trips was my monthly Total Carp Trouble Shooter piece where we were back on Farlows lake 1 again. After a good look around we settled on the Smelly bank in adjacent swims. It wasn't until dark that carp started showing and boy were we on them. I wont go into mega detail as the Magazine isn't out yet but we caught some very very nice carp which included a lovely PB common for my client.
RK Leisure
Moving on from that my chosen winter venue for personal fishing again was to be RK Leisures Boat Pool hoping for a certain big common. On my first trip I wandered around for ages seeing absolutely nothing so decided to set up in 'Vince's' swim. This swim `gives you a lot of water that usually no one else can get at, that being it depends who sets up near you.
Anyway stringers and Ronnie Rigs were the order of the day. These Carpspirit Razor point hooks are extremely dangerous and the sharpest I have ever used straight from a packet. Again my bait choice was easy, Monster Tiger nut all the way.
The first night produced nothing but while six cormorants were working the swim at first light the right rod pulled up tight and an upper double mirror was slipped back. Nice to get the first carp in the net!
The same rod was away at midday and after a right old tussle a chunky 34lb mirror was photographed. That was it for that trip but I was gagging to get back so after a couple of work commitments with Dynamite's Mark Parker I was soon back on the bank.
The second coming..
On arrival I was amazed to be the only one there. I bucketed the 'Concrete' swim and wandered about as per usual but again saw nothing . This time of year they generally show midnight onward until first light anyway. So the concrete it was to be.
I flicked two rods along the right margin and catapulted a lot of crumbed boilies over them and the left rod I flicked next to the overhang in front of the swim and chucked the bivvy up.
My first take came at 2pm from the margin and this cut the hooklink on an underwater snag. Gutted as you never know what it is you have lost and when you are hoping for that one big-un' it messes your head up.
Next take was on the same rod at 10.30pm and a lively low double mirror was to blame. I was now re-positioning the hookbaits with a baiting pole and each one had a large helping of crumb with some Dynamite XL Corn added for good measure. At 1 am the same rod went off again and a 25lb mirror hit the net.
It wasn't until 11am that the left rod produced a take and in quick succession I had a 29.8 mirror and a 30lb Ghost Common from this area. This was unbelievable action for the Boat Pool! Last winter I had only six carp in total!
More fish…
At 3pm I double my day's taking as the middle rod does a 36lb Mirror followed by a 37lb VS linear!
But the action had finished! At 6pm the left hand rod went into meltdown again with a 34lb mirror. Honestly I was on cloud 9 . And surely I must be getting close to the Big girl. At 8pm a 28lb mirror graced my net from the right margin then at 11.30pm a black coloured 34lb mirror came in. That made it 5 x 30 plus carp in a day!
I tried to get some sleep but the massive grin on my face and the absolutely freezing cold temperature made this difficult. At 2am and a 13lb fully scaled had me running down the concrete. The following morning was very misty as you'd imagine after such a cold night and the left rod flew off just after light arrived. A 24lb odd shaped common was to blame, not quite the one I was hoping for but lovely all the same.
To finish the trip off the same rod produced just one more take with a beautiful Scaley 27lb mirror.
I had arranged for Mark Parker to pop over and get some filming work done for the day but that was all the action over unfortunately. To have had 12 carp in a single sitting was beyond belief from this tricky little venue. So far my four nights on Horton had given me 14 carp and 1 lost. BONKERS!!!
Well heres to next month and hoping you all have a lovely Xmas and New Year
Tight lines Ian Russell