13 November, 2019 | Carp | Articles | News
0 Comments
Ian Russell's Diary – November 2019
This month top carper Ian Russell visits Abbey Lakes in France in an attempt to break his PB as well as a couple of carping trips to some UK day-ticket waters..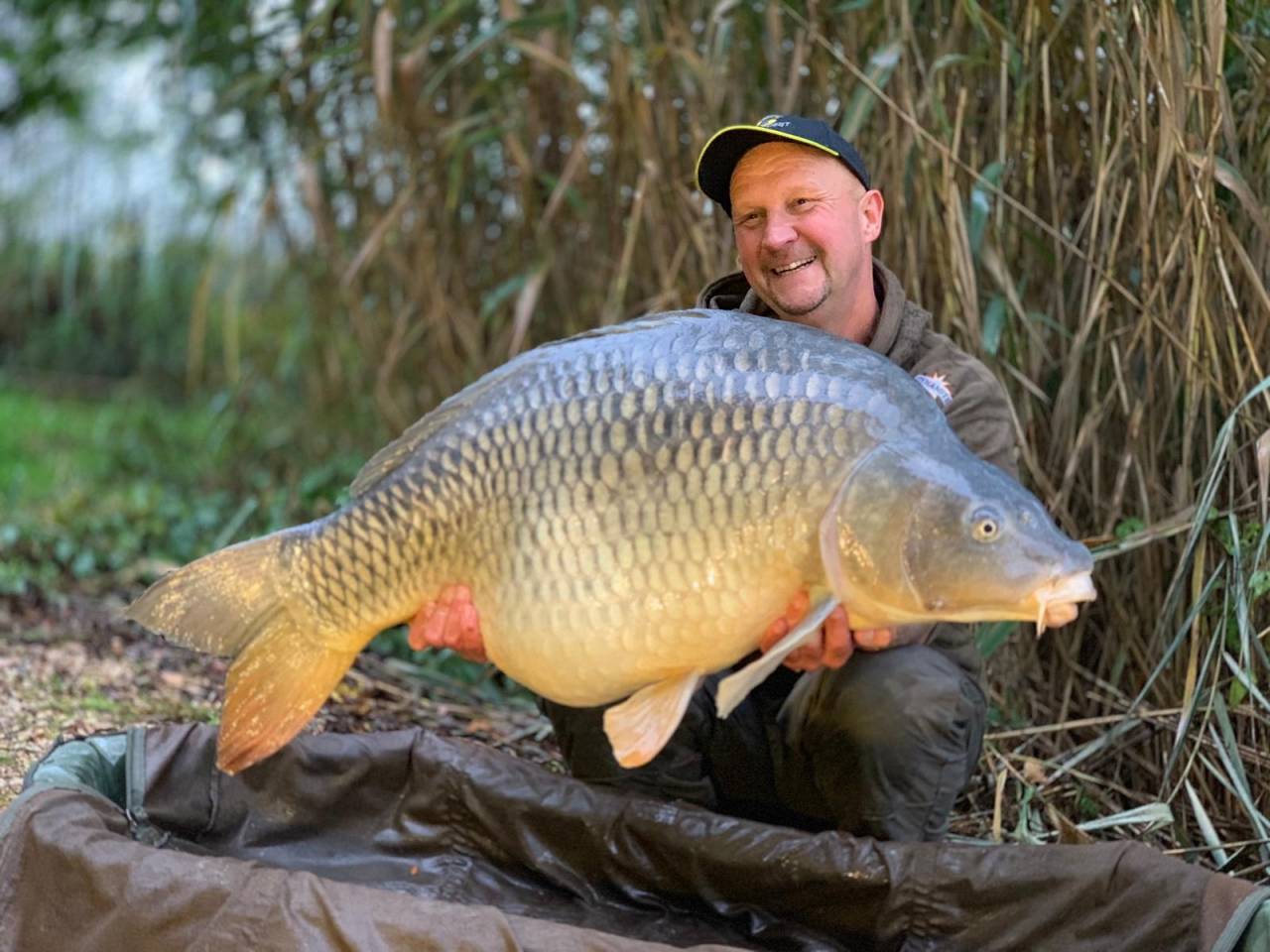 Learning curve
"Well another awesome months Carp fishing , since joining Carpspirit / Dynamite Baits my angling really has gone from strength to strength. First up this month was a carp fishing tutorial at Fryerning XL Valley Lake with a chap called Mark.
Having found some carp in the small channel we set Mark up right on them as you would on a tutorial and got set up. Keeping disturbance to a minimum Mark fished with my new favorite Monster Tiger Nut baits in 12mm and sprinkled a few in the general area he was fishing."
PB breakers
"After only an hour Mark had slipped the net under a 26lb common closely followed by a new at the time PB common of 29lbs! We sat around going through rigs and various different tactical set ups when again he was away. This carp really did not want its picture taken and really gave Mark the run around.
Once netted I could see he had yet again broken his PB with a glorious common which had a pink tinge on its fins and came in at 31lb. Mark was nothing short of ecstatic. I managed to land a common of about 5lbs and before we knew it we were due to pack up . What a lovely complex of lakes this is and thanks to Chris and Charlie for giving me permission to visit .
Down at the Manor..
My next trip was my monthly Total Carp Trouble Shooter Feature and it was at Manor Farm's fantastic Boonies Lake. Arriving at first light I saw just one fish show and by the time Matty and Ashley arrived I had got us three swims in a row.
Ashley chose to fish in an awesome looking reed lined bay whilst I had the central zone to fish at. I positioned three rods baited with Monster Tiger Nut pop-ups in this area and then settled in to do the feature with Ashley. Mid morning I had a lovely upper double mirror and mid afternoon the same rod produced a 24lb common.
Ashley's peg remained quiet and the night passed cold and quiet so at first light he moved to my right to fish the open water alongside me. The morning turned out to be a bit hectic and really you need to see next month's Total Carp Magazine to find out more.
Abbey Lakes
Abbey Lakes my favourite French venue was next and I had a weeks trip on Heron Lake with my good friend Keith to look forward too. On arrival the lake was quite busy so swim choice was very limited and after much 'do we or don't we', pegs 7 and 8 were settled into with me in 7.
This is a channel area and a great area if the anglers opposite don't encroach into your water too much. I baited using my Carplounge RT4 boat with a mixture of Dynamite Sweetcorn and Monster Tiger nut 12mm boilies. This was mixed in a bucket with the matching Tiger Nut liquid attractant and some Tiger Nut Evolution Oil. I find the attraction this gives off is a nice little boost.
Keith was doing much the same next door in peg 8. Sunday Keith scored first with a thirty And a 40lb Mirror. I had to wait until first light on Monday for my first take and this resulted in an enormous mirror. Dave Smedley the fishery manager was called up and a new PB for me at 62lbs was filmed and photographed. I was over the moon!
More fish
Showers were needed so we hit the hypermarket but were soon back in the swims once we were sorted. Mid afternoon I had a 39lb mirror and again just after dark I hooked into a good fish. Long powerful runs soon gave way to a wallowing big Common. And at 50lbs I was made up!
My score of big commons since using the Monster Tiger Nut bait has been incredible. My next take was Tuesday night and a 25lb mirror was slipped back. The weather then turned calm, clear and cold and the lake went into shut down. I managed three more takes but all were tench which told me the carp were just not playing ball.
I have to say that I have visited Abbey Lakes for 10 years now and have seen various so called managers come and go but now under Dave's control it is now the fishery it always should have been. Well done Dave and co. Well that's it for now . until next month tight lines."
Ian