14 October, 2019 | Carp | Articles
3 Comments
Ian Russell's Carp Fishing Diary – October 2019
In the first of his diary articles, carper Ian Russell talks about joining Dynamite and Carp Spirit and reflects on some of his first outings using the bait…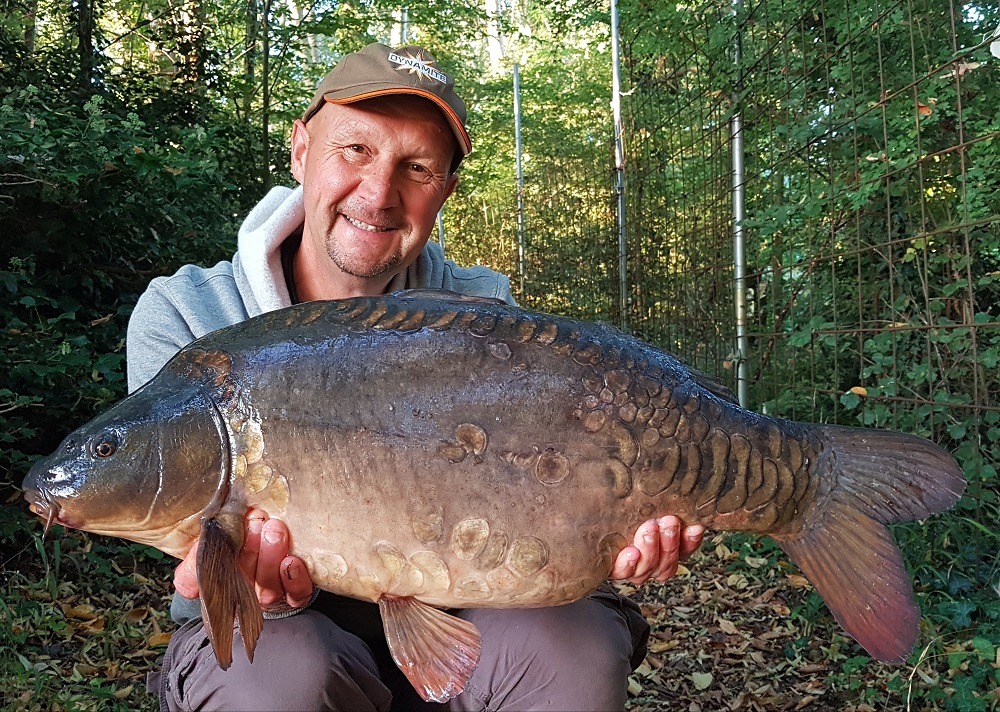 Ian continues..
Well what a month in my life that has been. Firstly I obviously have left Avid Carp after 9 ½ years. A fresh challenge was needed and I am pleased to say I have started working for top bait developer, Dynamite. Few if any companies rival the range of products they produce and during a lengthy tour of the inner works at the Dynamite factory I have to say I have no qualms about using any of the boilie ranges.
Secondly I also started working for Carp Spirit which is part of the same company. This brand is one I had heard of already in Europe and had seen some of their great products at The Big One show earlier in the year. We are now working on some amazing products to bring to market alongside their team of dynamic product developers. Its surprising how much can be created by like minded people when the company you work for actually listen to the ideas you bring to the table.
A good start…
With spirits high, I grabbed some Carp Spirit tackle and some Monster Tiger Nut boilies along with some of the classic tubs of particles and off I went Fishing.
First trip on RK Leisures K1 and I managed six carp up to high twenties. A social trip with fellow Carpspirit/Dynamite Baits consultant Mini Micheal Poulter on Hollybush produced a nice double mirror so I had hit the ground running.
WCC..
Next was the enormous World Carp Classic on Lac De Madine with friends Mike and Bruce. We drew a hard peg and worked our trollies off in thick mud and silt for five days for the pricely sum of 1 x small bream taken at nearly 300 metres out!
Although my OCD kicked in on occasion we as friends had a really enjoyeable time and met some of the other Dynamite/Carp Spirit anglers in the team. On returning home I was off on a plane to visit the VMC hook making giant factory in France . I was picked up at Zurich airport by a Maserati mini cab, yes I said a Maserati. Just shows this company does not mess around. The VMC tour was incredible. The attention to detail and science that goes into producing their products is amazing and I will never look at a hook the same way again LOL.
The Carp Spirit showroom was also on the visit and a good few hours was spent with brand boss, Alban going over the new product range. The new Sleeping Bags and Bedchairs will blow your mind so keep your eyes peeled for those products.
Charity event…
On my return I was due to attend a charity event on Oxlease Lake at Linear Fisheries for 48 hours in aid of MS. My son Lee suffers terribly from this and I will always support this as well as other charities. I got to fish with a chap called Rob who had paid a substantial amount of money to do so and we had a great time. I even managed a couple of 20's along the way.
The event raised a fantastic £2,300 and I'm immensely proud to have been able to help in some small way. Tomorrow I'm off up to Dynamite HQ for my monthly meeting with Daryl & co, then Friday I have a chill out week with a few friends on Etang De Bows in France. Next month ill let you know how we got on. Wish me luck and tight lines to all.
Ian Russell