20 July, 2020 | Carp | Articles | News
2 Comments
Ian Russell's Diary July 2020
This month Ian travels to Wraysbury before heading over to Linear to shoot a new Day Ticket Travels video..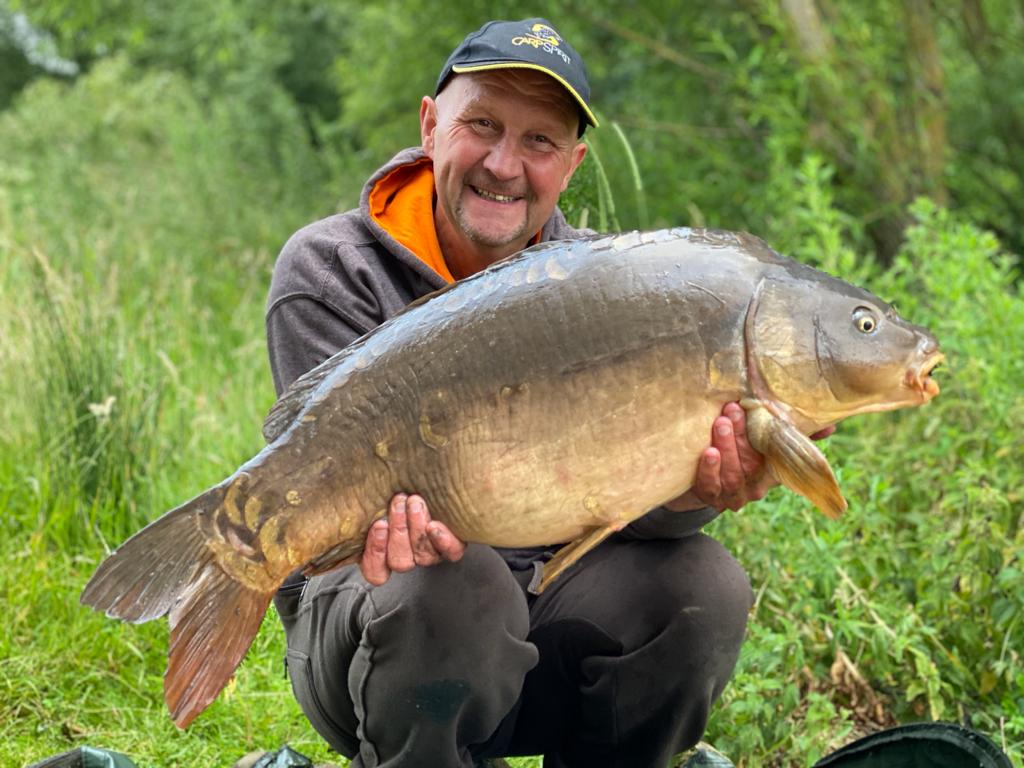 It's been a hectic month work wise as the whole world seems to want to go fishing now. I had a lovely 24 hours on RK Leisure's South Lake with Matty the editor of Total Carp.
I had found a nice firm area in 16 foot of water and Spombed out two kilo of CompleX-T pellets to kick things off , they do love a pellet on the this water. Rig wise was my reliable Ronnie made up of Carp Spirit components, Size 6 Medium Curve Razor point hook and 23lb OptiMex flouro boom.
Attached to these were Pink Hit N Run 12mm pop-ups which balance down lovely on this rig. I grouped all three rods together nicely. It wasn't long before bites started occurring and a stream of amazing looking carp up to low 20's kept us busy. Darren Noakes of Dovetail Games popped over and I filmed a few tips for his incredible game 'The Catch'.
With constant spombing of the 8mm pellets those carp just kept on coming. The pellets smell incredibly meaty. Before we knew it our 24 hrs was up and we set off homeward bound.
Linear lunkers
Next up was a tutorial at Linear Fisheries with Jay. After waiting five hours for a peg we settled in one of the big doubles on Oxlease with social distancing guidelines followed.
My now normal pellet approach was applied and although the lake was not exactly fishing its head off we still managed a few to mid 20's. Our Day Ticket Travels video footage was my next commitment and we were on the beach on Brasenose 2.
I know this swim well having tutored in it several times before. Out with the Spomb rod and I deposited five kilo of surprise surprise, 8mm CompleX-T pellets onto the chosen area.
Rob arrived soon after and followed suit but chose to use hemp and corn instead. Steve Coe and Mike Tobin on camera were not due until the following morning. In the next couple of hours I managed a couple of 25lb-plus mirrors.
No excuses
Darkness came and in the night between us we netted three carp up to about 30lbs but all were trailing tackle so all were quickly returned. The rigs we rescued them from were horrendous and in my opinion the is simply no excuse for dodgy rig set ups. There is more than enough information available nowadays about safe rig construction.
Morning arrived as did Steve and Mike thankfully. So we began our filming, mid afternoon I had a 29lb mirror and whilst unhooking it I managed to hook my thumb good and proper with the hook also still in the carp. With much howling and swearing I managed to tear the hook out. OUCH. The guys were so sympathetic by Screaming with laughter, BUGGERS!
Facebook live
That evening myself and Rob were on Facebook live with Claudia and Dave Levy for the Dovetail Games launch. I really enjoyed the banter it was awesome. The evening also involved Mike catching a 3lb Brown trout from the stream behind us on a 15mm CompleX-T boilie LOL. Oh and it was returned alive.
I,ll stop there about the film trip as you will need to watch it to see what else occurred but it was real good fun with the guys.
My personal campaign
I'm still plugging away in my own fishing on W1 North lake much to no avail tho as the few that are coming out are to anglers fishing either in dense snags. I will not fish in snags like this or they are showing to those fishing three nights in a row which is time I do not have the luxury of unfortunately, but I will keep punching away at it I shall, just watch this space.
Till next month Tight Lines, Ian