21 April, 2021 | Carp | Angler Blogs | Articles
0 Comments
Ian Russell's Diary March 2021
For March's diary entry, Ian reflects on an action-packed month of fishing and filming which saw him visit a selection of venues across the country – including Coking Farm, Willow Park Fisheries and Thorney Weir. Despite freezing-cold winds and temperatures, Ian still managed to winkle out a few bites on zig rigs, PVA bag rigs and singles…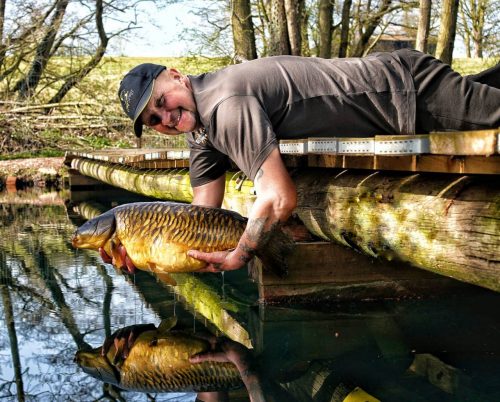 He said…
I honestly cannot remember ever having had a busier March. My time was spent filming day sessions, two magazine features, taking part in numerous Zoom meetings and being involved in tons of product development calls with Alan Yates (Carp Spirit) and Rob.
The start of the month saw me on our DTT (Day Ticket Travel series) with Dynamite and Carp Spirit. This involved a day session only as per the restrictions which saw us visit the wonderful Coking Farm Fishery in Dorset. We joined the queue with all the other vehicles (It was packed!) and when we could we drove round to Rush Lake.
The wind was a bitterly cold easterly but that's where we found the fish – right in the teeth of it. We fished hard all day freezing our bits off and really should have had a few each as it is a very well stocked lake but I truly believe the weather had a lot to do with the lack of action. With that said and done, we laughed our way through the day and drank plenty of Mike Tobin's Tea. The team really do work well together and myself and Rob seem to have found our place within that team with plenty of banter enjoyed during the session.
The day was slow in passing and at mid afternoon I saw a fish roll at the back of a marginal spot I had been concentrating on. I tied on a hefty bag of pellets with a white Hit N Run pop-up as the hookbait and was soon playing what turned out to be a low 20 mirror… and with that our day ended.
Next up for me was a day session on Willow Park Fisheries' Big Lake with Total Carp based on zig fishing. This ended up involving two day session visits as on the first day, nothing was seen or caught on the whole lake. On the second visit however, one of the lake's big fully scaled mirrors tripped up on a zig and all ended well. You can read all about that capture in April's edition of Total Carp magazine 😉
I then squeezed in a day a Albans Lakes in Hertfordshire but ended up getting thoroughly abused by an angler opposite me, who thought it was ok to fish my margin from the far bank… He then had the audacity to complain when questioned about it so unfortunately, my day sessions on there are now over. That is not a reflection on the lake and staff as Craig and his team work very hard to stop such behaviour but as I have an RK card my time is now better spent there.
At this point, Cypography had contacted me to film my next Catch A Carp episode and I chose Thorney weir as the venue to tick off the next challenge. I have never really done much over there just the odd magazine visit but after a call to Dave Vaughn, the fishery manager, all was set and we were good to go.
During the two days I spent time in the superb company of Richard and Big Dave and we made what I feel will be quite a cool film which included lots of barrow work, shifting swims which lead to the capture of some of Thorney's lovely carp. It really is a venue I need to visit more.
A quick hospital visit to X-ray my knee was up next and I have to say I was shocked to find myself in a completely jam-packed waiting room. Under the present restrictions it shouldn't have been so…
To end the month, and it fell just as restrictions were lifted, I visited Ed Matthew's lovely Dawford Pool in Staffordshire. This is a filming project myself and John Flewin have been planning for a while now but waiting for restrictions to be lifted. We are calling this series 4x Seasons Carping and this was to be our Spring episode.
I'll not overdo the info on it but we spent a lovely couple of days laughing out loud and managed to catch a good few of Dawford's carp which also included a brace of 30 pounders. Keep your eye on both myself and John's social media accounts for when the video will be going on YouTube and also check out the venue, as I promise you it really is a truly amazing little lake.
Well, with restrictions lifted and night fishing back on the cards im off to my favourite W1 North lake for a couple of nights – wish me luck!
Tight lines and stay safe, Ian Russell