9 December, 2020 | Carp | Articles | News
1 Comments
Ian Russell's Diary November 2020
This month Ian goes fishing to film for his new Cypography series, some day-ticket carping before venturing back onto his favourite RK Leisure and Wraysbury complex…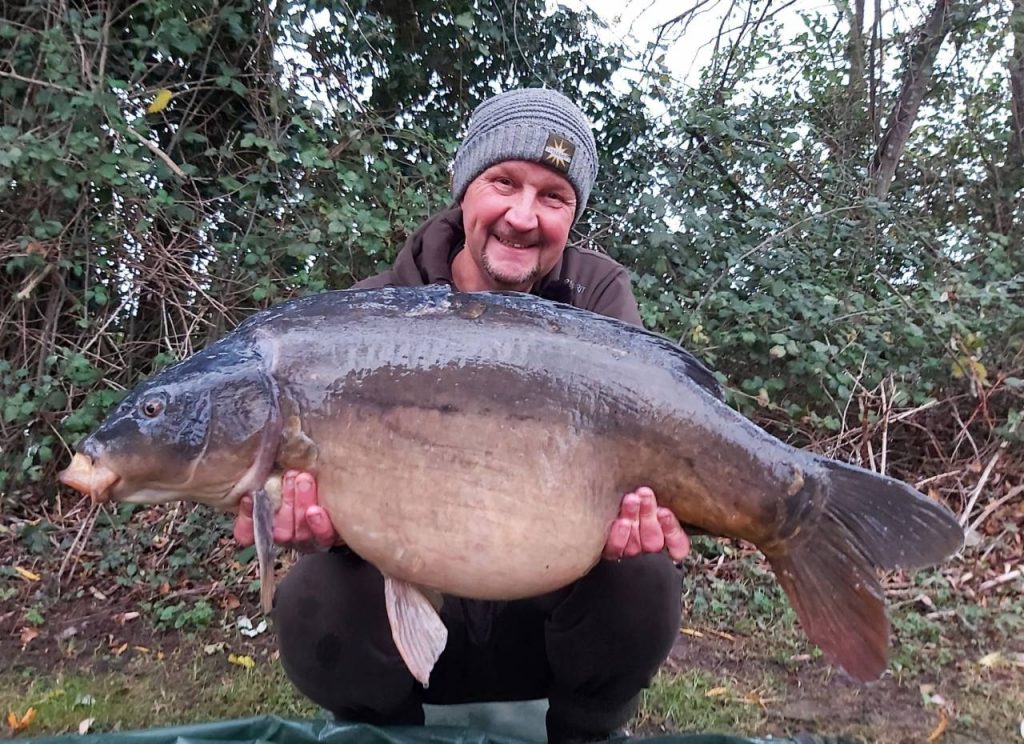 This month again has been a multiple venue one. Firstly it was my new series with Cypography called To Catch a Carp. For this we were given access to Essex Carp syndicates, The Mill Lake and what a lovely place this is.
I arrived about an hour before the cameras and had a good look round. I saw a few shows in one of the far bank bays so once the lads had arrived and we had filmed the opener I made my way round there with the gear.
Whilst setting up I saw another couple show and soon had a couple of rigs in the area. Now maggots had been doing the vast majority of the fish of late so all three rods started on these. Before long it was obvious that there were lots of ravenous roach and perch so the rigs had to be constantly refreshed.
After about an hour and in the pouring rain I saw four shows against a far margin reedbed so rain or not a move was required. By the time I arrived in the new swim it looked like I'd fallen in I was so wet through. So rods were staggered in the general area of the shows and on went the kettle. The afternoon was spent constantly refreshing rigs as again the small fish would strip the rigs and I even caught an eel!
Evening arrived and I selected an area eight wraps out and spombed a few maggots and casters around the rigs. All night I was up and refreshing rigs at two hour intervals until at first light eventually one tore off and a carp was landed. Never can I remember working so hard for a single carp but was elated to actually catch one for the cameras.
Boat Pool
Next up I popped over to the RK Leisure Boat pool for a trip and finally got myself on the fish. A small bag of Monster Tiger Nut Pellets with a white Hit N Run pop-up producing the one take and a lovely 32lb mirror was my prize.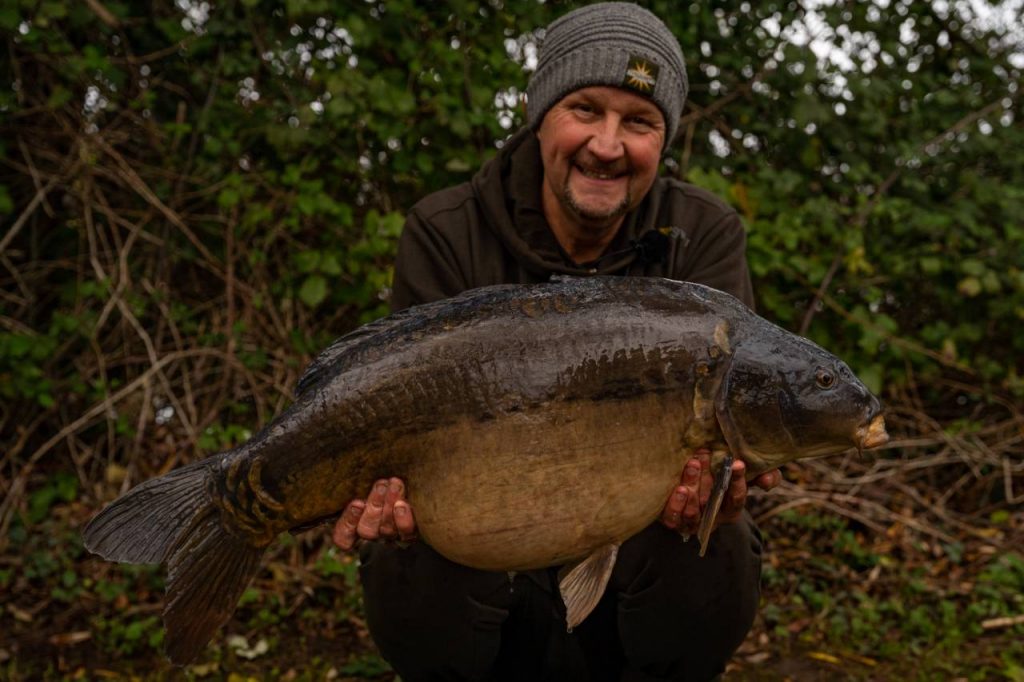 Fantastic Fryerning
I had then arranged a trip to Fryerning fisheries Valley Lake with a friend Mark Taz so off I toddled to Essex. We set up in the channel area and chatted the day away. Most carp of late were taken in the dark hours or very early morning so as dusk fell the rods were positioned according. One maggot rig and two with Monster tiger nut pop-ups.
Well the night produced its first heavy frost of the year and I was woken on first light to take and was also greeted by a very heavy frosty bivvy. The carp didn't do too much and was soon in the net and I recognised it as a fully scaled I had caught a couple of years ago at 26lb plus. This time around she went 30lb 12oz and looked absolutely amazing.
Pics done and kettle on and the other rod was away. Now this one fought like it was a catfish and indeed I did comment to Mark that I thought it was exactly that when a lovely big common surfaced. At 33lb I was absolutely over the moon. A brace of 30's and on a freezing cold day aswell. I stayed on until lunchtime then was away home.
North Lake
Before end of month I had time for just one more personal trip and chose W1 North lake for this. Now an impossible thing happened and I managed to get into a swim known as the Stile. I say this as a couple of members had been sneakily rotating this swim during week days. However as I arrived Paul a fellow member was just leaving and had bagged a couple so I parked the barrow behind him and had a wander around.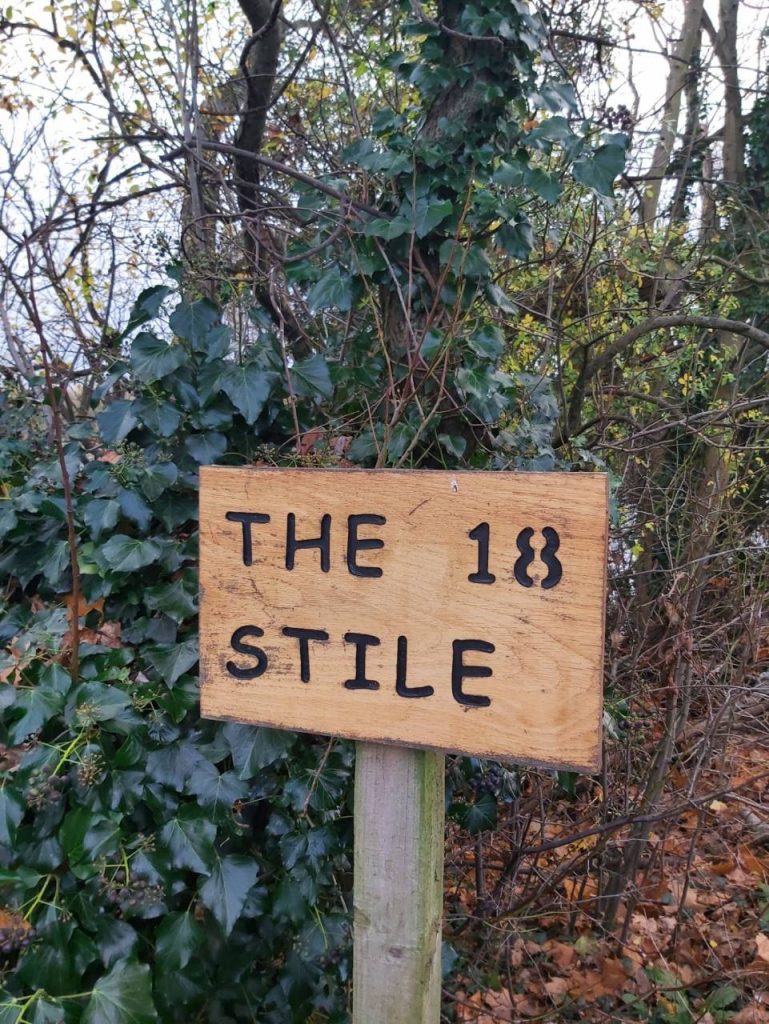 On setting up all I fished were 12mm Monster Tiger Nut boilies on stringers with White Hit N' Run pop ups on the rigs. I saw a few during the morning and at 3pm the middle rod pulled up tight and I was into a very hard fighting carp. This gave me the run around for ages before a lovely mirror popped up. And at 32lbs I was chuffed to say the least.
The night again dropped very cold and the morning bought thick fog with it . Very unsatisfactory conditions. I stayed on for another night but never really felt another result was coming my way. But 4 x 30s of late from 3 different venues and I was very pleased. So until next month you have a Lovely Christmas and a Happy new year.
Tight ones Ian Russell