6 October, 2021 | Carp | Angler Blogs | Articles
1 Comments
Ian Russell's Diary September 2021
Ian has had a pretty hectic year already and if his September schedule is anything to go by, it's looking like he has no intention of slowing down! Trips to Essex, Hampshire and Oxfordshire kept him busy with lots of filming, feature creating and fishing enjoyed with friends… Here's how he got on!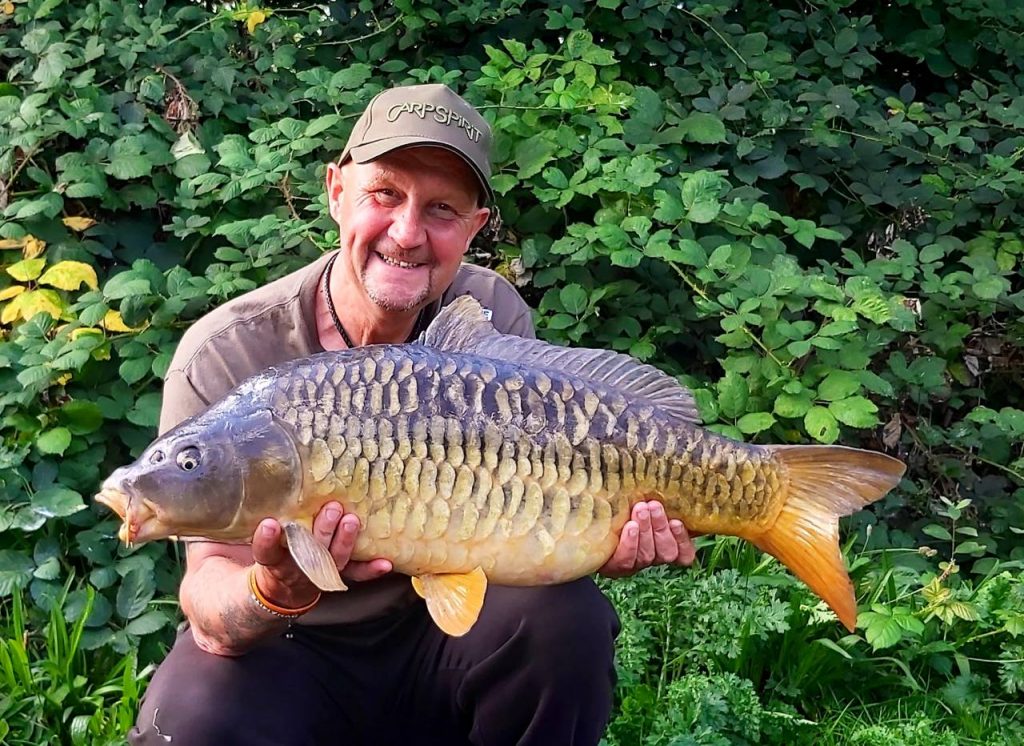 Ian says…
September has yet again been incredibly hectic however, at the start of the month I did manage an overnight trip to my local club venue with Michael Poulter. I was really looking forward to this as we always have a laugh and he's prone to having accidents whilst fishing. He certainly didn't disappoint! Tipping over his barrow laden with gear gave me a small but necessary photo opportunity… In between the laughs we also managed some doubles on Monster Tiger Nut.
I then drove up to Carp Lounge HQ in Essex to see Rowan the manager to help sort my Lowrance as it was struggling to sync with my RT4. We spent a lovely morning talking all things fishing and as expected, in no time at all Rowan had things sorted. In the bait boat world, this range is surely the market leader! The RT4 boats are an amazing addition to any angler's armoury, that's for sure.
The following weekend was Linear's Iain Macmillan event to raise money for the Hospice that looked after him in his last moments. It was a very emotional event but full of laughter and the mood was exactly how it should have been. I got lucky and landed the first carp of the weekend and a lovely 33lb scaley fish it was too. This meant an awful lot to me as it was on the banks of Linear's Manor Farm Lake that I first met Iain so many years ago.
So a big hats off to all involved as there were plenty that were too busy to attend. Hopefully if this becomes a yearly event it may each year support a different cause. Maybe MS as my son Lee suffers terribly from this awful condition. Just food for thought guys…
I also managed a couple of tutorials in September with the first being with Ben on Brasenose 2 and we did have a belter of a session. Fishing at a range that's way beyond Ben's usual fishing, he managed a few nice 20's and I hope he learnt a lot about carping in different situations.
The next tutorial was at Willow Park in Hampshire. Mark and Aimee (the owners) have done a fantastic job with the fishery and it is now quite famous for its incredibly scaley stock of carp. Myself and Steve set up on what is affectionally known as the 'Party Point' and it wasn't until the following morning that the fish turned up in front of us. This wasn't an issue though is it had given us plenty of time to go through everything that Steve wanted to learn, but turn up they did and at very short range we managed seven between us averaging 20lb-plus.
Dynamite Pineapple and Banana 12mm pop ups with small PVA mesh bags of CompleX-T pellets kept the bites coming until it was time to go home.
I then visited one of my favourite people (Hassan) to do a Podcast at Nash HQ in Essex and what a pleasant experience that was too. He is incredibly respectful and I have loved being involved in these with various companies as it brings back a lot of memories that were buried way back in my bald head lol.
At the end of September we managed to squeeze in the filming for episode three of 4 x Seasons Carping. This was with John Flewin and Mike Tobin and was at one of my favourite day ticket venues, Orchid Lake. It was also my first return visit since my good friend Marsh passed away.
Gary Hunt, who is Marsh's nephew, now manages the complex and trust me he is a chip off the old block. Firm but fair and looked after us magnificently. We even managed a few of Orchid's lovely carp but you'll have to watch the programme to see how we truly got on…
Thankyou Gary for making us truly welcome. I will sign off by saying I have just passed my second year working with Dynamite/Carp Spirit and what a journey it has been. A true family feeling working with this team with lots of laughs shared as well as lots of hard work. Here's to many more years!
Tight lines and stay safe Ian Russell