3 August, 2021 | Carp | Angler Blogs | Articles
5 Comments
Ian Russell's Diary July 2021
In this month's diary entry, Ian recalls a difficult but eye-opening session at RK Leisure's South Lake and a filming trip at a match fishery which didn't quite go to plan! Not being the kind of guy to get disheartened, Ian soon turned his attentions to RK Horton's Crayfish Pool and Mustang Lake in Norfolk to end his month in spectacular style…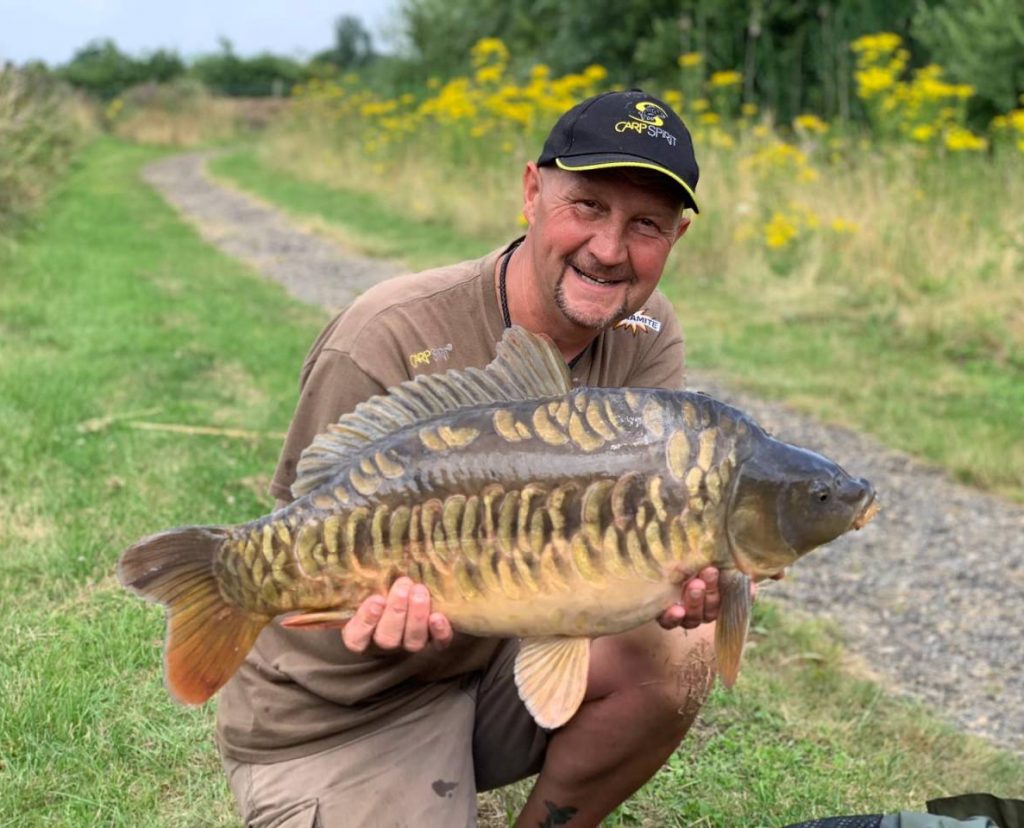 Ian says…
How fast is this year whizzing by?!
July has been another busy but productive month for me. First up was my monthly feature for Total Carp and this month was to be a stalking feature and I chose RK Leisure's South Lake at Wraysbury for the trip.
With the weather absolutely piping hot, I assumed it would be a breeze to nab a couple out the edge – how WRONG was I?! They just weren't visiting the margins in the numbers they usually did on this occasion. In the end I baited about 8 different areas and kept checking them regularly but only two spots were getting visited, and these could not have been further apart.
I did learn quite a bit by watching the couple of carp on one of the spots however. The rig I place all my faith in for 'out in the lake fishing' got picked up twice and dropped. The carp never panicked but just kept on feeding until all was cleared up and then waddled off. I was shocked to say the least! A small change to the rig and an inclusion of a Monster Tiger Nut crumb PVA stick changed all of that and on the other area I finally got a pick up and a low double was nailed.
Overall, a great but exhausting and eye opening day was spent with Matty. I even tried to rescue a toad from a snake's mouth but failed at that as well haha.
A day's filming was next up and a six-hour match against a seat box monster called Andy May was on the cards, however, as it was being held at Makins' Lake One (a prolific match venue) I had a feeling I'd be doomed from the start. I never give up in these matches but going to a venue which entirely suited Andy's style of angling didn't exactly fill me with confidence! This guy is at the absolute top of his game and although I did have some success on the zigs, I got a battering as expected. You'll soon see in the video that it was carp angling tactics against Andy's match tactics. Basically it was bye bye Ian!
The Crayfish Pool on the RK Horton complex is a little place I have neglected other than a Total Carp feature the year before where I managed a lovely Linear at just under 30lb. With my usual W1 North Lake rammed with anglers all the time, I decided to leave it alone for a while so I would have a little look over at the Cray Pool.
I popped over one evening and baited at catapult range an area with lots of CompleX-T 8mm pellets and a few 18mm CompleX-T boilies in prep for my morning trip the next day.
Now, I knew that overnight the crayfish would polish off most of, if not all the bait, but the disturbance may just alert the carp to the free food. I also knew I wouldn't be spoiling anybody else's chances by prebaiting as these little monsters would be clearing the lake bed. So, arriving at first light I sat and watched the lake for movement and saw a good few in front of the point area so that is where I decided to start.
A rubber bait and a hefty PVA bag of the 8mm CompleX-T pellets was dispatched on both rods into the show zone. The move paid off and within 20 minutes the right-hand rod tore off. This fight lasted ages with the carp roaring about all over the surface before a lovely almost fully scaled mirror was scooped up.
I had noticed my ole mate Oli Davies skulking around on the opposite bank and he kindly popped round to take some pics for me. At 25lb I was well chuffed with a fish the regulars call 'The Stunner'.
I fished a couple more swims that morning before heading off home at midday. This was repeated the following week but the carp were in a tiny little corner swim. Adopting the same approach with the pellet bag, it wasn't long before I was picturing my second Crayfish Pool carp.
A sought-after resident I was told in the shape of 'Two Tone' at 28lb – lovely jubbly!
My next trip was at Rich Wilby's lovely Mustang Lake with three good mates –Tony, Paul and Kelvin. This session I covered in an upcoming Total Carp feature so I wont give away too much but I will say we did had a few very good carp from this magical little lake…
Until next month!
– Ian Russell