1 June, 2021 | Carp | Angler Blogs | Tips | Articles
4 Comments
Ian Russell's Diary May 2021
In this month's diary entry, Ian reflects on another action-packed month of fishing including one of his most productive guided sessions to date, not to mention the capture of a stunning 45lb common from his favourite W1 North Lake…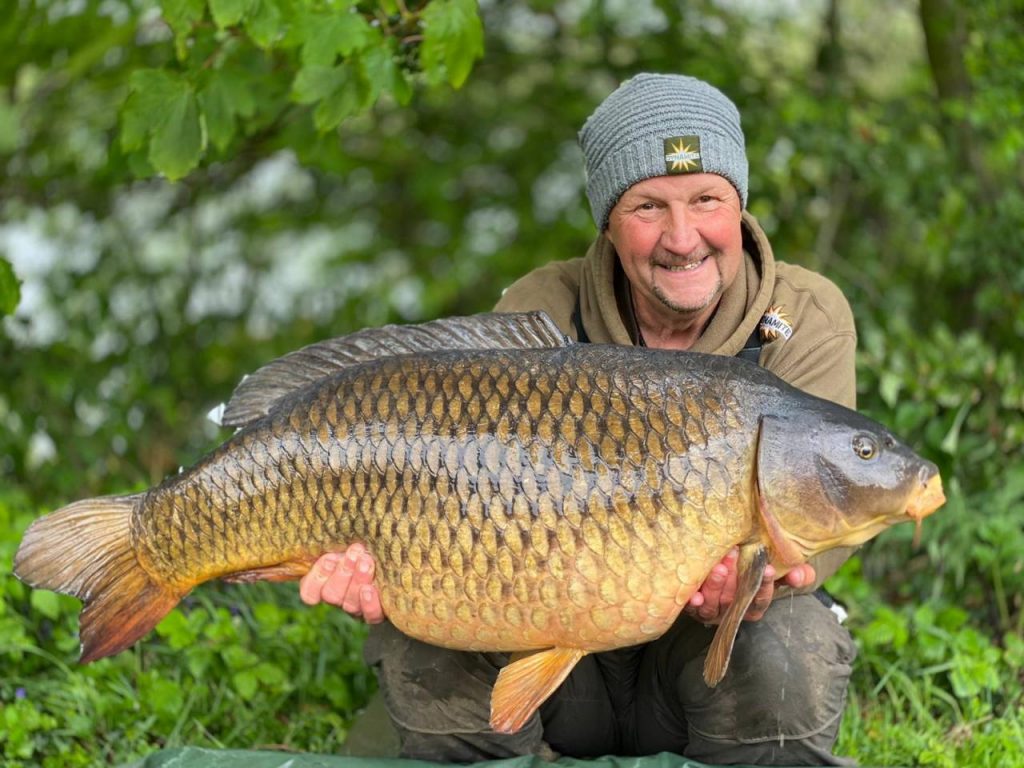 Ian says…
May has proven to be yet another extremely busy but productive month in my angling world. After my opening session on W1 North lake where I managed 4x 20's to 27lb using my usual Dynamite hemp and sweetcorn mix with Yellow Hit n Run pop-ups, I popped over to RK's Boat Pool for a night as neither of the big commons had yet put in an appearance.
Setting up on the K1 bank which has an eight-wrap limit on your casting distance, I deposited a large bucket of the aforementioned hemp and sweetcorn mix on a small gravel patch in a really silty area. I fished my size 4 Ronnies on the Carp Spirit Medium Curves with Yellow Hit n Runs on both rods literally next to each other over the 'bumpy stuff' and the kettle went on.
I thought it would be a fair amount of time before I received a take so I was totally surprised when after only two hours the left hand rod was picked up. Although it was a repeat capture it was nice to see the Kinky-backed Linear again and at 25lb, she looked healthy.
I topped the area up with another jar of hemp and a tin of sweetcorn and recast the rod. That night bought me mirrors of 24lb and 21lb plus three bream with the biggest being a recapture of an 18lb beast I had a year or so ago. Although I was absolutely knackered, off home I went with a very big smile on my face.
Shooting my monthly Total Carp article was up next and we called it 'The Supermarket Sweep'. Basically I was sent into Sainsbury's with a £10 note and that was to be my bait budget for the whole feature. Check out next month's Total Carp to see how I fared…
I then had a tutorial with a client called Brian Knapp next on Alban Lakes Fisheries' Farm Lake and we set up at the far end near the island and started fishing with PVA mesh bags with CompleX-T pellets and Yellow Hit N Run hookbaits, but after a couple of hours the carp started showing at the car park end of the lake so a decision was made irrespective of the pouring rain to move to the fish.
Despite being soaking wet through, we were soon set up and had our rods marked at 13 wraps which is just short of the middle so we didn't push the fish away… To say that night's fishing was hectic would be an understatement! Jointly we landed 14 carp to 27lb and Brian latched into a 47lb catfish at 2am in again the pouring rain. We packed away mid morning smothered in mud and soaking wet but we had worked hard and achieved what was set out to do, and then some!
Our Day Ticket Travels trip was next and this was on the Embryo Complex of lakes called Norton Disney. I won't go into details but suffice to say a great time was had and a whole load of lovely carp to 25lb were banked. Keep yours eyes peeled on the Dynamite Baits YouTube channel over the coming weeks for the arrival of the episode.
Towards the end of the month I needed a piece of personal fishing so I headed off to W1 North Lake for a 24-hour trip. Initially I set up in the Runway Swim and although after just two hours I was packed down and on the move. I had seen a good few shows in my fav swim, No 27, so that's where I headed.
Casting three Ronnies out with the soon-to-be-released 12mm Monster Tiger Nut pop-ups at 32 wraps, I deposited a jar of Dynamite Hemp and a couple of cans of sweetcorn into the area. It wasn't long before the left rod pulled up tight and I found myself attached to a very heavy, slow moving fish.
After an age a very large common surfaced and on the first attempt I scooped him up. Dropping to my knees I couldn't believe my luck. A few of the lads were gathered and the cameras clicked away. At 45lb a carp known as the Small-Tailed Common was soon on its way back home.
Well that was May over and done with. I cannot believe just how fast this year is disappearing!
Tight Lines – Ian