1 September, 2021 | Carp | Angler Blogs | Articles
0 Comments
Ian Russell's Diary August 2021
For August's diary entry, Ian reflects on an emotional month where a few trips out on the bank and boat not only helped him take his minds off things, but also raise thousands of pounds for charity. Here's how his August unfolded…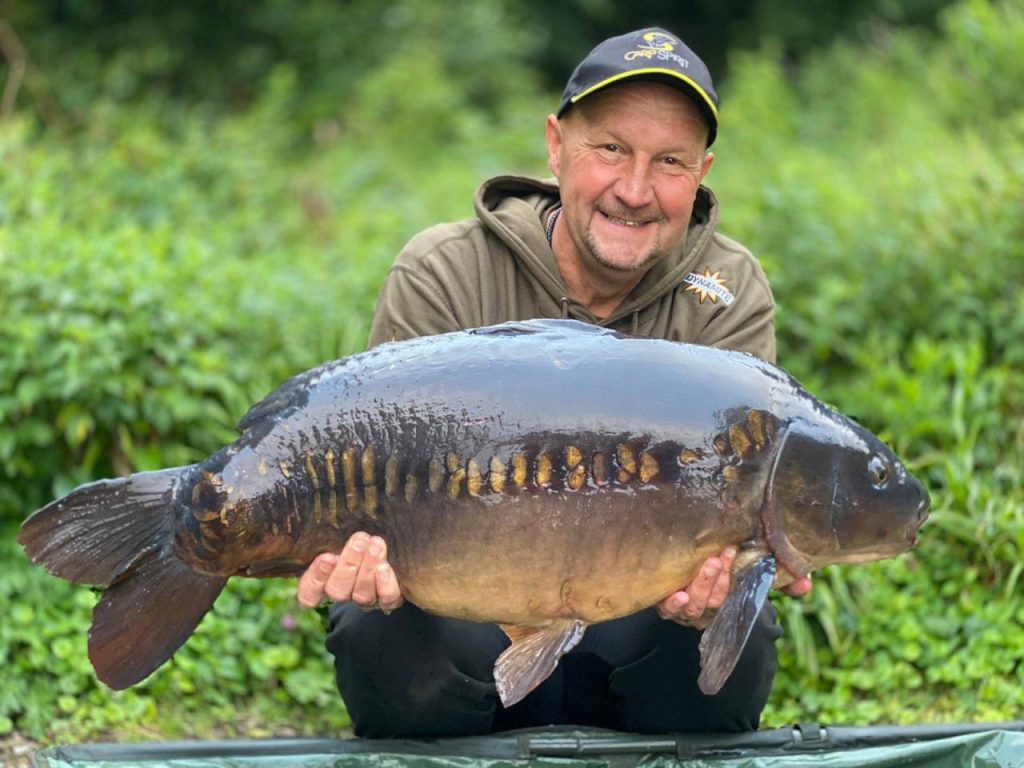 Ian says…
August for me has been a very hard and emotional month with the passing of my younger Brother Shaun and also the passing of my Carping brother Iain Macmillan. I did however manage a few trips out as follows.
Firstly, I made a two night return trip to W1 North Lake and set up in a swim called Blakes. I know the swim well so the usual spots were baited with a mix of my preferred 12mm Monster Tiger Nut boilies, only this time I mixed them 50/50 with 12mm Red-Amo boilies as well. Three kilos were soon dispatched to the spot and all rods were then fished over the top with MTN wafter hookbaits attached.
All was quiet overnight but at first light I received my first bite and after a horrendous battle, which saw me handline the carp into the net because of copious amounts of weed, I lifted a lovely 32lb VS linear onto the mat.
Matty quickly popped round to my swim do the pics before going to work. Although I repeated the process the second night, sadly no more action followed.
Next, my friend Mark Taz had been bending my ear about a trip out on his sea fishing boat so a date was set and it wasn't long before my mate Matty Grover and I were setting sail. Using enormous ragworm as bait, which incidentally I absolutely refused to touch, we bobbed around off of the Essex coast and enjoyed a hilarious day catching mostly small bass with a big old eel and a few Thornback rays thrown in the mix, but more importantly it was a day to unwind and something I personally needed.
Next up for me was to attend the Lucy's Bowl Guide Dog event at RK Leisure's Wraysbury venue. This is such an important event and one I simply couldn't miss so I put myself up for auction. With lots of incredible bidding taking place, it was a good friend of mine Tony Bond who paid £2,250 to fish with me and then spent another £200 on raffle tickets… What a star Tony is!
On the day, I had arranged to get Tony all set up and ready to fish on the Friday before I shot off with good friends Terry Doe and John Flewin to attend Iain's funeral in Stoke. This was an incredible send off with several hundred in attendance. Although it was great to catch up with so many friends from the angling trade, it was not really the place to do it so we whizzed back down the motorway and arrived back at Wraysbury for about 7pm.
Now, there is a prize on each lake for the combined total weight of each pair in this event and in the name of Ting Tong, I wanted it for us. In my absence, Tony had landed a double and lost one to the dreaded weed beds. Now, having competed at a very high level in many carp matches, (and some would say I've been quite successful in my own right) I was well aware of the work that was required to catch and knew we were against it considering I had missed about seven hours of the fishing already, and these days I detest matches as well lol.
So all rods went out on Pink Hit N Run pop ups on size 4 Beaked Point Carp Spirit Razor Point Ronnies with 32lb Opti-Mex Flouro Booms to combat the weed.
We had about 30 odd kilo of mixed CompleX-T and Marine Halibut pellets which I had prepared with lashings of Dynamite Evolution Krill Oil several weeks before, so it was time for me to get on the Spomb! Alternating between both areas at different ranges, we soon started to rack up the numbers.
With a five-hour break on Saturday to attend the Raffle/Auction, we worked tirelessly and ended on 16 takes with carp up to 25lb. At the final whistle we had less than a kilo of pellet left and a pile of empty buckets! My arms were in bits and it proper reminded me of my carp match days. We had done so well seeing as with me missing seven hours on the Friday and both of us missing five hours on the Saturday, (that meant we were effectively 12 hours behind some others who neglected to attend the Saturday Auction/Raffle) but we had pulled it off narrowly.
With Tony having spent so much to come fish this event with me I felt he alone deserved that trophy. At the presentation we were all informed that the figure we had raised was £55,000…WOW! And all by a bunch of smelly fishermen. I'll close on that statement because it makes me incredibly proud to have been involved in an industry for so long that always pulls together for a very very worthy cause
Until next month – Ian Russell