30 July, 2021 | Carp | Angler Blogs | Articles
0 Comments
Russell Crisci: My Trip to The Chalk Pit
A superb diary entry from top carp angler Russell Crisci who recalls a memorable fishing trip on a local chalk pit…
Russell says…
That week, I decided to have a 48-hour session on a local club water. The weather looked prime for it too, with a big low pressure system forecast with strong gale force winds with
South westerlies accompanying it.
The lake itself is a chalk/clay pit around 30 acres in size and it has a good stock of big fish these days, but it is very pressured because of this. It has depths down to 30 feet in places and is
like a bowl.
I have fished the water before on and off since I was at school, catching lots of round pale carp that we lovingly named 'chalk balls.' Over the years the lake has matured
well and so have the stock, which have coloured up nicely due to the weed growth.
I have seen things change a lot over the years. We now have a lot of anglers and a lot of bream present, and the fishing has become steadily tougher over that time.
So, I arrived early on the Friday morning, it was a work party weekend so we could fish on Friday but had to work the days over the weekend, fishing the nights only. I decided to have a walk around the complex on my bailiffing duties to make sure everyone knew the score with the 'only allowed to fish if you are working' rule, but not before dropping my gear into a swim where I knew the carp were sure to turn up if there was a weather change.
As I was just finishing my rounds. I received a call from my mate Big Mike to inform me the fish had started to appear and show big time where the wind was blowing and they looked to be heading to the area I had secured, so I decided to get a move on before he poached me! (carp fishing is ruthless these days!)
So, I grabbed a Red Bull out the van on the way back, as I knew my mate Brownie was joining me and he was in charge of the work party and would have us all knocking our nuts out
all weekend! I took the rods and made my way to the swim to be greeted to see the wind lapping into the area. The wind was also increasing in strength and the rain was imminent. The
fish then started to show close in and they were here in numbers.
I knew from previous experiences that they can move off just as quickly as they come, so I managed to sneak a small bit of bait in there prior to my session. I used just a bit of broken Complex-T boilies and a little Frenzied Hemp, I knew I'd have a good chance of a quick bite if I was stealthy in getting the rods out, so I opted for a single hook bait on the marginal shelf with a small lead to keep disturbance down.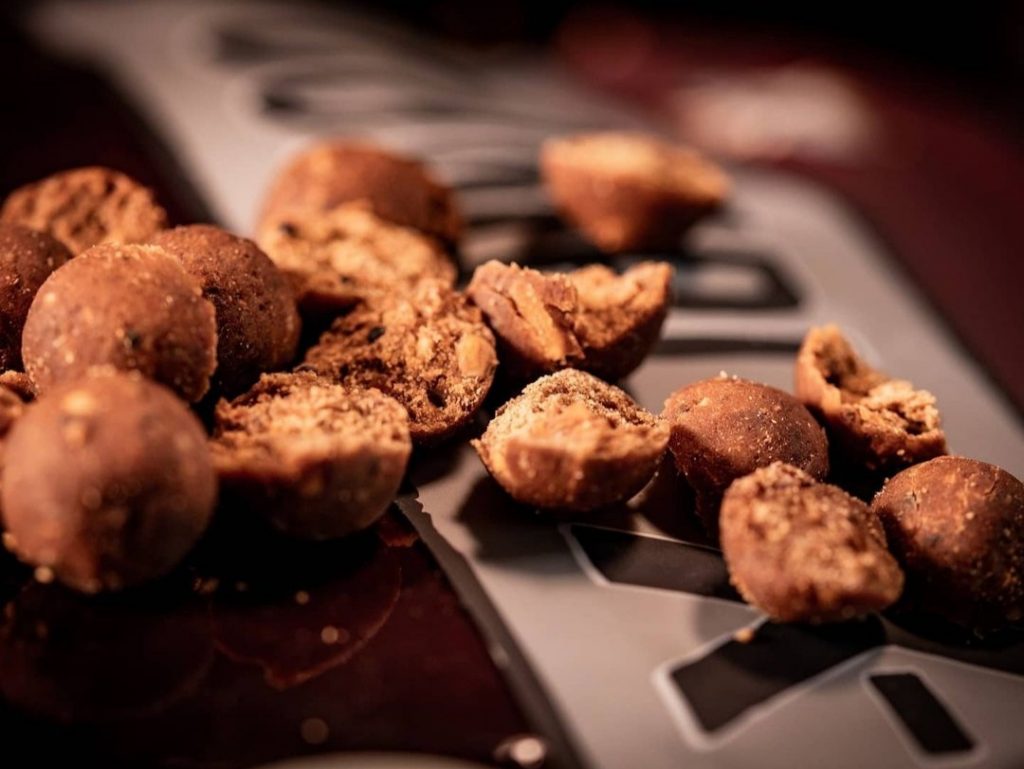 I refrained for a while, but after being nagged by Mike to put zigs out on the other rods, I did just that and sat back and put the kettle on. Here, I knew it was game on
for a bite!
A few hours later, the showing had eased right off, just as I suspected. I thought having too many rods out may have spooked the fish somewhat. I was just sitting
there thinking I had made a big mistake putting those two other Zig rods out when the marginal rod sprung into life, the tip bent round and line started peeling off a fairly tight clutch!
With Mike and a few others looking on, I knew I was attached to a decent fish and time after time it went on a good run using the deep water to run me ragged! The freefall tubing saved me a few times with the fish running on the branches of the marginal bushes, but thankfully Mike scooped the fish in the net like a pro.
I left her in the net for 10 minutes for us both to recover, as I needed to warm up as I was out on a spit playing her in the wind and the rain and I was now frozen and
drenched to the bone!
We set about the ritual of weighing and photographing the fish, and as always, it is good to have a few pairs of hands to help out. Consequently, we noticed the mirror carp's tail and pecs were huge and I could then see why I'd been given the run around in the deep water. At 34lb she was an absolute stunner.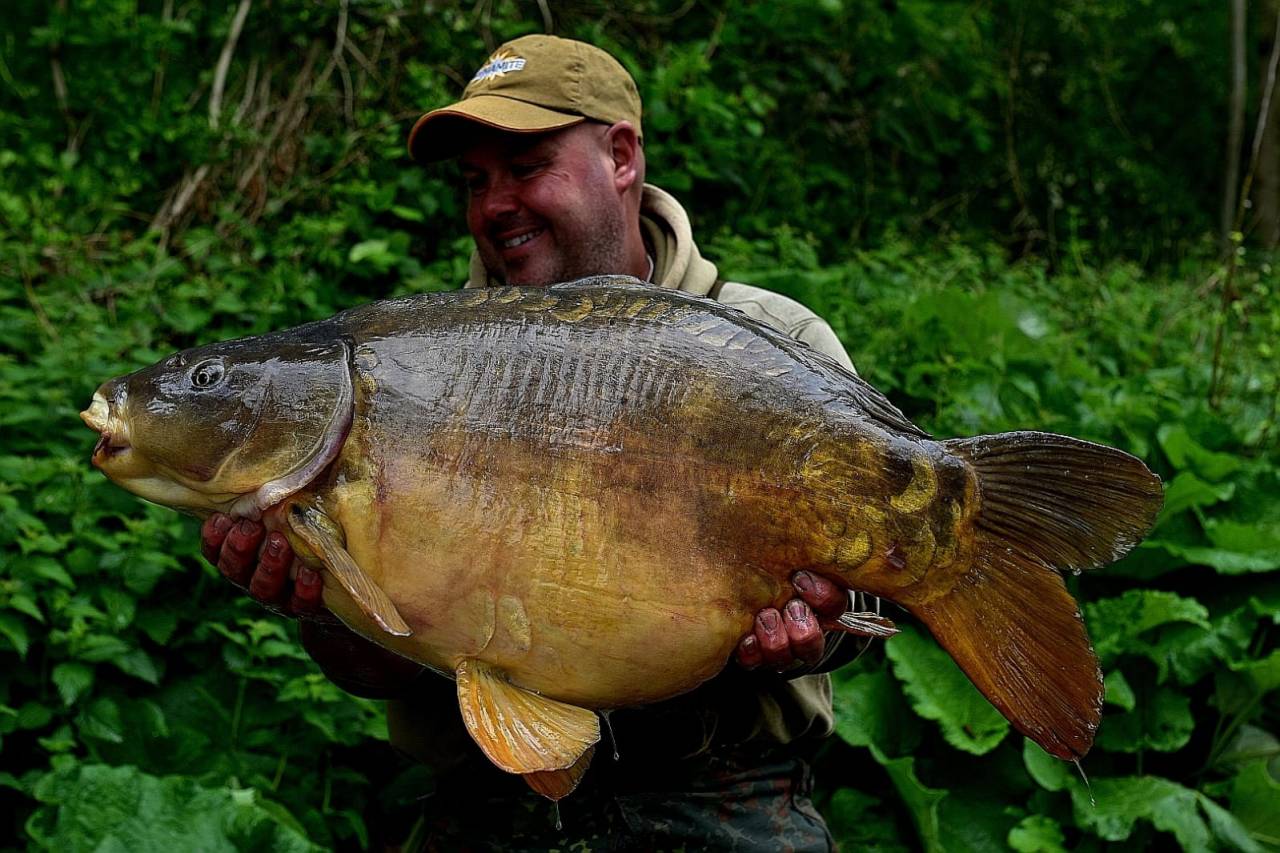 Safely returned, I quickly set up a brolly for the night, but the night passed uneventfully as per usual and the fish had moved on. The showing had dried up to and that night was extremely
quiet.
I was still buzzing and excited as we reeled in for a day's graft, getting lots done and finishing the day off with a big social BBQ. That night I was so tired I just chucked the rods out in hope and got some sleep. The two bream that interrupted me were called a few choice words, dragging me from my nice warm sleeping bag!
Before I knew it, it was time to get wrapped up and get working again. I felt very fortunate to be able to catch a decent fish on my first night on the water this
year and I just might go back for another trip or two later on in the year.
– Russell