26 May, 2021 | Match & Coarse | Angler Blogs | Tips | Articles | News
1 Comments
James Champkin: The Greatest Rudd Haul in History
Catching a single 3lb-plus rudd is considered to be the achievement of a lifetime, so you can imagine James Champkin's shock and elation when he etched his name into the history books by banking 11 of them in a single session topped by a record-shaking specimen. In the extract below, James relives the once-in-a-lifetime session and delves a little deeper into the rig, bait and tactics behind the greatest rudd haul in history…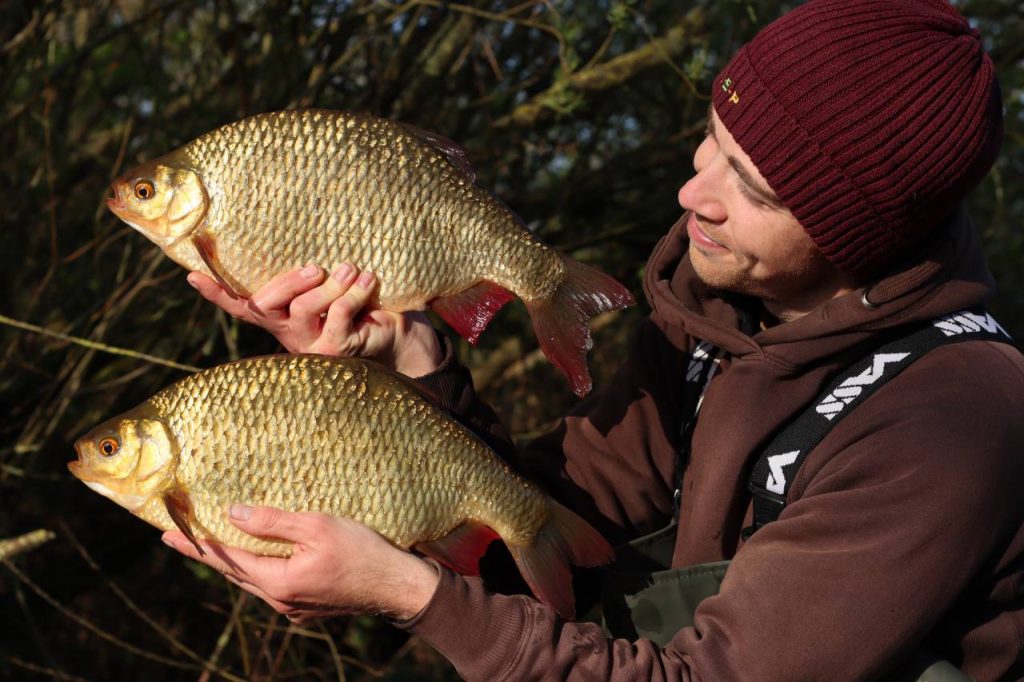 James said:
The build up to this historic catch was long, arduous and tested my resolve to its maximum. It all began back in the July of 2016 when I joined a carp syndicate venue in the north of England that was known to hold some enormous rudd. Over the years I'd heard of multiple different 3lb fish being caught accidentally by carp anglers, and even reports of a ridiculous rudd weighing 4lb captured when one of the regulars decided to have a dabble with a float rod one morning. I was extremely fortunate to secure a ticket from the understanding owner so late into the season, but only after I explained that I wouldn't be hassling the lake's carp population – I just wanted to pan for gold!
My first trip north that year was just a day session armed with minimal kit, and my aim was to target these huge rudd on the float. This seemed plausible given that carp anglers had achieved just that, but just a few hours after arriving at the venue I had decided that this approach just wasn't going to bring the results I desired. I was immediately plagued by huge shoals of tiny rudd that demolished by maggot and corn hookbaits with vigour, long before any of their bigger relatives could get involved. The margins of the lake were also extremely shallow, and my visions of stalking massive bars of gold as they meandered around marginal reedbeds like John Wilson fishing Elstow soon vanished – an alternative plan was required.
On the drive home that day my mind was racing as I considered how best to target these special fish, and by the time I rolled back into my driveway I had come up with a new approach. I'd decided to feeder fish with pop-ups as hookbaits and fish a scaled-down chod rig. To cut a long story short, this approach worked a treat and by spending countless hours locating clear areas among the underwater forests of thick weed, by the end of that summer I'd caught numerous rudd over 2lbs, culminating in a superb new PB weighing 3lb 2oz.
Fast-forward five years and the lake had given me a good kicking. Each year I would fish a few sessions during the summer months but despite thinking that I'd cracked it and found the right tactics, I actually found the fishing extremely difficult. Over those intervening years I caught just a few more big rudd including one more 3lber, but I racked up an awful lot of blanks along the way.
By the time that 2019 drew to a close I had made up my mind to fish the lake for one further season, but target it much earlier in the year than I had done previously, before the weed had an opportunity to take hold and the natural food became so abundant. Well, we all know what's often said about the best laid plans – the first coronavirus lockdown of 2020 brought my big intentions to a halt, and the campaign was going to have to be delayed for another year.
As the spring of 2021 rolled round, I was champing at the bit to head back up north to the special rudd lake and finally set my plans into motion, albeit a year later than intended. As soon as night fishing resumed at the end of March, I had the peddle to the metal powering up the M1 and was bound for my first session of the season. However, despite the initial promise and bathing in glorious spring sunshine, the fishing started slowly and I kicked off with a two-night blank. Nevertheless, I felt undeterred and stuck to my game plan. I'd decided to fish with maggots – something I hadn't attempted since that first day session nearly six years previously. The depressed water temperatures meant that the smaller rudd weren't active quite yet, enabling me to get away with fishing much smaller baits. These were fished popped-up helicopter-style with a sliver of red foam and in conjunction with a 35g Drennan Feederbomb.
My second trip coincided with the Easter Bank Holiday weekend and I was slightly concerned that I might arrive to find the lake rammed with keen carpers, but amazingly I trundled along the fishery track on the Sunday afternoon to find just a couple of anglers fishing. I had lots of swim options to choose from but decided to drop back into the same area as I had fished on my first trip – a part of the lake that had previous form for producing big rudd to carp anglers in the early spring, and in which I had located a couple of hard, clear spots the previous week. Despite being just a few days apart the weather I experienced on those first two sessions couldn't been more different. The previous week I had been bathing in 20 degrees and liberally applying the sunscreen, whereas now there was snow forecast for the night ahead! It was absolutely freezing with a bitterly cold north easterly wind pulling down the temperatures close to freezing, and making me question my sanity for foregoing a Sunday roast with my partner to fish alone in sub-zero temperatures in the pursuit of a rudd.
Amazingly, despite the conditions my perseverance was finally rewarded on that third night of the campaign with a new PB rudd in the form of a stunning 3lb 9oz fish. It all seemed a bit mad as I photographed the fish in the early hours with snow flurries falling around me, and I decided to cut my session short and head back home the next morning to celebrate my success. The champagne cork popped that evening and I finally felt some redemption after six years of effort.
The following week I returned, and fishing identical tactics caught another cracking rudd weighing 3lb 4oz, along with a small tench. The campaign was ticking along nicely, but it was during the next trip that things were to go from the sublime to the ridiculous.
I returned for a planned three-night session on Sunday 18th April. After having a nightmare with my car, which was stuck in the garage for some electrical work to get it through the MOT, I'd been forced to hire a motor just to allow me to get back up to the lake. Somehow, I just knew that I needed to get back regardless of what obstacles were put in front of me, but at that point I could never have imagined how the session would unfold.
I arrived around lunchtime and spent a few hours with a marker rod leading around the areas I'd been targeting in an effort to locate the very firmest, cleanest spots on which to place my rigs. I believe that my fussiness about accuracy is one of my biggest edges over other anglers, and with a few days ahead of me I wanted to be 100% sure that I was fishing as effectively as I possibly could. After pinpointing the hoped-for hotspots, I deposited around a pint of Frenzied Hempseed and a pint of maggots over each, liberally dosed in Sweet Tiger liquid to create an enticing milky cloud in the water column. As I often do, after baiting up I left the rigs out of the water for a few hours to allow the swim to rest, instead spending my time until early evening walking around the lake and chatting to the carp anglers to see what had been transpiring in my absence. It seemed that the carp fishing had been very slow – possibly unsurprising given the persistent north easterly winds and very low temperatures that we continued to experience through April – but I was hopeful that the rudd would respond differently to the cold spring.
I finally got the rods out at around 7pm, and unusually for this lake (where the norm is catching very little!) I started to get indications on one spot almost immediately. Shortly afterwards I had my first bite and caught a small tench, followed by a few more. This seemed bizarre given that in my first five years of fishing the lake I'd never seen nor caught a single tench, but it seemed that I suddenly had numbers of them feeding in front of me.
After a brief lull in the action, I had another bite on the same rod just as dusk started to draw in, but this fish felt distinctly different, lacking the kiting fight of a tench and instead just nodding its head as I lead it closer on a straight line. At the net an enormous bar of gold popped up, and panicking I scooped it into the waiting landing net without any drama.
Before I had a chance to marvel over that first fish, I had yet another huge rudd in the net and this truly set the tone for the night and indeed the rest of the session! Incredibly, on each evening of that three-night session I hooked no fewer than five enormous rudd, landing eleven of those beasts, with each of them weighing at least 3lbs! The end tally read: 3.0, 3.4, 3.4, 3.6, 3.6, 3.7, 3.8, 3.9, 3,10 and 3.12, plus a truly unbelievable rudd weighing a ridiculous 4lb 5oz! It was the most outrageous session that I've ever enjoyed, and most likely will ever experience.
Always follow your dreams – no matter how long it takes.
– James