27 June, 2019 | Match & Coarse | Tips | Articles
68 Comments
Top Tench Fishing Rigs – James Champkin
In the latest Big Fish Hunt article, specimen ace, James Champkin reveals two top tench fishing rigs you just have to try this summer.
In this article:
Top tench fishing rigs and when to fish them
Top tench fishing baits
How often should you recast when targeting tench
How to fish the feeder for tench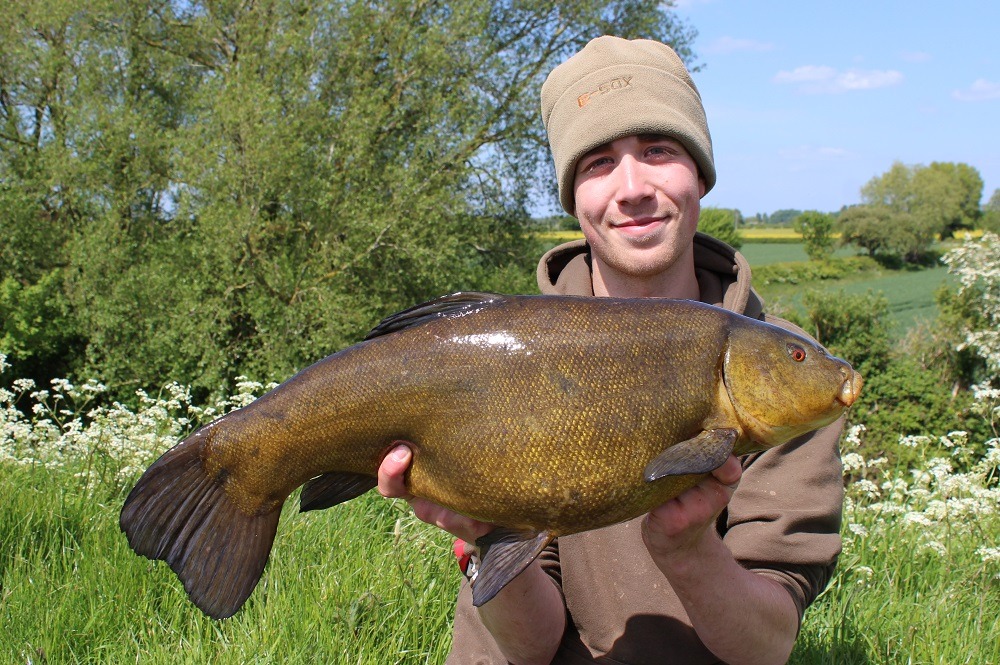 James continues…
The months of late spring and early summer make many all-rounders think of one quintessentially British species in particular: the red-eyed, green-flanked tench. Possibly the most unique looking fish that swims in our waters, tench can offer fantastic sport from April – October, and they fight hard!
Large male tench, with their enormous pectoral fins and enlarged, protruding muscles will test all but the strongest of tackle, and it's wise to gear-up accordingly. In the latest installment of The Big Fish Hunt, I want to run you through my top two rigs for targeting big tench. These will work on all manner of different venues, but they are especially effective when targeting large tench on gravel pit fisheries, which is often where the very biggest tincas reside!
Caster bag rig
Until last season, this rig was my go-to tactic for 99% of my tench fishing on reservoirs and gravel pits. I've since become more adaptable in my approach; however, this rig remains an absolutely deadly method for catching tench of all sizes.
I rig up a leadless leader (you can also use leadcore or rig tubing, as fishery rules permit) with a 2.5oz inline lead, terminating in a quick-change swivel. This sits snug (but safe!) inside the insert of the lead and also enables me to change rigs quickly.
In my opinion, this is paramount because tench will often arrive in the swim in small groups and bites can often come quickly following a recast, and therefore it is vital to get your baited rig back into the swim as quickly and efficiently as possible.
Over several years of fishing with monofilament hooklinks I lost far too many big carp (hooked by accident) in weedy situations, and I now exclusively fish with braided hooklinks. Two artificial casters are threaded onto a short hair tied from 15lb Drennan Gravel Braid and whipped with a knotless-knot to a size 12 Korda Mixa hook.
Although designed for floater-fishing, a good friend put me onto these hooks for tench fishing many years ago and they really are excellent for the job. A small loop and a rig sleeve complete the hooklink and allows me slide it straight onto the quick-change swivel.
Nick on a small bag..
A small PVA bag of casters will be slipped onto the hook before casting out, which leaves your hookbait lying among a perfect mouthful of crunchy, irresistible baits. Just be careful to ensure that your casters are dry before attempting to tie up the PVA bag! I often dust them with a little groundbait, such as Dynamite's Frenzied Hempseed Groundbait.
This rig is supremely effective when fished over a clean, gravel bottom and among a bed of red maggots, hemp and casters. I would use this approach when fishing very low-stocked, big fish waters where bites are few and far between. The rig can be left in the water for many hours and still be fishing effectively.
Inline maggot feeder
The caster bag is deadly, but I do think that in situations when you have numbers of tench in your swim (or are generally fishing waters with a large population of tench) the maggot feeder is a very difficult approach to beat. Having said that, I've discovered that even on low-stock venues the tactic can be amazingly productive.
The in-vogue approach these days is for a maggot feeder to be fished helicopter-style, with a short monofilament hooklength rotating freely on the mainline. As I've already said, I now avoid mono hooklengths at all costs and given that I always try to locate clear areas upon which to present my baits, I always rig up the feeder inline if possible.
A 2oz Drennan Inline Maggot Feeder is threaded straight onto the mainline and a quick-change swivel tied on. This rests snug in the feeder insert but will release under steady pressure. This is then combined with a short (4") braided hooklength terminating in a size 12 Korda Mixa hook and two-three artificial red maggots as the hookbait.
This will sit immediately beside the feeder when it hits the lakebed, and I believe that any tench inhaling the escaping maggots will have great difficulty in avoiding the semi-buoyant hookbait. I will also often incorporate a large blob of tungsten putty a couple of feet above the feeder to help pin down the mainline, and I will fish my lines fairly slack if the rig is being presented at close range.
Cast regularly..
The key to this rig's success is regular casting – every hour certainly, but perhaps as often as every twenty minutes on well-stocked venues. As I often do, you can tape up your feeders to slow their release. I would fish the feeder over a light bed of hemp and casters, but often only introduce maggots through the feeder. Regular recasting keeps bait going into the swim and you could easily get through half a gallon of grubs in a few hours.
If you are struggling to locate a clear area to fish, then do consider fishing the feeder helicopter-style and popping up your hookbait with some red rig foam. This will become an increasing issue as we move into late summer and weed growth can become extreme on many tench venues. If this is the case, also consider stepping up your hook size and mainline.
More Big Fish Hunt Articles: