23 December, 2019 | Match & Coarse | Tips | Articles
0 Comments
The Big Fish Hunt – Festive Favourites
In the final installment of 'The Big Fish Hunt, specimen ace, James Champkin reveals his top three species to target for the festive period…
Nope – I'm not referring to Nan's mince pies or Marks and Spencer's finest pigs-in-blankets. For 2019's final installment of 'The Big Fish Hunt', I'm going to delve into my top three species to target when you've got a few days off work over the festive period. Spending some much-needed quality time with extended family is great, but if you're anything like me then by the time Boxing Day draws to a close, you'll be ready to enjoy some fresh air and get the rods out!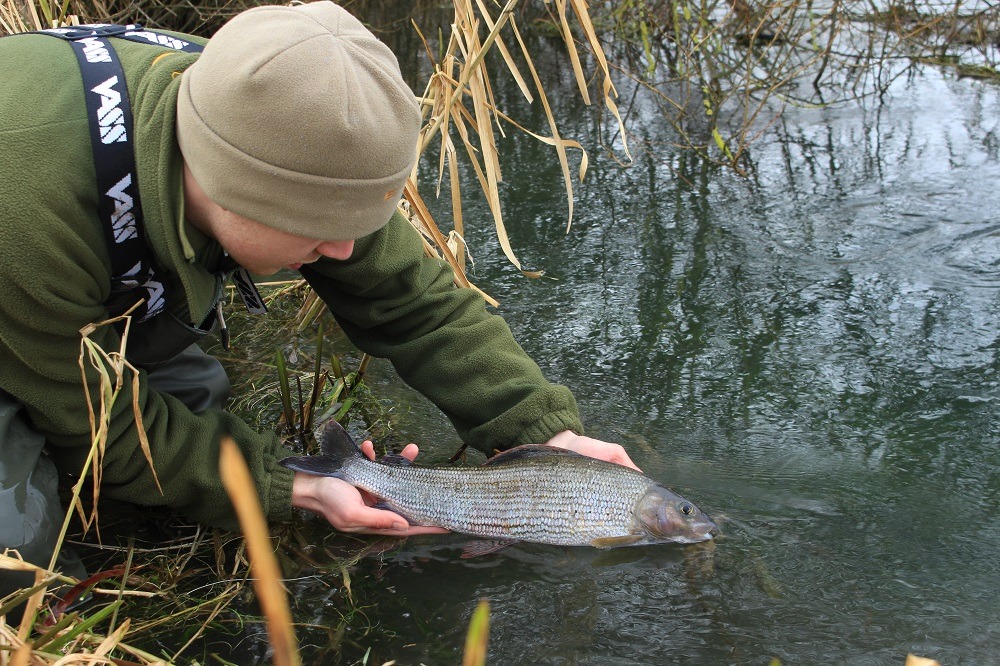 Chasing Chevins
From my experience, Christmas is a superb time to start targeting big chub in earnest. We've had some seriously heavy rainfall this autumn and many rivers around the country have been over their banks for weeks on end.
However, during December flowing water often comes into fantastic form – the river levels are falling, they're carrying that superb green tinge of colour and many species begin feeding.
Chub are catchable in even the coldest of temperatures, and there are so many effective methods that you can employ that they must surely represent the most reliable of all winter targets. Prebaiting several likely-looking swims and then fishing them in rotation is a brilliant way to spend a few hours working off the Christmas pudding, and a few hours is often all you need to access some great sport.
Simple bread flake is a highly effective bait – simply mash up some bread with water in a bucket using your hands, throw a few balls into promising glides and then spend just thirty minutes fishing in each. Investigate creases, rafts of debris gathered around trailing branches, and any snags themselves as big chub are rarely far away from cover.
Cheesepaste comes into its own when fishing in coloured water or after dark, while 15mm Source boilies are brilliant when targeting stretches with a lower stock of big fish.
They can be fished in exactly the same way – bait several likely-looking swims with a handful of boilies and fish them in rotation. A simple running rig with a small lead and a PVA bag of broken boilies works well, and the hookbait can be wrapped in matching paste for even more attraction!
The Lady of the Stream
There is perhaps no species that embodies a winter day on a river more than the humble grayling. When hard frost and snow envelope the countryside they continue to offer excellent sport, and even a fish of a pound gives a fantastic account of itself on light float gear.
The Lady of the Stream is surely one of our most unique and beautiful fish, and although they are not geographically widespread it is certainly worth making the effort to travel for a day's grayling fishing. And they might not even be as far away as you think – the upper reaches of many rivers do contain grayling in certain stretches, so do your research.
One of the joys of fishing for grayling is the simplicity of tackle required for a day's trotting. A light float rod paired with a small fixed-spool reel loaded with 3lb mainline is all that's needed, teamed with a loafer float set-up. Add a couple of pints of maggots and you're ready to go!
Make sure to feed maggots every trot through (a bait pouch strapped around your waist helps to keep feeding regular) and try to fish with the bait tripping the bottom. This if often the most effective presentation, but experiment with the depth until bites start to come.
I use an olivette in place of bulk shot as I find this presentation much neater, and I fish a single dropper shot (a number six or eight) beneath this, usually around six-eight inches from the hook. The aim is to have this shot just tripping the riverbed.
Cold-water crocodiles
Some of my fondest festive memories are of the freezing cold days between Christmas and New Year spent pike fishing with my Dad. The tranquil and ancient estate lakes that dotted the landscape where I grew up in Norfolk were amazing places to develop my angling skills. My Dad wasn't a keen angler, but as long as he was out in the English countryside with a flask of hot coffee, he was more than content.
Traditionally, pike fishing kicked off on 1st October but I always think that the weather is far too mild to fish concertedly for pike during the autumn. December feels about right, and the Christmas period is always when I've really got stuck into my pike angling.
Deadbaiting is one of the most convenient and effective methods of targeting big pike. Lures and livebaits will often catch more fish, but they generally attract more jacks and deadbaits inevitably tend to select the bigger girls
Last winter I really got into my river pike fishing for the first time. It was a steep learning curve fishing the fast waters of the Hampshire Avon, but I can't recommend river piking enough to any budding predator enthusiast.
Almost every river in the country contains numerous pike, and it's exciting stuff – one second your float is swaying gently on the surface of the river, reacting to the varying current, the next moment it's being violently submerged as an unseen leviathan picks up the bait below.
Paternostered baits can be successful, particularly when fished over weedier areas or on creases such that the bait flutters enticingly in the flow, but I found that it was hard to beat a very simple, float-leger presentation, with a running lead and a short trace fished on the bottom.
However, please make sure you use an up-trace above the lead – I have learned from bitter experience that this is absolutely essential when pike fishing on rivers as it is all too easy for the flow to drag your mainline across your rig and for the pike's razor-sharp teeth to slice through it when you strike.
I found sardines by far the most effective deadbait and they would now always be my first choice but do try others as the pike on your local river may show a different preference on any given day. Stay mobile and cover lots of likely spots throughout the day; slacks are a good starting point, particularly in high water.
Enjoy your time off!
Despite the often inclement water December and January can offer some superb specimen angling opportunities, particularly on the rivers, which really come into form at this time of year, So, have a fantastic festive period, make the most of your time off, and try to get at least a day or two out on the bank. A PB could be just around the corner!
Merry Christmas!