21 April, 2022 | Carp | Angler Blogs | Articles
0 Comments
Ian Russell's Diary March 2022
The Big One Show, W1, Linear Fisheries and one memorable trip to France with Barry Hearn – it's fair to say March for Ian was one to remember! Here's how he got on…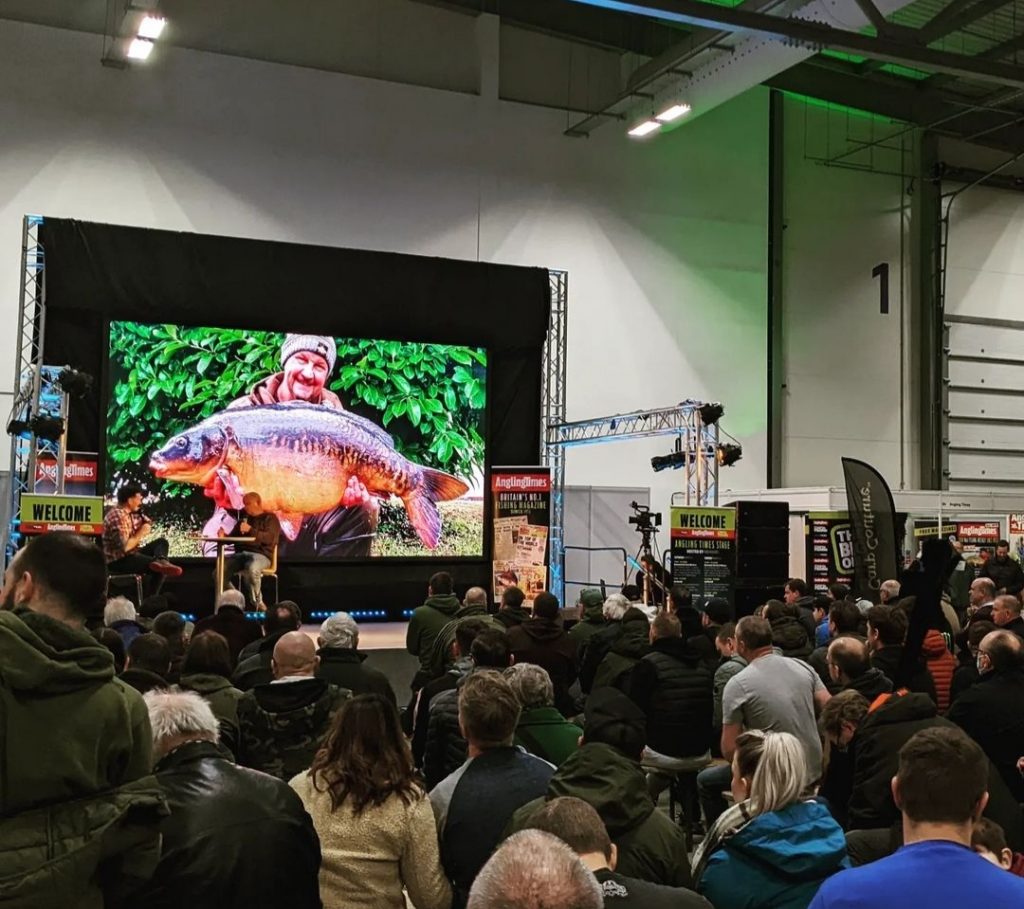 Ian says…
It was really nice to start attending the shows again. The Farnborough Big One was not disappointing for a starting point!
The Dynamite/Carp Spirit stand was constantly busy with our new Magnum 100 Bivvy on display and I even managed to secure two talks on stage with my lovely team member Rob Hughes. All in all it was a great weekend for everyone involved.
Following the show, my season on W1 drew to an end with a trip that produced carp of 26lb, 29lb and 30lb 8oz. To be fair, I am super pleased with my end of ticket tally as I'd ended on 30 takes with 27 landed in 25 trips, including both lake records – a Common of 45lb and a mirror of 54lb. Such is the power of Monster Tiger Nut boilies lol.
I had used a fair bit of my favourite Spod mix during that time which consisted of Dynamite Frenzied Hemp with some XL Sweetcorn and 12mm Monster Tiger Nut boilies. All winter they kept coming back for more of this wherever I put it! We now have a couple of weeks break before the new ticket starts and the draw for swims begins…
In March I also had a couple of Linear tutorials in the diary and by far my favourite was with a lovely fella called Jet.
We initially set up on a very poor-fishing Brasenose 2 before moving onto Oxlease. Now Jet had never fished with zigs so this was our focus for the trip. Over the next 24 hours he managed three good 20s and left a very happy chap.
My next trip was my first trip to France in a long long time and my good friend Ben Lofting had invited myself along with Barry Hearn and a couple of others to visit his Luxmont Lake on the Le Evasion complex in the lovely Champagne region.
We were greeted by Ben and his onsite bailiff Andy and I have to say what a beautiful lake it was.
Before long we had walked the lake and selected swims and set about sorting our kit out. My usual baiting approach of Monster Tiger Nut boilies along with rod on the Spicy Shrimp n Prawn baits was used.
I'd not used this bait before but friends of mine were raving about it so I just had to grab some. Barry decided to use the same approach too.
The first night passed quietly but come morning we both started picking fish up with both baits giving equal results, but I have to say the Spicy Shrimp n Prawn did pick up a few catfish as well along the way.
The first three days the weather was in the mid 20s and it was rather lovely sitting out in the sun at last. The carp were consistent with an early afternoon feeding spell and then again at first light. We soon had a fair ole few between us!
With Finkfood sorting out the first few day's grub it was soon time to nip off to the local Hypermarket and what fun that was!
By Wednesday the weather started to deteriorate with a fresh north/easterly wind which inevitably slowed the bite ratio down. Soon enough it was home time but we had laughed a lot, caught some magnificent fish and been looked after royally by Andy.
A big thanks to Ben and Andy for giving us the opportunity to fish their lovely lake!
So what's next for Ian? April sees yet more Total Carp features, a social fish-in with fellow #Catch It members and 48-hours filming with my camera mukka Steve Coe of Dynamite. Then of course, the W1 ticket restarts and boy do I love that venue!
Either way, I'll keep you posted.
–Ian