25 January, 2022 | Match & Coarse | Articles | News
1 Comments
Daniel Woolcott's Record UK Roach Brace
At the end of 2021, Specimen ace Daniel Woolcott etched his name into the coarse fishing history books when he banked the largest brace of roach ever recorded in the UK. Below, the man himself retells the moment he achieved every roach angler's dream…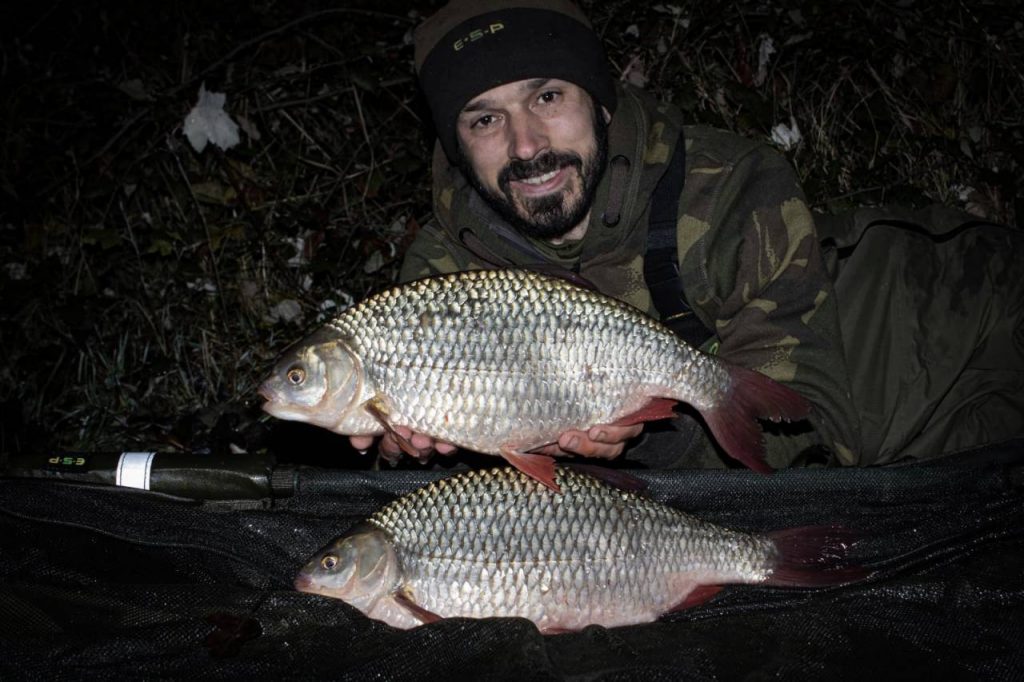 How Dan banked a British Record Roach Brace…
"Being an all-rounder, I fish campaigns for multiple species throughout the season. Unfortunately, this means that I do not get time to fish for every species, and some have to wait until next year. Roach however are a true love of mine and I make time to fish for them every season. On one particular session earlier this year, I managed to land the brace of my dreams.
Arriving at the lake, the conditions were not particularly favourable with high pressure and bright sunshine. There was no distinguishing wind, or any encouraging weather conditions that made me feel confident the roach would be on the feed. Even though conditions were not ideal that day, I was well aware of the incoming weather.
My app indicated that the next evening was to be my window of opportunity, as the low pressure rolled in and the ideal conditions arrived. As expected, that first night did not produce a fish, and I work up full of beans ready to make the most of such ideal conditions.
I choose to fish with short fluorocarbon hooklinks fished helicopter style, in conjunction with a 45g Drennan bomb feeder. Having caught a number of big roach from various lakes across the country, I was confident that this approach would be effective.
My set up for big roach may seem harsh to the purest, but it is necessary. Fishing with bite alarms for roach is not for everyone, but the reality is that roach over 3lb are extremely rare. They are big because they are the few remaining fish left from their original shoal.
They usually live in large unpressured waters, which contributes to their exceptional growth, but it also means that they are as rare as hen's teeth. The reality is that you could be targeting thirty odd fish in 100 acres of water, and the only way to succeed is to fish with feeders and alarms.
Bait is extremely important and I like to fish with a dark coloured groundbait. The Silver X Roach groundbait combined with Frenzied Hempseed and maggots is a mix second to none for big roach. When it gets cold I also like to boost my groundbait with additives.
Hemp Oils and aniseed are great additives for your bait when targeting winter roach. Location is a massive factor when targeting low stock specimens, but you also have to catch them and without a good quality bait you're minimising your chances.
Prior to casting, I Spombed out some groundbait mix to the area I intended to fish.
I managed to get all rods in place ready for an evening bite, however no bites materialised at the expected time, and it wasn't until later when I received a savage take on the right hand rod. Bending into the fish I could tell it felt like a good roach.
After a spirted battle, a big bar of silver rose from the darkness and I scooped it up in the net. Peering down I was in awe at the site of such a huge roach, but I didn't spend too long admiring it and I got the rod straight back out on the spot.
The feeding spells of big roach are extremely short and you have to take advantage of those slim windows of opportunity. With the rod back out on the spot, it wasn't long before I received a big drop back on the same rod and connected with another decent fish. Eventually I had it up in the water and I managed to scoop it in the net with the other one.
Looking down I had two huge roach and was blown away. They weighed 3lb 14oz and 4lb 2oz, which was, simply mind blowing.
With roach being my favourite species, to catch a brace of fish of this stamp was simply a dream come true. It's so rewarding when all that time an effort comes together and you achieve your ultimate goal. The 4lb 2oz roach was only 2oz off the British record and as a brace, they are the largest caught in UK to date. Simply staggering and a moment in my angling that I will never forget."
Watch the full video of Dan's incredible roach capture, here.