21 October, 2021 | Match & Coarse | Tips | Articles
58 Comments
Archie Braddock: How To Catch Big River Roach With Pellets
Following the sharp rise in anglers taking up barbel fishing on large rivers such as the Trent, Severn and Thames, it's no surprise that we've seen an increase in the numbers of big roach being caught. This is largely down to the amount of fishmeal baits such as pellets and boilies being fed into the rivers by barbel anglers which has enabled species like roach, bream and chub to grow to ridiculous sizes. Whilst maggots, casters and bread remain excellent options for river roach, many anglers are now turning to pellets to improve their redfin personal bests – just like legendary all-rounder, Archie Braddock. Below, Archie shares his pellet tips to help you land larger roach during your next trip to the river…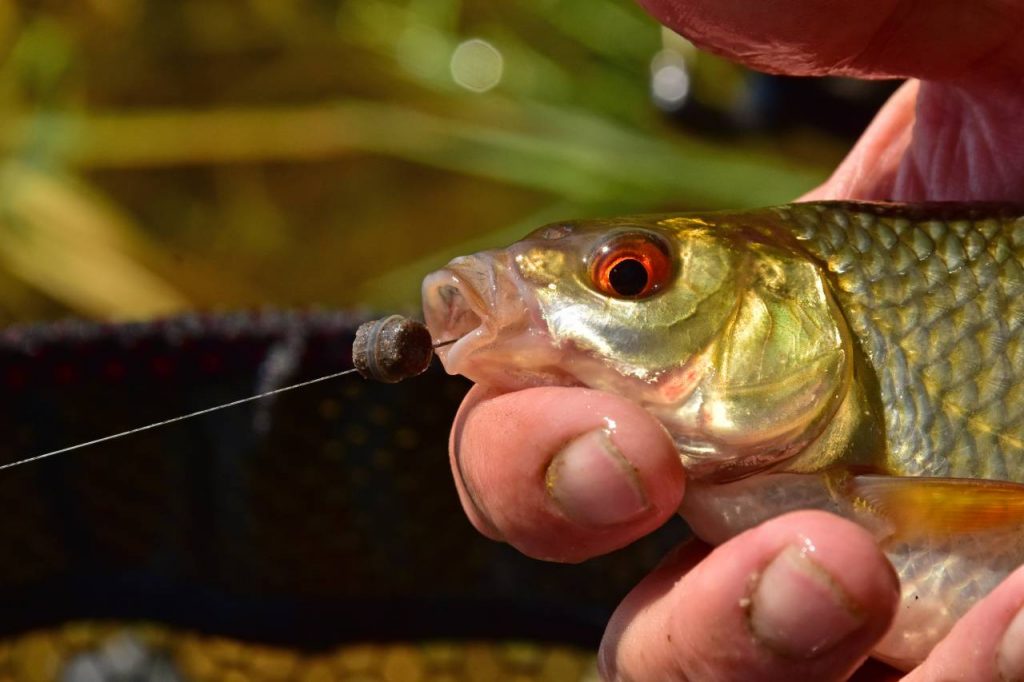 Archie says…
With the Trent developing into the best barbel river in the country, the increase in specialist anglers it has attracted has led to a big increase in the baits being fed in: namely boilies and pellets. The intended quarry, barbel, have benefited enormously, but so have some of the other species.
Chub are reaching huge sizes, the bream are getting ever larger, but it is the roach that have captured my imagination in recent times. The chance of a roach over 2lb has never been better, and already a huge fish of 3lb 4oz has been taken from the Newark Dyke to a local angler; this followed a fish of 2lb 10oz taken earlier in the same month by the same angler. These fish, like many others nowadays, came to fishmeal pellets.
I couldn't afford to miss out on this, so for the last couple of seasons I've neglected my river perch campaign to try to come to terms with these big roach. Getting the rig right was the first priority, and in this I had valuable help from pal Steve who manages to get out fishing six days a week.
He has spent a lot of time chasing these fish, and between us we've arrived at what we believe to be the best method. Although hemp and tares, or casters, take good catches on float tackle, the feeder has proved most effective. Even the best float anglers would struggle to catch roach from the swims we have found them in; 12 foot deep, mid river, and often with strong winds blowing. We have had to use 2oz, even 3oz, groundbait feeders to hold in the flow. This largely negates the use of quiver tips although Steve sometimes does use them: I just rely on rod top bite indications. Basically we are bolt-rig fishing, and the fish generally hook themselves.
The Rig
The feeder is filled with mixed sizes and types of pellets, and is blocked with groundbait plugs at both ends. Dynamite Baits produce a really good range of pellets and groundbaits, perfect for this style of fishing. My mix of feeder pellets include Marine Halibut, Krill, Robin Red, and the Source; I do believe any of the pellets in Dynamite's range will do the job. I vary the sizes of these feed pellets from 2mm to 6mm so that the fish have difficulty associating one size, or taste, with danger.
The groundbait plugs for the feeder are all Dynamite products, and I do believe their range is the best in the business both for quality and variety. As I am using a fishmeal approach for the roach the obvious choice is the Marine Halibut and Frenzied Hemp groundbait, or the Halibut mix on its own. I've dabbled with the Frenzied Hemp groundbait and its Worm, Caster, and Specimen variants, plus I've done well using the Krill Method mix; this makes an excellent feeder plug due to its texture. There are several others I will be trying later on: the Swim Stim range, Silver X range, Big Fish range, various Method groundbaits – and more. We really are spoilt for choice.
Because the approach can attract barbel, carp, or chub, and I'm chucking heavy feeders about, I don't mess around with light tackle. My main line is 0.26mm, 10lbs plus breaking strain, and the hooklink is 0.24mm, at least 8lb. The length of the hooklink is usually two-feet. This has been arrived at after much trial and error, and put simply, it produces more fish. Hooks are generally a size 10, which I feel is about right for a 10mm Halibut pellet hookbait. Steve uses 8mm baits which catch him plenty of fish. We have also tried Source, Krill, and Robin Red pellets as hookbaits, all of which do produce fish, so the jury is still out on which is best.
This heavy tackle approach does not deter the roach at all: the feeder is back-stopped with rubber float stops making it a full on bolt rig; a safe one, as the rubber stops can slide off the line should the rig become snagged and the line breaks. We haver found the best way to present the pellet bait is by banding, which I'd never done before. It's worked well and its something I'll be looking at for barbel and chub fishing.
The Catches
So, what have we caught? Steve has had a fish of exactly 2lb, I've had one at 1lb 15oz. A friend had one at 2lb 3oz too. There are a lot of fish between 10oz and 1lb or so, and another year class between 1lb 2oz and 1lb 10oz. We also catch plenty of dace, and have had several between 8oz and 11oz. Strangely, Trent roach do not generally feed strongly at dusk, as stillwater roach do. Rather, they fade away, and we've found the best time to catch them is from mid-afternoon until mid-evening. This gives you the choice of going home, or staying on to catch the bream; which inevitably home in on the pellets as the light goes.
However, quite recently we have discovered that from mid September the roach will start to feeder in the dark, along with the bream. Also recently I have tried using 12mm Halibut boilies on a hair. Its been a bit hit and miss but so far it's given me a dace of 9oz, a roach of 1lb 10oz, and a bream just short of 8lb.
It can be very enjoyable fishing, and I shall continue to hope for a very big roach, and just possibly a 1lb dace.