30 June, 2020 | Match & Coarse | Articles
1 Comments
Hunting for Big Eels – Tales of a Specimen Hunter
In episode 2 of the big fish series, specimen ace, Dan Woolcott looks at targeting big eels and how to go about breaking your PB.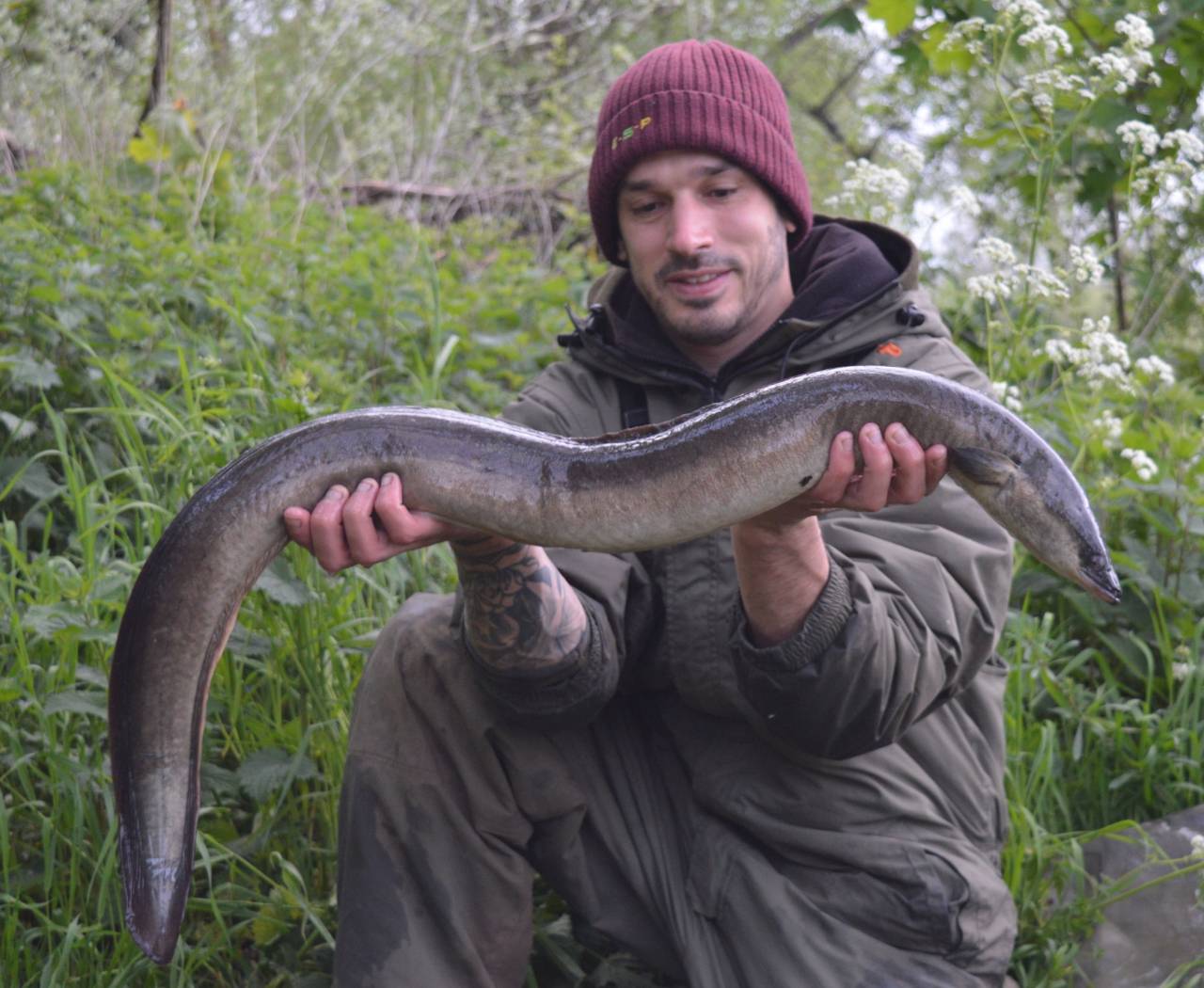 Dan continues…
Eel angling is not everyone's cup of tea but for the anglers that do target them it can be the most exciting species to fish for. Eels are fascinating and there is so much that we do not know about theses incredible creatures that makes them such a rewarding prospect to target by design.
Sitting behind the rods as it begins to get dark makes the imagination go into overdrive and the thoughts of giant eels slithering out of their underwater lairs can be very exciting. The diverse array of rigs and tactics used when fishing for them is endless and this just adds to the appeal of targeting these amazing fish.
Starting out
I started fishing for eels about ten years ago and I have been fortunate enough to land a number of 5lb plus specimens from numerous venues, but it was a session in the spring of 2019 that was really special and the following pages give a short account of that moment when everything fell into place.
Unlike previous years, I opted to target them in spring rather than in summer which is when I usually start my eel campaigns. I was hoping that they would be feeding heavily and more confidently following their winter hibernation. Many big eels are caught early on in the season and I felt that I would have a better chance once they started to become more active.
The venue
The venue of choice was an old, large and very deep gravel pit with crystal clear water. It had no real form of producing large eels to anglers specifically targeting them, which was just the way I like it. I knew big eels were in the lake having noted a very small number of reports from carp anglers and I had also caught eels from the lakes further down in the valley that are connected by the same river system.
I just had a feeling that this water could produce something special and was willing to dedicate a lot of time to find out if it held any monsters. I was really against the odds as I fished this water the previous year notching up eighteen nights of blanking so I wasn't very confident. I knew that I would need a different approach this time if I were to be successful. You cannot keep on doing the same thing year after year and expect different results.
Tactics
I decided to pre-bait a couple of likely looking swims where the margins were deep and where I suspected eels to be hiding. This baiting campaign lasted a few weeks and I introduced a mix of mashed pilchards, dead maggots, Marine Halibut Pellets, Big Fish GLM groundbait, Halibut Oil and some XL liquid Worm. It was the worst smelling concoction of bait I had ever had the pleasure of handling and the scent latched onto everything to the point where it would not come off my hands.
People at work started to notice the smell and I ended up wearing rubber gloves to put the bait in rather than going to work with stained hands smelling of fish and having to explain to people that I had been pre-baiting for eels. They thought I had lost the plot and I began to think that maybe I had. All this effort for an eel!
The campaign begins
After my pre-baiting campaign had ended and I could no longer resist the temptations of fishing, it was time to get the rods out. My first session was arranged, a quick midweek overnighter once the kids were in bed and the other half gave me the go-ahead. With the lakes being so local I could get away with these quick sessions which is a rarity in my specimen angling as I usually have to travel so this was one luxury that I took advantage of.
My tactics for eels has changed quite dramatically over the last few years and I like to fish with smaller hooks and shorter hooklinks. Unless you are fishing with deadbaits using big hooks for a fish with such a small mouth doesn't make sense and larger hooks can cause a lot more damage to the fish especially with the eels vital organs positioned high up in its body. A deep hooked eel can have fatal consequences and fish safety must be top on the list when targeting this species.
The rig
A simple rig constructed of 50lb snag leader to a size 10 hook baited with four red maggots and one rod baited with a small squid section was my chosen approach. All my rigs were free running ensuring minimal resistance and were used in conjunction with a heavy lead so that on a take it would hold firm making indication as sensitive as possible.
I arrived at the lake and flicked out three rods to the areas I had pre-baited and sat down waiting for darkness to fall. The sun began to set and I enjoyed a chicken curry dinner with a glass of red before settling down for the night. I must have drifted off because I was woken up by a few bleeps on the alarm at 11pm.
I army-rolled off the bedchair straight onto the floor in an effort to get to the rods quickly. After composing myself but still half asleep, I made my way to the rods to feel the line, checking that something was on the end. It was a sensitive bite and after feeling a few plucks that confirmed a fish was on the other end I lifted into it.
The rod hooped over and a tug of war started with the eel banging the rod down with every powerful surge. I finally got control and using my adapted fifty-inch catfish net I managed to get it in on the first attempt, which for a big eel can be very difficult to achieve. I knew it was a decent fish and it went 5lb 2oz on the scales.
I sacked the eel up happy with catching such a great fish and was looking forward to a good night's sleep when all of a sudden the other rod was away. This was to continue throughout the night and I did not get much sleep catching a number of eels until the early hours of the morning.
Hauling them in
The eels just kept on coming and I managed a massive haul of fish including the following: 6lb 2oz, 5lb 10oz, 5lb 3oz, 5lb 2oz, 4lb 12oz, 4lb 5oz & 3lb 2oz. It was such a fantastic catch and truly beyond my expectations.
The pre-baiting and fishing earlier in the season had paid off and after all the years of effort I had finally achieved my target to catch an eel over 6lb. Every fish was hooked in the lip and most of them ejected the size 10 barbless hook in the net. I sacked up all the larger fish for daylight pictures and released the smaller ones to return to their watery home.
Morning soon arrived and from memory, I do not think I actually slept. I now had the task of getting some pictures of a fish that is notorious for being difficult to handle but after some snake juggling I managed to get some fantastic shots to remind me of such an incredible moment in my angling adventures.
I had a achieved my target of a 6lb eel, even though it took me ten years fishing for the species before I finally got my reward. I enjoyed every minute of the chase and that is a big part of what I love about fishing. It is not all about catching, and effort does equal reward, so if you keep on changing your approach the rewards will soon come. I really wish the eel had more respect in the angling world and would urge any proclaimed specimen hunter to get out and target these magnificent creatures.