0 Comments
2022/23 SAS Competition Winner Announced
Team Dynamite have another new sponsored angler following the result of our annual SAS Competition.
A huge congratulations to Matt Heath who becomes our fifth winner of the competition following a sensational year of captures. Matt follows last year's victor, Jake Waterman, 2020/21 victor, Mick Cork, 2019-20 winner Craig Waddington and 2018/19 winner James Buckler in joining the Dynamite team ranks as a new sponsored angler. Read below to find out how he did it…

It was a difficult decision selecting our 2022/23 SAS Competition winner thanks to the efforts of Dalton Wilding and Mark Watkins who banked some incredible fish respectively. Dalton even matched Matt with 6 podium wins for the season but In the end, it was Matt that just edged it. Like our previous winners – Jake, Mick, Craig and James, Matt's consistency and quality of photographs as well as his detailed reports were too hard to ignore when making the decision.
Matt's bid
Despite sending in several captures since we began our competition, Matt really kick started his attempt at winning the competition in June 2022 with the capture of a stunning 34lb 8oz mirror from his syndicate lake in Norfolk – a venue that played a significant role in the majority of his podium-winning captures this season. The 37-year-old fished CompleX-T foodbait pop-up on size 4 Ronnies to help tempt the specimen and create an awesome carpy catch shot in the process! This fish won him a monthly bait prize which was his first of the season…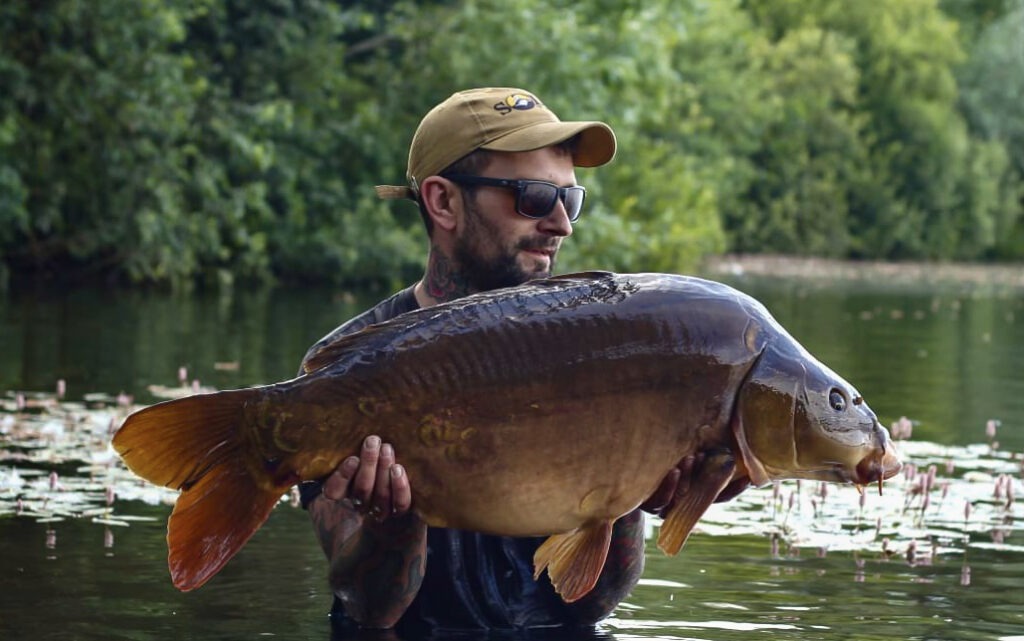 The capture commenced a real purple patch of form for Matt and over the next two months, he'd managed to add second and third monthly awards to his name.
The second came in July in the shape of a 29lb common again from his trusty Norfolk syndicate. Matt had found a shallow 2-3ft-deep bar around 125 yards out which he baited at night with CompleX-T boilies, Frenzied Tiger Nuts and Frenzied Hempseed to try and avoid the ducks from snapping it all up! The ploy worked a treat when in the morning the fine common picked up his matching trusty CompleX-T Foodbait pop-up.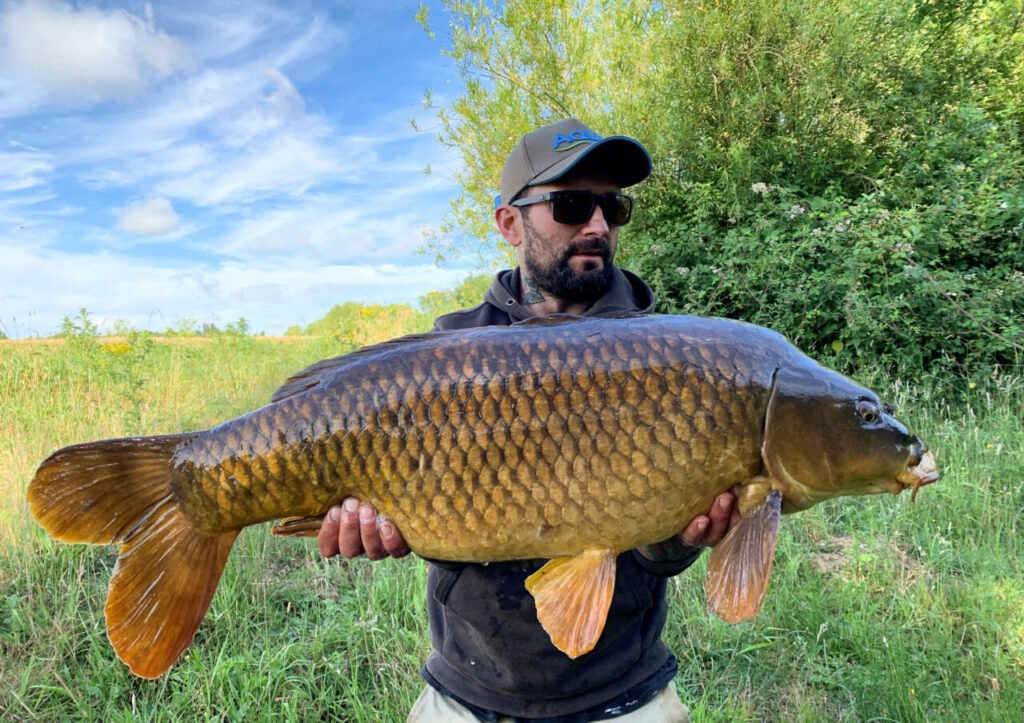 Just a month later, he was scooping up his first £100 RRP monthly bait prize of the season with a lovely old Norfolk mirror known as the 'Long Lin' at 36lb 10oz.
Matt had been dreaming of this fish for some time and it finally graced his net following a string of three-night-a-week pre-baiting sessions on the water using CompleX-T boilies and Frenzied Tiger Nuts.
Over a few weeks he'd picked off some smaller commons from the 35-acre water before the Long Lin finally made an appearance just before first light. A CompleX-T foodbait pop-up was the successful hookbait again!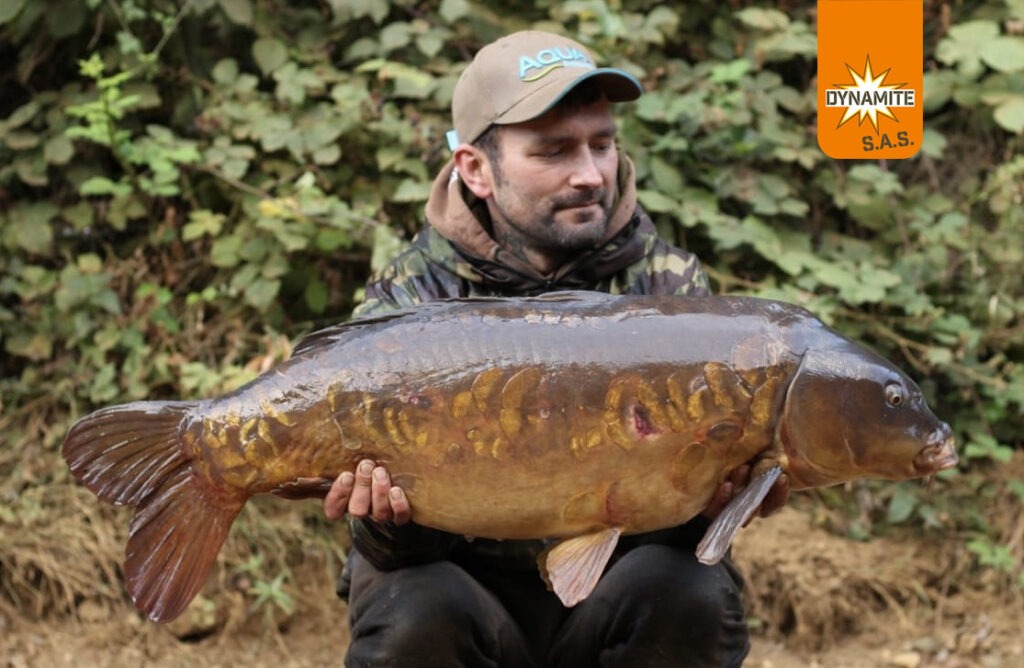 Matt continued to fish his syndicate whenever time allowed and whilst he managed to catch consistantly, he had to wait until October for his next notable fish but what a beauty it was!
With the air and water temperatures dropping, Matt switched from CompleX-T pop-ups to Monster Tiger Nut foodbait pop-up and on this occasion, fished them to a 16ft-deep spot that he'd been baiting extensively with matching boilies, hemp and Frenzied Maize.
After losing a good fish to a hookpull off the spot, Matt returned and got his revenge with an incredible Norfolk common of 34lb 14oz. Good work mate!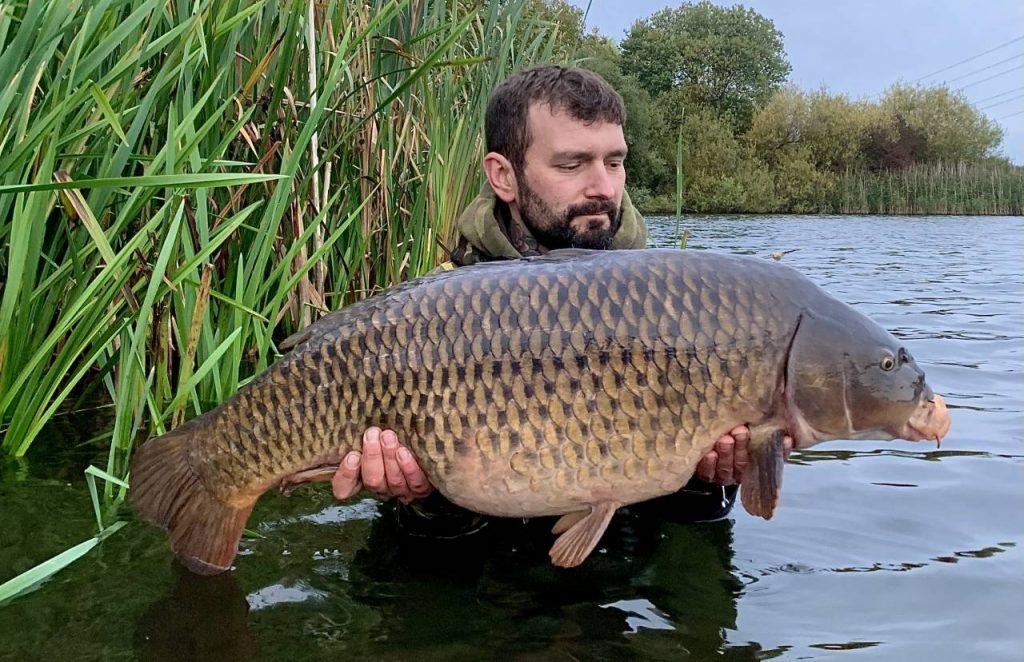 A lot of you will remember how bitterly cold the Autumn/Winter transition was this season with lots of snow fall and biting winds making the decision to stay at home an easy one!
In January however, the wind swapped from Northerly's to Southerly's for a very brief window which Matt capitalised on to bank his largest carp of the season at 41lb 8oz. He again fished a 15mm Monster Tiger Nut Foodbait pop-up amongst a scattering of matching crushed and whole boilies soaked in lake water and Sweet Tiger Liquid Carp Food to bank this incredible specimen. You know it's a special fish when you're getting in the water with it in January!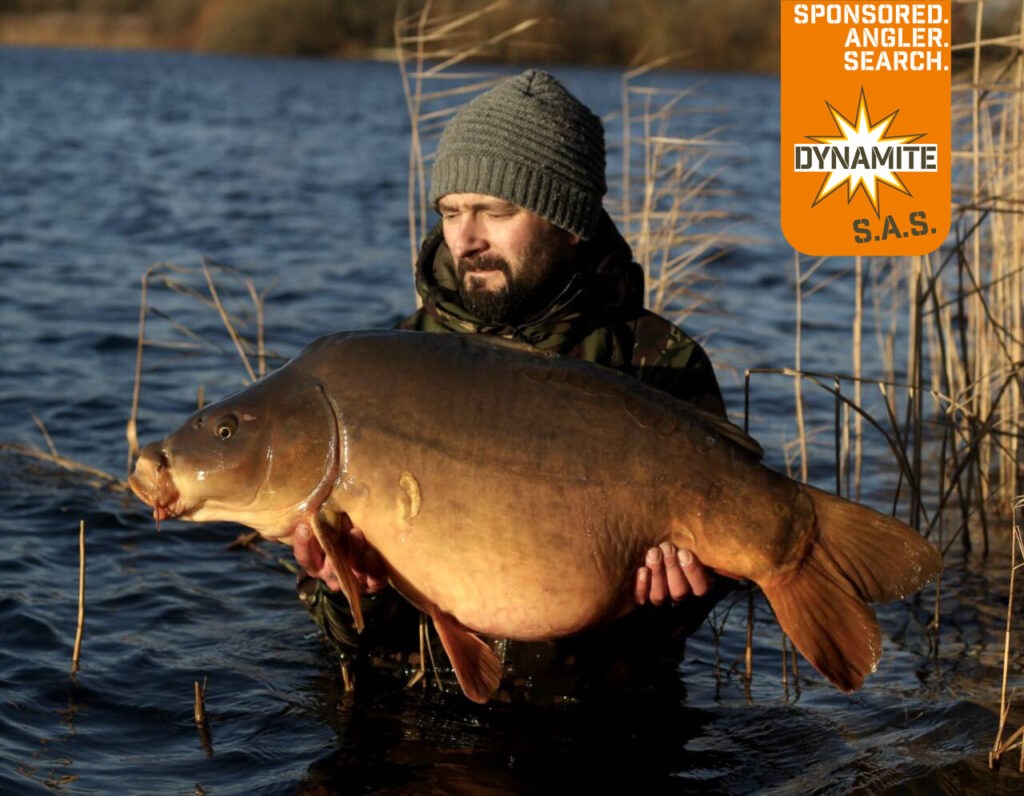 Alas, the cold weather returned and despite our efforts to promote the SAS Competition, we simply didn't receive enough catch reports from February and March so we made the decision to combine two month's-worth of catches into one category.
Matt ultimately finished second in this category with a lovely dark common of 34lb 8oz. After spotting a fish roll on an area patched with silkweed around 80 yards from the bank, he introduced a light scattering of Monster Tiger Nut boilie to the spot before depositing his rig the following afternoon – a single Fluro Pineapple & Banana wafter alongside a small mesh bag of crushed Tiger Nuts and MTN boilie crumb. The ploy worked a treat and resulted in a bite during just as day broke.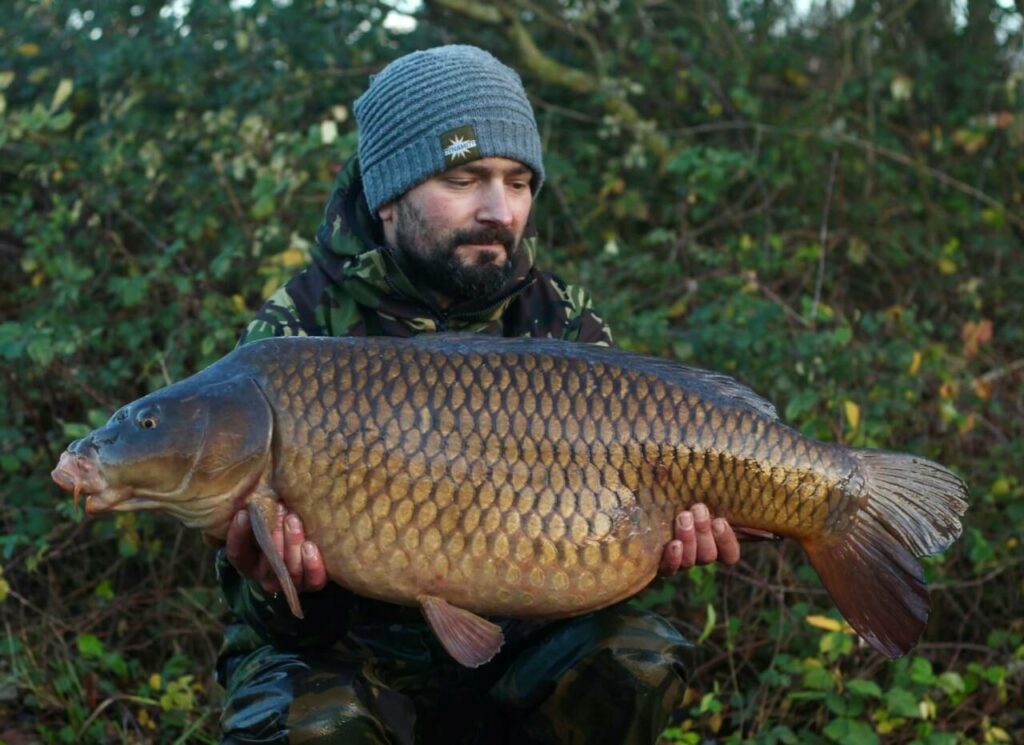 Matt's Comment:
"I'd just like to the team at Dynamite so much for awarding me the 22/23 win! I'm overwhelmed with excitement for the new season with the backing of my favourite bait company, I feel honoured to have been chosen amongst so many other worthy anglers to promote your brand and I'm sure with your help I'll be able to keep the photos flooding in!
To be honest it didn't come as any great hardship to send you enough pictures to secure me the win (although I didn't expect to get it!) as fishing is a way of life for me and it's what I most of all love to do, I'm a family man with quite a demanding job so the hardest thing to do is find the right balance, consequently nearly all of my fishing consists of single overnighters normally with an early pack up,
I've found this works well for me on the large gravel pits I most prefer to fish as being around the lake for lots of short sessions instead of camping for a long weekend allows me to keep a good tab on where the carp usually are and where I need to be to catch them.
I have my eye on a small stock of truly stunning jet back commons in a small intimate rarely fished pit this season that I can't wait to get my teeth into,I also enjoy my barbel fishing on the river Trent and can't wait to get back up there on June 16th to try my hand at targeting some of the many carp that reside in river, I'll also be putting in plenty of mid week nights on the large Norfolk pit that homes most of the carp I sent you for the competition there's still a few crackers in there I'm yet to bank exciting times ahead I feel so privileged to be part of the dynamite team and I won't let you down."
HOW YOU CAN WIN
If you want the chance to join Matt in the Dynamite ranks and win some fantastic bait prizes along the way, our 2023-24 season launches in May 2023. To take part, simply bank a fish on our baits and send your photo(s) and catch details using this form or email us at: catchshots@dynamitebaits.com with 'SAS Competition' in the subject line.
Each month we reveal the winners of our monthly bait prizes and there's even a prize for under-18s. Then early next spring our team will pick who they think has earnt their right to join the ranks and win a year's supply of bait. Full competition rules and prize details can be found on our 'Submit a Catch' page.
Good luck!