6 September, 2022 | Match & Coarse | Articles | News
0 Comments
Sam Brown Wins 2022 Maver Match This Final!
On Saturday 3 September, Hinkley-based match angler Sam Brown etched his name into the history books by becoming the 11th person to win the Maver Match This Final in an impressive yet nail-biting display of angling at Hayfield Lakes. To bag himself the title and the cool £50,000 paycheque that comes with it, Sam had to battle against an impressive field of anglers including the likes of Jamie Hughes, Andy Power, Andy Bennet and Fish O'Mania winner, Kristian Jones – but it was our lad who came out on top following a nervy match that came right down to the wire. Below, we pick Sam's brains on what it was like to compete in this year's final, his thought process going into the match and what he's going to do with £50,000!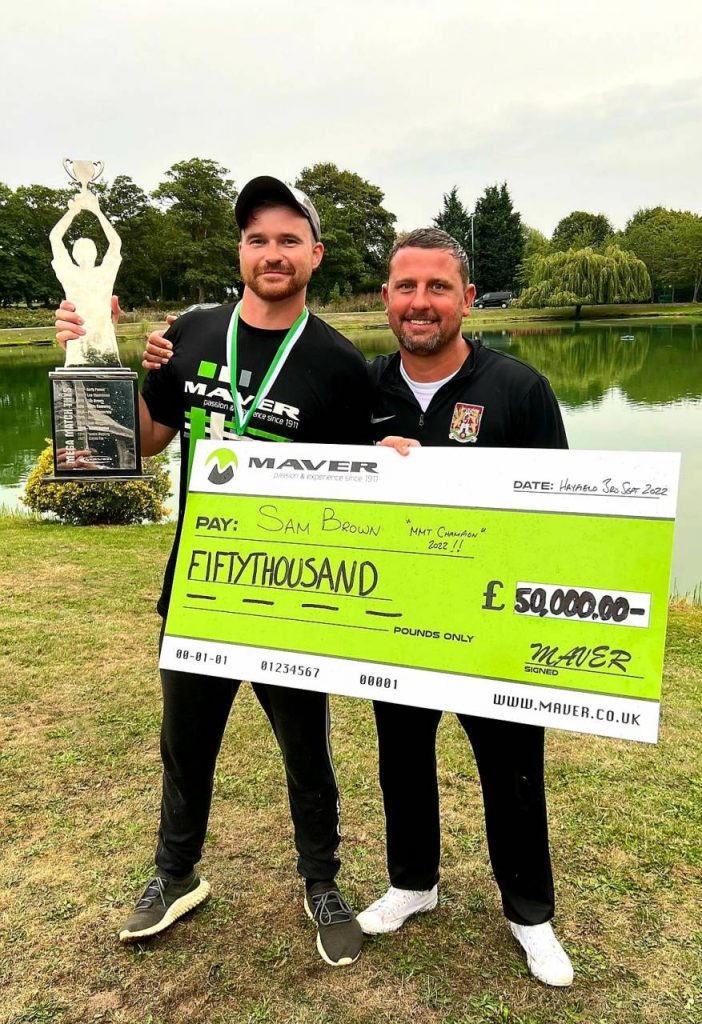 Q:Wow – what a performance mate. Has it quite sunk in yet that you're Maver Match This Champion for 2022
Sam: I honestly can't believe its happened, this is what I chase every year – to get into one of the big money finals and to get my name on the trophy and I've finally done it. It almost feels like the pressure is off now…
Q: Where were you hoping to draw ahead of the match and why?
Sam: I fancied pegs 33, 35, 53, 66 and 81, mostly all on Big Adams lake as that had fished better in practice.
Q: Were you happy with Peg 6?
Sam: Initially no but I believe I had the best of the 3 pegs left in the bag when I drew. Once I got to my peg and started to set up it looked a lot better with fish showing all over.
Q: What was your plan of attack/what tactics did you use?
Sam: My plan was to start at 5m on the pole and nick a few fish on the deck. This would give me time to feed my pole shallow line at 14m and bomb and pellet line at 25m. I then planned to alternate the two lines until the fish came into the edge last hour.
Q: What baits helped you to victory?
Sam: It was an all pellet approach, you have to use Hayfield's Fishery pellets, however I always glug them up in generous amounts of Dynamite Baits Evolution Tigernut Oil.
Q: Explain to us how the match unfolded for you. What did you do at the start , middle and end to keep yourself on top?
Sam: Just before the match started there were a few cruising carp in the unexpected sun on the morning, so I've started with a mugging rig and managed to catch 35lb of them in the first hour or so.
All the while I was feeding 6mms on my 14m shallow line and 8mms on the 25m bomb/waggler line.
The fish soon disappeared so I've dropped on my pole shallow line and caught a carp first chuck, sadly this was the only bite I've had there.
So a move to the bomb line where I've actually fished a method with a Dynamite baits 7mm Washter in pellet colour over it.
This brought me two more carp within 20 mins then again no more bites followed. A quick change to the pellet waggler brought another carp but sadly the wind got up too much to accurately feed it anymore.
The Middle of the match was very slow for me and I probably didn't have a bite for 1.5 hours whilst I fed my edges.
I've dropped down my left edge with 1.5hrs to go, had a liner after a 10 mins wait which then resulted in a carp. Over the next hour I've caught steadily on this to finish the match with 98lb.
Q: Did your plan not go to plan? Did you have to resort to fishing a different approach to catch or was everything plain sailing from the all-in?
Sam: The plan came together perfectly minus the middle match slow spell, I believe I had the chance to mug a few more fish first hour to get that bigger lead though.
Q: Did the occasion get to you at all? It must take nerves of steel to concentrate on your fishing in a big money final!
Sam: I was more nervous on the lead up to the draw than anything else, It was a very tense that last hour though.
Q: What was your main worry in the match? Could you see Jamie and Andy catching well?
Sam: I could see Jamie but didn't realise he had caught until the weigh in. The two main people catching from my view would of been Andy Power and Jimmy Brooks.
Q: You ended up winning by just 3lb 8oz which is essentially, one carp. Did you catch this fish at the death or did you perhaps lose a fish in the final seconds that you thought could've cost you?
Sam: I couldn't believe how close it was, thankfully I was on the right side of it for once. I did manage to catch a carp in the last 10 mins down my margin, just before this I lost a big koi carp but it was possibly foul hooked.
Q: £50,000 is a crazy sum of money. What will you spend it on?
Sam: I may end up putting it all on the mortgage, other than that I think going on a well overdue holiday will be looked into!
Q: What's next for Sam Brown? Is there more you would like to achieve?
Sam: I'm at Larford this weekend for the Golden Reel final. I cant wait for the match now and would love to put my name on this or the Fish'o trophy next.