9 October, 2020 | Carp | Articles | News
0 Comments
Rob Hughes' Dynamite Diary – October 2020
This month Rob spends some time on Wraysbury to reveal some more underwater insights and catch a few fish! There's also details of the latest winner of his Hit N Run competition…
It's first light and I'm sitting on the bank as I write this months diary grinning like a Cheshire Cat. Not because I caught last night. In fact I blanked, but the sun is just rising, the kettle is on and the lake looks absolutely beautiful. There's a few fish around and I'm feeling like there is a chance. All is very good with the world, which is exactly how it should be when we get moments like these.
Autumn is just such an incredible time of year. I don't normally get September to fish as it's always taken up with televising events, Team England and competing in the World Champs. It's reminding me just how important it is to get out more and take in the moment. Something we very often forget or neglect in this crazy busy world of ours.
Just a couple of sessions for carp this month, this one which currently hasn't yet been productive but might be …. and another one which was.
Diving in
I've actually been doing an awful lot of diving over the last few weeks, and yesterday was spent swimming around in Wraysbury North Lake looking at some incredible carp and some amazing features. Rafa, the owner of the RK Leisure said he fancied coming for a dive after seeing some of the films I've made here so we met up, jumped in the lake and had a paddle round.
We saw some amazing sights including one of the biggest fish in the lake, a fish we think is called 'No Name'. It was sleeping on the bottom of the pond as we approached it. Eventually we woke it up and it was enough not really bothered about our presence. Some of the other fish were really inquisitive swimming right up to us.
It's always lovely seeing the carp in their own environment and occasionally interacting with them too. Seeing the lie of the land also brings home how important it is to be bang on with your spots when you are fishing lakes like this one. Pub chucks are not the one and being just inches out can mean your presentation is totally wrecked.
Fish of the month
The fish of the month for me has to be this one from my last carp session, a stunning absolute worldy that weeded me up twice before I managed to get it out. The key of course is keeping them moving, but sometimes that's just not possible. This treasure dived into the weed and got itself stuck.
Rather than pulling, as soon as I realised it was solid, I slackened off the clutch off slightly and dropped the rod back in the rest. 15 minutes later it decided to move itself and I was back in clean contact once again. However it found another heavy weed bed pretty sharpish and once again became solid.
Slacking off the clutch once again, only just enough to allow it to take line if it really needed to, I put the rod back down. About half an hour later he decided to move again. I moved up the bank a little bit to get some extra leverage, kept steady pressure on and eventually landed it. Being patient rather than pulling for a break or "going for it" meant that the carp was landed rather than lost.
Just look at it. An amazing creature, amazing battle and an amazing memory too. We actually weighed this one as we thought it might go 30 but it fell just ounces short, not that it mater at all. I love everything about this carp, from its colour to its proportions, to its lovely scale markings and particularly the back story. Exactly what our sport is about.
A run
A kingfisher has just peeped it's way along the margins under my rods and the kettles steaming away. It's looking good for a bite …….
…….. and genuinely out of nowhere one came. I was part way through writing this piece, put the kettle on for the second brew of the morning, and whilst chilling out at 08.30 the left handler burst into life out of the calmness. It's on a 12 foot deep gravel hump in 16 feet of water surrounded by thick weed.
I started putting the rods out at 5pm last night, and having found a spot in the thick weed, decided to put two rods on it. There wasn't time to thrash the water any further, and although there could well have been better spots out there, time was running out. Finding a good old donk down was enough for me and 10 Spombs of mixed Crave boilies with some halibut pellets and a pink Hit n Run on a Ronnie sealed the deal.
The fish was landed after a decent battle, hampered mainly by a clump of weed mid way out that caught my line rather than the fish. It's another Wraysbury beauty too. A heavily scaled mirror that actually got me shaking when I was playing it.
I was chatting to my CarpSpirit/Dynamite team mate Ian Russell who is opposite me and we were both talking about confidence in this weed. You have to be sure you're on the spot and then you have to be uber confident in your gear, especially the line. CS Velocity 19lb breaking strain just does not give up. Its bulletproof and if you need a strong reliable one then this comes with both of our blessing.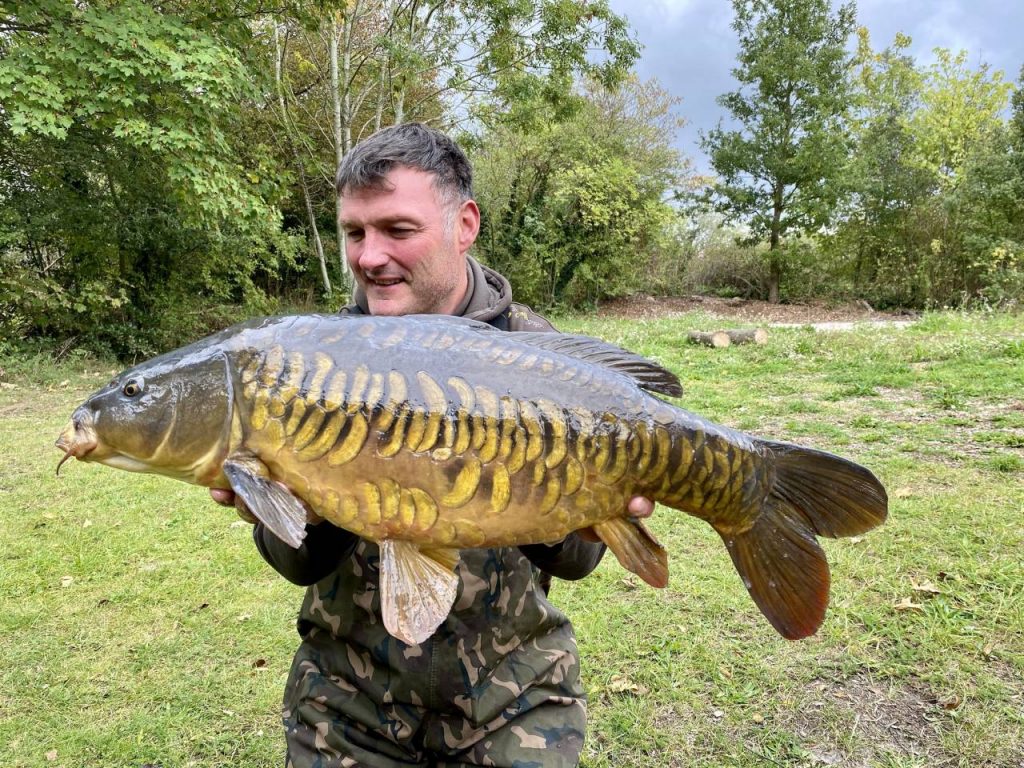 Hughes reviews – Speed R
I've got to be honest and say that when I first saw this shelter , I thought it was a bit big and bulky. I didn't actually like it. However having used it a few times now I'm more than happy to say I was wrong. It's good as a bivvy, but in my mind it really comes into its own as a brolly/overnight shelter.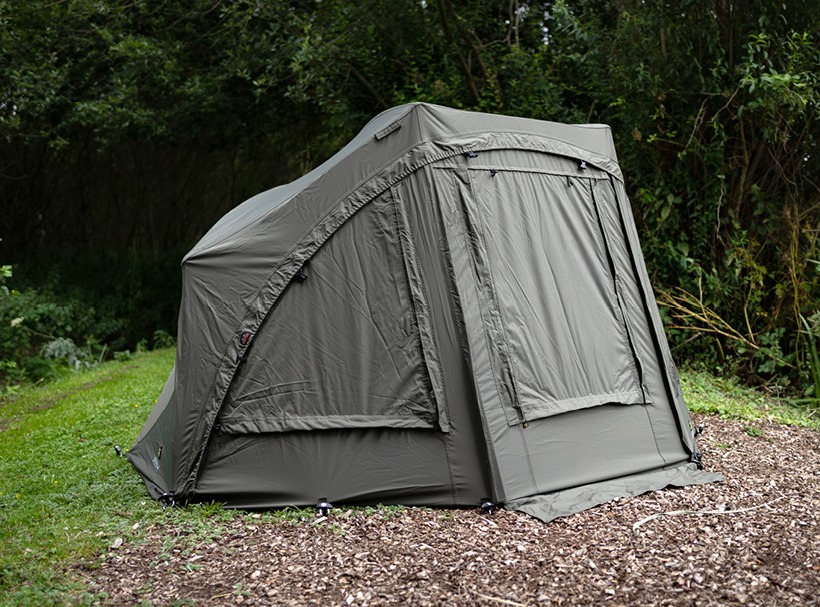 I take the front off and also leave the groundsheet at home to reduce the weight, (I'll put them back in when it drops colder and wetter) and it's great. It's pretty quick to put up, but the key thing for me is the amount of vision you get out the front.
The door is enormous, but extra long roof struts come out a long way giving you a massive amount of coverage in front of your bed. There is a supporting bar that keeps everything nice and taught, and the back-end is almost vertical making it very very space efficient.
Get your bed right to the back of the brolly and you're well covered. If it rains straight at you, simply drop the storm poles at the front and pull it lower. You can get your bed that far back that the rain isn't going to get you even when fishing open fronted. I'm totally converted, and love it.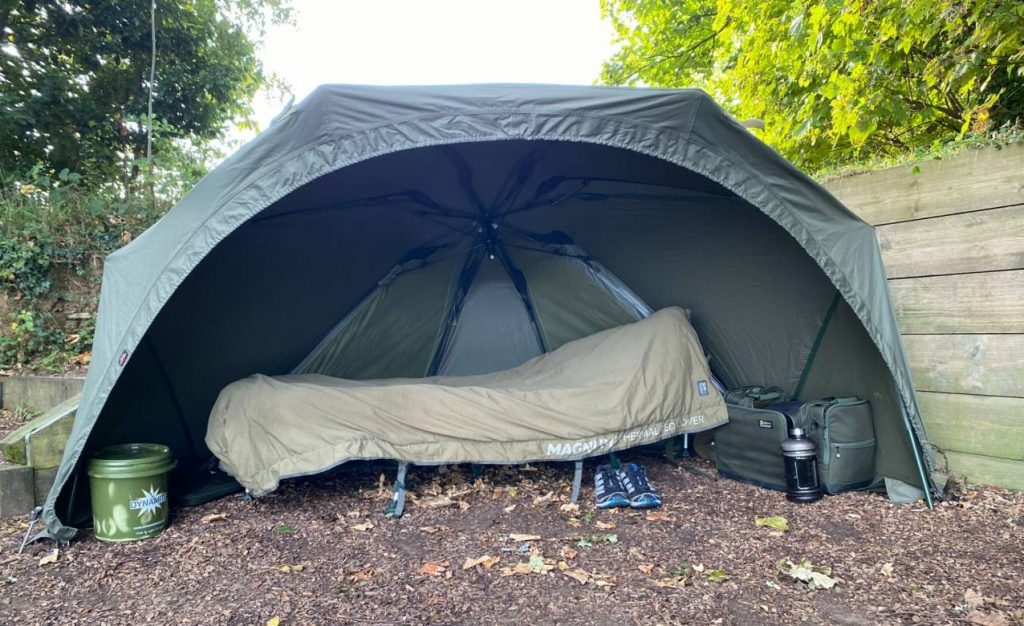 Hit n Run Hero
This months HitNRun hero is my old mate from Holland Lizette Beunders for an absolutely stunning fish that she caught using a one of her recent trips. The fish is a corker, but the main thing I love about this one is that she is always smiling, and the picture shows just how much she enjoys her carp fishing. Well done Lizette. Cracking picture.