24 September, 2020 | Carp | Articles | News
1 Comments
Rob Hughes' Dynamite Diary – September 2020
This month Rob enjoys another session with Ian Russell for the Day Ticket Travels video series as well as numerous overnighters with mixed success..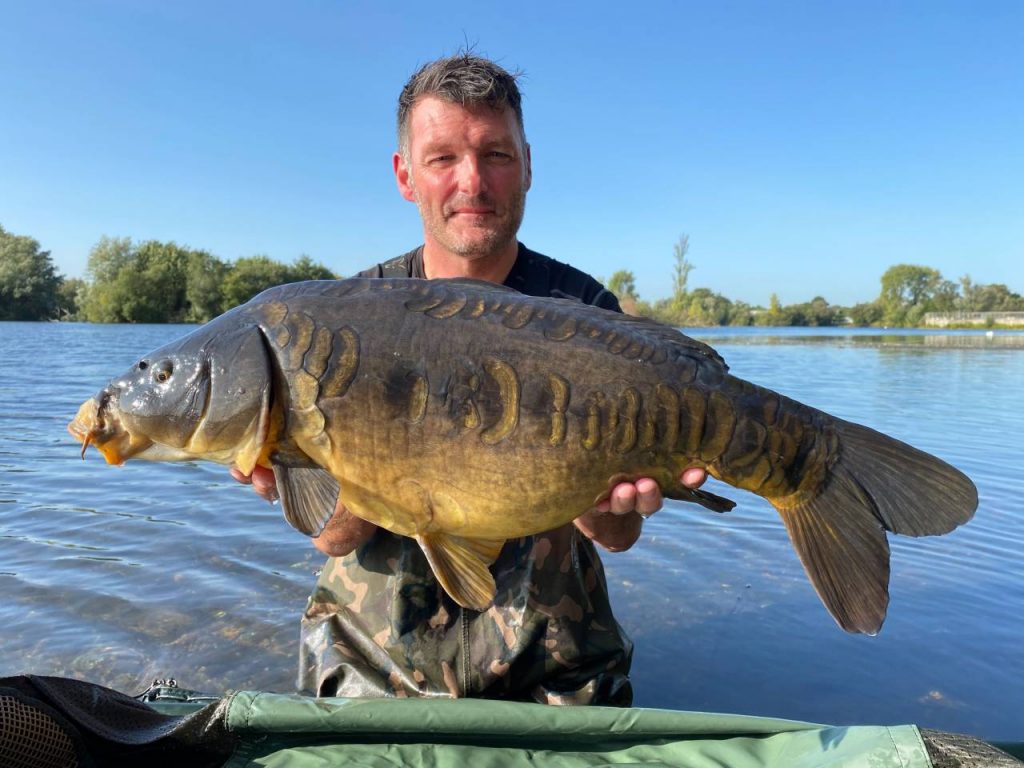 I've had a number of near misses this month as well as a couple of really nice hits. Hits are always great as you can normally put your finger on why you have caught. It could be location, a re-cast, putting a bait in the right spot, or even the type of bait you're using. I'm definitely an analyst and I always try and work out why I think I've caught….. or not as the case may be.
I feel there's been a couple of edges that helped me catch fish this month and they are both different. As much as it's nice to simply catch, it's also really good to have an idea why you've caught in the same way that it's good to have a stab at why you blanked too.
Let's start with the captures first. I've managed a few sessions ranging from overnighters to single day sessions. No multi night sessions so real Hit N' Run stuff.
Wraysbury
On one over-nighter on Wraysbury South lake it was a case of rocking up before dark, getting the baits on a spot I've fished before as quickly as possible, and hoping for the best. You know the score.
The whole thing is a bit of a rush and a couple of hours extra would make all the difference. The weed is really high at the moment and it's making the fishing tricky. The spot I fished for the Understanding Underwater film six weeks ago has narrowed down a lot and the weed around it is really heavy. It's amazing how spots change and it's clear that the spot hasn't had any bait on it since that film.
Casting and accuracy have to be be bang on and it was that which made the difference on this trip. It would be easy to think that a cast was ok, but it needed to be bang on. Both rods took the thick end of 10 casts each for me to be satisfied. They eat a lot of food these Wraysbury carp and I used 5kg of mixed Marine Halibut Pellets, Frenzied Sweet and Milky Particle, a load of corn and some Monster Tiger Red Amo boilies over the top. Quite tightly spread, but I'm not as concerned at the odd wayward spot of "munga" as it adds to the attraction of the area. (watch the video to see how I mix it up)
Everything ended up bang on and it was interesting after a couple of bites to get the dive kit on and go out for a peak at what they'd eaten. Yep…. it had all gone.
Sound Bites
The other great trip was a day-only session at Clattercote Reservoir with Ian filming the next DTT. I won't give the game away too much but we hadn't intended to go there. Everything was so busy we couldn't get on another more carpy day ticket water so we decided to head out for the session at a different type of runs water and see if we could get this spools spinning.
The long and short of it was that we kicked off in the wrong place as a result of following information rather than relying on our own instinct. We both realised the mistake pretty sharpish, moved to where we had seen fish, and then started catching very quickly. It was really interesting to see the bite ratio as we both fish fairly similarly, and the long and short of it was we had a ball as you'll see from the forthcoming film.
What I will say is the key to catching a lot of fish here, and it's the same and a lot of commercial style match venues, was consistently pinging boilie over the top of mesh bags of pellets and pink Hit N Run pop-ups. Pouches of bait would work, but individual boilies pinged regularly brought the fish in and bites came even quicker. Try it it really works, and look out for the film which will be out very very soon.
The Misses!
The misses I feel were pretty easy to read. On both occasions I'd been fishing an overnighter between work and the bites were coming in the afternoon when I wasn't at the lake, or worse still just as I was leaving. The carp haven't been feeding at night on my two regular waters and it was day only action, which when you are fishing overnighters, can be a bit of a ball ache.
There's always a chance of course, and for sure the odd fish slip up, but bite times are so important when you're on a time budget. If you're there when they are feeding it can be easy. If you're not, then it's impossible. Simple as. Fortunately the weather's cooling now and the bites will become more spread out across the 24 hour period.
Robs Rigs
I wanna touch on rigs again this month as I am so impressed with the ready tied choddies we do at Carp Spirit. They're immensely sharp and most of my fish have come to probably the simplest of rigs to tie. The chod for quick hit fishing, or better still as a reverse combo as I mentioned last month in this diary (see link below). Try them.. you really won't regret it.
Hit n Run Hero
This months Hit N' Run Hero is Josh Butlin with a new pb from an un-named estate lake.
A yellow Hit N Run pop-up proved to be the downfall for this superb mirror. The fact that its a pb makes it even sweeter. It's a cracking fish and a worthy winner this month. Remember all you have to do to enter the competition is to catch on your favourite Hit n Run bait, pop it into your social media channels and add #hitnrun #dynamitebaits and we'll find you.