13 January, 2021 | Carp | Articles | News
0 Comments
Magnificent Manor Haul on Monster Tiger
Carper, Mick Cork banked an absolutely amazing haul of fish during a recent session on the famous Essex Manor fishery. The catch featured a fifty, two big forties and several back-up thirties and helped him take top prize in our SAS Competition for November. Here he tells the story of his campaign..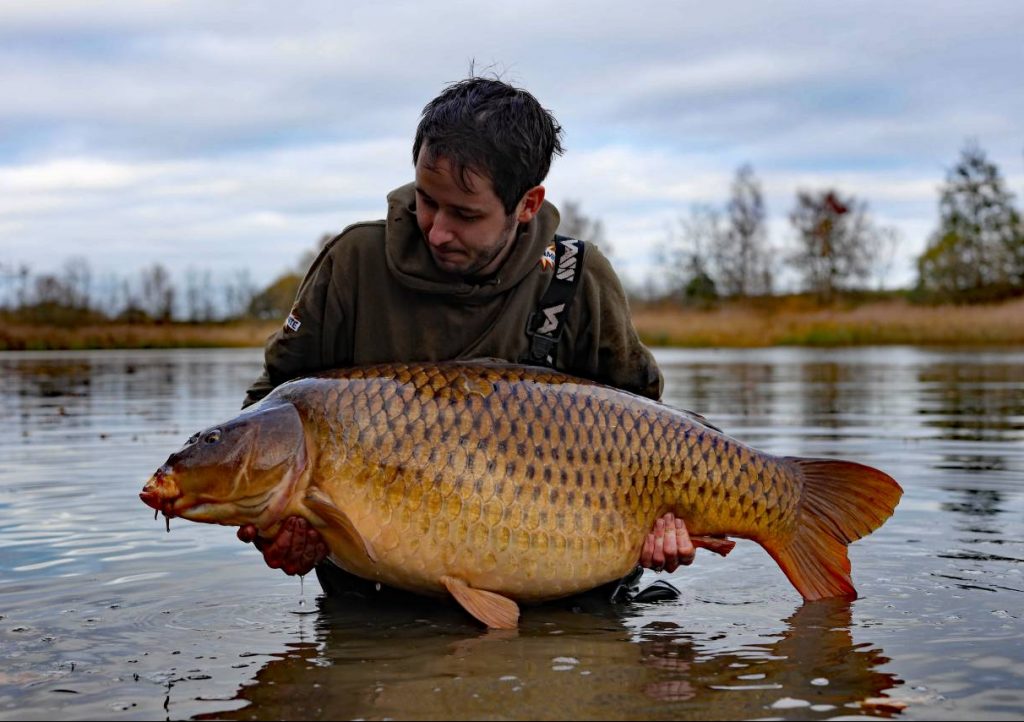 Mick continues…
I was fishing over North Met pit at the time when my good friend, who fishes the Manor, told me there were tickets available for next season. I jumped at the chance as it's always been a lake I wanted to fish since I was a young lad, and had seen some of the top anglers in the magazines catching some of the mega carp that lived in the lake such as '' The Annie, Northern Lin, Stella'' and many more. The stock in Essex Manor is just unbelievable, in the right times of the year there's two 50's and as many as thirty 40's, which is mega stock for a 7 acre irrigation lake with depths ranging from 20-30ft.
I finally received my ticket for the ''Famous Essex Manor'' in April 2019, and as you can imagine I was buzzing for a new adventure. The weeks leading up to it seemed to drag, all I had on my mind was the Manor; all the stories, all the pictures and mates I spoke to about it just got me fired up. During the few days leading up to my ticket starting I was preparing bait, tying rigs and generally sorting my kit out.
Unfortunately, two of the named fish, ''Annie'' and ''Northern Lin'', had passed away before I got my chance to fish for them. However Stella was still swimming about, and had now become my main target and one I dearly wanted because she was such an old history Manor fish.
The day finally came and my short journey to the Manor was all but a blur. I managed to get down on the first day of the new season and what a buzz it was, I was walking the banks of the Manor thinking about all the dreams and prospects that could be. After doing a few laps and speaking to some of the other members I decided to settle for a swim called 'Middle Pads'. It was based around the middle of the lake and had produced a couple of fish the week before, so I thought it would be a good enough swim to start with. I set up my kit and had a quick lead about, I found a few areas close in with decent drops when hitting the lake bed. My tactics were three Stiff Hinge Rigs fished Naked Helicopter style flicked out with 10 baits spread around each rod.
The first night felt electric and as I was sitting with another new member called Adam in the swim next door, the fish put on one big display just as darkness fell right in front of us. One after another they were boshing about, it sounded like hippos getting dropped off the side of a boat 25 yards out! It was a brilliant sight to see, especially on my first night, but I soon learned it was very common. For two evenings all I could hear through the night was the fish continuing to toy with Adam and I, and I was wishing I had a zig kit with me because the conditions were perfect for it. I began feeling confident when setting up but that soon changed when I realised the fish were probably 25ft+ above my rigs which left me feeling a little discouraged.
Unfortunately my first session ended with a blank, and this seemed to carry on through my other April sessions. I did get a take during one of my nights down the lake, but my receiver didn't sound so when I looked out from the bivvy all I could see was my rod off the front buzzer, but luckily solid in the back rest. I picked the rod up and the fish was on for a few seconds and then off again, to say I was gutted is an understatement. The carp displays in the evenings continued and I spent most of my time moving swims, speaking to existing members and learning as much as I could about the lake and the fish habit's.
At the end of May I was back, this time with a fresh head, and opted to set up in the 'Garden Swim' where I had fished on my last trip. This time I didn't rush to get the rods out, and instead I really leaded around and used the marker rod to find the much firmer spots and carp holes. I flicked out 3 Hinge Rigs to the spots with washed out Complex T hook baits and 10 freebies in order to 'match the hatch'. Sitting back in the evening just taking it all in on the Manor, then I heard a Neville one noting and realised it was mine. Picking up the rod I could feel it was a decent powerful fish, after a good 15 minute battle the net slipped under her. It turned out to be a proper character and rarely caught fish called ''heart tail'' at 40.08lb, it was a mega result for my first carp from the manor and was a forty. I went home a happy man after that, feeling very confident for my next trip!
Losing fish
Over the next few sessions I lost around 7 fish due to hook pulls and 17lb main line parting. I kept going home with my tail royally between my legs trying to get my head around the hook pulls and the line parting. I put some fresh line on to sort the main line problem and tweaked my rigs by making them slightly shorter and going from a size 4 beaked to a size 6 straight point choddy hook, that was sharpened. Doing all of this meant I was as confident as ever. The next few trips took me to the end of August where I managed a good few fish from the 'Garden' and the 'Rope Swims', landing each one on my new tweaked rigs, including two more fortys, the Bream common and Baby Stella and a few 20s and 30s.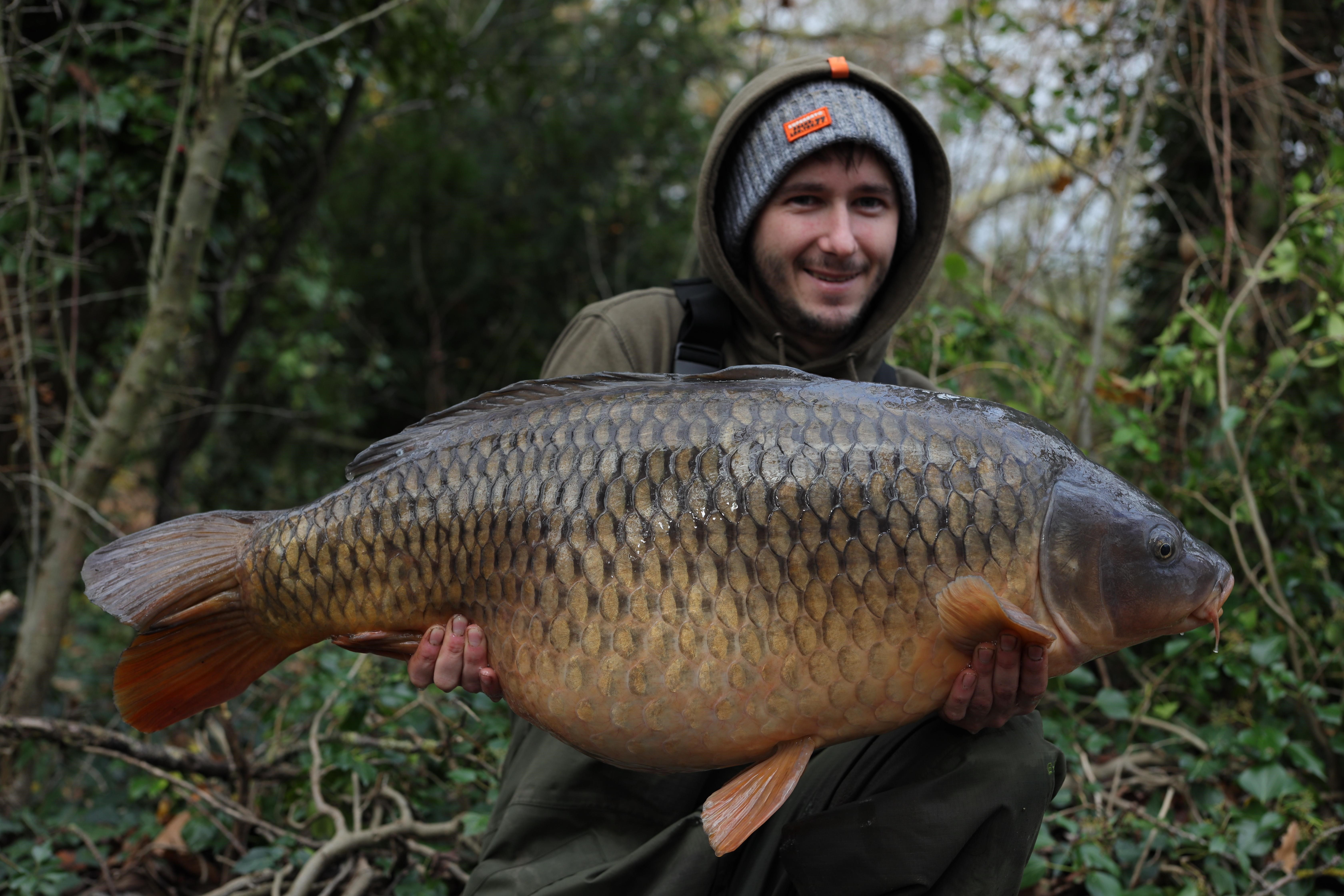 I missed fishing in September as I was busy with family birthdays ect, and had heard from other members that in the autumn the fish start to get caught in the middle of the pond in deep water. In October I managed one trip and went back in the 'Garden Swim' after my mate caught four carp which included a brace of forties. 'That will do me' I thought, as they're out there in the deep water, so I followed into the same swim as my mate and guess what… I blanked! That seems to be quite common on the Manor, you follow someone in after a fish or two and blank yourself.
I planned my next trip in November and from previous experience in late Autumn there's a small window where the silvers switch off and the carp are more than catchable on maggots and boilie crumb. I got down at 6 a.m. Friday morning after work, just before dawn, and walked a couple of laps, watching the water like a hawk for signs of life. One showed in front of swim 18, so I rushed round to the swim and pinged the marker out, found the bottom of the marginal shelf and a lovely soft silty area. I spombed out four pints of maggots and a couple of kg of Monster Tiger Nut crumb with matching liquid to my float, and tram lined all three rods on the area. Nothing happened the first night and all was quiet in my swim, the only action was from my mate in the 'Pump Swim' who had a very good hit of fish, I seemed to be playing gilly and camera man for him, not that I minded at all as it was nice to see lovely carp on the bank. On the second night I saw a lot more happening in front of me, there were a few bubbles, a couple showing and the odd liner. Half six in the morning the right hand rod was away, this was a powerful fish again, and it reminded me of the battle I had with the one in May. After slipping the net underneath her, I looked down into the net and there laid 'Heart Tail' again but this time looking a fair bit bigger, quick reweigh and she went 44lb bang on. I wrapped the rod back up and pinged it back out onto the spot. A couple of hours later the middle rod was away this time with a nice mid twenty mirror. That session came to an end with no other fish to report and was my last session up to Christmas, I did manage a couple more trips in January and February but had no luck.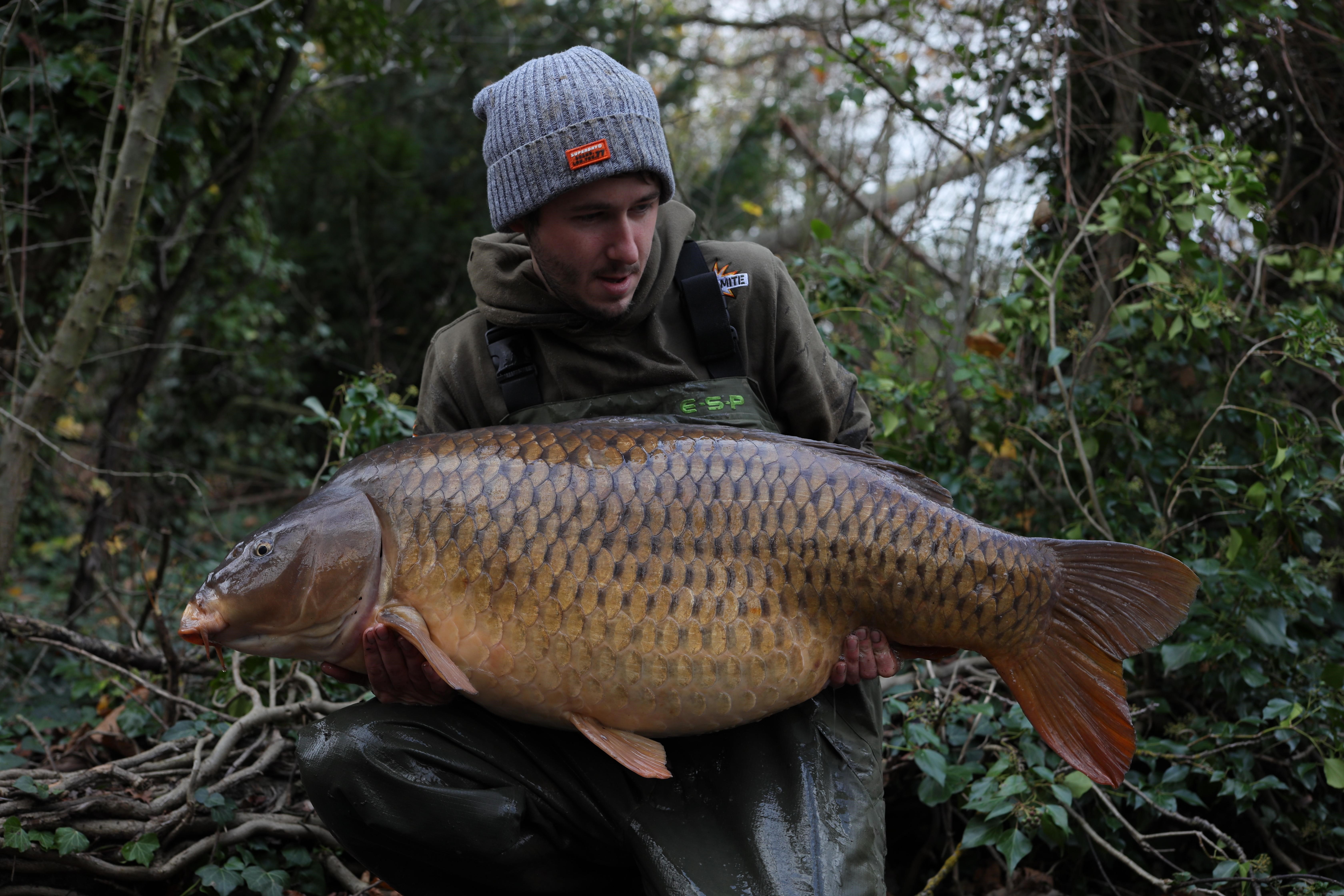 Zig season started on the manor in March and a couple started to get caught. I got down after work as normal at around 6am on Friday morning, I didn't see anything but the evening before I was speaking with my mate over there and saw a couple show down in 'End Pads' water so that's where I headed for. Setting up three adjustable zigs and fanning them out, I opted to fish at three different depths around half to two thirds up in the water, on three coloured pieces of flip flop dipped in compleX-T liquid. My mate popped round for a cuppa, chatting the morning away and dreaming about what carp we would love to grace our nets this season when all of a sudden my right alarm let out a couple of bleeps and the bobbin lifted a couple of inches. That's all the indication you need when zig fishing….fish on! I picked the rod up and was doing battle with a heavy weight on light tackle, thirty minutes later the battle was still going on and nowhere near done, this fish was powerful, we got a glimpse of it a couple of times and thought maybe it might be ''Gracies Fish'' or another big scaley one. Just as it looked like she was nearly beaten she made a ditch for freedom and ploughs through the reeds to my right and ping she was gone. My mate looked at me and said ''your fricking joking me, that was big''. The weekend ended with no more action. That was my last weekend trip in March before Lockdown came.
Here we go again..
May 2020 and finally we were allowed to start angling again, every lake went mental all over the country. To be honest I liked the lockdown, it was like a close season and gave me time to recharge the batteries, sort my kit out and find more drive to go again.
The first trip back there was a draw for swims and pretty much every member turned up for it and as there's only 14 swims, there was half a chance. I was lucky and pulled out swim 6, I was happy because at least I had the chance to fish! It was carnage every swim taken with three rods out, leads and bait going everywhere. All the old spots and areas that used to be there are now all weeded over as no bait had been going in. The lake produced only one or maybe two fish for the first week or so. The fish really switched off and sat up in the layers away from all the lines,I pinged three zigs out but had no success. My second trip down I managed to catch a fish called ''Pawprint'' spawned out at 36lb and ounces. My luck this season has just continued through catching pretty much most trips, including some lovely carp with a couple of thirties chucked in.
A trip in June was where dreams came true, I settled in a swim called the 'Rope', there were a few fish close to the rope and I decided to flick a Naked Chod to the area I had seen the fish. I was using a Complex T pop-up and a handful of chops spread around it. Later that evening I was tucking into my fajitas and a Guinness when all of a sudden the rope rod was away. A ten minute battle and up popped ''Stella'', she went in the net the first time of trying and as I was looking into the bottom of my net there she was, my childhood dream laying there mine at last. My mate Don and Will gave me a hand weighing and doing the pictures, the scales spun round to 41.14lb, the weight really was irrelevant, it was all about that special carp.
After the capture of Stella I felt a bit deflated like I'd joined there for her and done it so soon, so I went elsewhere in June/July. I managed to catch a few twenty's on a Hertfordshire club lake and my mate ''Longshank'' popped by for a cuppa and told me he thought I was mad as there's loads of other gooduns in the Manor to go for so I should at least see the season out. He was right there still were plenty of others I would love to have in my album so I went back with a different mindset to just catch as many as I can and go through them to see what turns up. First trip back I dropped in the 'Pump Swim' on a fresh wind and caught a fish called 'Moonscale' at 40.08 fishing down to the reed line to the right. I moved the next day into a swim called ''The One'' as I didn't see anything after catching my first fish, I managed two more that trip, a mid twenty common and mid 30 mirror. I was catching most trips after that but mainly opportunist fishing from the barrow and if I saw fish fizzing or showing, I would cast a balanced CompleX-T single wafter at them, and it proved to do the trick.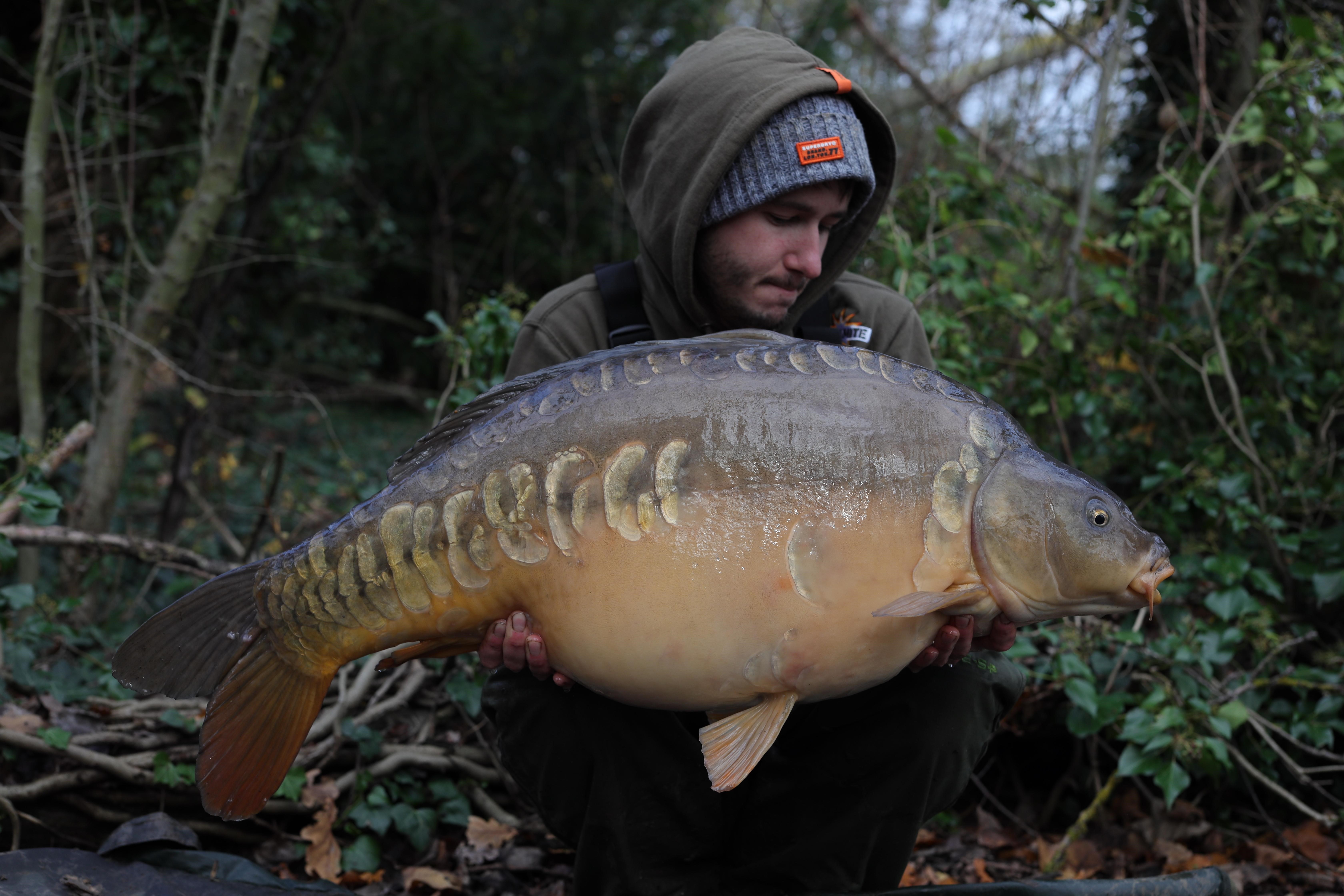 September passed with family commitments so no fishing for me that month, and by the time my trip came in October I was buzzing to get the rods out but a couple of days before my trip I heard the sad news that the biggun ''Georges'' popped up dead. On my next session I set up in the 'Rope Swim' as it had recently come free and had been doing a few fish. I got the rods out onto areas I've caught before, went to bed feeling confident but got woken up at 4.30am not by a wishful Fox buzzer letting rip but instead a pain in the side of my stomach. The pain was unreal, it got so bad that I phoned a couple of mates that were also fishing and they came to my rescue. We wound the rods in and I ended up A&E for a couple of days with a kidney stone. The boys over there kindly packed my kit up and bunged it in the back of my van for me, it didn't take much asking as they wanted my swim!
Back at Manor
Two weeks later I returned, the kidney stone had passed and I was armed with two gallon of maggot, a couple kg MTN crumb and my go to maggot rig. This was tied with a size 4 Ronnie hook, six inch's of unleaded boom with an MTN pop up and a few maggots sewn on with floss, I fished this rig on a lead clip and 2oz lead. I had spoken to my mate over there the evening before so I had an idea where the fish were, and I got down the pond as normal after work Friday morning at 6 am and had been beaten to the swim I wanted to get into so put my bucket next door in the 'Steps Swim', to get as close as I could. I went for a lap round the lake and had a cuppa with my mate opposite where I put my bucket so I could keep an eye on the area. I saw a couple of bubblers in the middle zone out in the pond. An hour later the angler in the steps swim had a couple fish., I thought 'how's your luck' I got beaten to the swim and the one my buckets behind the fish are out in front eating. The angler in steps was off early afternoon so I left my tackle behind him and went to the shops to get some bits and pieces.
By the time I got back he was pretty much packed up, I felt so confident when I got into the swim and straight away flicked the marker out to the zone I had seen the bubblers in the morning. The marker revealed a nice silty soft bottom and when letting the marker up it was 21ft deep. I clipped the spomb up to the float and put out a gallon of maggot and a kg of MTN crumb. I wrapped the rods up, clipped on the rigs and pinged them out to the spot, all three rods trammed lined 4ft apart. That evening I said to the boys that rescued me a couple of weeks before that I'd buy them dinner to say thanks. With dinner ordered I sat with my mate drinking tea when dinner called to say it was at the gate, I left my mate watching my rods and just as I started walking back from the gate with the dinner and he phoned to tell me my rod was ripping off! The rods had only been out a couple of hours and it was away. Looking in the bottom of my net was ''Gracies'' looking massive, with a couple of us sorting the fish out and weighing her we hoisted the scales up and the needle spun round, by the looks on their faces I knew she was big, 50.08lb big to be exact and a new pb! My mate, Grant, took some awesome shots with the camera and we slipped her back. I did now have a cold Indian to enjoy but with a fish like that who cares!
The action didn't stop there, an hour later I slipped the net under a low 30, the ''the Houdini Fish'' and a recapture from last season. Around midnight I had a savage take on the right hand rod and managed to slip the net under a fish which turned out to be another repeat from earlier in the season ,''Pawprint'' but not as spawned out and weighing 45.08lb. A few more spombs went out and I recast the rods, nothing happened all morning but I was getting a few bubbles around my spots so I decided to sit on my hands. After plenty of tea drinking and thinking about a recast, around midday my right hand melted off and resulted in a nice 29lb mirror. I was just about to cast the rod back out when my left rod was away and resulted in a 33lb common. One of the guys in my swim said I bet the last rod goes now and literally as he said that the rod melted off and I landed ''Angry Drew'' a 30lb mirror. After having those mad three bites in short succession I got a few more spombs out and got all three rods recast. Just letting the lines sink and bobbins hanging off, when I heard the clutch on my right hand rod. After a proper battle with an angry carp I slipped the net under a big common which turned out to be the 'Winter Common' and on the scales she went 46.06lb, which was also a pb common. I recast the rod but all was quiet after that, the silence carried on through the night, but the following morning just as it was getting light I was woken up by a one noter. A scrappy battle and a low 30 was sitting in the bottom of the net. The day wore on and nothing else happened, it looked lifeless out there and I knew it was done for now.
Two weeks later I managed to get back down for a 24hr session, after doing a lap I was surprised to see only one other fishing. I saw one carp show near the area I caught from the previous session so decided to jump back in there. I put the rods back out to the same area and spombed 4 pints of casters, a few maggots and few spombs of MTN crumb. I had just had dinner and a cuppa when my right hand rod was away, I couldn't believe it, the rods were only out an hour! This fish was in a different league, powerful and felt heavy, real heavy. At first I thought it was a catfish, twenty minutes later I could see a big common in the torch light. Finally slipping the net under her, she looked massive. I phoned my mate Adam to come give me a hand and he is pretty good with a camera so managed to get some wicked shots of her. We hoisted her up on the scales and she went 48.14lb, another pb common two weeks later. I managed to get the rods back out for the last of the sessions but came home having no luck.
What a season it's been so far…Hopefully my luck continues this winter!