17 July, 2020 | Carp | Articles
4 Comments
Stories from Yateley – Dave Williams PART 2
In the second part of his recollections from Yateley, carper, Dave Williams visits a new but tricky lake before returning to his favourite Match Lake…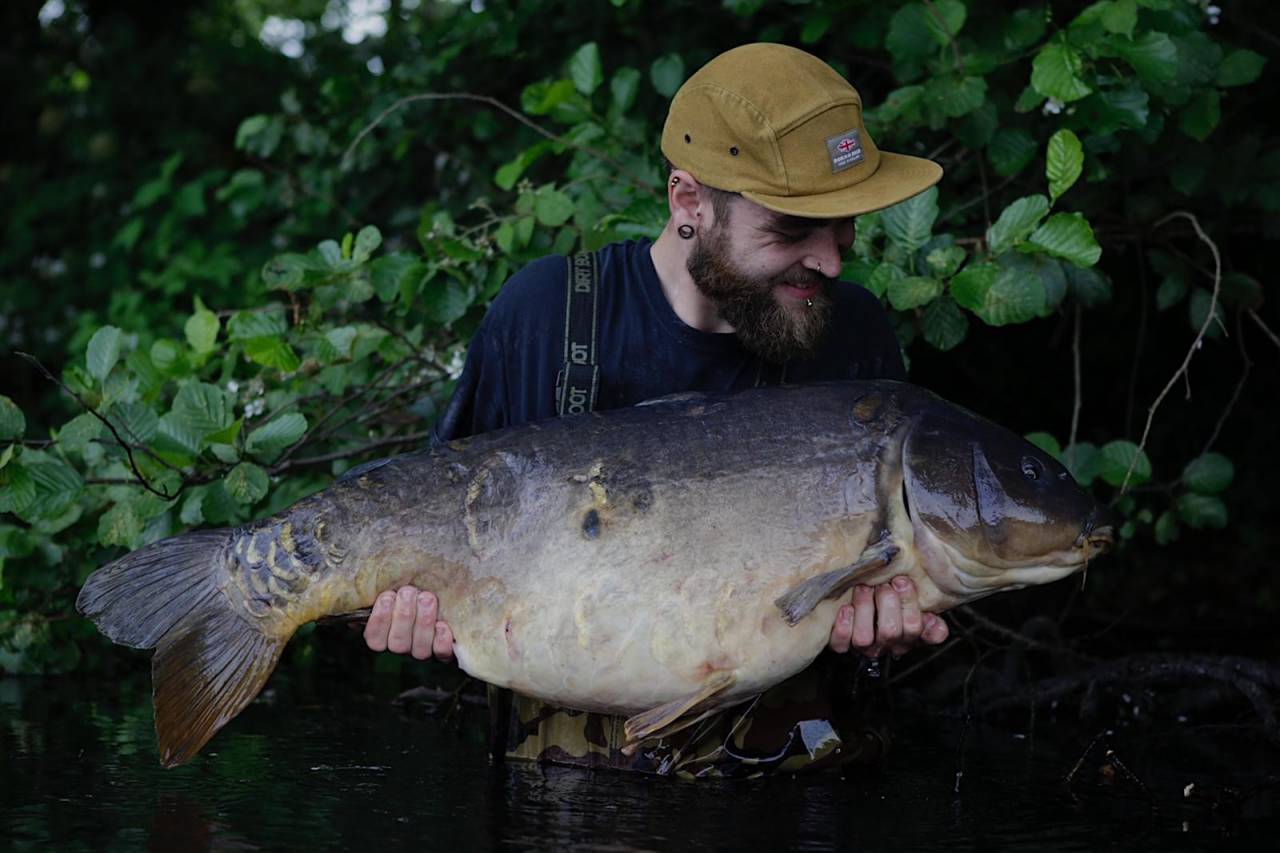 A new lake
Another water on the ticket I held is a lake with a reputation for being very very tricky, but the prizes are there if you work hard enough. Me and Tom decided we were going to give it a bash while we waited for the match lake to quieten off as it always does towards the end of summer.
We'd been walking and baiting this lake for about a month before we both decided it was time to start fishing it. Tom had concentrated his baiting efforts on a spot close in to a snaggy margin. Some weed was growing quiet uncharacteristically in the lake this year and there was a big clump of it in front of his swim.
I decided I'd bait a couple of spots, just so I had some options should I arrive and one of my swims be taken. One was at the other end of the long set of snags Tom was fishing near and the other was another large set of snags up the other end of the lake. I'd been baiting regularly with hemp, tigers and lots of CompleX-T in 20mm.
I was using such big baits as the lake was also renowned for its large head of tench. I'd seen fish feeding on my spots and even seen one of the really large mirrors known as Pac Man feeding a couple of times under the one set of snags. Despite doing five nights for a handful of tench, I felt I should have had more luck.
My first from the lake
The fish seemed to feed really really slowly and cautiously over bait, almost crawling along the bottom with their mouths. I set about creating a rig and lead set up that would be most efficient in that situation and it seemed to work. The following week and my 7th night I landed my first carp from the tricky club lake.
It was really really early, Tom wasn't awake yet and the sun was just starting to light up the horizon. Out of nowhere my right hand rod, fished on a small hump about a rod length off the snags, was bent double with an angry fish on the end. I'd baited the spot really tightly with 5kg of 20mm CompleX-T and fished the new rig and lead set up over top with a standard, out the bag, bottom bait on the hair.
I opted not to balance the boilie because where the carp fed so cautiously if the bait was to buoyant it would move and wobble much more than the free offerings alerting the carp to something not being right. The fish fought really hard considering they'd only spawned 4 or 5 weeks previously. I landed a lovely long looking common carp called Bite mark. It went low 30's but the weight was irrelevant. I was made up to have caught a carp from such a hard lake.
I popped the fish in a sling and ran round to tell Tom I'd got one. Just as I'd got into his swim I could see Tom had landed a fish as well. I asked him what he'd got and he said a decent mirror but he wasn't sure which one it was.
I walked over to have a look with him and as he lifted the tail of the fish out the water it exposed the cut top lobe of the biggest fish in the lake, Whiskers. Known as one of the hardest to catch. What a morning for us, both catching such special fish from such a demanding lake.
Unfortunately, both our spots quietened off and the lake turned a horrible grey colour with a bad Algae bloom. Not wanting to catch such old fish in these conditions, we both ventured back over to a now significantly quieter match lake.
Repeat capture..
The weed over the match was really bad again and the fish could be seen holding up in them. This made the fishing understandably tricky. My first session back I dropped in behind Tom after he'd had a few fish. It was a swim I'd fished a few times previously so I knew the spots and opted for my now usual double tiger nuts over hemp.
The night past uneventfully and the spot was typically fizzing away most of the morning before I received a take. The usual tussle in and out of weed beds soon saw me landing a decent mirror. It turned out to be my first repeat capture from the Match Lake, being the same mirror that was my first 30+ mirror from the lake. Another angler was passing behind my swim so I got him to do some photos quickly before I returned the fish. I left later that evening feeling good to be back on the match and catching again so quickly.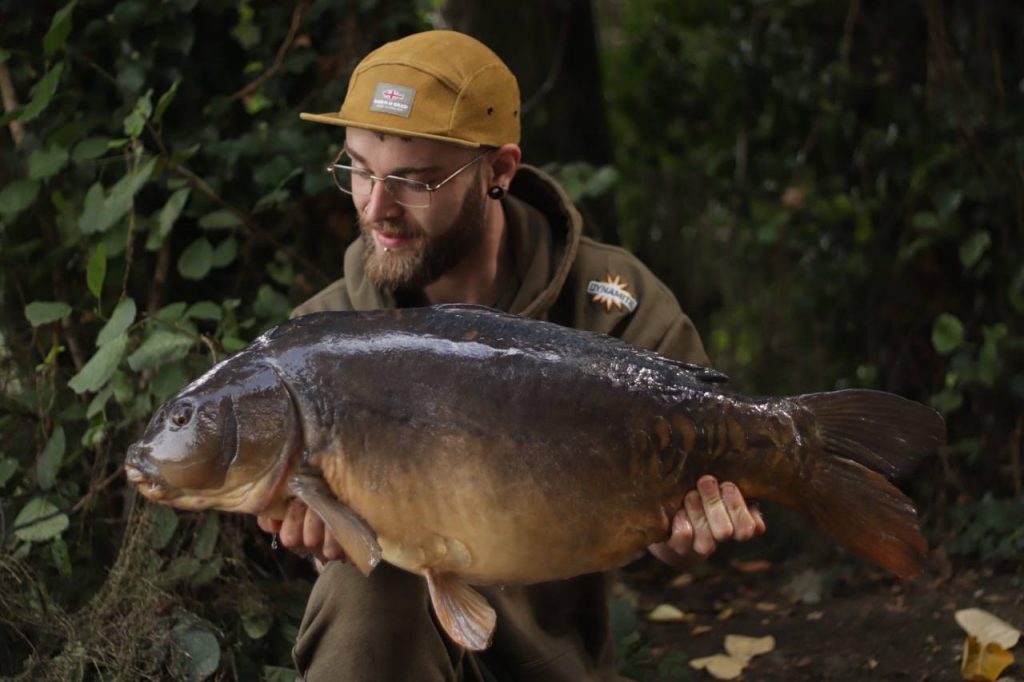 I returned the following week and did a quick lap of the lake before seeing some fish between two of the smaller islands. I found two nice clean gravel spots, one at 17 wraps and one at 19 wraps. Double tigers were sent out on the spots followed by a generous helping of hemp and crushed nuts.
The first 24 hours were uneventful. The fish were still in the zone but seemed reluctant to leave the weed. The weather was due to change that night, meaning the following morning would be much cooler and I was hoping I could tempt a fish with the conditions turning in my favour. It turned out I was right and managed to land a beautiful high 20 mirror the following morning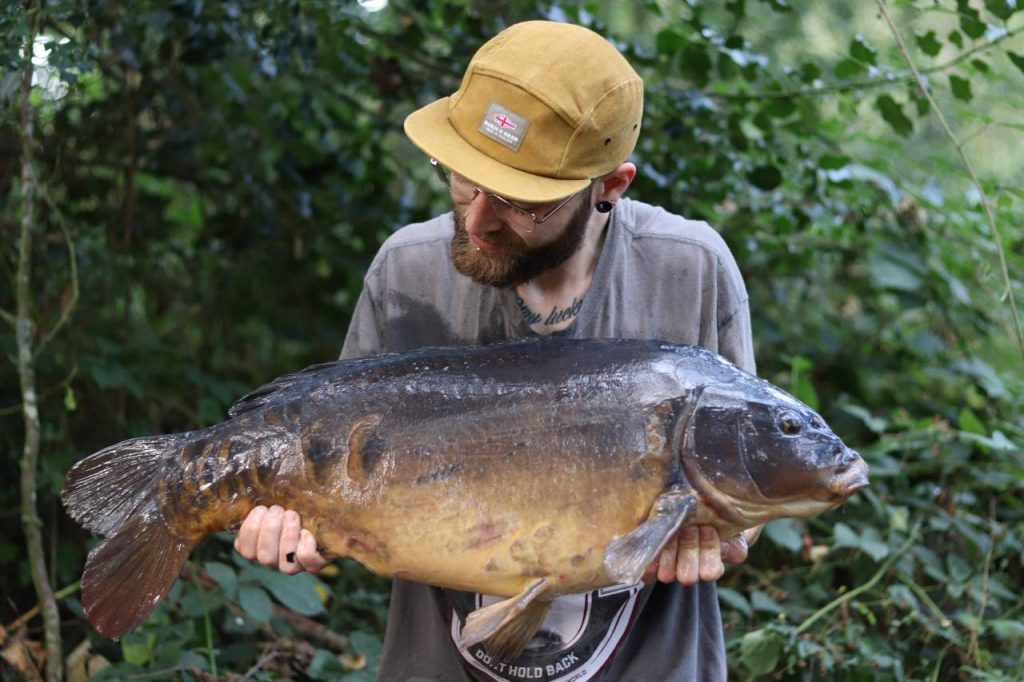 Two special fish
I then had a few blanks trips towards the end of august and start of September. The fish had just seemed to shut off and thick blanket weed was covering most of the spots on the lake. I arrived on my usual Monday night and set about finding some fish, opting for a swim opposite the entrance of the jungle.
As was the usual at the minute the first night and morning was uneventful. Just to my left there was a swim that wasn't really a swim. It was a gap in the trees that you couldn't cast from, but had to wade out clear of the canopy to position the rods. There was a large set of pads to the left of this swim and you could wade just to the edge of them and drop the rigs off your rods tips onto the clean gravel and the bottom of the marginal shelf.
Double tigers were positioned on the hardest feeling spots and a good helping of hemp was spread out over both rigs. The fish started fizzing on it later that evening and I received steady liners all night. I was confident of a morning bite but it didn't come, despite the feeding activity still going on.
I reeled both rods in and changed back to the rigs I was using over at the other lake, thinking that if the fish were feeding really slowly over the hemp, it might just be enough to trick them into getting hooked. The change of tactics proved to be the right thing to do and I ended up landing two very special old carp that afternoon.
I had the first take around 4pm and the rod was nearly dragged from the rests. Whatever was on the end wasn't happy about being hooked and was letting me know! Eventually I netted her and was surprised to see a really old looking scaley fish in the bottom of the mesh. I recognised the fish instantly as there really wasn't very many scaley fish in the Match. It was a carp known as the Leney. It was really really old, although not an original, it was just as special in my eyes.
I really didn't want to retain a fish this old and as there was nobody about I settled for self takes before slipping her back. She was a low 20 but the weight is irrelevant with fish like that.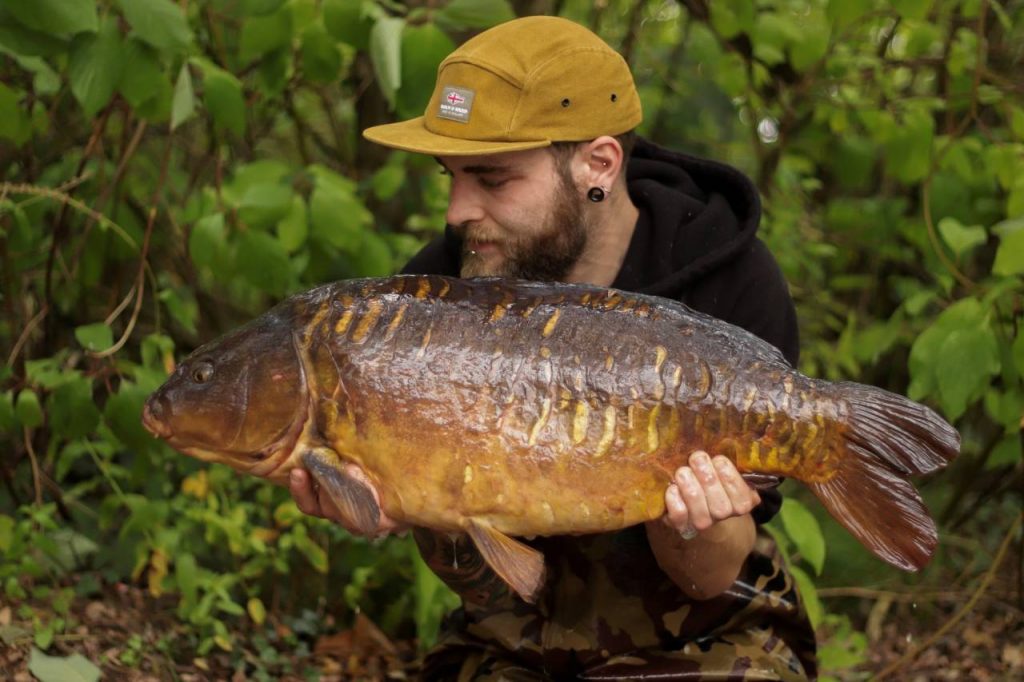 I didn't put the rod back out as I didn't want to spook any fish that maybe still be around and as I had to leave later that day anyway, I don't feel I was missing out on much. The second take came quite a bit later. Again, the take was so savage that the braid actually cut into my alarm.
Oddly the fish didn't really fight that hard after that and came in like most of the originals did. I netted the pale looking leather and knew instantly it was an original. A fish known as 'The Other Leather, a proper Yateley fish. Melted little fins and scarred up flanks, I was made up with her. What a brace of fish to catch as well.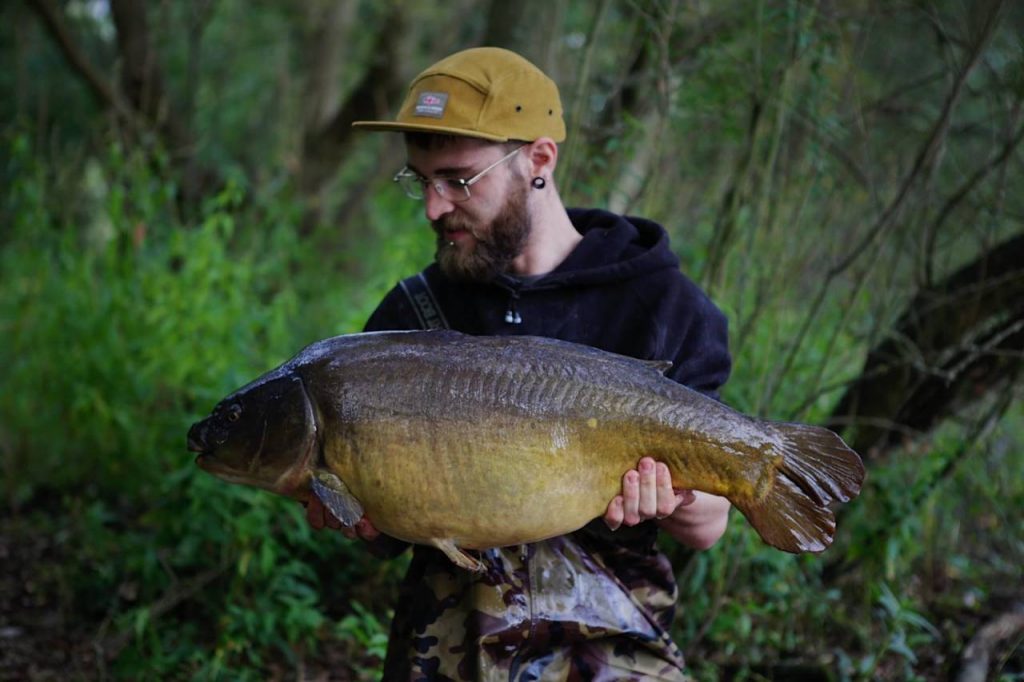 The Covid-19 crisis
Unfortunately I ended up moving house shortly after that and didn't end up fishing again until the start of March. The lake was quiet still and Ryan had been catching a few fish so I felt confident despite how cold it still was. To my horror, I arrived to a bright blue lake.
Over the winter the club had made the decision to dye the lakes in order to help prevent the weed coming up so thick the following summer. Great. I was devastated to say the least. Fortunately we had a couple of weeks of heavy rain which washed most of the dye out.
The lake was starting to come to life at the end of March and I was sat fishing on top of a sand bar with big carp sunning themselves all around the spot. I felt mega confident that one of my single CompleX-T hookbaits would be picked up by a hungry fish.
The following morning I woke up to the news that the country had been lockdown due to the COVID 19 pandemic and the lake would be closing that evening. I left disgruntled but at least everybody was in the same boat, if I can't catch them then nobody can type of thing.
I sat patiently at home for 8 weeks like the rest of the country and relished the day I could go fishing again. I was there the day the lake opened and headed straight for a swim known as the 'The Round'. It fished to a set of pads at the back of a big gravel spot and had previous form for doing big fish through late spring and early summer.
I figured as the lake had been shut for so long the fish were probably fairly hungry and gave them a good helping of tigers and hemp. That night I had a screaming take and hooked a very large and powerful fish. Unfortunately it quickly transpired that it was a catfish. The spot was trashed and it was no surprise I didn't have another bite that trip.
Ryan, being a chef, was still furloughed and was taking full advantage. He was fishing five nights a week and reaping the rewards, catching some mega fish topped by a handful of upper 30's. The club had re-dyed the lake during the lockdown and taken it upon themselves to scalp the lake of most trees, snags and vegetation.
The place looked awful. I'd decided then that this would be my last season. I could cope with slotting in around other anglers on a busy venue if it was a nice place to be but now every swim was open, there was no weed, the lake was bright blue and the fish weren't really feeding due to the horrendous amount of angling pressure they were experiencing.
My PB
Needless to say the first few weeks of the lake being open were pointless even fishing it. I went up every Monday after work as usual but was always faced with a choice of three swims or less, usually the furthest away from the fish I could be. I managed to get back in the Round Swim again for one night on the 16th of June.
I guessed most people were packing up to fish the rivers and I took my chance at getting in the swim. The rods went out to the usual spots and I chose to fish the rig I'd thought up and done so well on when things were getting tricky. Double tigers and a few handfuls of hemp and I was ready.
The night passed uneventfully but come morning I started receiving some really savage liners and seeing large patches of fizz coming off the spot. Some of the liners were so strong they pulled the line from the clip! At about 11am I had a brutal take that saw the reel smash into my alarms.
I grabbed the rod and instantly had line being taken from the spool. It was a reasonably hard fight, but I didn't know if I was just being dramatic where I hadn't caught a carp for so long, nearly 10 months! The fish continued to take line from a pretty tight clutch before I eventually netted what I thought was a high 20 or maybe a low 30.
Upon turning the fish in the net I could in-fact see I was very wrong. The fish was enormous. As I recognised it my knees went to jelly and I couldn't seem to get any words out. A lad called Ross just came into my swim to see what I had and he confirmed what I thought, it was Kiss Scale!
I knew the fish hadn't spawned and the thought of how big she might be made me feel dizzy. Quickly a crowd gathered in my swim and Ross and my other friend Birchy weighed her for me and confirmed the weight with everybody else to be 50lb 1oz. I was shook, literally. I couldn't understand what was going on or what people were saying. All I knew was I had to bellow her name out for the valley to hear.
I got my really good friend Greg down to help me with pictures as I haven't met many people who are better with a camera. He did me more than justice with the photos of her and I let her swim off to make somebody else's dreams a reality.
I knew that when she swam away I wouldn't fish the match lake again. It was done for me now, time for a new challenge.