3 July, 2020 | Carp | Articles
1 Comments
Stories from Yateley – Dave Williams PART 1
Top carper, Dave Williams tells some stories from a two year long campaign on Yateley's renowned Match Lake and a handful of other local waters in Part One of a two part diary.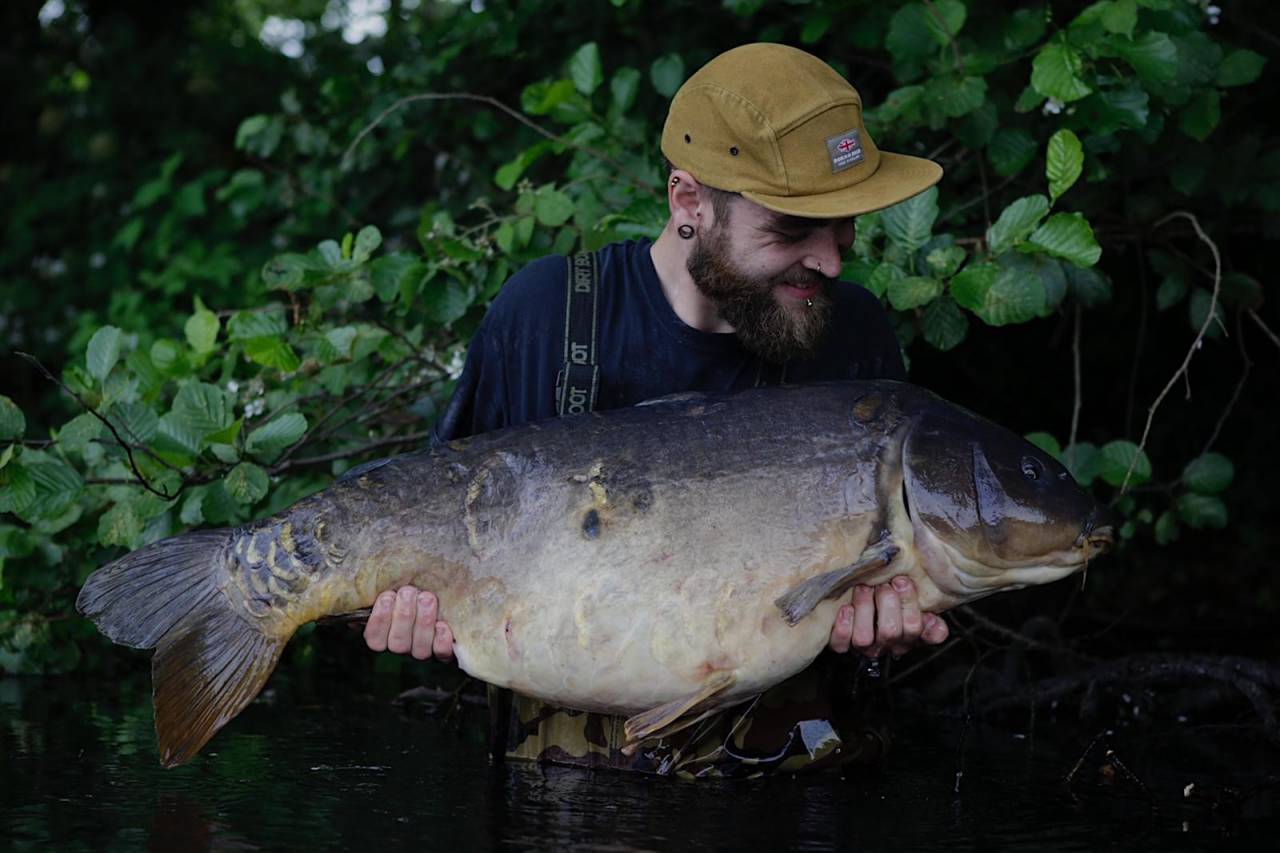 Dave continues..
Yateley, a place that needs no introductions. Since moving to Winchester when I started studying at Sparsholt college it was always on my mind. Mainly the match lake, which still held a small amount of the original Yateley stock of carp.
I fished more local whilst I was studying but as soon as I'd graduated college I set about getting a ticket sorted to fish the renowned, Match Lake. I had a few friends who were already fishing there so had a couple of recce walks before I started fishing. I'd been told that in the spring most of the carp can be found in an area known as The Jungle, a small pond connected to the main lake by a 3m wide channel.
Now The Jungle is of course out of bounds and a rope cuts across the channel stopping anybody casting into the mass of sunken trees. You can however wade up the margin about 30 yards and cast the rig just in front of the rope at the mouth of the area. So this is what I set about doing for my first couple of trips on the match.
I was fishing a CompleX-T dumbbell and piece of black artificial corn over a couple of handfuls of matching freebies. I struck lucky the first couple of times I fished that swim, landing a 20lb catfish and a mid 20 mirror and two beautiful 30lb commons.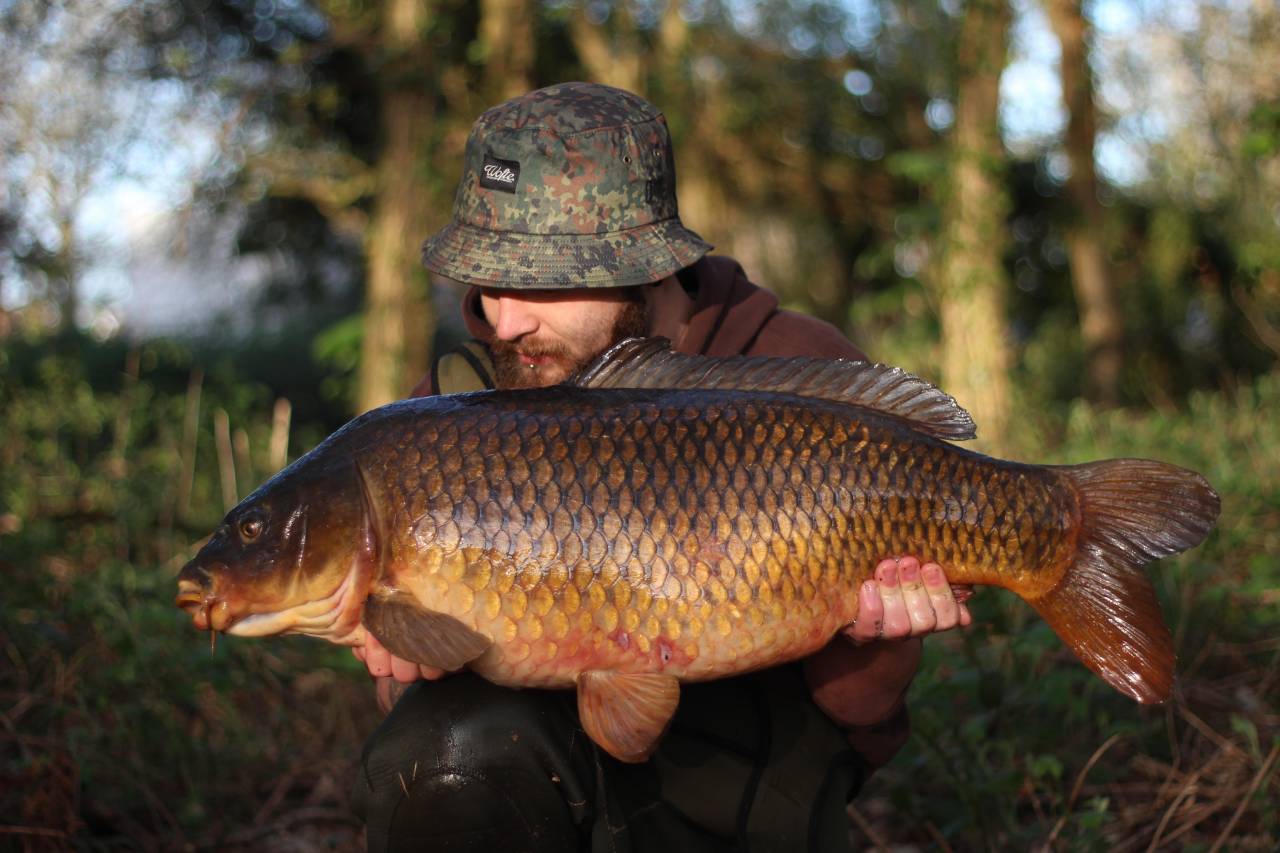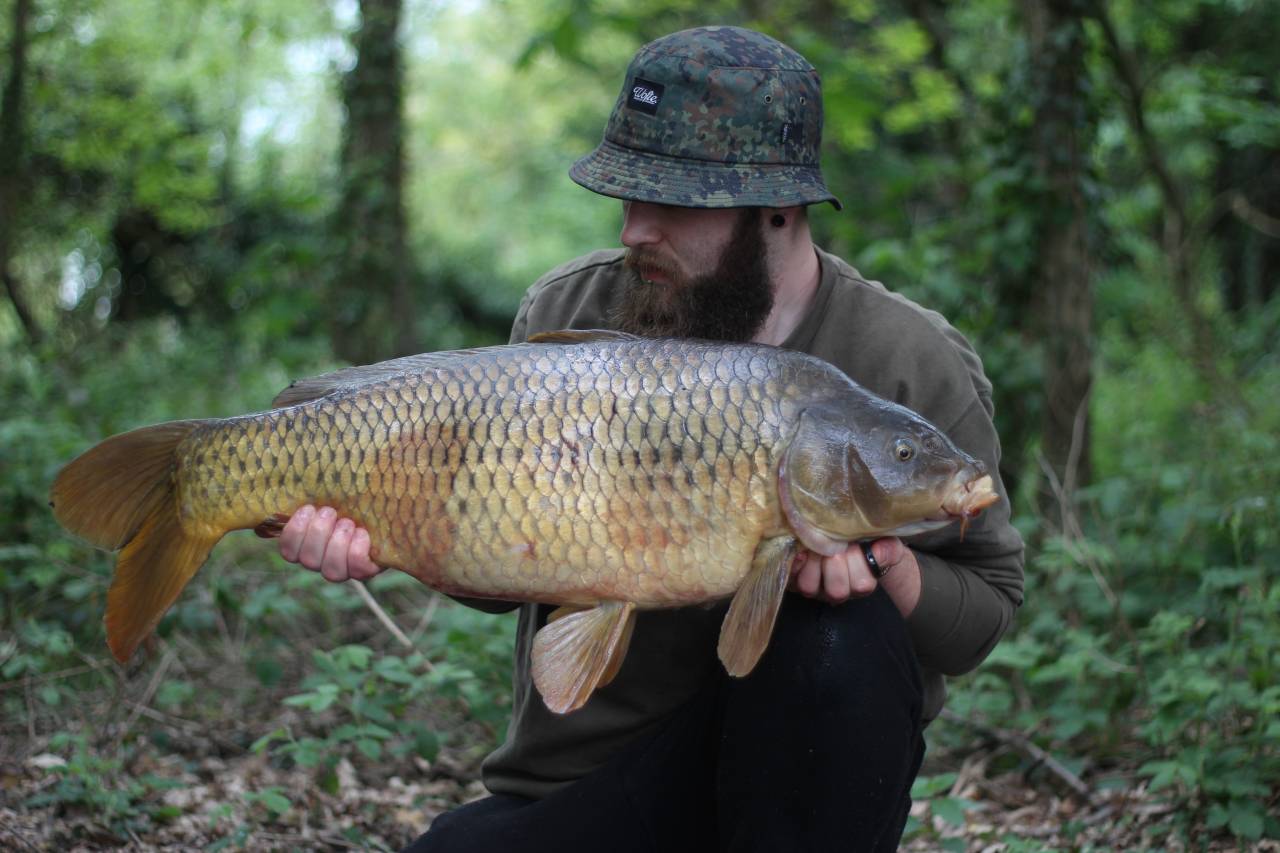 Playing the fish back along the margin and away from The Jungle was a hairy affair but fortunately the end tackle was up to the job. Despite my early success fishing this swim I soon found myself on a blank streak for a couple of sessions, not that I was complaining after my flying start. It was the start of June before I found myself attached to another Yateley carp…
Hot summer session..
The weather was extremely warm and the carp were not far away from spawning. Turning up on my usual Monday evening I was expecting the car park to be rammed like usual but to my surprise it was relatively quite. Walking around the lake it appeared that there was about 15 anglers on, meaning it wasn't quite half full.
I found some fish in the shallow water in the middle of the lake, just behind a set of pads and a thick weed bed. The weed was so high already that the spots were easily visible, vast craters in an otherwise flat green field. The main clear area in front was 10 wraps out and was a firm sandy spot just off the front of a relatively steep bar, rising up to the patch of lilies on the top.
I figured with the fish being so close to spawning they probably weren't going to want much bait. I opted to fish a single CompleX-T Fluro pop-up on one rod and a double Frenzied Tiger Nut over some mixed particles and CompleX-T bottom baits on the other. As per usual on the match, the evening and night was quiet and as soon as the sun rose over the horizon the liners started and the spot was fizzing away nicely.
Next thing I know the angler next door has come into my swim asking to borrow a sling as he'd already got a fish in his and had another in the net. I offered my sling but also said I had a camera and was happy to do photos for him if that's all he was waiting for. He accepted and I went and did the photos for him of a 25 mirror and a 39 mirror and despite being a bit jealous seemed to have made a new friend with this angler, Ryan.
The following afternoon was followed with plenty of chatting and story telling and it transpired we had mutual friends anyway so were bound to get along. As the evening drew to a close I went back to bed hoping that I'd have some sort of success the following morning.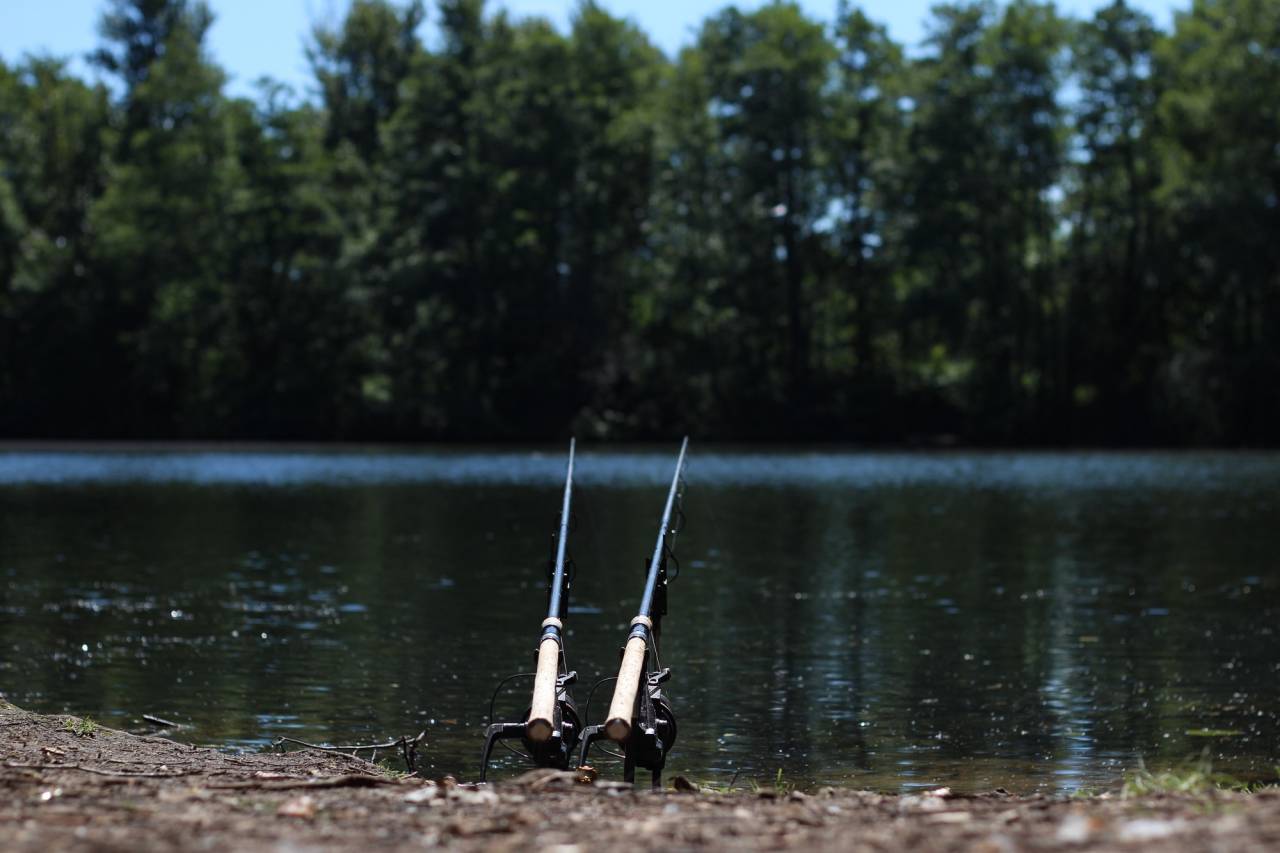 Dawn raid
As the sun rose over the horizon, the fizzing started again. I was expecting a take when, sure enough, the rod buckled round and I was attached to another Yateley carp. I proceeded to land my first 30lb mirror from the Yateley complex and fortunately Ryan was happy enough to return the favour with the photos. T
his fish came to the single CompleX-T pop-up fished just off the baited spot. I didn't put the rod back out after that fish as there was still some fizzing on the spot and I didn't want to spoil my chances of another bite. What a decision that turned out to be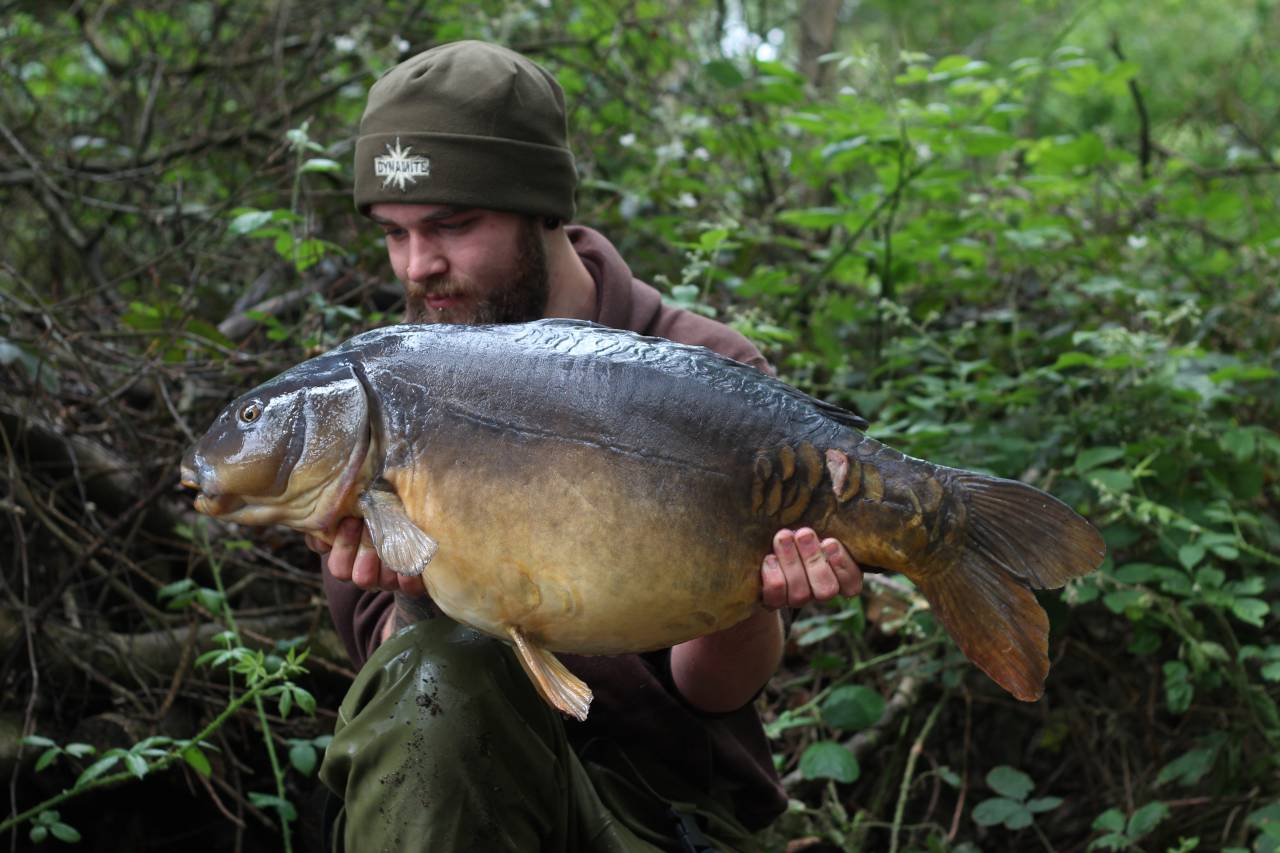 In again
At about midday the bobbin picked up again and I reeled down to find myself attached to another carp, not fighting as hard as the previous fish had though. Upon landing the fish I realised it really was something quite special; my first original.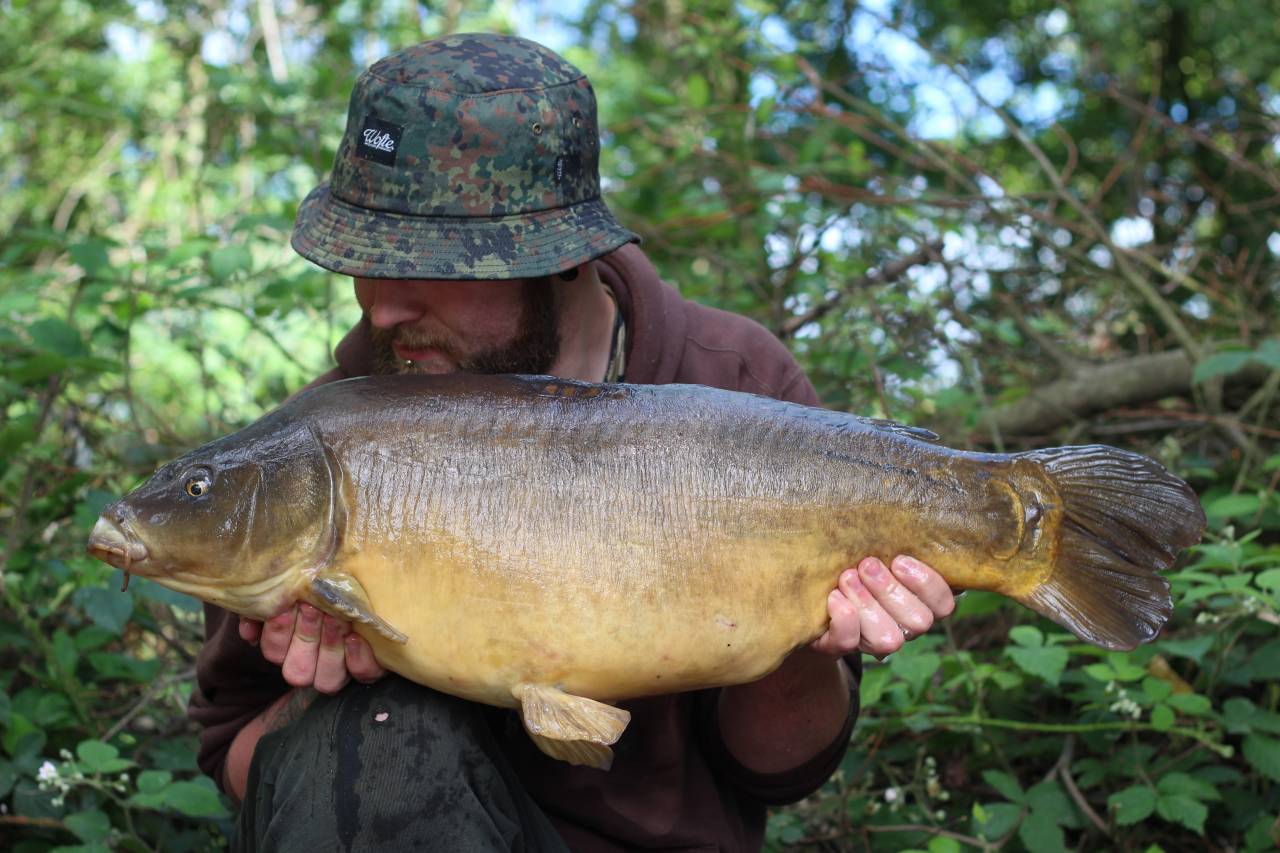 I ran next door to get Ryan to do the photos and for him to confirm it was a fish called Happiness. I was made up and the name was quite fitting, 14 nights and my fifth carp, good odds by anyone's standards!
Back down the lake
By the time I'd finished my week at work and was back down the lake the fish still hadn't spawned. I managed to get back in the same swim as the week before and employed the same tactics hoping for a similar story of success. Ryan was next door to me again and made his appearance known early doors by popping his head round the brolly and asking for photos.
My spot was just simply dead and I didn't catch anything that morning. The following evening I got asked to reel in for my rigs to be checked to make sure I was using barbless hooks, which despite my opinion on barbless hooks and weed, I was.
I flicked the rods back out and sat back disgruntled that my chances of an evening bite had probably been scuppered. This meant it was quite a shock when my right hand rod pulled up tight and came out the clip. The fish came in like a wet bag, much like Happiness did the week before.
As Ryan netted it he turned to me and said it's a special one and it sure was, another original! This time it was a lovely old mirror called the Bum Snag fish and weighed 33lb, I was made up, two originals in as many weeks! I could also see a trend starting to appear, or maybe just coincidence, both originals had come to tiger nuts.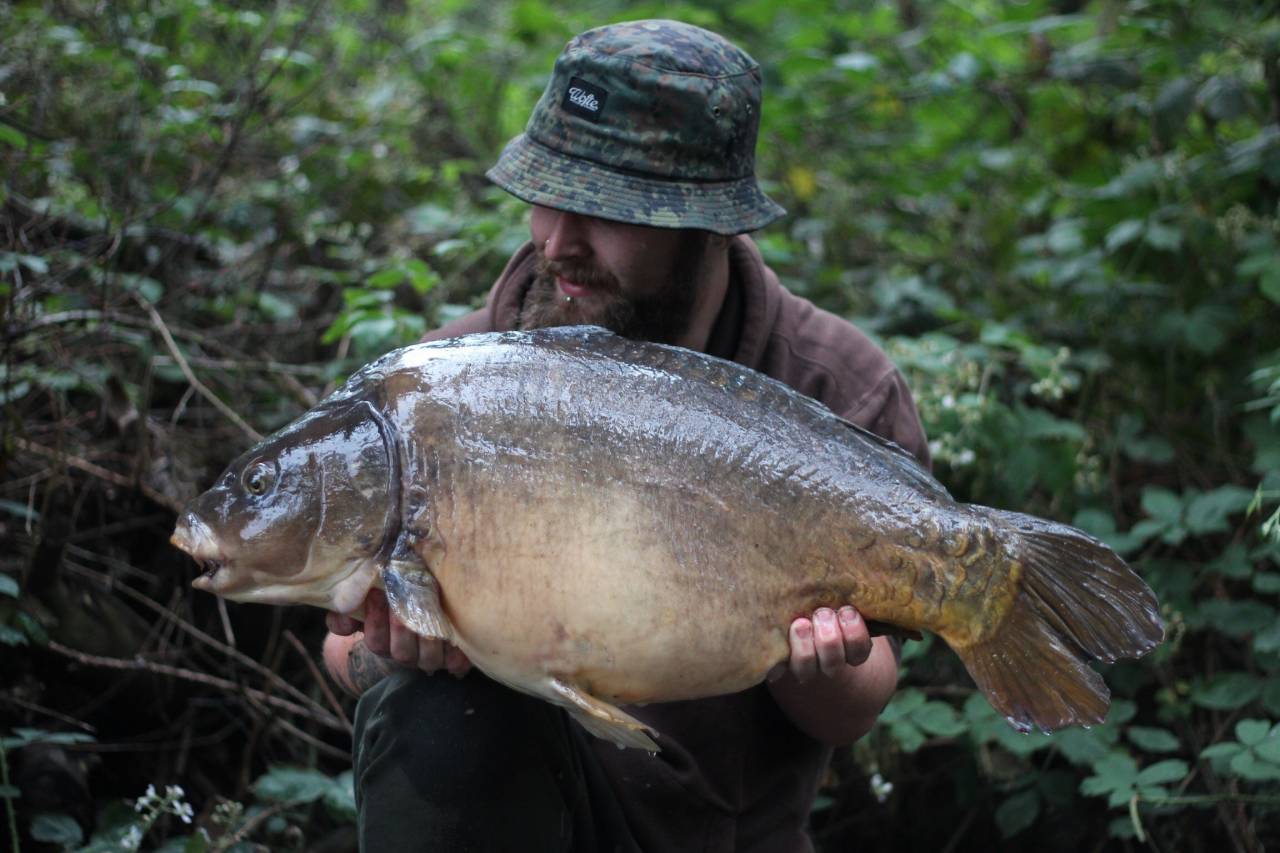 I put the rod back out for the night and was awoken early morning with another bite. Again the fish felt small and my heart was telling me another original. Alas, it was only a high double mirror but, another fish to the CompleX-T.
Fighting the crowds
The rest of the summer saw me struggling against the crowds and slotting in when I arrived, just so I could move into a half decent swim when somebody moved. This meant I was only really fishing effectively one night a week. I did manage a handful of small mirrors through the summer, as well as a personal best 12lb bream and more than my fair share of catfish.
The end of summer came and with autumn around the corner I decided it was probably time to start trying to get a spot going for the fish to visit regularly, especially as the angling pressure was now quietening off on the lake and it would not be long until the weed died off too.
I decided on a snaggy margin section of the lake to bait, it was an awkward spot to fish but easy enough to bait up slyly. To get to the spot too fish. It involved a 30 yard wade up the margin, ducking under two or three low hung willow trees on the way, plopping the rig and bait on the spot and wading all the way back to the swim.
I started off by raking the spot thoroughly to remove any undesirable bits and pieces from the little hard bit of bottom I had found. I was also clipping any dodgy looking branches off that may impede my ability to land a fish along the way. I baited the spot twice a week with a big bucket of Frenzied Mixed Particles and CompleX-T for around a month before I decided to fish the actual spot.
I did try to get in the swim every week to keep an eye on it however. I was pleasantly surprised to see huge patches of fizzing come up off the spot every morning one week when I was fishing. I decided to give the spot another hit of bait before returning the following week to start fishing it.
I turned up Monday as I usually did and headed straight to the swim I'd been preparing for an autumn harvest. I got the rods out by about 8pm and just soaked in the evening. It was very hot and the air was thick with humidity. The mosquitoes were out in force and I couldn't really sleep properly.
At some point in the depths of the night the margin rod literally melted off and I was convinced I'd got a catfish, as had always been the case with night time bites until this point. I bullied the fish in thinking it was a catfish and was baffled when I netted a small, but lovely looking leather carp. Only an upper double but hopefully a sign of things to come.
The margin rod gave me two more fish the following two mornings, an upper 20 mirror and common, before it died off and the fish moved out into the deeper water.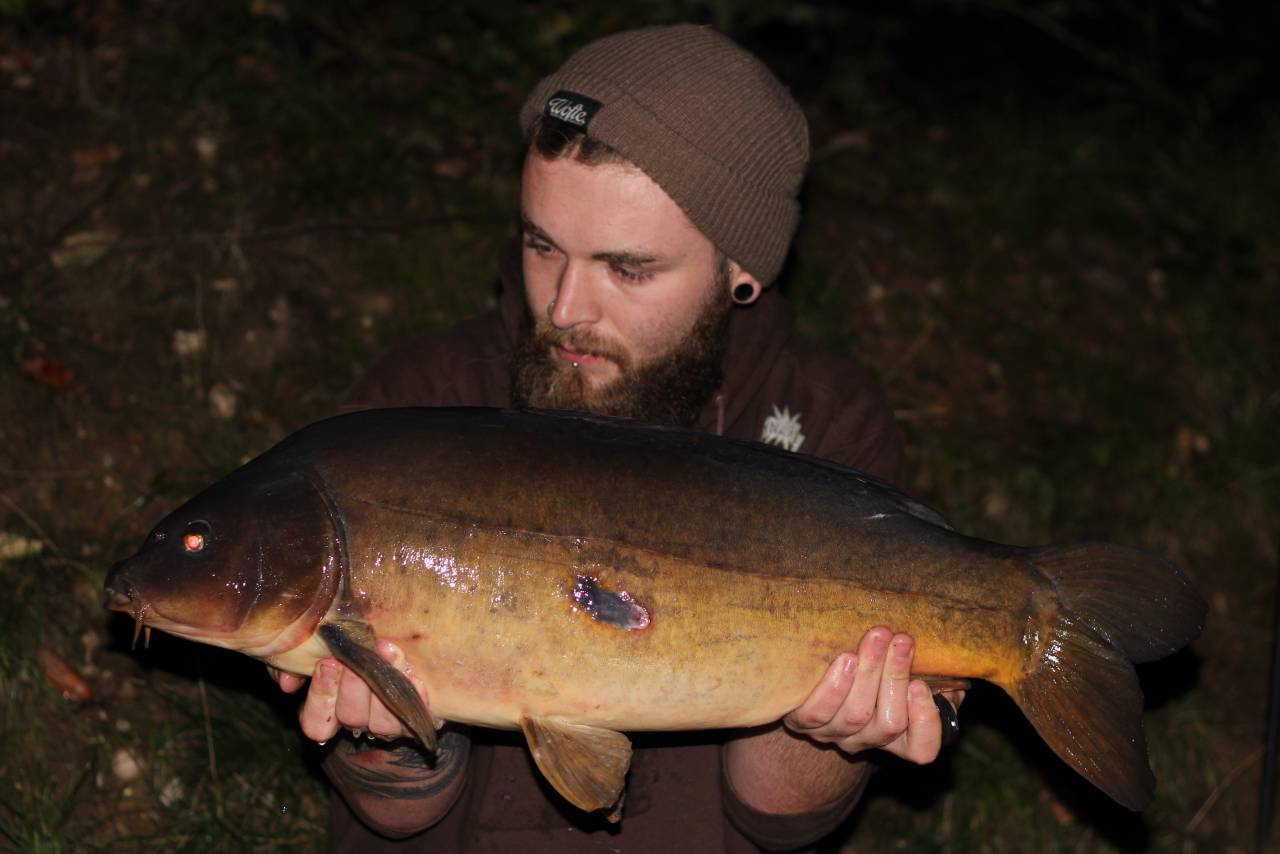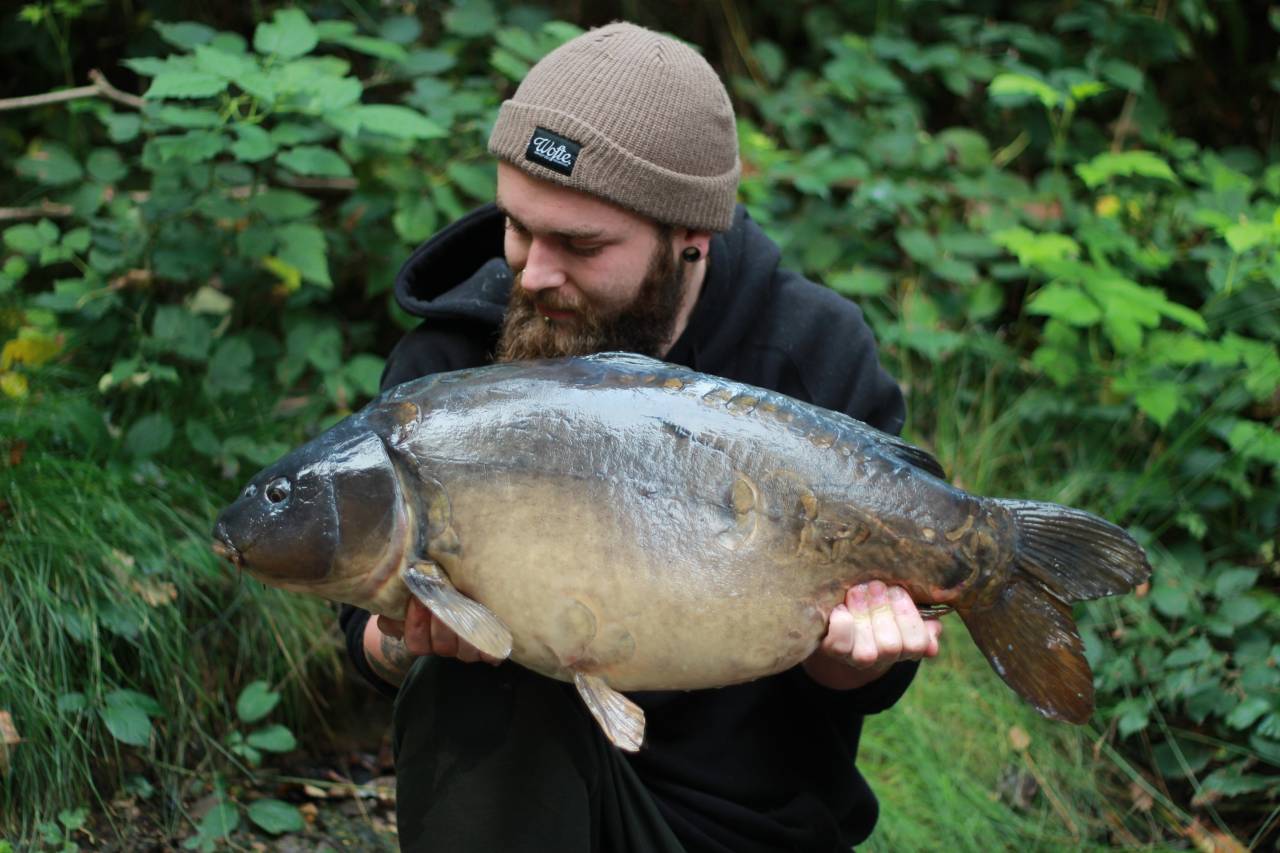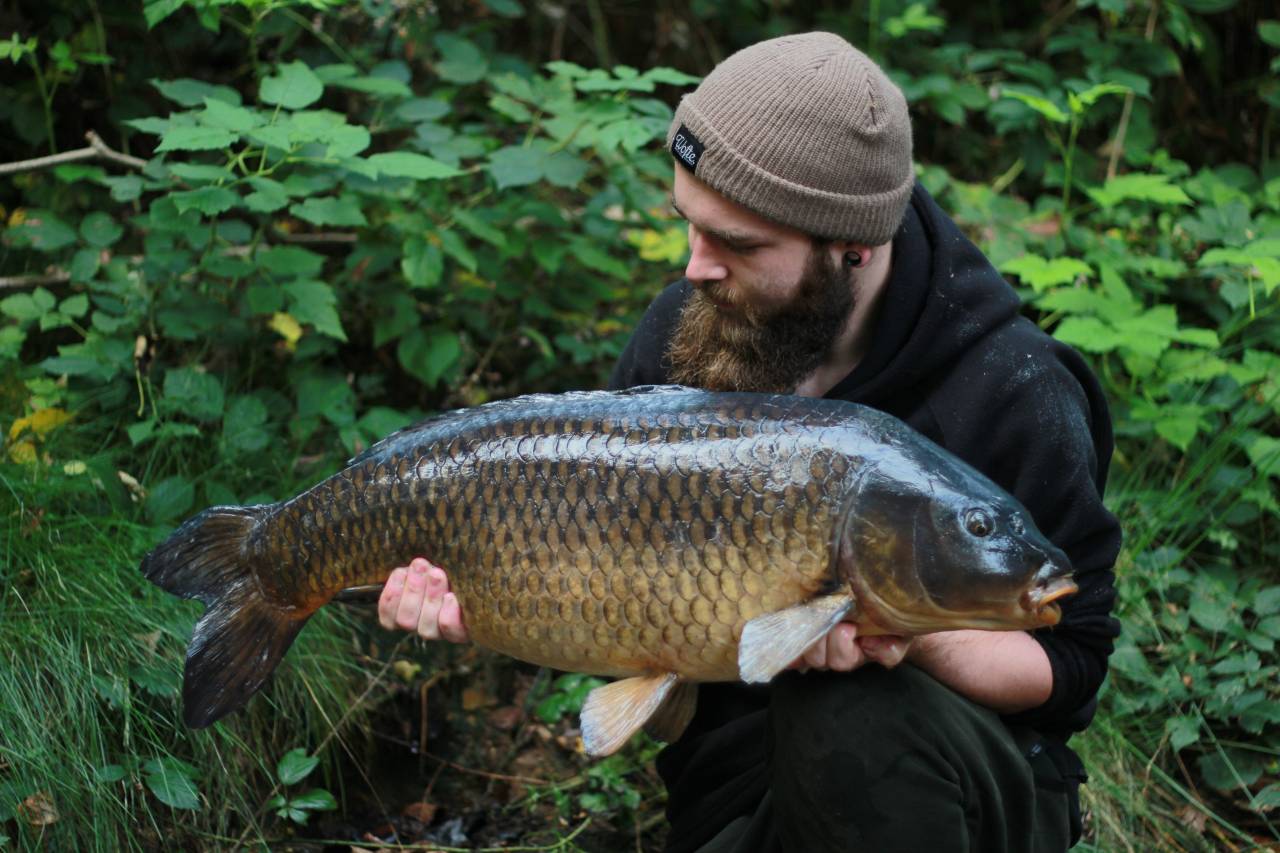 Despite my eagerness and trying, winter was as quiet as I expected it to be and didn't manage another bite until the second trip of my new book the following April.
Spring success
I'd arrived, in the dark after work on a miserable wet Monday night. Ryan was already there so I set up in the swim next door to him and proceeded to send two pink Crave pop-ups on chods out into the lake, zip the brolly door up and escape the weather. The rain went on forever and I don't really remember when I fell asleep but it was over by the time I woke up.
A single bleep had pulled me from my slumber and as I looked out at the rod trying to clear my eyes of sleep, it burst off and had me scurrying from my sleeping bag wide awake all of a sudden.
The fish was heavy and very powerful and had my knees knocking as I stood out in the lake in my waders waiting with the net. It took plenty of line and really put up a good account of itself. Finally I managed to net the fish and weighed it at just over 35lb, a fish called paw print.
I woke Ryan to do some pictures for me and I slipped the fish back not knowing it would be my last for another month.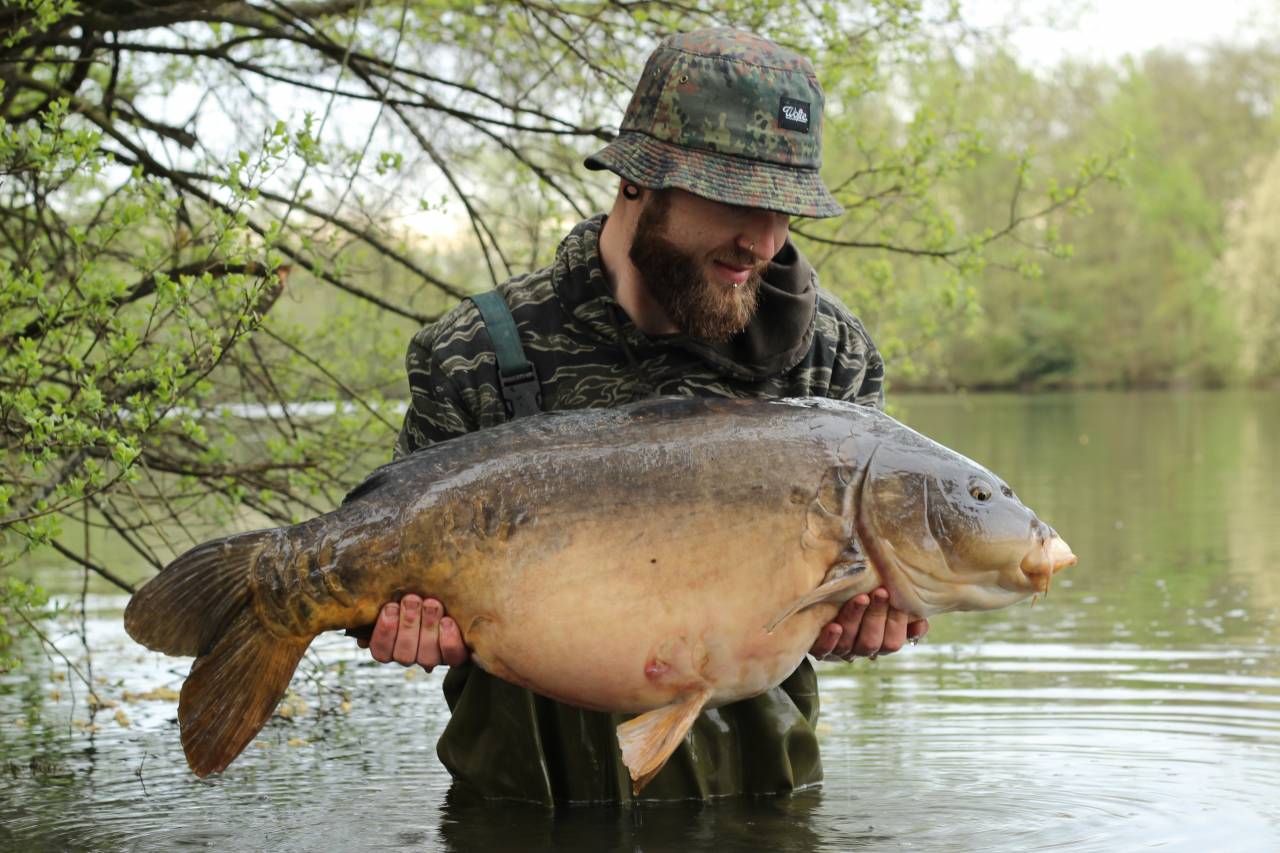 Another busy spring
Once again hordes of anglers came down to the match lake that spring. The old lines of 'they'll be huge' and 'before the weeds up' could be heard from the bivvys in every swim as you walked past. I was once more slotting in where I could whilst the fish were all huddled up out of harms way in the back of the jungle.
The occasional one got caught as it had to venture out to eat, usually the bigger fish, but it didn't really get going again until late spring early summer when the weed had hit the surface once more. I'd managed to get in a decent swim on the end of a fresh south westerly and found a nice hard spot at 11 wraps.
I baited it as I did when I caught Bum Snag and Happiness the previous spring with about 10 spombs of bait on the left of the spot and a single pop up on the right. I only had one night left by the time I'd managed to get in this swim so didn't hold out much hope of a fish, but with a week off starting in a few days, I planned on more priming the area in preparation.
The following morning the spot was alive with fizzing and showing fish. This went on all morning and it wasn't until just after midday I managed to get a bite. It was only a low 20 common, but a confidence boost of what the following week off work may hold.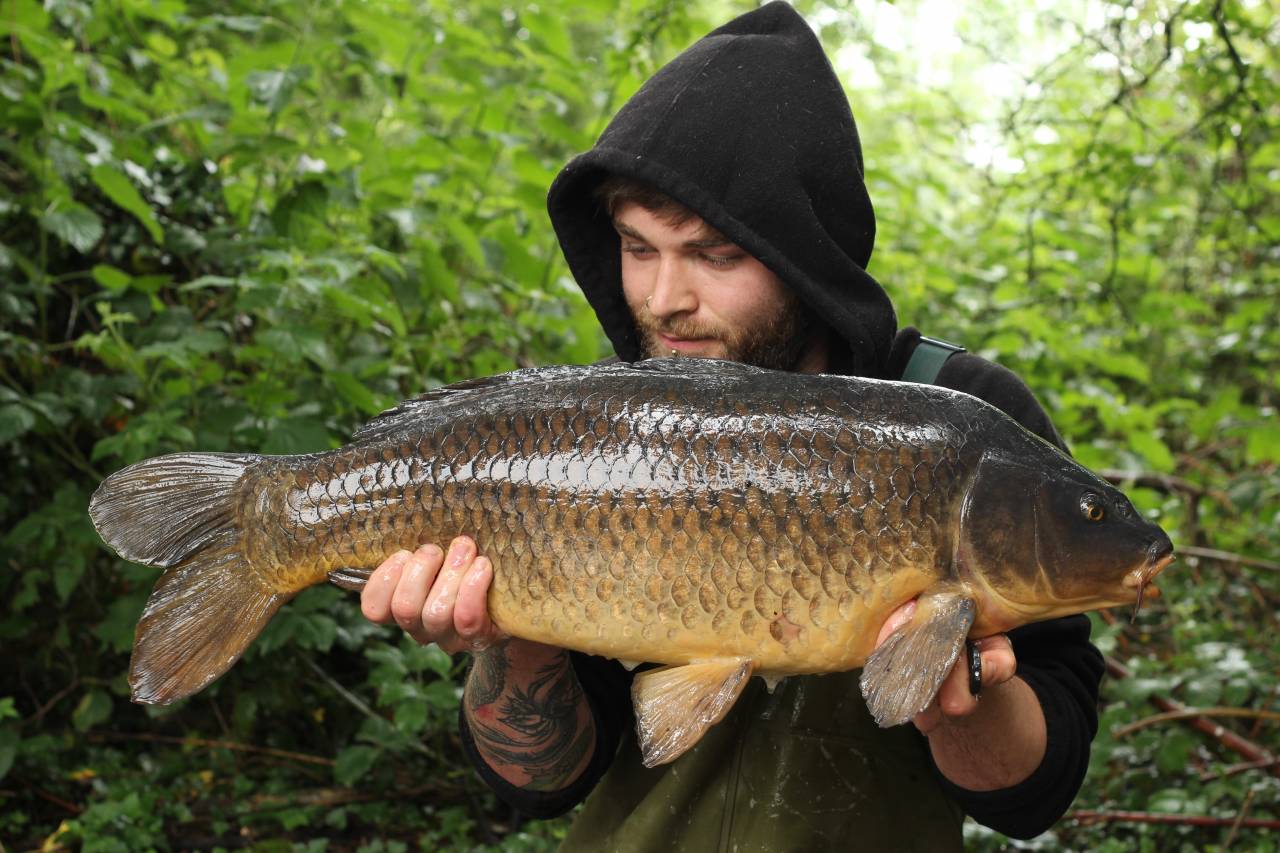 Another nice thirty
I was thrilled to be able to get back in the swim I'd baited on my first night, giving me a full 5 days and 4 nights fishing on the hotspot. I baited heavily with hemp and tigers and some CompleX-T boilies straight away hoping to pick the fish off as they returned to clean up the bait over the next few days, trying to create a minimal disturbance on the spot by not having to rebait.
The first night resulted in a catfish much to my disgust. I could guarantee it had ate most the bait I'd put out as it regurgitated it back out onto my mat whilst I was unhooking it. Not wanting to waste the bait I spombed it all back out onto the spot, carp like crushed tigers right?
As was to be expected, the disturbance the catfish caused delayed the carp returning and when my rod rattled off at around 2am in the morning the following day, I was convinced it was another catfish. A big heavy fish was pulling back hard and I bullied it back thinking it was a cat. As it popped up in front of me illuminated by the head torch I could see it was in fact a very large carp.
Right at that moment the fish turned and the hook pinged out, damn barbless hooks! I put the rod back out feeling stupid to have given the fish so much force, but focused on getting the next bite and not bullying it in. Again the following day passed uneventfully and it wasn't until the early hours of the morning I had another take off the bed of bait.
The tiger nut rod was away again and I managed to land a big framed mirror. I weighed it at just over 36lb and managed to get my friend Neil to come over and take some nights shots. I left the rod out until the following day, not wanting to disturb the fish that were possibly still out there feeding. A good decision, as I landed a pretty looking mid 20 mirror the following morning.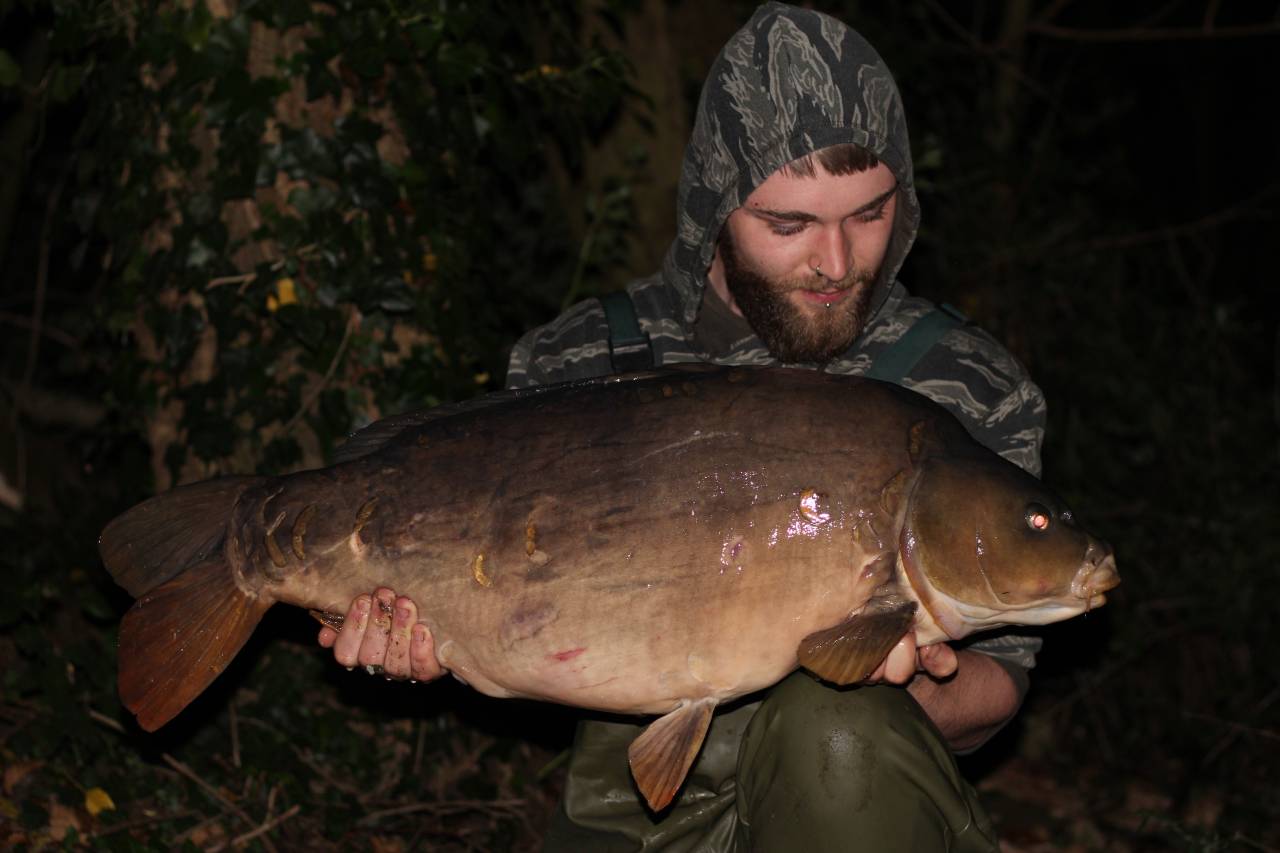 I thought this 36lber was a cat when I first hooked it.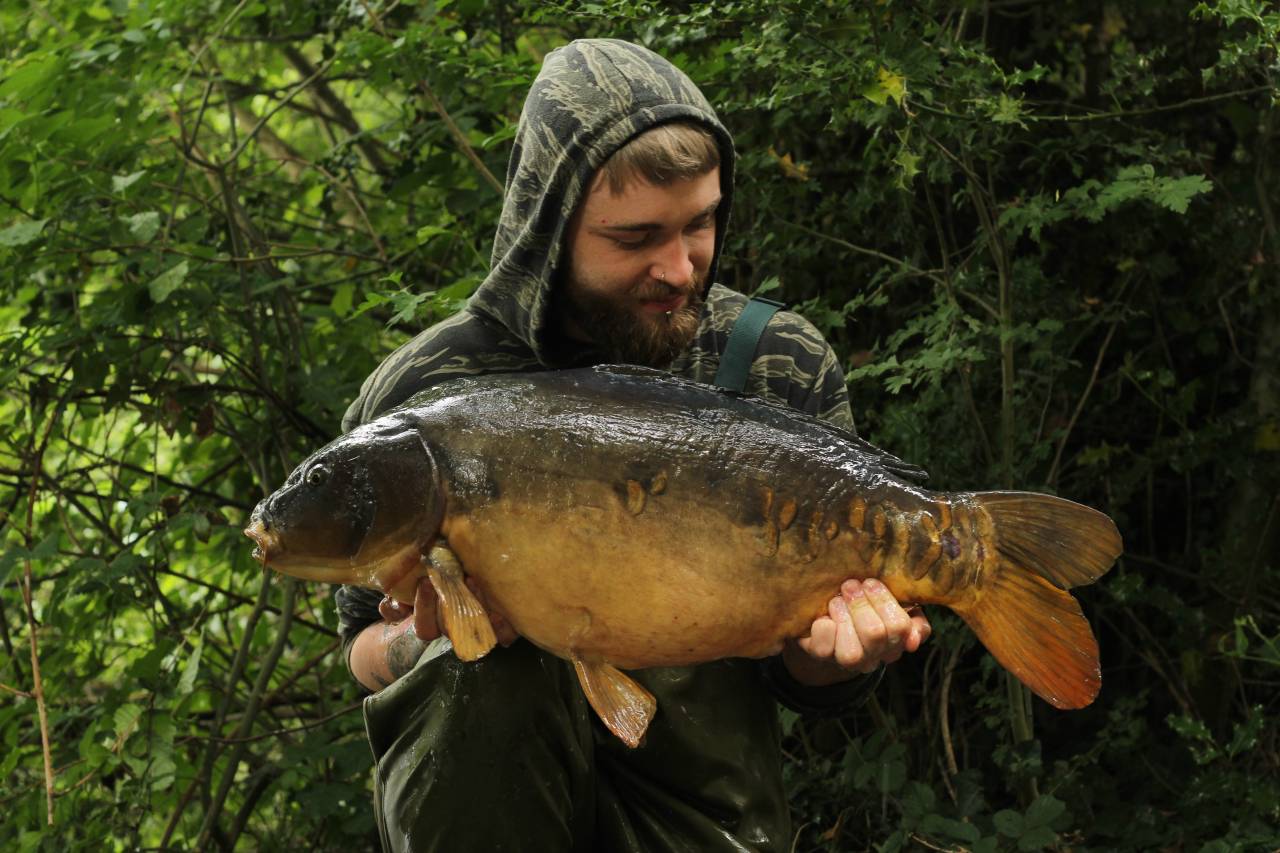 I re-positioned the rods again that evening and sat in wait of another bite in the dark and sure enough, bang on 2am the left hand rod fishing the tiger nuts was away again. Another heavy fish was battling away with me in the inky black and I finally managed to land a beautiful 33lb redmire common, another strain of fish the match lake is famed for.
Ryan was fishing next to me again at this point and he obligingly did some night shots for me.
As with the night before, I left the rod out the water in hope of another take but it didn't come. I re-did the rods early afternoon and sat back for my last night, feeling slightly deflated the trip was coming to an end. The night was quiet but the following morning I landed a lovely dark leathery low 30 mirror which sealed the trip off nicely.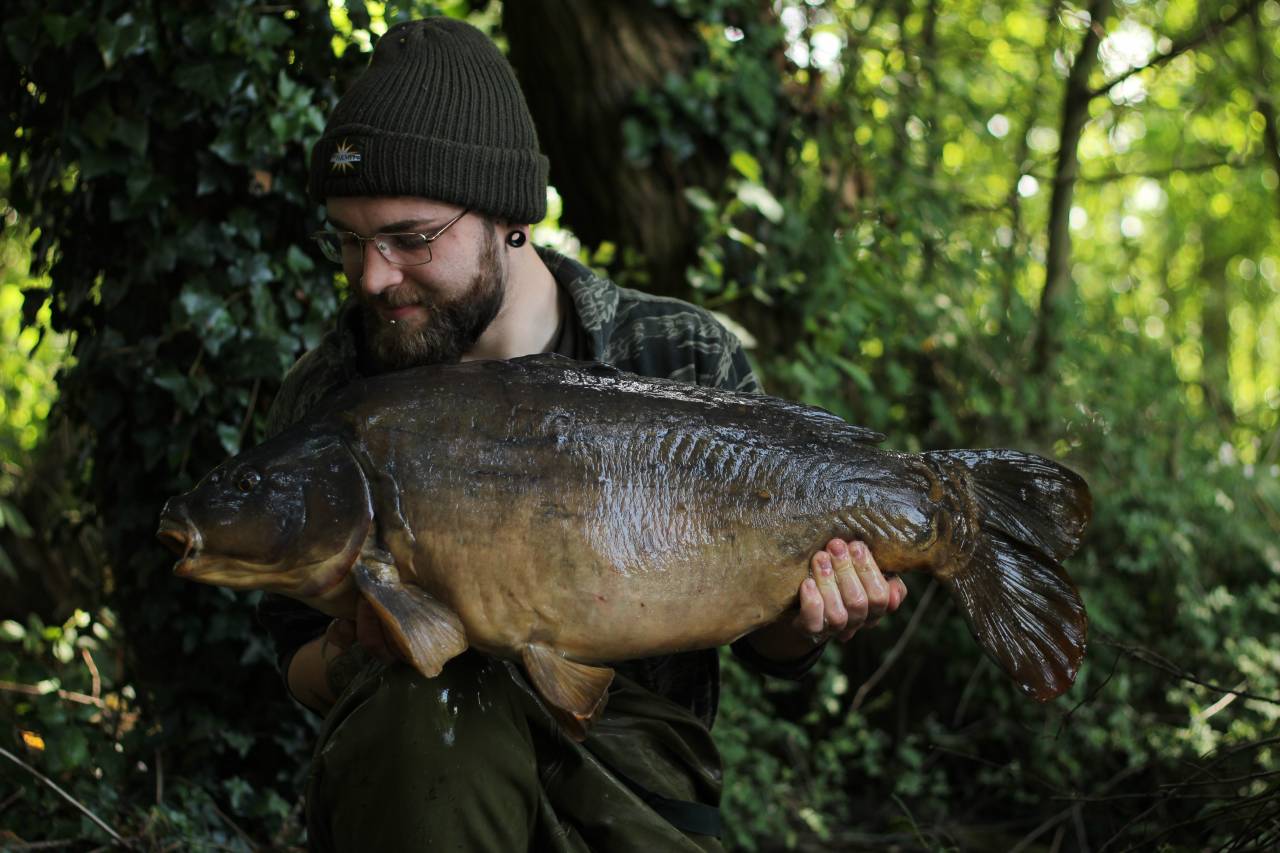 Summer tactics
As much as I'd have liked to, I wasn't able to get back in the same swim the following week. Instead I found some fish sat in a weed bed between a shallow sand bar and an island. I knew the spots in this swim from fishing it previously and set about clipping both rods up to land smack on top of the bar.
I baited with a couple of spombs of Frenzied Hemp and fished tigers on both rods over the top. I've found this a killer tactic when the fish have spawned and the weathers hot through the summer. The first night passed uneventfully and the following morning I had lost a string of fish to barbless hooks and weed beds again.
Frustrated I left the rods out all afternoon whilst sitting with Ryan trying to get re-inspired to get the rods back out. I dragged myself back to my swim and put the rods back out on the bar and fell asleep pretty quickly. I woke up early the next morning to it already being hot and the fish sat up in the weed. I waited all morning before one ventured out of its weedy sanctuary for a bite to eat and I landed a really old crusty looking mirror that was upper 20's. A welcome capture given the previous mornings record.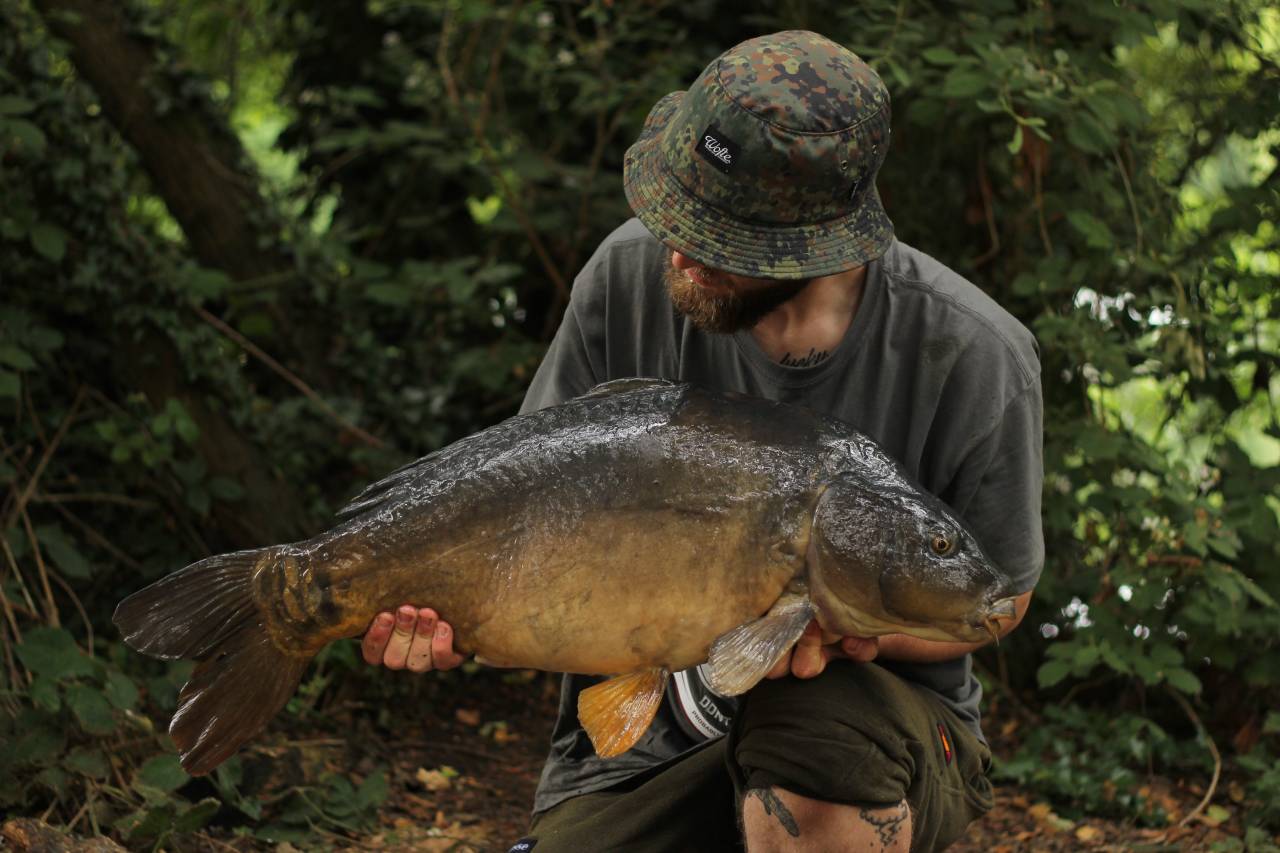 Fish in the weed
The following week I found some fish in another thicket of weed tucked behind a Long Island. Usual tactics of hemp, tiger and some CompleX-T on a nice hard area, with a tiger and a pop up fished over top. The first morning of that trip I managed a clean little 20lb mirror and photographed some nice fish for my friend Tom in the next swim up.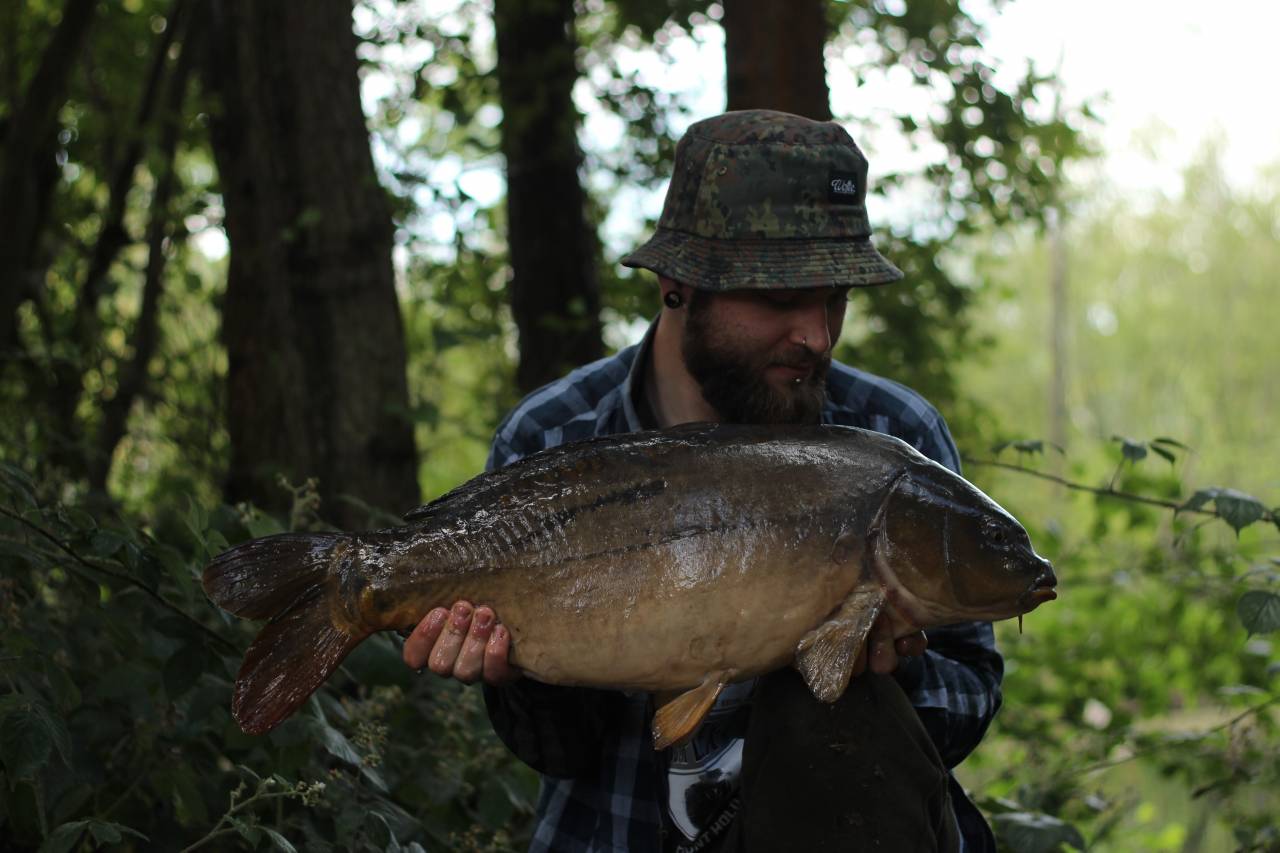 The next morning saw me sitting on my hands very frustrated having not had a bite. Hours and hours of feeding activity on my spots and nothing. I hung it out all day until about 6pm when I decided I'd had enough torture and reeled in.
Once the rigs were retrieved the reasoning behind my lack of action was apparent. The hook point was turned over on one rod and the split shot was missing from the hair on the other rod.
Autumn on the horizon
Once more the hot weather of summer saw the action get slower and slower until the temperatures began to drop September time. I planned to bait a couple of areas this season in the hope of flicking between the two. I'd only be baiting the spots for a couple of weeks when I started to see fish regularly feeding on them both.
I decided to fish the spot up the shallower end of the lake first. It was a deeper hole of around 8ft in 5ft of water, rock hard at the bottom where it was soft everywhere else. The first morning I landed a nice 36lb half lin.
Despite this initial fish I didn't receive anymore action that day and moved to give the second spot a go down in the deeper water, remembering the previous season when they had drifted out into the deeper water to feed heavier.
The second spot was a small strip of gravel out in a generally silty area. A single Crave 18mm bottom bait was mounted on the hair and a couple of handfuls of crave and complex were catapulted out over the top.
I received a screaming take around 4am and managed to land a lovely low 30 mirror. I kept it on the net for a bit, not wanting to wake Ryan for pictures as he soon had to be up for work anyway.
About half an hour later he poked his head around the corner to see if I'd had any luck. Informing him of my success, he did some photos for me and went to work.
A change of scenery
I'd decided I wasn't going to fish the Match Lake that winter. Last winter was fruitless and Tom was having some success on another lake local to the Match Lake and I thought I'd get a winter ticket and have a go with him as well.
He'd been catching fish under a big set of snags and I figured I'd just go in behind him once he'd left and do the same. The first trip I landed a lovely old looking low 30 mirror.
Second trip I managed a couple of low doubles. My third trip me and Tom doubled up for three nights. As it was my birthday week, Tom let me fish the snags opting to fish out in open water. That trip I managed three fish, another high double, a mid twenty common and a very round low thirty mirror, a fitting result for my birthday trip!
New Beginnings
Spring soon started to show herself once more and I was determined to focus more on targeting the better fish this season, using what I'd learnt previously about the big fish areas and the rigs methods and baits I was catching what fish on. I opted to fish mainly with Frenzied Tigers and Hemp as this had done me the most target fish. This was in the hope I could get among the 40+ fish the lake holds, or even the ultimate prize, a fish known as Kiss Scale.
It was mid February when I had my first fish of 2019. I'd turned up after work in the dark and got on the end of a big south westerly wind. I flicked the classic pink Crave choddys out and tucked myself away in the brolly out of the weather. To my surprise I was awoken early hours that morning with a take on my right hand rod, fished towards a large clear area among some dead weed. I landed a nice low 30 and was made up!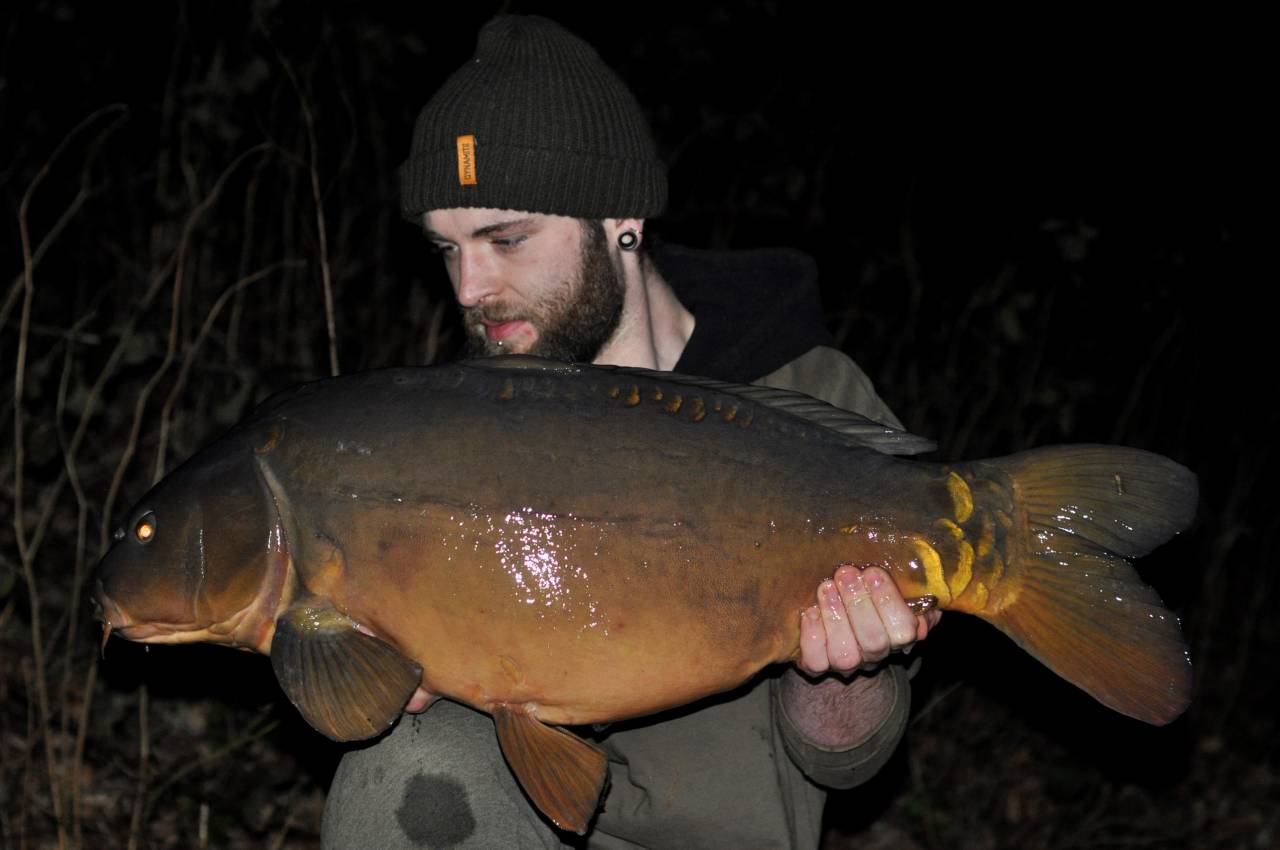 Heavily pressured
Surely this meant I was on to good things? I was wrong. The match was just as busy, if not busier than ever before that spring. I only managed one low 20 out of there for all the effort I was putting in and by the time the fish decided to spawn I was burnt out and needed a change of scenery.