21 March, 2023 | Carp | Angler Blogs | Articles
1 Comments
Late Winter Carp Fishing – Adam Whittington
A magnificent tale from Adam Whittington that focuses on Late Winter Carp Fishing. The 'limbo' period in between winter and spring can be a tricky time for a carp angler but Adam and his mates managed to take advantage of this post-slumber period on Frimley's Pit One – with some impressive fish banked to boot!
Adam Says…
Late Winter Days
It was that time of year when winter seems to relax its grip on us, and clues appear that spring is not so far away. A far better angler than I once told me that when the day length equals the night length, which tends to be in the middle of February, the carp will wake up, irrespective of weather conditions.
My own experience backs this up and, even if you can't always catch them, you begin to see signs of carp shaking off the winter and becoming ever more active to a soundtrack of birdsong that gets just a little louder each morning.
It was with this background that saw me on the banks of Frimley Pit One for a few weeks fishing prior to my scheduled start on the mighty Pit Three in June. I instantly loved the place. It was lightly fished at that time of year, low stocked and had a real air of mystery about it. Better still, I could fish alongside my closest angling mates Andy Mackie and Andy Camo – although we have visited French venues together every year for the past two decades, it was rare for us to synchronise our efforts on an English venue.
Pooled knowledge and Kronenbourg are the perfect combination for a new challenge.
The first session on Pit One was memorable indeed. Even though it was still relentlessly cold, fish were moving, making them easy enough to locate amongst the extensive shallows and numerous islands. Most of the movement seemed to be in water of less than three feet deep over areas of emerging weed growth. A nose here, a gentle roll there gave them away. No flamboyant shows and noisy crashing, but carp nevertheless and lovely dark fish as well.
I normally favour groundbait and liquidised boilie for cold water carp with lots of liquids, but tales of ravenous tench shoals meant I adapted my approach and used just couple of pounds of Shrimp Extract-soaked CompleX-T discs spread onto a shallow plateaux and all three rods were cast onto an area roughly the size of a tennis court, with ever faithful Nora rigs and CompleX-T Foodbait pop-ups in small PVA bags.
Over the next 36 hours or so, my tench avoiding tactics proved to be useless, with a succession of five to eight pound fish coming my way. Bites were mainly just the bobbin holding up tight with a gently nodding rod tip. The next of these bites produced a much heavier resistance, and my first Pit One carp was landed. It was one of the old ones, a mid-twenty true leather that was the nicest welcome to the pit.
The tench seemed less evident now carp were around and my next run was a flyer which resulted in an angry low twenty common…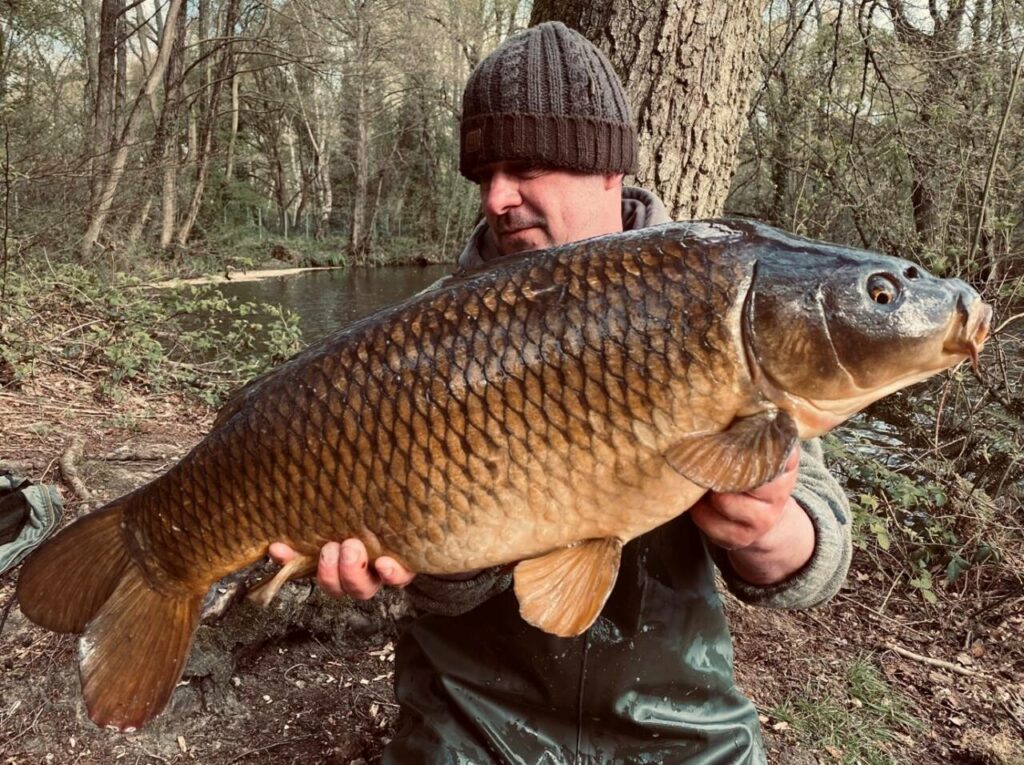 I would have been more than happy with two fish for my first ever Pit One session but, despite the morning frost on the ground, they were well and truly awake and feeding and before packing up I found myself connected to a very special carp. I'd seen a few pictures of 'The Pretty Fish' over the years and it was a joy to hold the fantastically scaled carp that has swum those waters for half a century!
Carping in the colder months is hard work and each photo of some wooly-hatted keeny holding a fish in it's winter glory tells a tale of long nights, muddy barrow pushes and numerous blanks. At least nowadays we have the clothing and kit available to deal with the conditions. I spent many winters in a nasty nylon sleeping bag with only a waxed Bob Church one-piece suit for protection. These were surely the only item of clothing ever made where most wearers at some point, whilst squatted in the bushes, realised they had dropped something terrible in the hood…
Heading further into Spring, I had a couple more sessions and a quick go on the prolific Pit Two before my Pit Three ticket started in June. All three of us got to grips with some ancient carp. I'll let the Andys' tell their stories as they both had some of the venue's biggest, whilst I was more than happy with some stunning old fish, including one of the ancient Leneys that make up the fantastically varied stock.
The very shallow venue presented specific challenges in trying to avoid the hordes of hungry coots, a particularly evil swan and what felt like a million tench, but my time there felt far too brief and I shall miss it.
– Adam Whittington