25 April, 2019 | Match & Coarse | Tips | Articles | News
5 Comments
Venue Focus – Maver Dynamite Hayfield Lakes
With the 'SwimStim In The Mix' big money match and Maver Match This and Fish O' Mania finals on the horizon, we take a detailed look at the UK's top match venue – Maver Dynamite Hayfield Lakes. We asked 2018 Maver Match This Champion, David Burley to reveal his top pegs and tactics to use in his handy peg by peg guide which includes previous big match winning pegs…
Island Lake
Arguably the most popular match water of the two lakes and the scene of the Maver Match This for the past few years, and the Fish O' Mania final last year, the lake just screams big carp and big weights of fish and a winner could come from literally anywhere.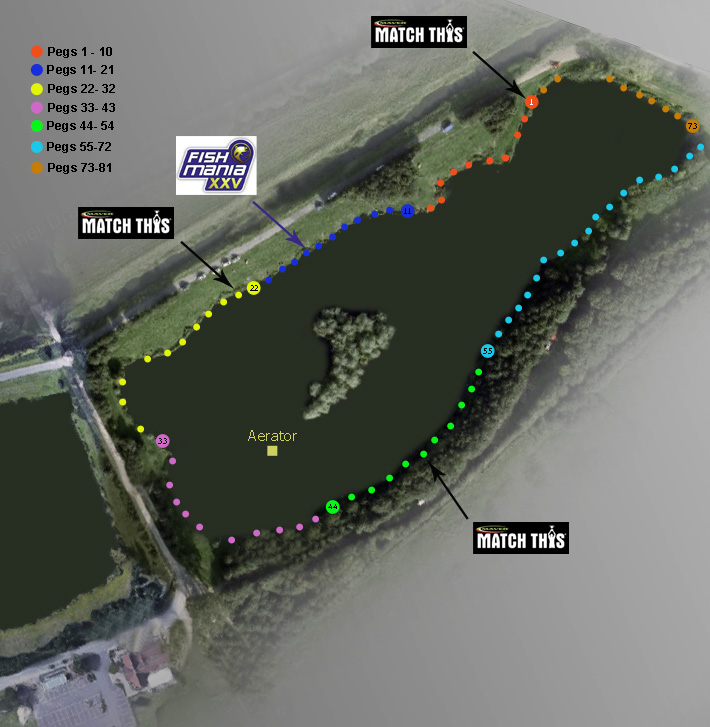 Pegs 1 – 10
Peg 1 is the swim I won last year's Maver Match This final from with 41.1kg. These are excellent pegs for fishing the pole short with 6mm pellets for the carp. Its also worth fishing a 16m line on the pole with 6 or 8mm pellets for carp and skimmers. There is around 12-15ft in depth here so make sure you have rigs setup to cater for this depth.
Pegs 11-21
There is plenty of open water on pegs 11-17 so these are great waggler pegs and you can also fish the bomb. Further along on pegs 18-21 you have the island to target on the bomb or Method feeder and these are some of the best swims on the lake. Peg 18 was the swim Peter Black won Fish O' Mania from last year with 51.35kg and he fished the pole with light 'slap n tap' rigs and 6mm pellets and the pellet waggler further out.
Pegs 22-32
All of these are superb pellet waggler pegs especially 22-25. Peg 23 is where Rob Wootton won the Maver Match this in 2017 when he fished the bomb and pellet to devastating affect. These pegs allow you to fish to the island with the Method or bomb at around 70 yards as well as fishing short on the pole. If you have room you can fish a margin line with corn, maggots or pellets too.
Pegs 33-43
Another good area. The margins are good here as there is quite a bit of room between pegs with the reed beds. Nick Speed and Andy May shot a video here last summer demonstrating this. I qualified for this year's Maver Match This final from peg 34 a few weeks back and I fished the pole short as well as the pellet waggler to the aerator rope around 30 yards out with 8mm pellets to catch carp to 12lb. Peg 36 allows you to target the aerator itself with the Method feeder while pegs 38 and 39 are great margin pegs as there's a large bed of lilies in that corner.
Pegs 44-54
You have a lot of depth in the margins on these pegs (up to 8ft) which allow you to fish top two plus two easily as well as right down the edge later in the match. Jon Whincup won the 2016 Maver Match This final from peg 49. Jon went head to head with Jamie Hughes on the next peg as the pair caught well fishing 6mm pellet around 6m out. The island is around 45 yards out on pegs 45 to 52 making these swims key areas for fishing the Method or bomb tight to it.
Pegs 55-72
Like the previous pegs these are also great for fishing short especially shallow, say 2-3 ft with pellets. With lots of water to go at the pellet waggler also comes into its own here. Andy Power came second in last year's Fish O' Final on peg 55 and he mainly fished from 18-35 yards with the pellet waggler and 8mm pellets. If you have room you can fish right down the edge for some lumps using corn or maggots too.
Pegs 73-81
79 and 80 are pegs which offer some good margin fishing due to their location in the corner. The other pegs are all good pole and waggler pegs with plenty of open water. It might be worth trying the bomb over the waggler line too.
Adams Lake
It may not have as much prestige as the Island Lake but Adams is a real gem and a lake which offers weights to rival Island Lake with some big carp and lots of silvers. Dave Burley gives the lowdown on each area..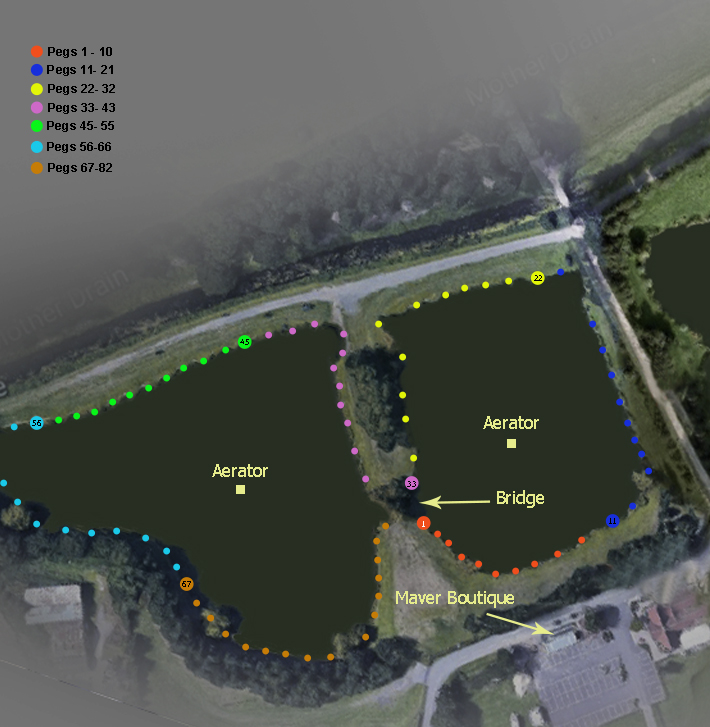 Pegs 1 – 10
Lots of big carp in this area especially between pegs 6 and 10. Fishing down the edge is productive on these pegs especially on peg 1 where you can fish towards the bridge or on 6 to the pipe. Use corn or pellets as bait and don't feed too much. Its worth having a pole line a bit further out as well as fishing the pellet waggler into open water too.
Pegs 11 – 21
14-18 are the hot pegs as there is more room and you can fish to the aerator on some pegs. You have around 6ft on the top two plus two line so this is worth fishing while the middle offers around 15ft in depth.
Pegs 22-32
All these are great waggler pegs. Use a light waggler and fish 8mm for carp to double-figures. pegs 22-25 offer a bit of room for a pole shallow line while the end pegs on this section have some tree cover and options in the margins. These pegs have been the hotspots during the winter and I have qualified for the Maver Match This final twice on peg 29 including last year where i fished the long pole with 8mm banded pellets, feeding 6mm pellets over the top.
Pegs 33-44
Lots of fish in this area. Peg 33 offers the chance to fish into the bridge while 43 and 44 have lots of room for the pole and wag attack. 35-38 are arguably the best pegs in this section though as they have lots of open water and you can target the aerator where possible. Ping 8mm pellets and expect lots of bites.
Pegs 45-55
All waggler pegs really but you do get 2-4ft in the margins so if you have room its worth feeding a line there. Pegs 51-57 are quite tightly pegged so fishing a pole short around 6m out is probably the best option if you are going to succeed from here. 45-50 are where you want to be really as there is more open water to work at.
Pegs 56-66
Peg 57 in the corner has a sunken reed bed which attracts lots of carp. This peg often produces lots of coin for anglers fishing it. 60 and 61 in the corner are good down the edge pegs while 66 on the point is a good peg for fishing the long pole or waggler.
Pegs 67-82
Waggler pegs up to peg 70 and 100lb plus weights can be expected if you fish it well. Fishing long on the deck is also worth doing in this area, pinging pellets over the top. Peg 73 has lots of room and you can fish down the edge with corn or maggots for carp to double-figure. The last four pegs on the causeway are top pole pegs. Fish them shallow and on the deck for good weights of fish. Lastly peg 82 offers the bridge hole. You can catch well using paste in there.
Fancy your chances of winning £10,000 in a one of match at Hayfield? Tickets are still up for grabs for Dynamite's new
SwimStim In The Mix

. Click the image below to get your ticket