9 December, 2021 | Match & Coarse | Tips | Articles
59 Comments
Nick Speed's Top Five Swim Stim Groundbaits
Last week we released a handy guide to each of our 17 Swim Stim Groundbaits to help you understand which one best suits the type of fishing you do or the species you're looking to target. To compliment this, we asked Nick Speed to provide a breakdown of his five favourite groundbaits in the range that have helped him put fish in the net time and time again. Below, he'll explain what he uses each groundbait for, how he mixes them and the time of year they're most effective…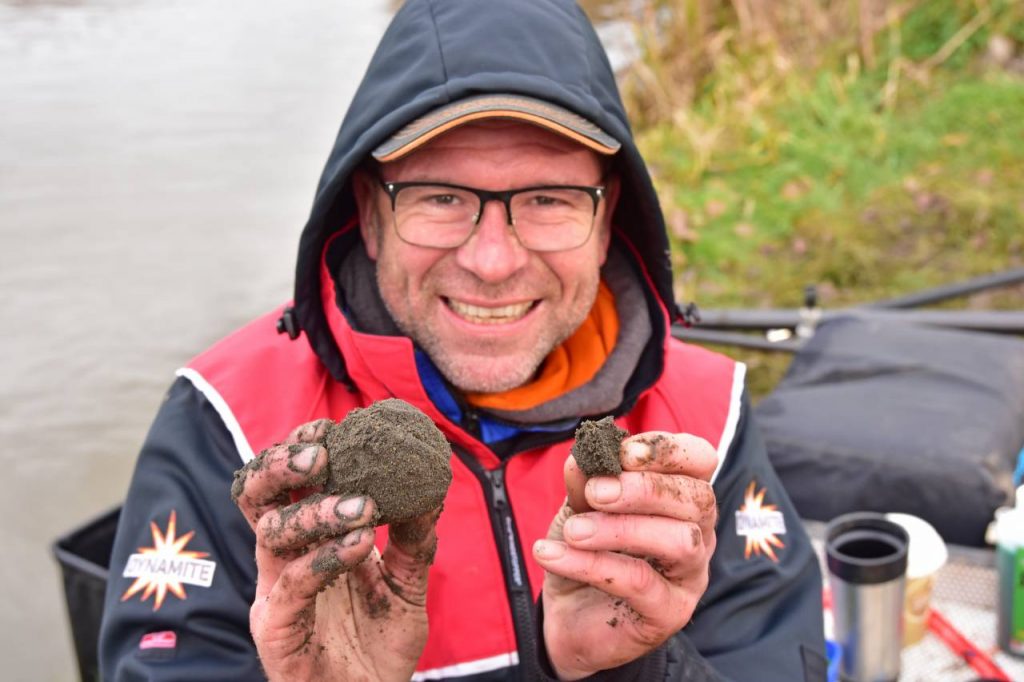 Without doubt I would class this as one of the most versatile commercial groundbaits available on the shelf and for well over a decade this has been renowned as the best "paste" groundbait on the market. For this reason, regardless of the season or the approach, I use this particular groundbait with a multitude of feeding techniques, as it's so versatile.
Whether I'm using this mix for the pole or the feeder, this particular groundbait allows me to adapt the consistency to marry with a method feeder approach or forming into small soft nuggets, to be fed via a pole pot. When mixed over wet (so the mix becomes heavy and inert), it's the perfect consistency to feed via a large pole pot down the margins when targeting large commercial carp.
They key point to remember with this product, is the colour, which blends perfectly with the average colour of our commercial waters during the warmer seasons.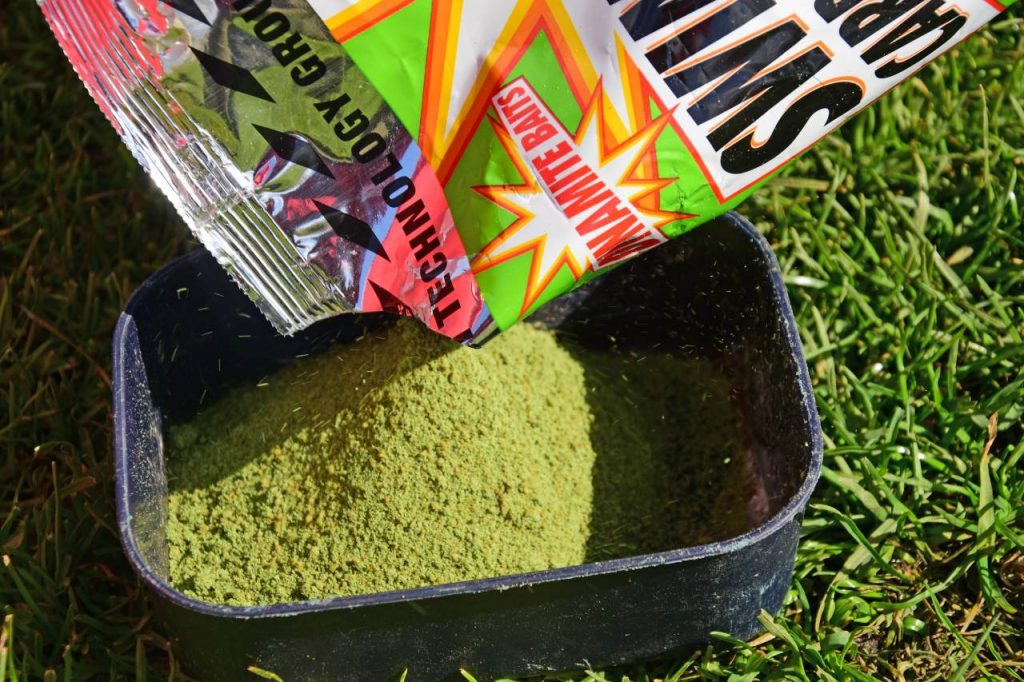 This I would regard as the "footprint" to a lot of my mixes as Marine Halibut not only adds weight and density to any mix, but it also contains a high content of milled halibut pellets which release attractants and oils when the water temperature is at its highest during the warmer months of the year. Without a doubt this definitely helps attract fish into your feeding zone.
I can confidently say I was the founder of a particular marriage over 20 years ago with the two products above, and my interest in getting the best out of products by experimenting helped me discover what I believe is the most popular commercial mix on the market; Green Swim Stim mixed with Marine Halibut.
Marine Halibut is a brilliant groundbait on its own, but when mixed with Green Swim Stim in equal quantities, it becomes perfect for method feeder work and margin work on the commercials across Europe. Interesting enough though, it has now become widely popular on the natural scene where bream on lakes, rivers, and reservoirs are the main quarry.
A top tip for this particular ground bait as with any ground bait, is to always take your time mixing this up. Add enough water at the start to create a clumpy, slightly over wet mix, as this then allows all the particles to absorb the moisture, and then after resting it for at least 30 mins before riddling.
This creates a consistent mix that needs very little adjustment during the day as long as it's stored in an air tight container to prevent air, sun, rain, effecting the consistency.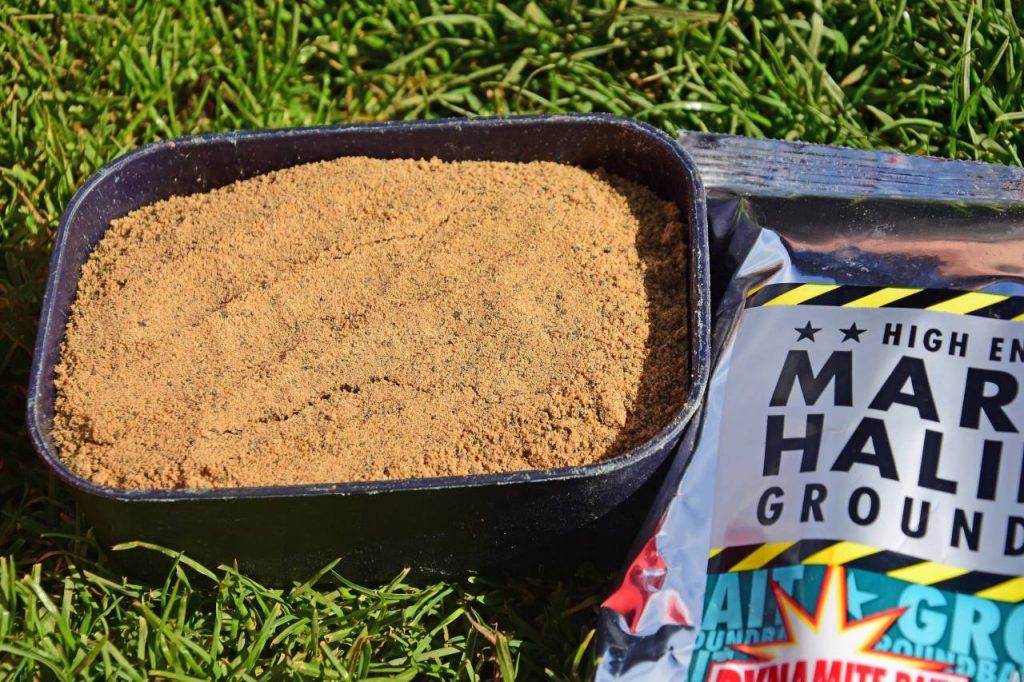 This is more of a secret weapon in my opinion as this particular product contains a large percentage of krill, which when combined with another groundbait creates an ultra rich ground bait.
For example, I use this with Marine Halibut and Green Swim Stim during the warmer months of the year, as I'm adamant that the richness of this mix really does help attract fish when it's particular hot and when fish are more reliant on smell as opposed to eyesight.
Without doubt this particular product is packed with attractants and stimulants for all commercial species, not just carp.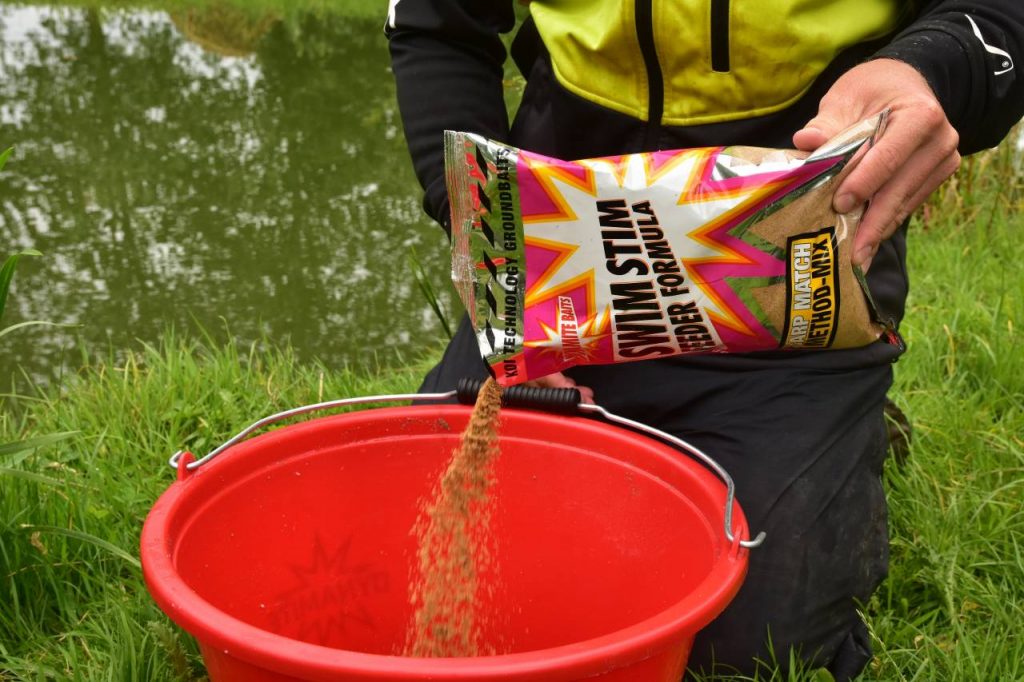 During the autumn months as the water temperature begins to cool and the water clarity increases due to the natural organisms dying off, this is where altering the richness, and more importantly the colour of your ground bait is imperative. For me, a dark groundbait is then needed to marry with the clarity of the water.
The reason behind this is so the groundbait acts as a camouflage, which in turn gives fish confidence to graze over as the water becomes clearer and the fish become more wary, now their visibility is used as much as their scent.
This is where Black Swim Stim comes into its own and unlike the above products already mentioned, I rarely mix this with any other product as through years of trial by error, I've found this groundbait works best on its own.
Whether I'm targeting silvers/carp during the colder months of the year on the commercial scene, or skimmers and roach on a natural water, this is the only mix I use as I'm so confident in using it, but more importantly in my experience every fish loves it.
Whether you're using it through a conventional feeder mixed with live bait such as worms, maggots, casters, or feeding it via balls on the pole line, I can always rely upon this is mix.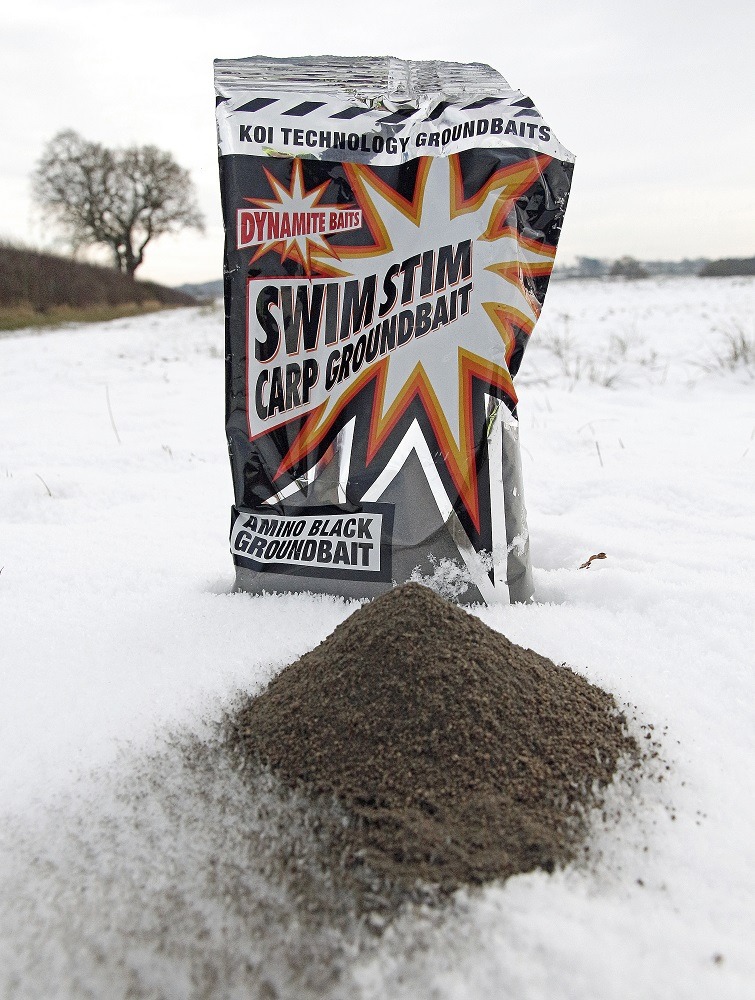 New to the range, but already in my opinion a deadly component especially where skimmers are the quarry – they absolutely love this mix! It's also slightly coarser than its older brother; the Marine Halibut groundbait.
Especially in the warmer months I will use this GB on natural water systems when targeting skimmers and roach on the feeder or the pole.
All I will say about this particular product is in order to get the best out of it, I would advise you to mix it up the day before, as it takes longer for the particles to absorb the moisture.