11 January, 2023 | Match & Coarse | Angler Blogs | Tips | Articles
0 Comments
Matthew Fernandez' Winter Barbel Fishing Tips
Specimen angler Matthew Fernandez shares a few Winter Barbel Fishing tips to help you put more fish on the bank when the temperatures drop…
Matt says…
Winter Barbel Fishing: My favourite time to target specimen barbel is during the winter months especially at the tail end of the river season when the barbel are usually at their best weights and looking mega.
On the lower stocked rivers I fish I've always found after dark is the best time for a bite which suits my short time on the bank perfectly. A few hours into dark is sometimes all it takes and there's no need to sit it out all day long.
During the winter I'll try and fish on the more milder evenings so keeping an eye on the forecast is essential.
Fishing deeper slack areas of rivers preferably with a snag close by is a good holding spot for big barbel. I try not to over feed also as at this time of year, chub and bream can be ravenous so I'll fish a super stinky 14mm Source Hard Hookbait boilie.
My hook baits are always glugged in the matching liquid for long periods of time to give them extra pulling power.
I'll wrap the hookbait in Source paste as well – making sure to leave the hook point exposed to which I'll hook on a small PVA mesh bag with a few Source free offerings.
Most of the fishing I do is all margin fishing with a little under arm flick. Fishing lower stocked southern chalk streams I like to keep casting to a minimum so I'll cast out and leave my bait out until I've received a bite or it's time to go home.
The paste will slowly break down so little food parcels will come off leaking attraction into the area.
The small PVA bag will also melt depositing the freebies around your rig and hopefully lure in a big winter barbel.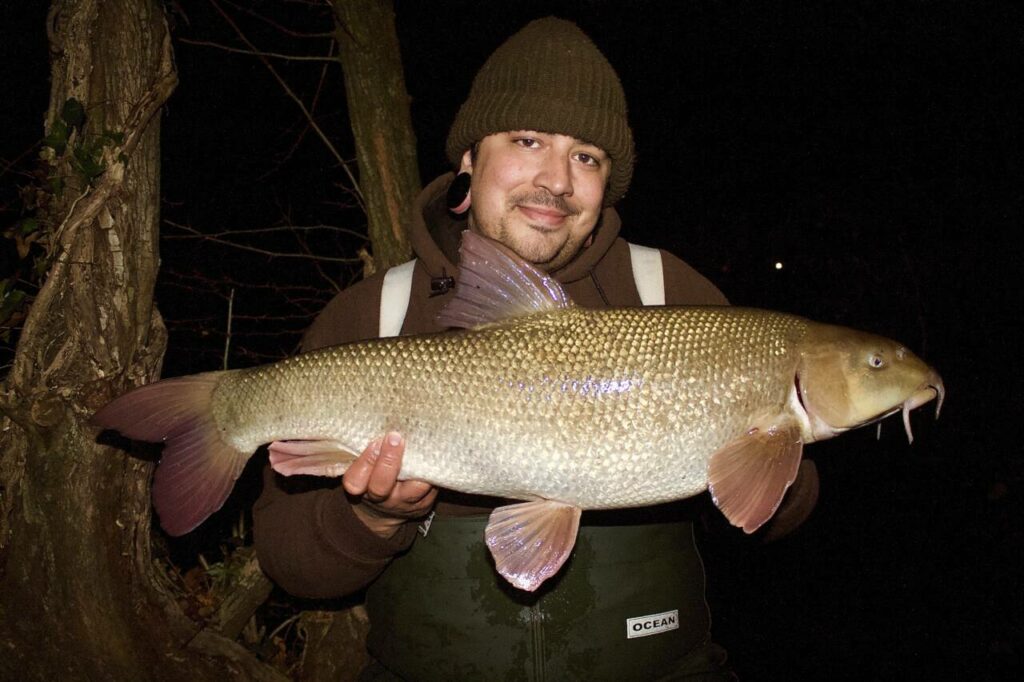 For more info on how to catch barbel, tap here.