9 July, 2021 | Match & Coarse | Angler Blogs | Tips | Articles
1 Comments
Jamie Cartwright's Top Bait Tips for Barbel
2014 Drennan Cup winner Jamie Cartwright needs little introduction as being one of the country's finest specimen anglers. In this article, he highlights his favourite baits and shares his top bait tips to help you catch more barbel all throughout the year…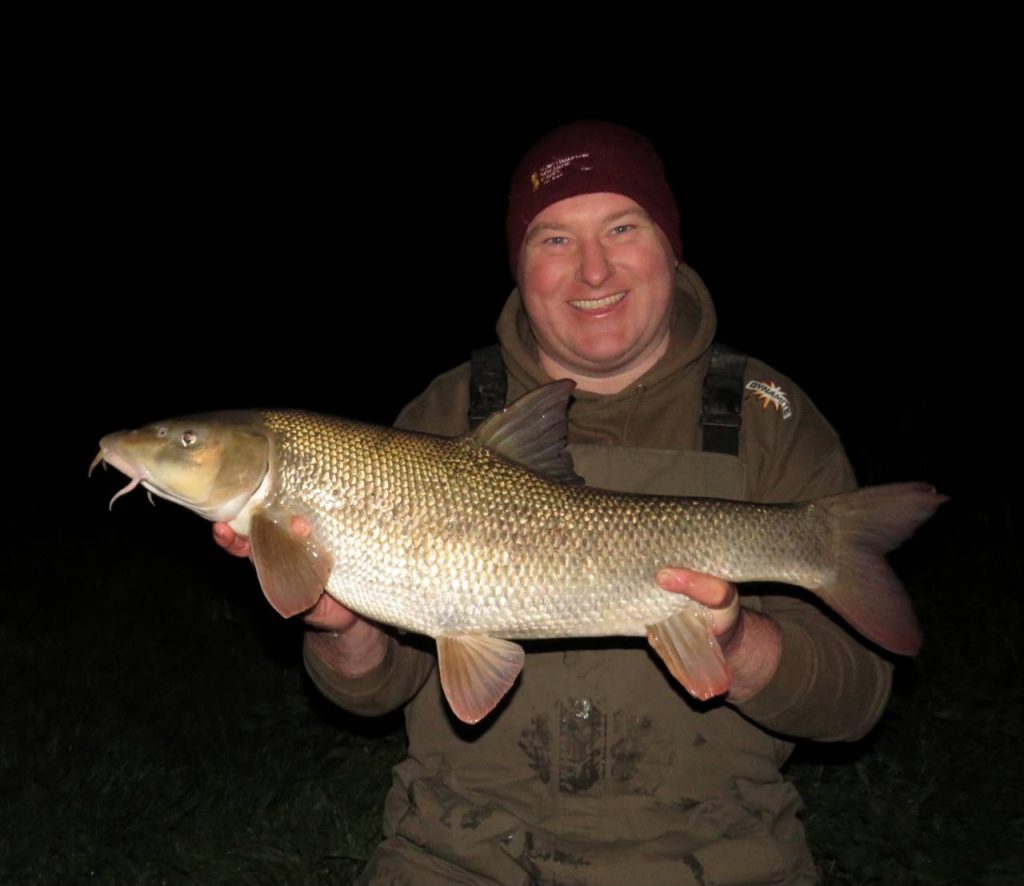 Jamie says…
Barbel have established themselves as a firm favourite among river anglers due to the rod wrenching bites and the powerful battles they give the angler lucky enough to encounter them. They can be a very obliging species when the angler gets their bait and tactics right, but get it wrong and they can be very elusive.
Below, I've listed some of my all-time favourite barbel baits and detailed how and when they should be used to get the very best from them.
PELLETS
Pellets are an incredibly versatile bait and for that reason alone they make top spot on my list of Barbel baits. Many of my earliest Great Ouse captures fell to a single 14mm Halibut Pellet lowered off the rod tip in summer floods, particularly on a rising river.
In these conditions the Barbel are actively feeding at all times of night and day, with the coloured, well oxygenated water getting the Barbel really excited – giving them the confidence to move around and capitalise on any food source.
I've found a single smelly bait to be the way to go as any free offerings will inevitably get washed away which will reduce your chances of a bite as the barbel can chase the freebies out of the swim. There is little point in subtlety when it comes to tackle in these conditions, heavy leads with strong and reliable line and hooks are the order of the day here.
When the river is low and clear pellets can also prove deadly, although tactics will need to differ greatly from those used in floodwater conditions to keep the bites coming. During the hours of daylight, the barbel are quite catchable but it can take a little time to build up their confidence with patient feeding.
Small feed items are the way to go, with 3mm or 4mm Halibut or Robin Red Pellets being the ideal feed items, possibly mixed with a nice oily ground bait such as the Halibut Pellet ground bait or one of the "Big River" range of baits such as the excellent Meat Furter. This mix is ideal for introducing accurately via either an open end swim feeder, a bait dropper, or moulded in to balls and introduced by hand.
It is important to mix the groundbait fairly stiff so that it gets to the bottom quickly before slowly breaking down and creating an enticing trail of bait for the fish to follow.
Now these baits are super attractive in their own right, but in the warmer months it is possible to boost their effectiveness even further by giving them a nice coating of one of the Evolution Oils, such as Salmon, Tuna Krill or Robin Red.
You don't need to go mad with the oil, just enough to give them a thin coating. This will increase the leak off massively and draw fish towards you from greater distances.
Your tackle needs to be subtle to present a small hook bait well, but strength is not something that can be compromised. I tend to prefer a 12lb fluorocarbon hook length of at least two-feet in length combined with a strong, size 10 beaked point hook.
On this hook will either be 2 x 6mm Halibut Pellets superglued on to the hair or a single 8mm pre-drilled Garlic Pellet on the hair.
The key to success with this tactic is to keep feed going in to the swim by regularly and accurately recasting the feeder. When it comes to fishing after dark these tactics will prove equally deadly, although if there are any number of bream present in the stretch you are targeting, you may find you are very popular with them. In this situation, when I need a bait that is attractive to the barbel, yet big enough and hard enough to resist the attentions of nuisance fish, I tend to turn to the baits that are second on my list of favourites and that's boilies.
BOILIES
Now I feel a bit of a fraud, not having Boilies as number 1 on my list, as they lend themselves to the style of fishing I prefer to do most of the time, but as I said earlier pellets just about have the edge in versatility.
The reason why boilies feature so heavily in my approach to barbel fishing, is that I now choose to target barbel later in the season once the water temperatures begin to drop, and the high oil content means that pellets will be less effective at this time of year than they were in warmer water.
The main reasons for taking this stance are that as the water temperatures cool, the amount of dissolved oxygen it carries increases which helps the barbel recover from a hard fight much quicker, and reduces the risk of a fish failing to recover. This is something every angler must try their hardest to avoid.
By resting the fish thoroughly before unhooking and weighing, then again before release, only letting the fish go when it is strong enough to power away.
The other secondary reason is that I fish for many species throughout the year and I try to time my campaigns to ensure the fish are in prime condition and at their peak weights, which with barbel, tends to be from late autumn through to the back end of the river season.
As I fish through this period I try to concentrate my efforts on one stretch of river at a time, and apply my chosen bait in small quantities to a number of swims a couple of times a week, providing of course it doesn't impact on other anglers fishing.
How much bait I introduce will depend on how many fish I'm catching, and the river conditions. If I'm catching regularly and conditions are conducive to the fish feeding well, I will introduce more bait, but if I'm struggling for bites and the river is cold and clear, I will exercise a degree of caution and may only put in a small handful of bait into each swim.
With this in mind, what I like to do is make the few baits I put out as attractive as possible. Barbel (along with most other species) absolutely love The Source boilies so they are my go to bait.
My personal preference is the 15mm & 18mm freezer baits, which I prepare well in advance of my planned session. If I get a chance of an impromptu session, I'll happily make use of the excellent range of shelf life baits with "The Crave" being another favourite that has served me well, but with time to prepare, I believe what I do to my baits gives me a real edge. It's worth mentioning that I use this way of prepping my baits for most other species that I target, be that bream, tench, chub or carp.
The first step is to get the desired amount of bait out of the freezer and place it in an air-drying bag to thaw and dry out a little. How much bait I take out will depend on the venue I'm going to and the length of the session I'm going for.
I tend to get more out than I anticipate needing so if I have a bit of bait leftover I can always put the excess back in the freezer for the next trip. I leave the baits in the air dry bag for around 24hrs, regularly giving them a shake to move them around a bit.
I'm not trying to dry the baits out completely, I'm only looking to make them thirsty. Once done I put the dried boilies in to a small bucket and give them a healthy glug of the accompanying Hydration Liquid, I'm not looking to have the baits swimming in the liquid, just enough so that when you give the bucket a good shake to ensure every bait is coated.
I give them a shake every couple of hours until most of the liquid has been absorbed. I then sprinkle them with "The Source" Stick mix and give them another good shake to make sure all of the baits are completely covered in the powder.
The powder will then absorb any excess liquid on the outside of the baits and form a sticky crust around the bait. It's important to give the baits a bit of time to allow the crust to dry and harden off, as if it's too wet it will wash off quickly once immersed in water.
By allowing the crust time to seal around the baits, when it is introduced to the swim, the baits should reach the bottom with the crust intact. It will then break down over a period of time, sending off a trail of attraction downstream for any hungry fish to follow. When applying bait over to a stretch over a period of time like this it is not uncommon for things to start slowly but get better and better as the campaign progresses.
LUNCHEON MEAT
My third choice is an all-time classic barbel bait that has caught thousands and thousands of barbel from rivers the length and breadth of the land and that is luncheon meat. I love to use luncheon meat on a flooded river in winter, it is a truly instant bait and my preferred tactic for one off day sessions or when scoping out a new section of river.
The plan normally is to start at the furthest spot from the car, have one cast in each swim, giving it 15 minutes before moving 20 yards downstream and trying again, and by repeating that process, I gradually work my way back to the car.
This technique is all about locating feeding fish and once a spot is located it can go on to produce a few bites before the action dries up.
Tackle for this tactic couldn't be simpler, I use no-nonsense 15lb mainline and on that will run one of the excellent "Snag Safe" run rings which pull apart in the event of the lead becoming snagged, and I clip on a lead large enough to hold bottom in the flow. Next comes a bead and a sleeve to house a quick change clip, to which I attach my hook link. I tend to use 2-3 feet of strong coated braid with a strong size 4 hook at one end and large figure of 8 loop in the other.
Mounting Luncheon meat can on the hook can be tricky but my preferred tactic is to thread a large lump of meat on to a gate-latch needle then hook the loop in the end of the hook link over the gate-latch needle and slide the lump of meat down the hook link and pull the hook in to the meat.
By using the "Specimen Tough" meat I've never found the need to use any form of stop and meat stays on the hook for several casts if it isn't snaffled by a hungry barbel. Opportunities to use this technique were limited last winter due to travel restrictions but I'm looking forward to getting out and trying some of the new additions to the range such as the "Robin Red meat."
HEMPSEED
Keeping with the "Classic" Barbel bait theme, no list could be complete without the inclusion of Hempseed.
Often overlooked in recent times in favour of pellets, its effectiveness as a Barbel attractor is undiminished and the jars or cans of Frenzied Hempseed are the best you can get. For me, hemp is best used in conjunction with other small baits such as maggots or even better casters in low clear water conditions. They are best fed regularly and accurately using either a bait dropper or Spopper and if you can get the feeding right it can make Barbel fishing look remarkably easy.
Just like when fishing small pellets in the day time, tackle needs to be subtle yet strong, with a 12lb Fluorocarbon hook link and a strong size 12 hook with either 3 or 4 maggots nicked on or 3 casters superglued on to a short hair.
So, there you have it, my top tips for getting the best from the baits in the Dynamite stable for barbel. Like everything in fishing there are days when one bait will out fish all others and it may not be the one you're expecting it to be so there is always room for experimentation and by doing so hopefully you'll find a combination that works for you. If you do, please feel free to let us know about it.
Tight Lines,