10 August, 2021 | Match & Coarse | Tips | Articles
3 Comments
How to Catch Bream From Silty Lakes, by Tony Curd
Where bream fishing is concerned, a general rule of thumb is that if you're fishing an area that's clear of weed, you'll have a great chance of catching. Whilst this is mostly true, top matchman and commercial all-rounder Tony Curd reckons you can put more slabs in your net if you spend time understanding the clearer ground you're fishing over as opposed to just pub chucking your feeders. In the extract below, Tony recalls a session at Bury Hill Fisheries in Surrey where discovering a harder patch of ground on a silty lake helped him enjoy a bumper haul of bream…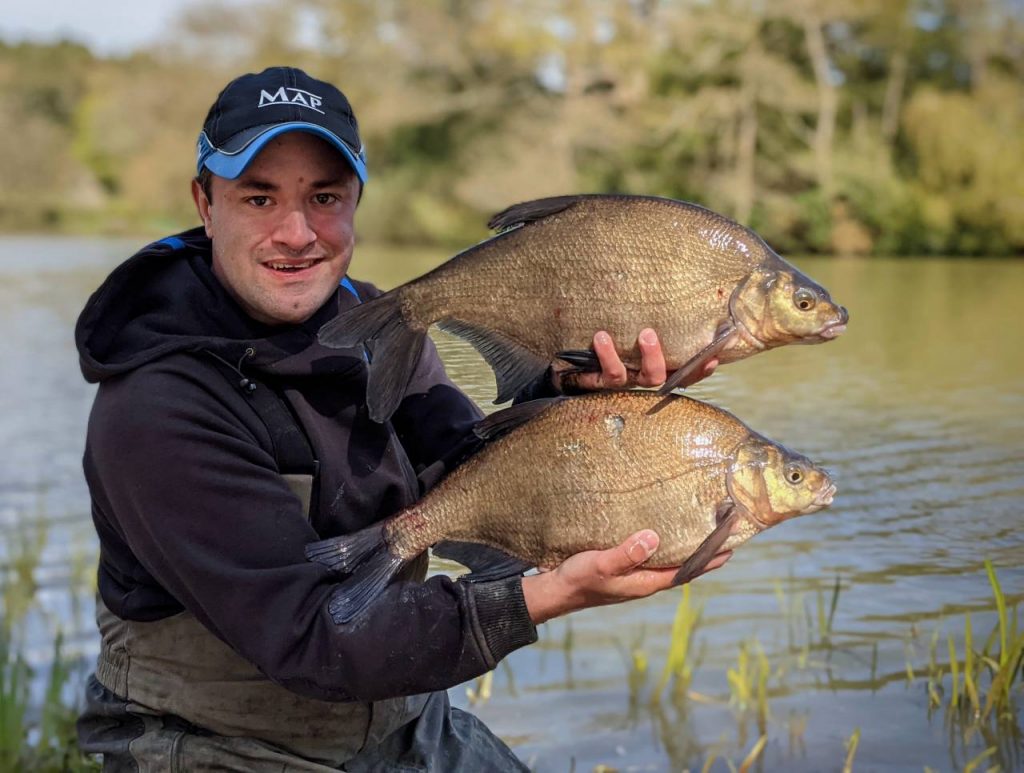 Tony says…
When you think about Bream fishing and the type of venues where Bream provide prolific fishing, often you're looking at tackling a more natural type of venue; old estate lakes, silty lakes, reservoirs and even gravel pits. These all have their own challenges, but one common theme across all of them is that the lake bed can often be a key deciding factor on how easy these fish are to catch, or in some cases, catching them at all!
An element of fishing that I feel a lot of anglers aren't giving enough thought to, is how the bottom you're fishing over is affecting the amount of bites you're getting. We've all done it, and turned up at the lake, chucked our empty feeder out to clip up and thought something along the lines of "that felt nice, that'll do" or similar, but over the years I've looked a little deeper into this subject and believe that a bit more detective work can definitely lead to more bites and fish in the net when it comes to bream fishing.
I've done lots of fishing for bream on a wide range of venues over the years but one particular venue that has really backed up my theory is the Old Lake at Bury Hill Fisheries. As old as the hills, very silty and full of bream, Bury Hill provides the perfect venue to put theory into practice and over a few sessions my thoughts were confirmed as correct. I remember one session at the shallower end of the lake where I had an excellent day catching lots of bream on a firmer area surrounded by silt which had been cleaned off by the lakes aeration system. The following week however, I had a session on the deeper area closer to the boathouse which was extremely silty. Loads of bubbles were coming up from the deck as the fish grubbed around in the silt, but after fishing for most of the day with only a disappointing amount of bites to show for my efforts, I was soon looking for a firmer area. Once I'd found it there was a lot less fizzing in the swim and I enjoyed lots more bites!
Finding a firmer area on the bottom is pretty simple, it can take some time, but its time well spent in my opinion! For this particular feature I chose a peg along the Long Bank on the Old Lake which is a peg I haven't fished in a very long time, so my knowledge of it was patchy to say the least, but a few casts soon revealed plenty of silt present. As I fanned my casts around increasing the distance as I went, it wasn't until I was just over half way to the island when a firmer drop on the 1.5oz bomb was found. Once I'd found this I clipped the reel up and had a few more casts in the area, and it was soon apparent that the silt that the bomb had previously been sinking into was now gone, and I was on a much firmer area.
Usually if you're landing on very soft silt, you'll struggle to feel the lead hitting the bottom, similarly when you drag it across the bottom, it'll feel a bit jammed initially until you get it moving. Even then you won't get much feeling back through the rod tip, so that initial drop as it hits the bottom is always your biggest indicator, and anywhere that you feel any kind of 'donk' is usually a great place to start.
If finding a firm spot in open water proves impossible, then the island margin on this lake will always offer you a firmer drop. With a lot of carp fishing on this lake, the island is a favoured area where lots of bait is fed, so the bream will always frequent these areas as they mop up the bait. A chuck with the bomb a rod length off the island in slightly deeper water once again gave a reassuring bump as the lead hit the bottom, giving me another option later in the session.
It was time to put theory into practise so for my open water swim at 40 metres range, I opted for an 11ft Parabolix Black Edition Feeder rod teamed up with a 4000 sized reel, 6lb mainline to a running feeder rig and a simple cage feeder. The hook length was 15" of 0.16mm and a size 16 hook with a quick stop attached to the hair, fishing hair rigged 4 and 6mm Pro Expanders which are made nice and tough for hair rigging by expanding them in Liquid Halibut Pellet straight after pumping which provides a super-durable hook bait ideal for feeder fishing or the ever faithful XL Sweetcorn.
4mm Amino Original Pro Expanders soaked in Liquid Halibut Pellet XL Liquid. A deadly hookbait for bream!
Bait for feeding was straight forward, a bag of Swim Stim Green Betaine groundbait which is always an excellent choice for bream. Its colour and strong fishmeal content being key, along with some 2mm XL Carp Pellets soaked in the F1 Sweet Pellet Soak, a tin of corn and some dead maggots which would make a particle rich mix to put through the cage feeder.
Using a particle rich mix is something that is also very important when fishing for bream, because if you don't add enough particles, the fish get preoccupied on feeding on a fine groundbait mix which makes getting bites difficult. So when the fishing is good, don't be afraid to get plenty of bait into your mix! I'd recommend making up your particle rich mixes as you go along – keep your 'plain' groundbait separate, as, by doing this you'll be able to adapt your feeding as the session evolves, and quite often when you've been catching and bites go quiet, a few casts with neat groundbait through the feeder can often trip up a few extra fish when the going gets tough!
The island swim was a longer cast of around 65m so I set up a 13' 2" DUAL XD Feeder Rod teamed with the ever faithful large Hybrid Feeder to a 4" hook length of 0.20 and a size 14 QM1 with a bayonet on the hair to house my favourite 5mm Yellow Wowzer hook baits, these really are spot on for bream fishing and I don't often find myself deviating from these now, especially when bream are the target.
Kicking off in open water I fed five large feeders of bait, and chucked out over the top with a hair rigged 6mm Pro Expander. On my third cast the tip pulled round and the first bream of the day was making its way to the waiting landing net – a quality fish of around 4lb. A flurry of action kept me busy over the next couple of hours with fish ranging from 2lb to 5lb coming to the net. Occasionally a quiet spell would come along but by taking the hook length off and depositing two of three quick feeders full of bait soon bought the fish back and it was obvious that when they were in the swim, they wanted to feed!
The afternoon saw a lull in sport so a chuck to the island on the Hybrid was in order with a mix of groundbait and micros moulded onto the feeder, and it wasn't long before I was catching on this too. The only difference being this line doesn't need to be fed before fishing as it's an area the fish will already be visiting as they use the island margin as a patrol route. So, when the fishing was tougher, less bait and getting them homing in on a small pile of bait and a bright yellow hook bait was very effective in getting more bites, which, in a match situation is extremely handy as it'll add vital fish to your weight.
As the day drew to a close, it was important to note that while I'd caught over 30 bream for around 100lb, I'd not seen a single bubble come up over either of my swims proving once again that spending a bit of time in finding those firmer areas is so important in getting big results on silty venues. Give it a go on your local bream water and I'm sure that these tactics will put plenty more in your net!