23 March, 2021 | Match & Coarse | Tips | Articles
0 Comments
Tony Curd's Spring Feeder Fishing Tips
With warmer weather on the horizon, MAP and Dynamite-backed matchman Tony Curd shares his tips for feeder fishing on commercials this spring…and all with a little help from our new Wowzers hookbaits!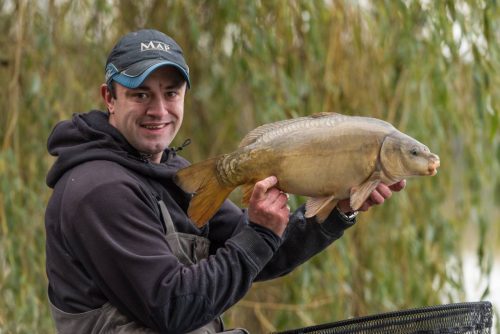 Tony says…
After a long cold winter the first signs of Spring never fails to get us anglers excited. From fishing bomb tactics with single hook baits and tiny amounts of feed, you can now start to introduce some bait without fear of killing your swim stone dead. However, it's so important that while you're 'absolutely roasting' in a balmy, thirteen degrees, that you don't get too over excited…
Generally in the spring on commercial venues the water is still quite clear, the water is still cold and the fish, although more active, still aren't feeding with any aggression, so caution must be taken when planning your attack.
When it comes to feeder fishing in the spring I've always found that an approach that is suited to winter is always a very safe bet to begin with but it's the bait you use and the hook bait choices that really can make all the difference to the amount of bites you get.
Small method or hybrid feeders, with 2mm Dynamite Carp Pellets forms the base of my approach and I have always found that pellets are best when the water is still cool.
Where you're casting is also a key consideration, if you're fishing a venue with an island chuck, I tend to try and start 2 to 3 metres off the island to begin with in the slightly deeper water, as I have mentioned, with the water being quite clear it can also mean the fish are in the deeper water earlier in the session which then gives you the option of moving into the shallower water later in the day as the water warms up.
There isn't a time of the year when the fish react quicker to temperature changes than in the spring so it's always a good idea to keep an eye on what is happening, where fish can be seen, where other anglers are catching from and if you've been catching in deeper water and bites tail off, thinking why things have dried up – there is always a reason!
It can also be a good option to not sit on one line all day too, particularly on venues that offer larger amounts of open water.
As the nights are still quite cold, the fish can still be shoaled on some venues and locating them makes them a lot easier to catch. In this scenario I'd be looking to start shorter and work my way out until I start to get bites, once I've found some fish and caught a few, should bites tail off – it's time to find some more!
This can mean going beyond or left & right of where you caught from and exploring more of the water available, as building a swim as you would in the summer with bigger volumes of bait rarely works during the spring.
The clarity of the water is something you can really use to your advantage during the spring, and a hi-viz hook bait is always my number one choice when fishing a method feeder.
Dynamite's range of Wowzers are the ideal hook bait when less feed and maximum attraction is the order of the day and really do draw fish down to your feeder as an attractive target bait sat amongst a small pile of pellets.
Now available in a 5mm size, this range of hook baits has all bases covered with five different colours and three different sizes.
Hookbait colour is something that always causes a debate among anglers, but from the range I really favour the Yellow, Pink and Orange hookbaits the most. Yellow is a failsafe that will work anywhere you take it but particularly on those venues where the water is clear and the lakebed is relatively clean.
Pink again is a great clear water option but I find it very effective in deeper water, and Orange is excellent on those venues that hold some colour in the water all year round.
So, there are a few simple tactics to think about on your local commercial water this spring. Hopefully they'll help you put a few more fish in the net.
Tony Curd