10 July, 2020 | Carp | Articles
1 Comments
The Journey – John Stembridge
In his first article for DynamiteBaits.com, carper John Stembridge talks about the journey novice to specialist carper before recollecting a successful campaign on a water from his schoolboy days.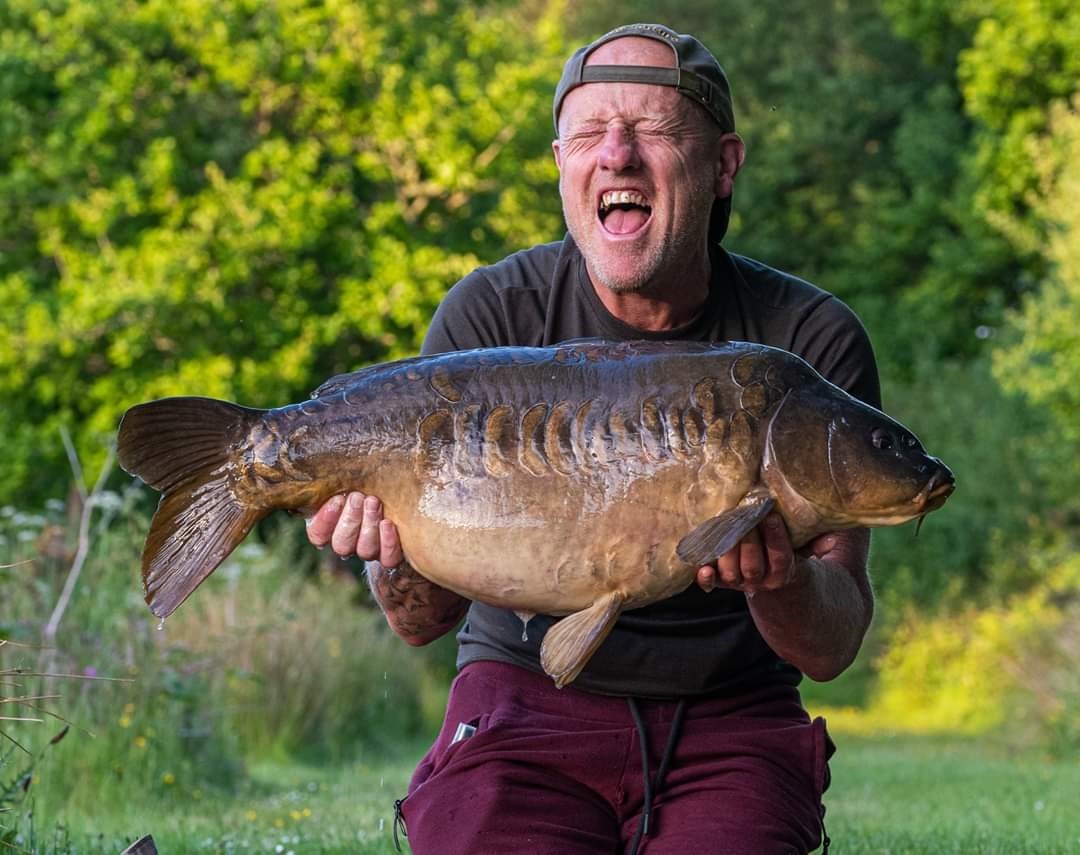 John continues..
I'll start off this piece with something to think about. I see it so much these days with new and young anglers all wanting to catch big fish and be sponsored right from the off!
It was never like that when us old school boys were that age. We completed our apprenticeships on the canals and small ponds chasing silvers and perch then moved onto tench and crucians. All a learning curve striving for bigger and better things to come. It was part of learning your water craft.
We never just dived in for big carp as people do these days. I think we have learned a healthy respect for the speciemn size fish we aim for today. Everybody seems to always be in a rush to get there when surely it's the journey that takes you there that puts that fire in the belly?
These days I want to catch fish of all sizes, not just jump onto the biggest thinking they are the ultimate goal as some of the best carp are not always the heaviest. In fact some of the most sort-after carp in the country can be half the weight yet truly hold a strong urge in our hearts to have them in our albums.
Whether it be an old character with many a tale to tell or a fish of very distinctive markings to die for. Either way it's all about the long path in getting there, catching as many as we can and end up having the one or ones that we want so dearly in our portfolios. You usually have to wait but they are worth waiting for!
My journey
This journey starts with me being very humbled to currently live and work in the West Country and get to fish a lake I have had a fare few holidays on over the past 20 years. Unfortunately back then I blanked every single time although I did manage to see the pool's residents many a time but failed to put them on the bank, only this time, that was about to change!
As the old cliche states – effort equals reward, and believe me I have put a massive amount of effort into this quest. I think once you get your foot in the door with the lake, and manage to get the first bite, then it's game on from there.
Everything starts to fit into place and things become a tad more easier, knowing spots, rigs and baits that work well. It doesn't stop there though, as you have to keep up the hard work, the walking the baiting and watching the fish routes just in-case you missed a piece of the puzzle.
I think I had gave it a couple of weeks of prep work with bait and watching before I actually started to fish the lake. After the first week, there were the odd tell tale signs from carp and the odd shadow drifting out of my spots whenever I peered over to take a look.
Close quarters
Most of the spots were quite close in, which in turn made things easy in baiting and watching, although that did have a reverse effect too as I had attracted a female mallard and her babies to my spots and she would regularly be seen diving and clouding them up. Not too much of a bad thing as this would in turn surely attract the carp in too.
Well, my first session was due and couldn't wait to get down there. Arriving after work I checked the spots were clear of any fish before laying my traps.
As I had only baited less than 36 hours ago I decided not to re-bait over the top of the hook baits straight away to avoid spooking anything that may be hanging around.
I opted for single glugged Source hookbaits with a micro mesh bag just to protect the hook point and to max the attraction around the hookbait. These were fished over glugged Frenzied Particles.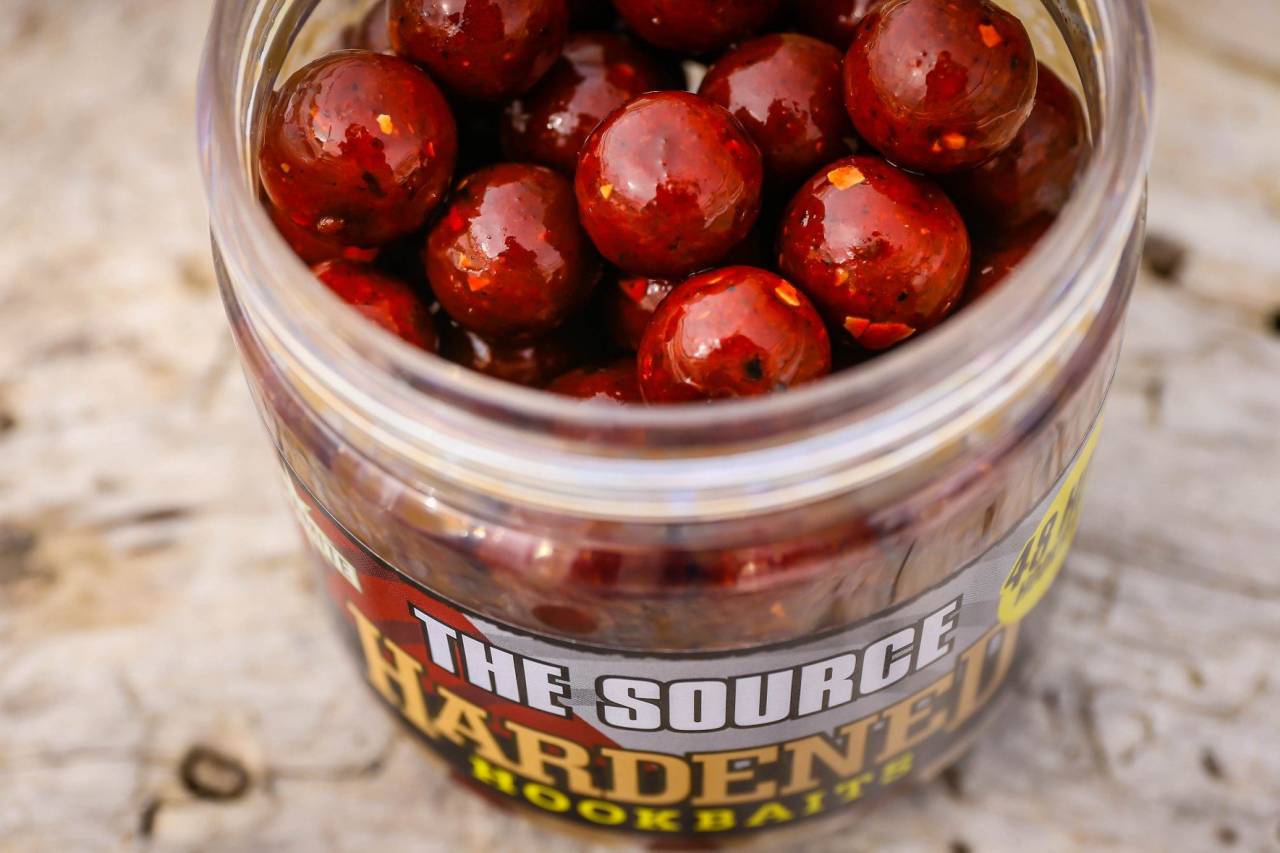 First blood
Well I hadn't even made my first brew after laying both traps and the first rod was away. There was a massive eruption from the spot on the take and the fish was doing it's best to bury its head deep in the lily pad roots.
With the rod locked up tight as much as I dare the fish barely moved 10ft. Then it cam free and a short but spirited tussle and she glided over the net cord with not to many more dramas.
I hadn't at that point realised what fish it actually was. I knew it was a common and looked mid 20. It was only when I dropped the rod down next to the net and gently lifted the mesh to roll the fish over that i recognised it as one of my targets. the big girl!!! I couldn't believe what had just happen. What a great start for sure.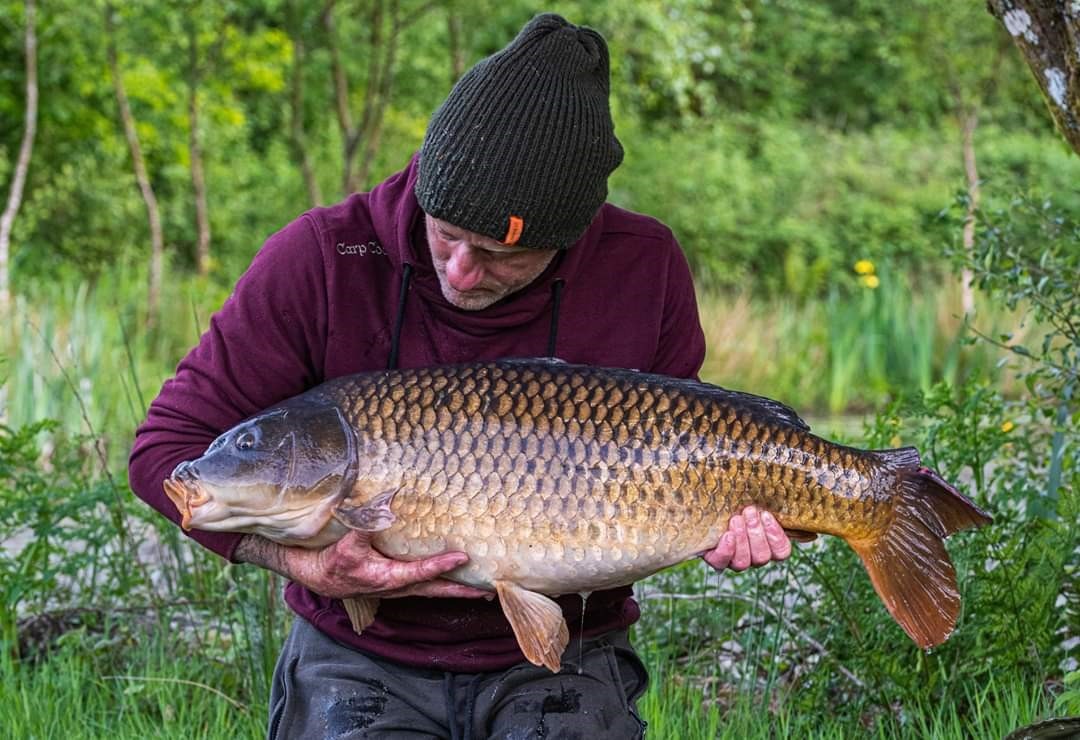 She went just over 30lb although the wieght was irrelevant. It was one off the list already on the first trip.
The rest of session saw no more action but that was to be expected. You normally don't get too many bites in one sitting. These fish have swam around in here for a long time and been angled for countless so it's to be expected that they won't be climbing up the line.
Keep on baiting
I kept to a routine of baiting when I left and continued to bait every other day until my next visit. The next session seem to take forever to come around and what made it worse was that I started to see targets on my spots. Things were really falling into place for sure.
Finally I made it back to the lake, and to say I was excited was an understatement. All the rods went out clean and it seemed the spots were getting harder on the drop too. They had been cleaned up by the carp for sure.
With the kettle on and food being sorted the silence soon gave way to a twitchy bite. No sooner had I got right over the rod it was howling out full throttle. With the battle curve in full swing, it was game on.
This fish felt decent right from the off with a solid resistance and holding deep with its heavy lunges. The battle seemed to go on forever as it tried to take me into every lily pad bed on the lake!
Finally it broke the surface close in and what lay before me just blew me away. Now this fish I'd seen over many years of captures and one I dearly wanted in my album. It had been born in the pond all them years ago, so capturing it made it all so special to me. I praying it stayed on in the final moments of the battle and soon it lay in my net.
Tadpole
This of course was an old Lin called tadpole. An awesome creature. Very thick set and long with all its rough skin and dimples. Id be sure it had many a tale to tell too. My high just got higher. A few pound over 30 was good enough for me. I could have gazed at that fish all evening but I said my goodbyes and slipped her back to her watery home to make somebody else's dream come true on another day.
The fish seemed very active on this particular session as I had heard them jumping out just around the corner of the island and not too far from my spots. Although I did fancy another bite. I wouldn't count my chickens and excepted I had yet another ticked off the list.
Darkness was falling very quickly and I just managed to get the rod back in place before settling down for the night. I lay there listening to the carp happily crashing out and the odd tawny owl screeching in the woods behind me before drifting off with a big cheesey grin on my face.
Dawn raid
It was right on dawn when the same rod gave out a few bleeps before slowly progressing into a steady take. I was up and on it and it was giving a nice spirited fight, which was mostly all under the rod tip as it tried to get under the nearside bank. Surely enough it went into the net. It was still darkish and I couldn't see what fish it was. I never use a headtorch in the fight as I think it makes them panic somewhat.
I put the rod beside the net. Got a bivvy peg and pinned it by the spreader block to secure the fish and let it get it's breath back. Kettle went on and a brew was made to wake myself up. Some twenty minutes later it was light enough to check out my prize.
Well I just couldn't believe what was happening right now. Not only had I had two bites in one session but yet again another target had been ticked off the list. You couldn't write this I promiss you. It never happens normally does it!
The fish in question was a mid to upper twenty and again one which has been reared on the fishery. It was the fully and what a fully it was. With pictures done we parted company and i got packed up, rebaited and headed home to sort myself out.
Now, how long can things keep going right for me? Well the next session brought me back down to earth that was for sure.
Having run out of my normal hook pattern I couldn't get access to any tackle shops which had any so opted for a second choice and one which seemed very close in shape, size etc and sat well on the Ronnie's.
Back down to earth
Now, as I said before, this lake doesn't give out too much and you do have to work at them to get even close. This next session was the worst ever. Not only had I managed three bites (which was unbelievable in its own right ) but I managed to lose every single fish I hooked. If I said I was burnt I was done to a crisp and absolutely gutted.
All I could think of was it being the hook pattern. There's no wrong or right in angling just personal preference. I had lost all confidence that was for sure. All the time in the back of my mind I was thinking what if that was that fish or this fish and now I've blown my chances with them.
All I knew was I had to go and find my favourite hook pattern from somewhere. Sure enough after some research etc and a 45 mile drive I managed to get some. phewwww!!
The next session
The next 24hr session came around but to be honest I wasn't feeling it like I was before, although I was hoping and praying the spots were still working for me.
I did manage a bite that evening to one of the grass carp in the lake. Love them or hate them they are pretty cool fish and this one was lovely and dark. Confidence restored !!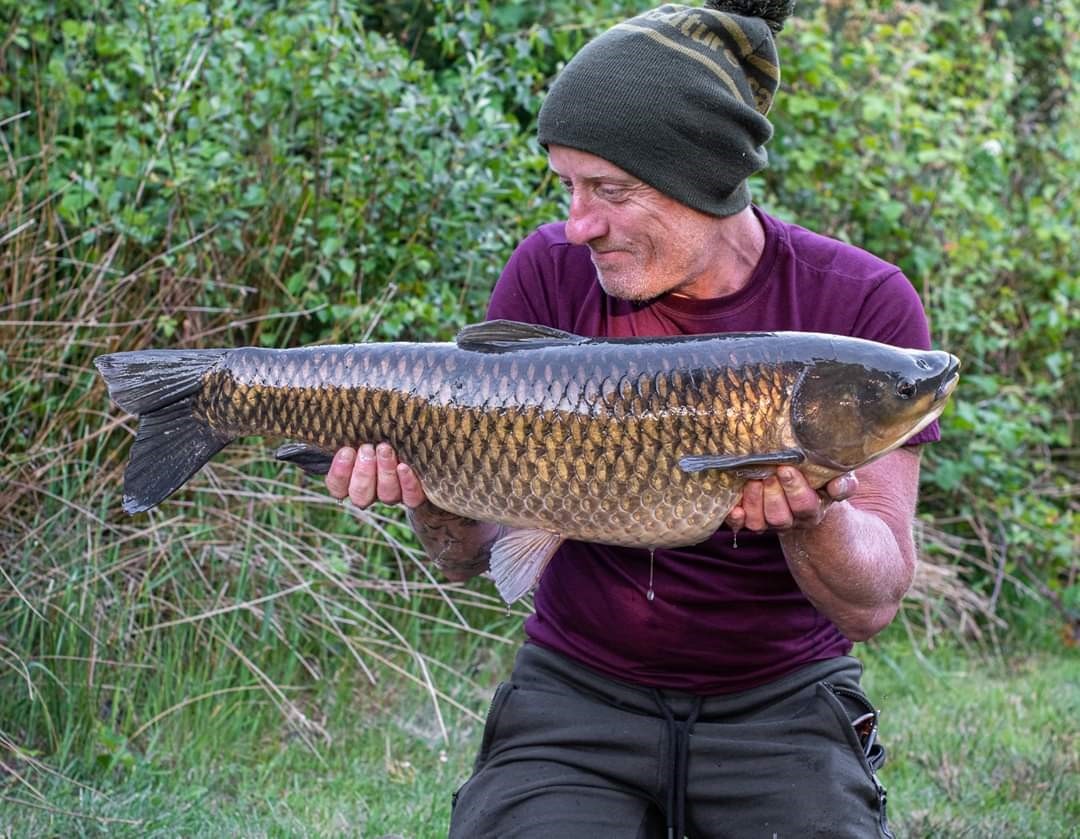 A week went by and my forth session was soon upon me. Same as before I kept the bait going in religiously and when I couldn't make it my friend and bailliff Ash would step in for me as he knew how much I wanted some of these fish for my album.
For me, although there was plenty of good looking carp to go at that rarely saw the bank, it was another old character called 'Cheeks' that I dearly wanted the most.
My rods hadn't been out much more than an an hour before I had the take from hell. I heard the rod smash into the alarm even before it gave out a beep. This fish meant business!
It was one of them takes that curls the rod tip up into the air and the line lifts across the lake. By the time I was on the rod (which was sitting only 4 metres or so from me) this animal had managed to plough through the entire lily bed and then charged up the far bank behind it. This thing was stripping line for dear life.
Back in the game
Quick thinking, I locked right down and kept steady pressure on the fish and walked back behind me. I reckon I walked a good 20 odd yards as the fish smashed its way back through the jungle. sure enough I managed to get it back to where the take started. Winding up the line as fast as I could and then progressively walking forward I was back in the game.
Yet again this thing was doing it's best to find every piece of structure to lose me in. As the old saying goes when your lucks in your lucks in. We definitely have our names on fish when we are meant to catch them that's for sure.
Finally it graced the net. It was only a week ago or so when me and Ash were talking about the residents in the lake and he had said to me about another Lin. Second in command that hardly sees the bank let alone gets seen swimming about.
Well I think you've guest it. It was that Lin and oh my what a fish. Its probably one of the best fish I've ever caught, truly magnificent in every way and one I'll remember for years to come.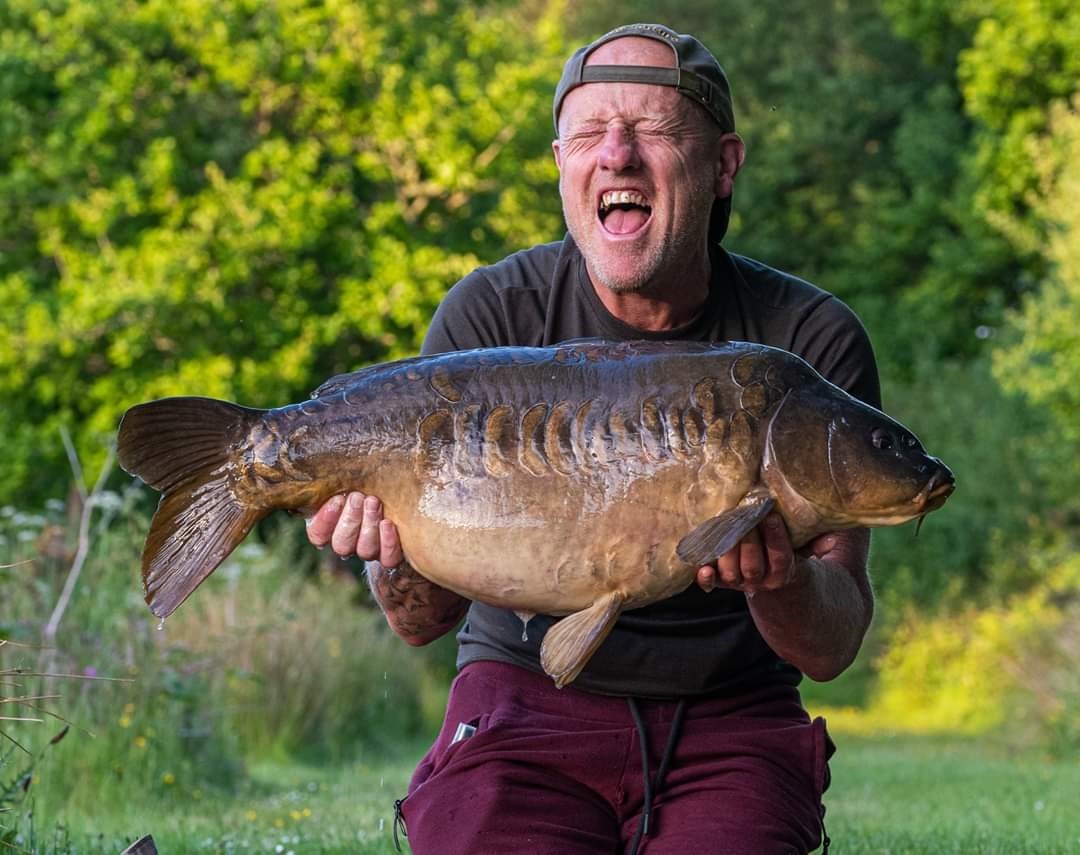 Still no Cheeks
Cheeks has still not come my way as of yet but I feel very blessed to have caught what I have from the lake. An amazing place and one which I've visited over the last 20 years as a holiday maker. I'll be back for sure to hopefully finish the quest and for full the journey.
I had incidentally managed another two carp from the lake in a brief short trip before I worked on another campaign. These fish yet again we're amazing creatures and credit goes out to the fishery. A massive thanks to Ash for all this help, couldn't have done it without him.