20 September, 2023 | Carp | News
0 Comments
Radek Bis and His Czech Team Win the 2023 World Carp Classic!
Following a nerve-racking week of fishing at Lac De Madine, Radek Bis and his Czech comrades Karel Racak and Rostislav Masopust secured victory in the World Carp Classic! We grabbed 10 minutes with Radek to take us through how the competition panned out for him and his team and get his reaction to a sensational victory on his 10th anniversary of competing in the WCC!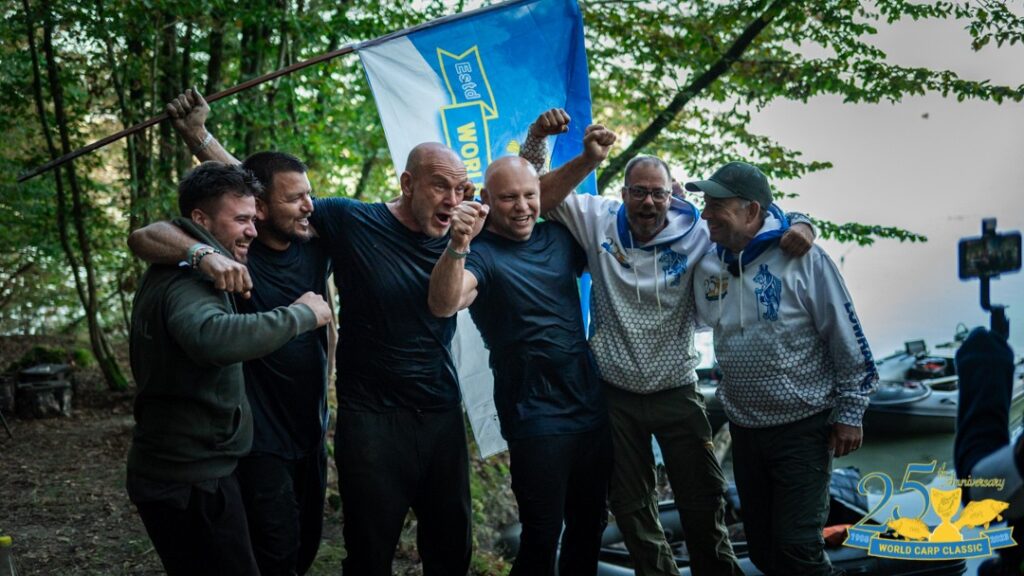 DB: Radek Bis – you are a World Carp Classic Champion for 2023! How does it feel to have lifted the WCC trophy this year and on the 25th anniversary of the competition?
RB: It's a beautiful feeling. I competed in the WCC for the first time in 2011 and since then I have wanted to win this trophy, stand on the podium and hold it in my hand. Now the dream has come true.
DB: Speaking of anniversaries, this was your 10th year of fishing in the WCC! Do you think it was just meant to be this time around?
RB: I believe so. For me it was my tenth participation, the WCC was celebrating its 25th anniversary and it was simply supposed to be that way. it is a beautiful story that began to be written many years ago.
DB: Winding back to the start of the competition. Did you and your team have a preconceived idea of how you would approach Madine this year or did you wait until the swim draw before deciding? Are the fishing zones diverse? I.E Weedy and shallow in some areas then super deep in others?
RB: Of course, we started the preparation before the race itself. Not only materially, but also through expeditions to this lake. We spent a total of three week-long expeditions there in different seasons and under different water levels. Something different worked each time. And it was these valuable experiences that helped us achieve the result.
DB: Were you happy when you were drawn swim 78? Did you do your research on this area beforehand?
RB: We knew the place wasn't bad, but they are definitely better on the lake. At the same time, there are many worse ones. We believed that fish could be caught in this place. This was our first time fishing on this side of the island, but historically there have been fish here.
DB: You have been using Dynamite products for several years – what was your boilie choice, hookbait choice and baiting approach for WCC? Was there a particular flavour that you thought would be effective this year?
RB: Yes, I have been using DB lures since 2010. We historically used two types boilie, sweet and meat. During the last six participations, we have always fished only for meat boilie and therefore this year we chose two meat flavours – The Source and Hot Crab and Krill.
DB: When the 'all-in' was sounded, what was the first thing you and your team did?
RB: We set off in the boat to mark out our sector. Then we spent about four hours looking for places to put our traps. Once we were satisfied with everything, we took each assembly to the designated places. We only loaded, our places were located at a distance of 200-350 meters from the shore. We didn't have these set until around ten o'clock in the evening.
DB: It was a bit of a slow start to the competition for your team with no bites registered on Monday or Tuesday. Is it important to stick to your guns in moments like this or did you change your approach?
RB: Yes, the beginning is always hard. After the start, there is a lot of activity on the water and the fish often hide in the grass or are pushed into the bays. We spent several hours on the hunting grounds and were convinced that they were the best in our sector. in the first two days we changed only one place, otherwise we were calm.
DB: On the Wednesday your team registered their first fish when Karel banked a 23kg mirror. How were you all feeling and what did that do for your confidence?
RB: It was a very beautiful and surprising feeling, because the fish caught at half past three in the afternoon, which is not usual. Most of the catches are made during the night hours. It helped us a lot, especially mentally.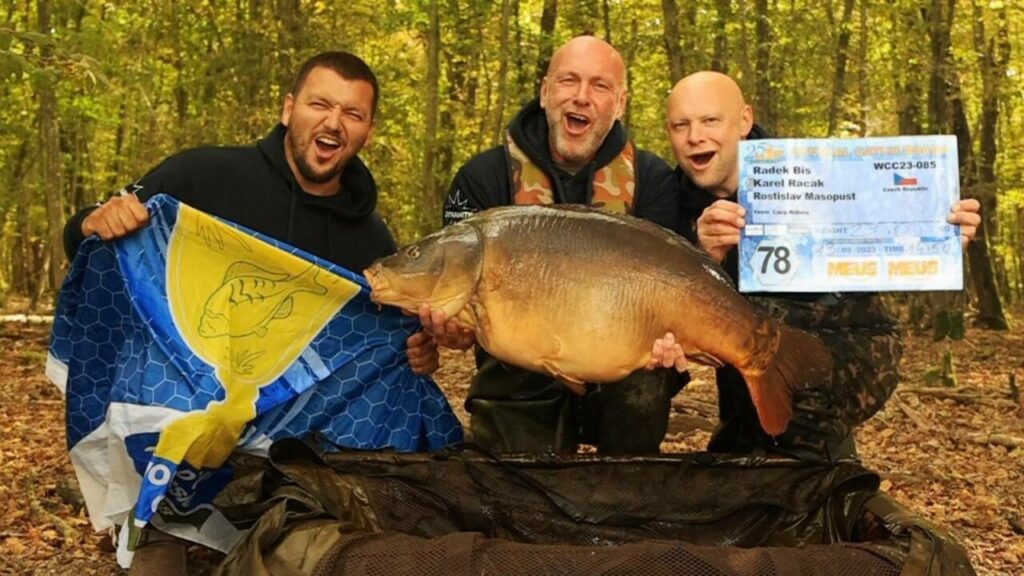 DB: Thursday morning was a huge turning point in the competition for your team when Rostislav banked what would go on to be the joint biggest carp of the competition at 28.2kg! Did you start to believe you could do it at this point? This fish put you up to 10th place at the time.
RB: That day we changed the placement of one rod and placed the lure in the area where the first fish came from. It came out and another beautiful fish came. At that moment we believed in a good result, as we had found the fish way and there was enough time left until the end of the race.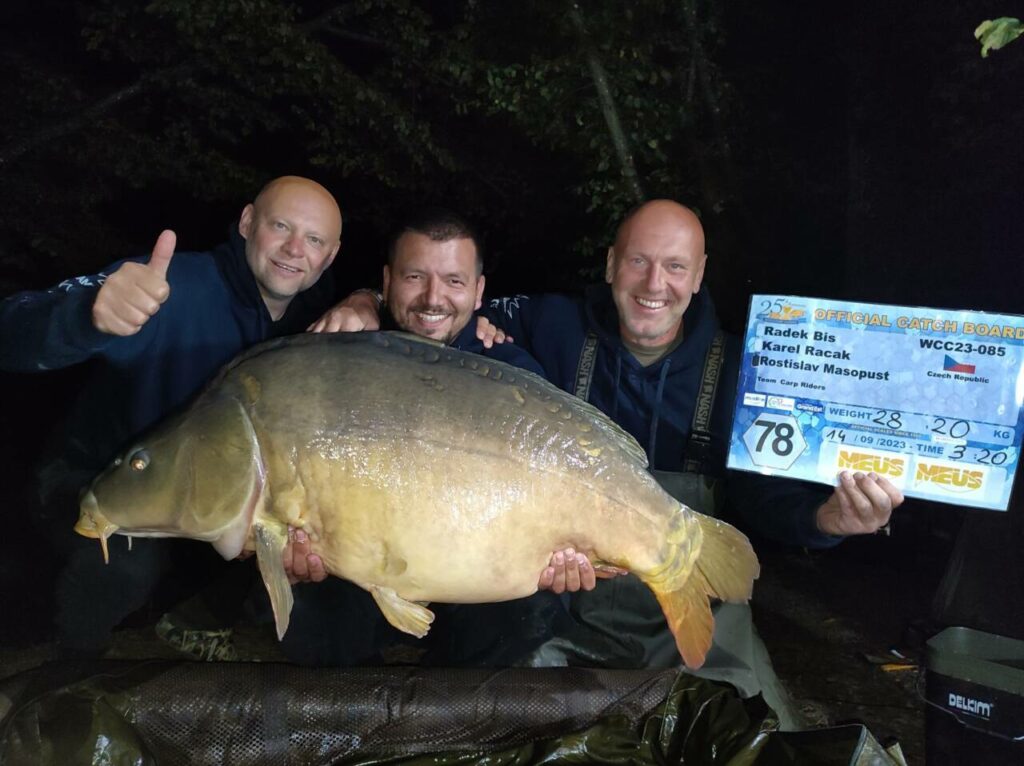 DB: Early Friday morning, Karel was in again – this time with a 13kg carp to take you up to 3rd place. What were you all thinking when he was playing this fish to the net? Did Karel know it wasn't a 20kg-plus fish and that you would need to catch a bigger fish to take you up to first?
RB: Yes, this fish was important, but we knew we had to catch a heavier one. Anyway, we have confirmed that our places are correct.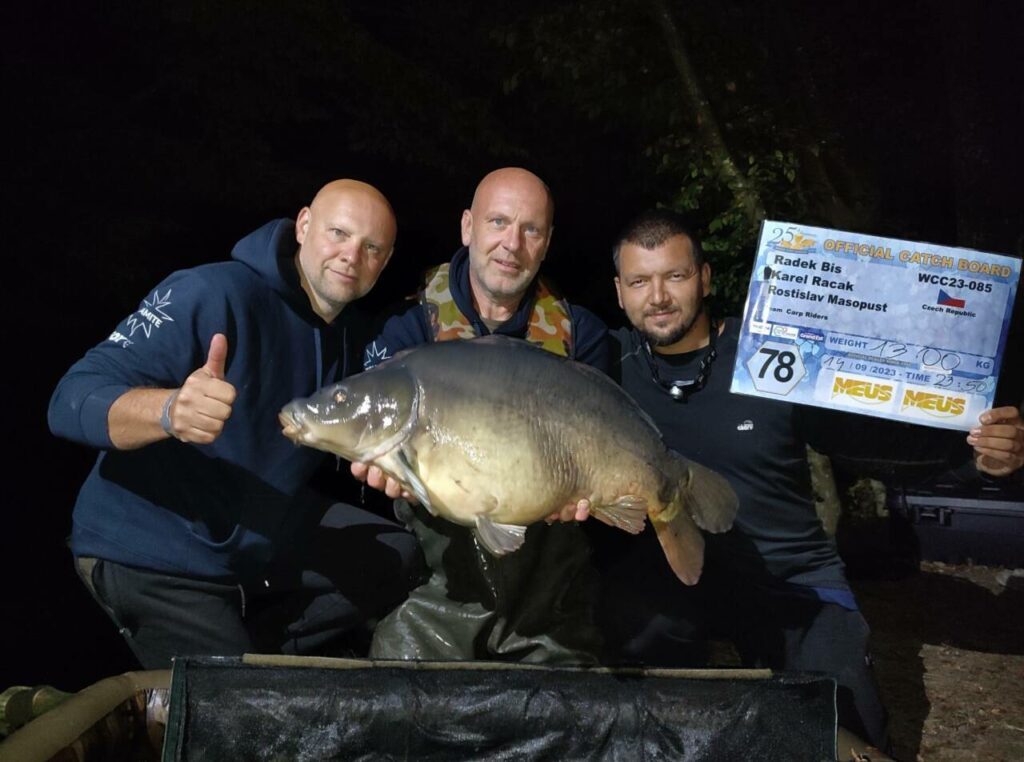 DB: It's Friday evening with around 10 hours to go in the competition when your moment finally arrives. Your bite alarm sounds and you lift into a heavy fish. Tell us what was going through your mind during this moment?
RB: We desperately wished it was the right fish and that we managed to lend it up. We were terribly nervous and full of expectations.
DB: The net is slipped under another big fish weighing 22.4kg, and you realise you have taken the lead! Did you get any sleep that night or were you all too excited and nervous about the teams behind you catching another big carp?
RB: As soon as we got the fish into the net, we knelt down in the boat with Rostislav, hugged each other and wanted to cry. We knew we were first at this moment. Of course, we did not sleep and watched the results of the other teams.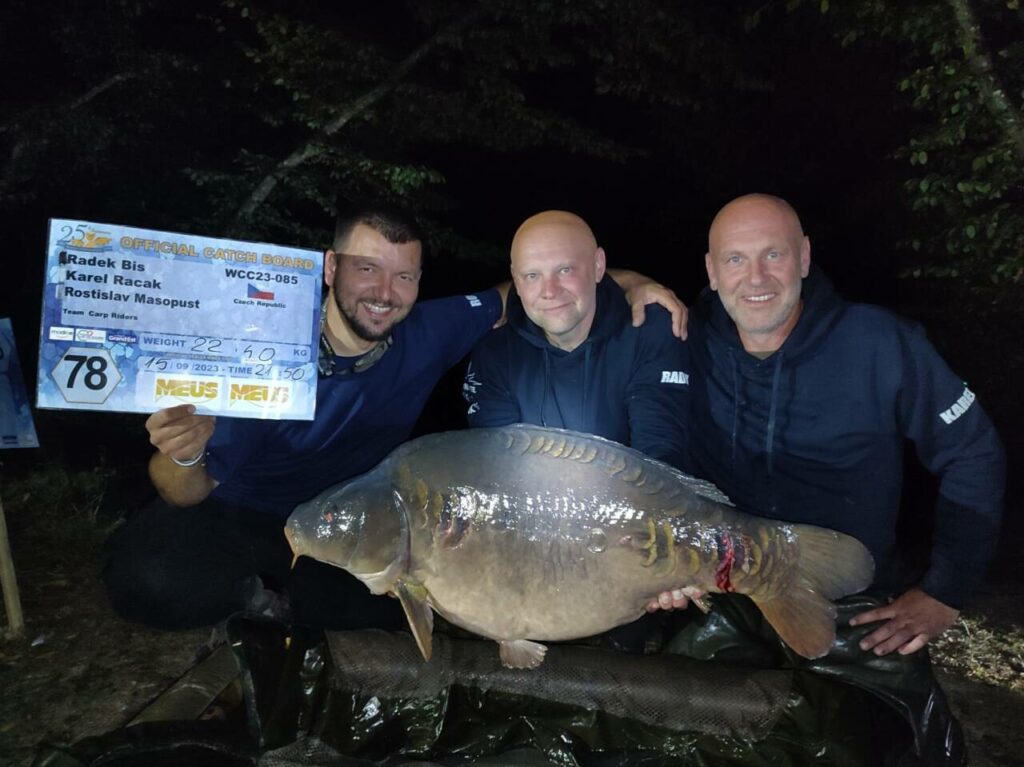 DB: 8am arrives and the 'all-out' is sounded. Ross and the WCC media team make the journey over to your swim and announce that your team are the winners! Can you sum up that feeling for us?
RB: It was the most beautiful feeling we have experienced in our fishing lives. What we wished for happened. The feeling can't be described…
DB: How does winning the WCC compare to your other angling achievements? Is this the pinnacle for you or is there more you want to achieve?
RB: This is the biggest achievement for all of us. We have already completed several races, but this one is our favourite. The way is opening for us to win the champion of champions competition and defend the victory. No one has managed to do that yet, and these are our next goals for the future.
DB: Before this win, what year was the closest you came to winning the WCC and what was your total combined weight?
RB: Once we were third in a team competition. We never managed to catch three fish. In the last six races we have had one or two fish at the most and placed between 20th and 30th. We were always without fish before. Our best was 21st place and second in the sector. In total, we had about 40 kg at the most.
DB: There's no doubt that Madine is a stunning yet challenging fishing venue. Give us three words that best describes Lac De Madine as a venue…
RB: Magical, enchanting, surprising
DB: Where will your WCC trophy be sitting at home?
RB: It will be displayed in my fishing shop for our customers to enjoy.
DB: What will your team do with the £15,000 prize money?
RB: I don't know yet, we'll split it fairly and probably buy something for fishing 🙂
DB: Any words for Ross and the WCC team for putting on a fantastic Competition this year?
RB: There are many of those words. Ross is a great guy and he makes the competition top notch. Although there is a language barrier between us, I think we are very close to each other. We can only thank him for everything he does for this race. It can be seen that it is a lifelong passion for him as well as for us.
DB: Finally, what three pieces of advice would you give to a team taking part in the World Carp Classic for the very first-time next year?
RB: The new team will also be a rival for us next year, so we will not give any advice… yet 😉 Perhaps just to make them believe that one day it can work out and they can become champions. Let them just persevere and not be discouraged by the first failure.