3 Comments
New Personal Best for Claudia Darga after Trip to France
German carp star recollects a successful trip to France including bagging a new PB from Cavagnac Lake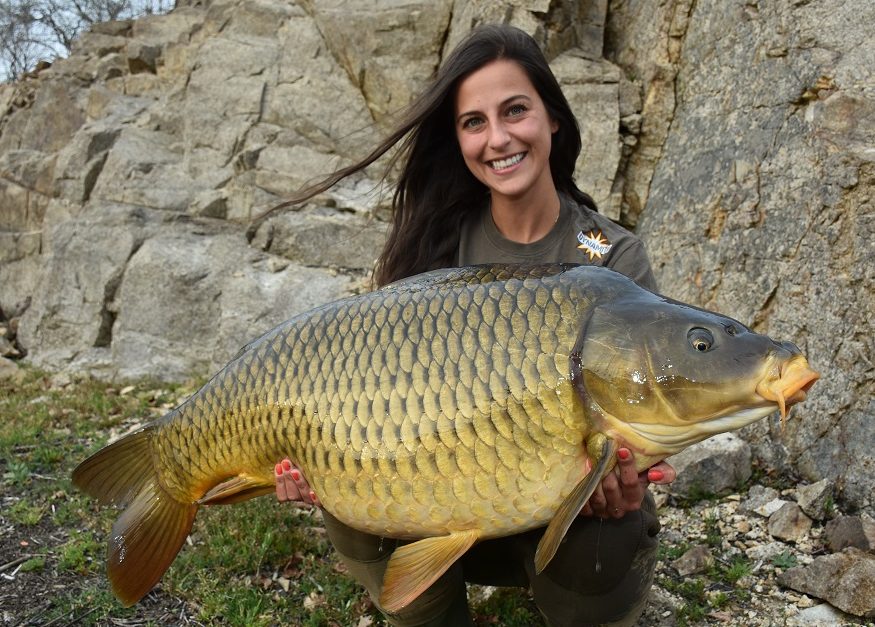 Claudia continues…
My first French big open Water in 2019
My first longer trip to France had two parts too it with an aim of targeting two fisheries. First stop was a big barrage lake in the middle of France. The lake is massive at around 500 hectares and certainly a challenge but with some excellent fish.
The second stop was the Cavagnac Lake which is a 25 hectare pay for fishing lake. In total the trip was 10 days and 9 nights at two totally different waters. The first stop at the big lake was planned to be a three night stay. Once I arrived, the fishing did not look too promising as the water level is as much as 50 meters deep and the water temperature on the top water was only around 9 degrees – the worst type of water you would fish in the early spring season.
The shallows…
However, I wanted to fish this lake no matter if I had to blank. On my boat tour around the lake I met some other anglers and they had not caught anything. We took the decision to stay and try our best to fish this water. Our Idea was easy. Finding the shallow water and place small amounts of bait here.
As there was some sun during the last days, I had the hope that the fish would already be moving into the warmer water found here. We finally ended up in a big shallow bay which was big enough to place four rods. My fishing buddy put his four rods in front of this bay to catch the fish that might be passing on their way into the shallow water.
If I talk about shallow water, I still talk about 5-10 meters. As it is a reservoir style lake with very sleep falling banks where the depth drops around 2-3 meters away from the bank to around 5 meters quite quickly. My baiting tactic was easy. I wanted to feed high quality baits and only place some baits next to the hookbait. I fished around 20 boilies per rod. That's It.
The bait selection
I opted for the Source boilie in 20mm and some Hot Fish & GLM also in 20mm. I topped my hookbaits with Complex-T Fluro pop-ups and dumbells in 15mm. An easy snowman should do the job as it has done already so many times in the last two years.
The first night started immediately with a take on my rod fishing in around six metres. I had placed the rod only 30 minutes before and it just screamed off – the fish were in the shallow bay! I got a great 40lb plus common carp with a perfect shape and size! I then had another take only two hours later around midnight with another nice fish. The rest of the night and day remained silent.
A great start..
That was an awesome start into the session I had not expected it to be so successful. My fishing buddy who was fishing in the deeper water did not catch anything. The next two nights I caught one fish each night. In total I ended up with four fish in 3 nights with two of them above 40lbs. A very good result bearing in mind that it was a new water and not the best time for fishing at this very special venue.
I was more than happy and actually did not want to leave the lake. However, my friends were waiting for me at the next venue only 350km away. So I had to pack my stuff and had to leave for the next venue, not knowing what will happen there….
Cavagnac and a new day-ticket PB..
I had six wonderful days to spend at the legendary Cavagnac Lake.
This is a beautiful pay fishing lake in the south of France. It is well stocked with some decent carp up to an incredible 70lb and I was super excited for the challenge. I met up with three friends of mine to spend a nice and relaxing time together on the bank.
In all honsety, I wanted to stay the whole trip at the public water but as my friends wanted to visit us, I called the owner of Cavagnac lake and he luckily had two spaces left. They were not the best spots, but we wanted to make the most of it. The lake is just perfect for spending a great time with family and friends. I have been to the lake already the year before and caught some nice carp. This time I was already prepared and knew how to fish the venue.
The approach
The key to success was a size 7-8 hook paired with a single 20mm Hot Fish boilie a bait which was so successful last year I couldn't not bring some along. I primarily fished with these again but also some Source boilies as these are a really good bait for this water. So I fished two rods with Hot Fish and one rod with The Source.
I soaked the baits 24 hours before fishing in lake water as the bottom of the lake is quite muddy and I didn't want the boilies to soak in the taste of the mud like they would if I fed them straight out of the bag. Also, it helps to get the baits a bit washed out making them less wary to Cavagnac's big carp! Just perfect for this water.
Go small to catch big
I decided to just fish with my hookbait and around 10 free baits around it. A tactic I use regularly. I am not a big fan of a lot of bait and spodding out. Even had on big waters, bigger than 100 hectares I've had a lot of success with this approach.
If I am able to localise the fish, I get quick takes without waiting. And out of my experience those fish are, in average, bigger than those caught on a heavily baited spot. However, this tactic demands very high-quality baits as the fish need to find it and want to eat them as well.
Successful session
At Cavagnac, there were 15 other anglers that shared the lake with me during my stay, meaning a lot of fishing pressure during the session. Despite this I still managed to catch around 20 fish myself and lost about five other fish due to snagging up in the thick water lilies on the lake. I managed a new personal best at 61lb 7oz which was also the biggest fish caught during this week. I was over the moon especially since there were so many fishing the lake!
I had another fish at 50lb 7oz to go with the sixty and a couple of 40 pounders rounding off an epic trip! What a great session and we only stayed six instead of the planned seven nights. My tactics with a single washed out boilie, a small hook and a hand full of Hot Fish or The Source boilies did the job and ended up with this great result. That was such a great trip with so nice company and a lot of fun. Being successful at the same time and sharing it with your friend is the best thing about fishing!! See you next time.. Claudia