24 May, 2023 | Carp | Angler Blogs | Articles
1 Comments
Michael Poulter: Fishing Etang Du Manoir
Specialist carp angler Michael Poulter recalls his latest trip to French fishery Etang Du Manoir in search for that elusive 50-pounder. Will it happen on this trip? Read below to find out…
Michael says…
Manoir Maketh The Man
It was early-May and I found myself bombing down the A303 to meet my good friend Keith at his house where all my gear was to be put into his van before heading to Portsmouth to catch the overnight ferry to French France. We arrived 3 hours early(!!) so once I removed all of my fingernails from Keith's dashboard we went into the terminal to meet Ian and Matty to drink some hideously overpriced coffee for two hours until we were allowed to board the ferry.
Once on the ferry we found our cabins and then spent the next couple of hours mainly eating and drinking whilst watching some very average acts on the stage attempting to entertain us. After enduring the singing duo of tone deafness we eventually all decided enough was enough and Marvo the magician would have to finish his set without us.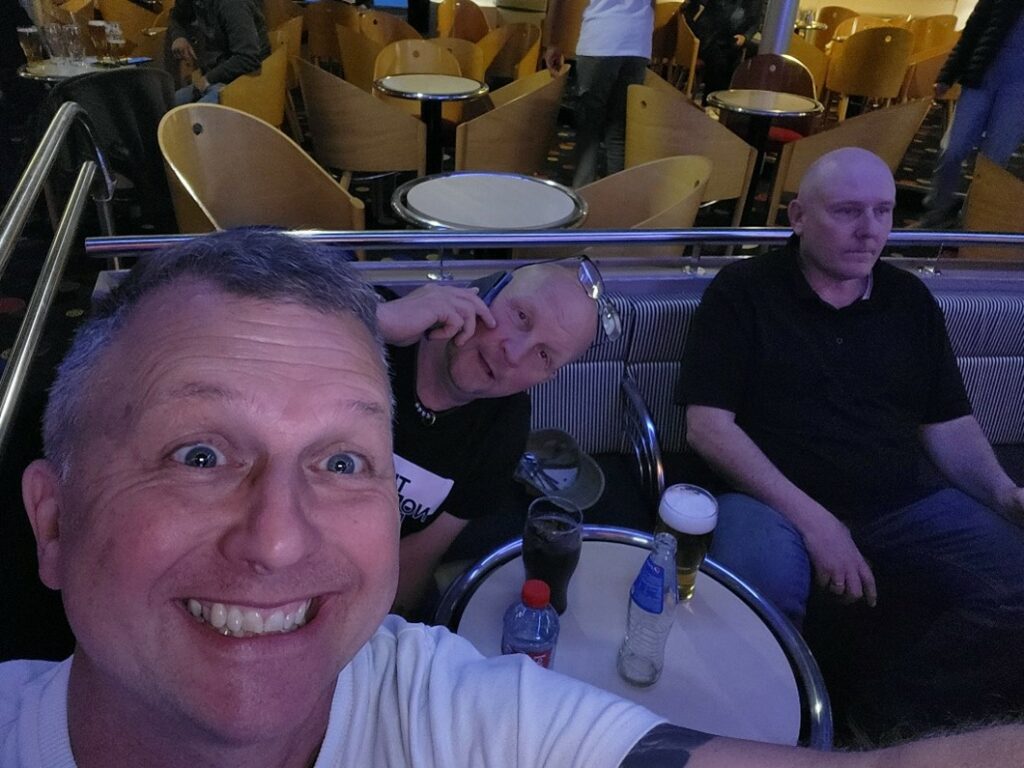 The morning soon came around and after a hearty full English we started to make our way to the vans. It was at this point Matty declared he needed to use the facilities and he disappeared into one of the nearby toilets, only to emerge 20 seconds later looking visibly shaken and mumbling the words "Forget that" or words to that effect. What Matty actually saw behind that silver door that morning was never ever spoken of again but for a man of his huge proportions to be so unnerved I can only imagine it was a scene of a truly epic scale.
The short 90 minute drive to Etang Du Manoir flew by and we were soon pulling into the car park to be met by a smiling Jay. He filled us in with the recent happenings on the lake and how many fish had been caught the previous week, which was showing encouraging signs of the carp starting to wake up. It was at this point that we all agreed to pay a tenner to the person with the biggest fish, a decision I was always going to regret.
We decided on swims and set about making our homes for the next seven days. My swim was called the "All alone" which for those that know me is perfect as I am a bit of an anti social git. As the name suggests it was a very solitary swim surrounded by islands and snaggy areas, heaven! Although I probably had the least water in front of me it certainly didn't have any shortage of likely looking spots and deciding which ones to try first was decided by listening to the bailiffs advice, tight to the islands in the deep margins with minimal bait.
To start with I opted for what has served me well so far this year, a 15mm Dynamite Baits Sweet Tiger & Corn pop-up hookbait over a mix of matching freebies and 15mm Monster Tiger Nut boilies all presented on a size 4 Carp Spirit Boilie Beak Point hook spinner rig.
The night passed without incident for me but Ian, Matty and Keith all had a 40 pounder each so I reeled them all in and went for a shower and then took a walk round to see the lads.
After talking with them it seemed that I was on the right track with the yellow hookbaits but just needed to fine by approach down a bit. I changed all of my rigs to Opti-Mex D-rigs with two pieces of semi buoyant plastic maize on them, which just hovered above the hook flat on the bottom, which were put out over the same mix of sweetcorn and crumbed boilie.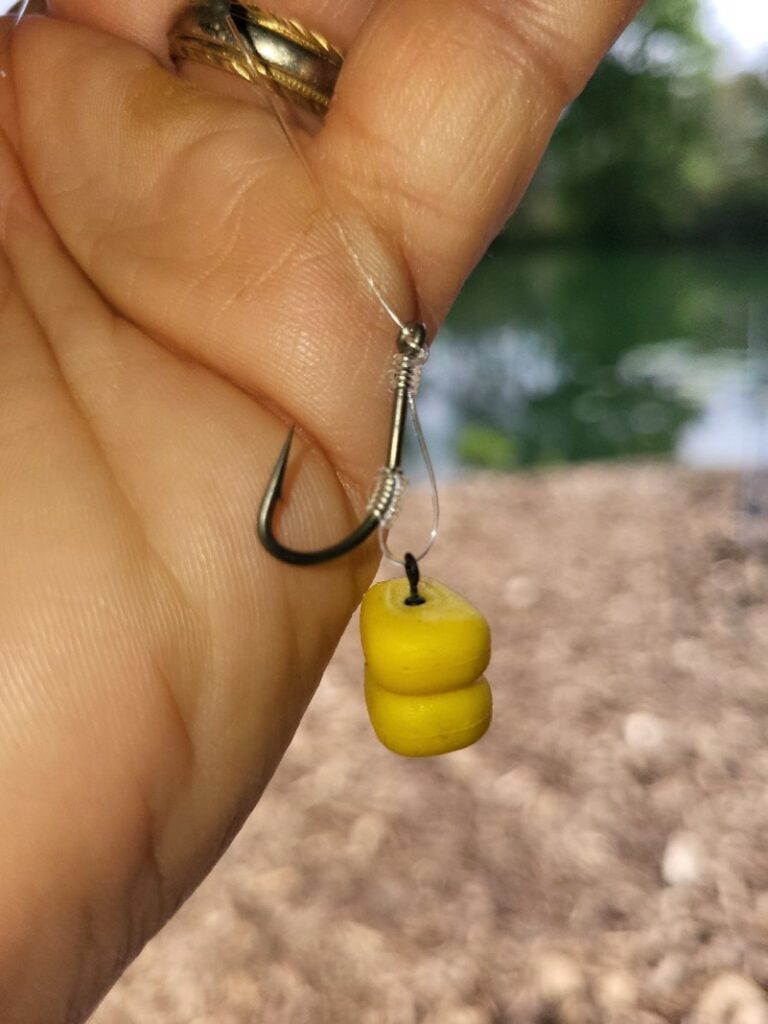 It was about lunchtime when the right hand rod signalled a take and by the time I picked up the rod the fish had already travelled 30 yards towards me before trying to pull me through every snag and lily bed in the lake! Eventually he tired and you can't imagine my surprise when a 15lb fully scaled popped up for netting, I would have bet my house on it being a much bigger fish by the way it fought. Still, the first one was in the bag and after taking a couple of quick photos I slipped him back and reset the rod.
Again, the night passed without incident and Ian had a couple more fish, including a nice 51lber from the other side of the island. I couldn't understand it as the middle rod, which was fishing in a lovely spot under an overhang, looked bang on for a bite but so far had only had a couple of half-hearted liners. I remembered talking to Jay on the first day and he said that it may be a case of moving it around within that spot as they can be quite particular where they eat from, so I move it 3 foot to the right of the spot to see if that made a difference.
20 minutes later it was away and after another epic fight I had a very lean 25lb mirror in my net, they were getting bigger! This was quickly followed over the next couple of hours by 3 mirrors of 39lb 2ozs, 42lb 8ozs and 36lbs, it seemed to be working, I had now had a double, a 20, a 30 and a 40, surely a 50 was next?
It all went quiet until the afternoon when Matty latched on to something huge. I could hear bits of the conversation from across the lake but then the gut wrenching news that he had landed a 59lb mirror…but foul hooked in the side!
Give Matty his due he just shrugged it off, if had been me I would have adopted the foetal position, asked for my mummy and cried for a month. He received a consolation prize of a 44lb mirror half an hour later. The rest of the day I spent chilling out and listening to Mr Russell catching carp (as usual) each one celebrated with a noise that resembled someone having their privates caught on a barbed wire fence.
The fish had really started to show in front of Ian and Matty and I could hear them clearly in the night, despite the very loud frog chorus that we were being treated to once it got dark.
At the same time the following day my HD5 signalled another bite and this one felt heavy and more deliberate. I played it very carefully but made sure I stayed in control until it slipped into the net at a nice 47lb 6ozs, a new PB for me, well chuffed!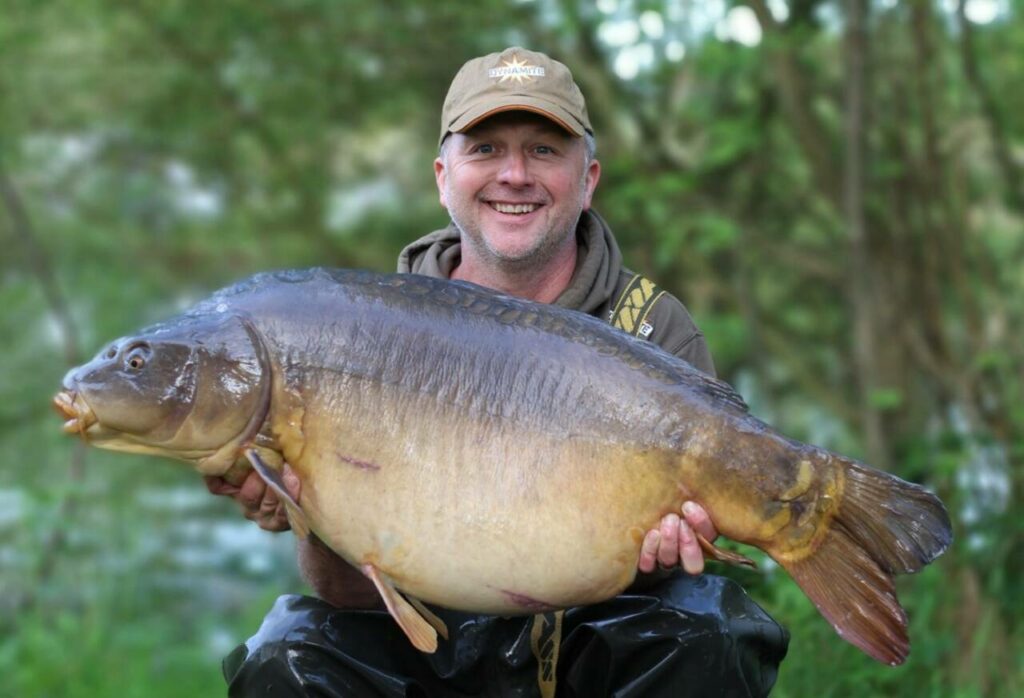 This was quickly followed by an absolutely mental 22lber that tried to wipe out all of my lines. It was then time to wind in to go to the shops to get some essential supplies. I got some essential cakes, cheese, crisps and chocolate which probably didn't last very long if I was to be honest. The night, once again passed by silently.
Just after sunrise I had a slow take on the same rod again. This one tested every pound of my 19lb Velocity mainline but I eventually won the battle and a 40lb 1oz mirror was my prize. As had all of the previous fish been, it was in beautiful condition and it almost shone in the early morning sunlight. What a trip this was turning out to be, I've never been very lucky when it comes to French trips, so this was already my best one yet.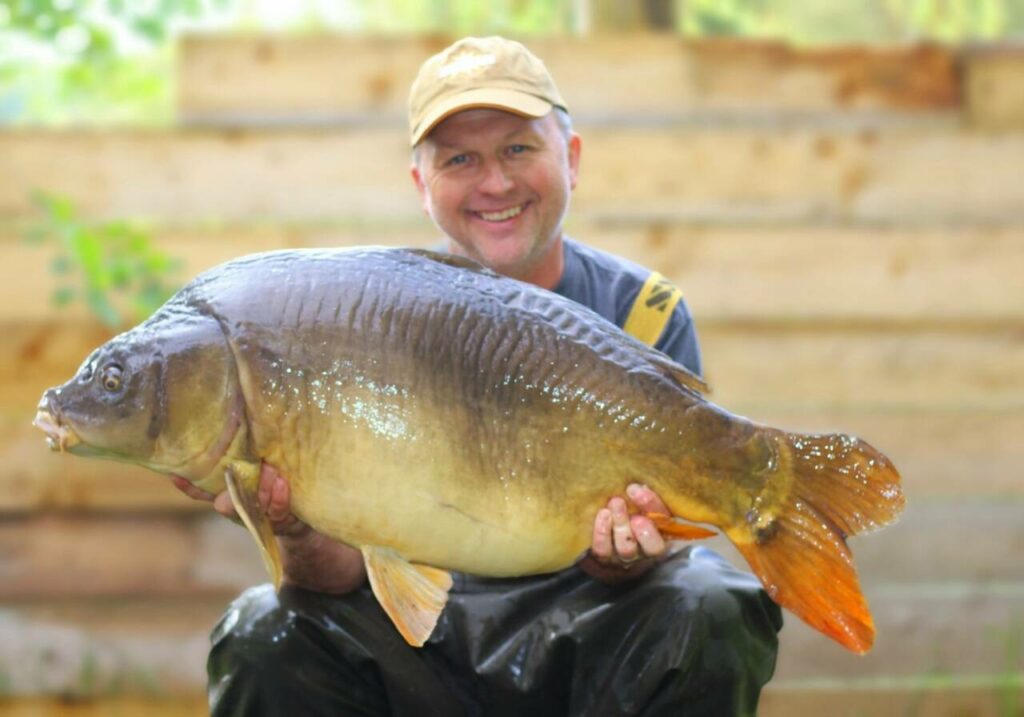 The next 24 hours was a very quiet one for all of us, so Friday soon came around and I started to think about sorting out my gear for the long boat journey home. As I was doing this my alarm signalled a take but unfortunately it dropped off after about 10 seconds.
And before we knew it we were back on the ferry back to Blighty, the week had gone so quickly but it was without doubt my best foreign trip yet. Etang Du Manoir lived up to everything I was told about it and Jay and John were exceptional hosts, I look forward to returning one day to bag myself a 50 pounder…