23 October, 2019 | Carp | Tips | Articles
1 Comments
Estate Lake Dreaming – Ashley James
Few things in carp fishing can match the enjoyment and unpredictability of Estate Lake carping. Ashley James, looks back on a memorable summer he spent fishing one..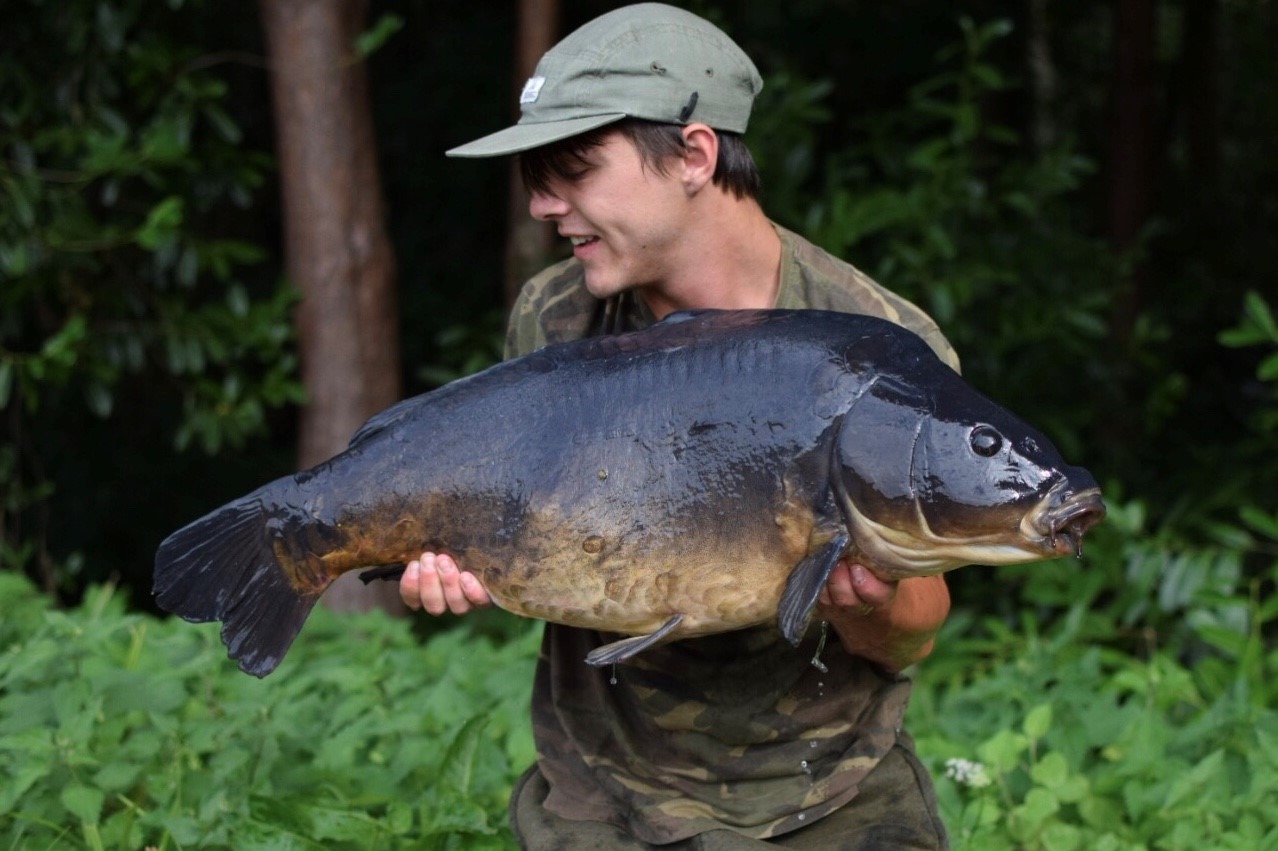 Ash continues…
I recently joined a lovely little estate lake that's around half an hour from my house. The lakes are stunning and very mature! The grounds around the estate are beautiful and well maintained, it's such a lovely place to spend the night fishing. Some of the fish that are resident in the lake are also outstanding! They are really old carp and they're black as the ace of spades! Proper fish! To say I was excited to get down there was an understatement!
First visit..
On my first visit I decided to fish down the dam wall end, where I had spotted a few fish moving through the weed beds just at the back of a clearing that I could fish to with a half decent line lay. This seemed like it was probably my best option as most of the lake is choked with thick weed and at the dam wall end I could also get a few rigs in without smashing the place apart with a rake.
I managed to find some clear areas in among the weed which had a very silty bottom, but was good enough to present rigs on. I decided to use helicopter setups with the bead pushed up to insure my hook baits were above the soft silt. My rig choices on each rod were one stiff hinge rig, one Ronnie rig and one d-rig using VMC mystic hooks and Carp Spirit components.
I flicked the three rods out and sat back taking in all the gorgeous scenery. A few fish were still moving on the surface behind the spot. You could hear the Owls hooting and the woodpeckers rooting around for their dinner in the trees. There's just something about that sound that really gives me real feel for nature. The atmosphere really was alive!
I was fishing for around three hours before my right hand rod finally signaled a take. A hectic five minute battle in and out of the weed I'd finally got my first fish. After seeing the amount of fish cruise over the spot and not take another look was unbelievable. It felt like a life time that first bite. But it was in the net. A lovely jet black mirror of 19lb making it my first little estate lake carp. Over the moon. I done a few quick self takes a slipped it back.
And another..
I tied a new d-rig up and mounted on my Monster Tiger Nut Wafter hookbait and cast it back out to the spot at just over seven wraps. The catapult was used to dispense around 20-30 15mm Monster Tiger Nut boilies around the area hoping to fool another one of the lake's fine looking units as the light started to fade.
The night past and after all the commotion from the first fish it all slowed down and other then two tench and a bream during the night no more carp made an appearance. The following morning I was up at 5am watching the water.
There were a few bubbles coming up over the spots, possibly from the lakes stock of tench. The sun started to come over the trees and the water looked prime for it! I was just starting to think about moving up to the other end of the lake when I saw a few fish crash just past a little island to my left. A set of pads in front of the island was lovely and clear so I hooked on a small mesh bag of Source pellets and matching stick mix and flicked it out before chucking around 10-15 Source boilies over the top as free offerings.
The line lay wasn't brilliant but it was the best I could possibly get it. I sat down and started making a coffee when the left hand rod I'd just put out was away. A small skittish battle saw a small stocky rest in the landing net. I took a few quick mat shots and got it back. 2-0!
More fish..
I tied a new Ronnie rig up with my hookbait choice – a 15mm white Source pop-up and flicked it back out to the spot. Five minutes later it was away again. Another small stocky of a similar size so again a few mat shots and I slipped it back. I had just started making breakfast when I was rudely interrupted by a tench. Bacon and eggs were on the menu.
In the peak of the day the fish only seemed interested in swimming around on the surface. Unfortunately I didn't have any floaters with me so that was out of the question. To be honest, with a view like this it wouldn't have bothered me if i'd blanked.
Lumpy…
4pm came around and the tall trees around the lake had started shading me from the sun when out of the blue I had a melting take! It almost pulled my little 9 footer in with it. This fish was a lot bigger then what I'd previously caught so I took my time playing it. I had to keep running up and down the dam wall to try and keep it out of the walls of weed. This fish dodged the net three times before I finally got her over the cord.
A guy from the next swim down who was doing a day session came down to see what I'd caught and confirmed that it was a fish was a known target fish at a spawned out weight of 28lb 2oz. What a fish! Lovely little scales down by its pelvic fin.
I was over the moon to catch this beauty during my first session! I went on to catch a few more that session and the buzz was real! I couldn't wait to get back down for another go.
The next trips..
My next session I went on to catch another seven fish but unfortunately none of the lake's big guns. But I didn't forget the floater gear this time so I managed to catch a few from the surface including a nice common.
After that I'd done a few quick over nighters in a new swim that I had started raking and managed to catch a few more and so by the following weekend I had already started to record repeat captures. I wanted one of the lake's big commons so badly so I continued on with what I'd set out to do.
My last overnighter was my 10th night at the venue. And I still hadn't had that common or one of the other known mirrors. I came down on a Friday after work and decided to fish from the dam wall again as the spot I was raking was already chocked with weed again just days after raking it.
So I flicked the rods out to the spots I had fished on my first session. I baited with Source boilies once more and used some of the Frenzied Pulses and Particles over the top as I found the particles fell through the water a lot more slower than boilies insuring there was some bait on top of the thick silt.
No action came during the first night but at first light the next morning I found myself doing battle with something a lot bigger then the last few captures I'd had. Taking me from weed bed to weed bed I finally slipped this jet black shape into the net. What a relief! It was the one I really wanted too. It was the common i was after at a spawned out 27lb 10oz.
The target mirror…
I went on to catch another mirror that day that I hadn't caught yet so surly orange spot was just round the corner?
The next night I had another recapture and that orange spot just felt closer and closer by the minute. The morning went by with no other action until at 12pm my middle rod signaled a bite. Another very powerful fight I just about managed to lift the fish into the net with a massive ball of weed. I peered in the net and couldn't believe it. It was the mirror I was after!
I'd completed my campaign in just twelve nights angling. I couldn't quite believe it! Now it was time to starting prepping for my French trip that was just around the corner.
Happy carping, Ash