17 September, 2018 | Carp | Anglers
0 Comments
Introduction: I am a Berkshire based Carp loon that takes his angling seriously, loves setting challenges that can only come from the wildest of fishing obsessed dreams. Fully determined, pro active, no quitting, big dreamer that has a lot he wants to achieve in a life long commitment and passion for fishing, if there's an opportunity of catching specimens of all species from any lake, river, pond, canal, stream or inland sea, I'm on it! Fishing to me is more than a hobby or a passion, it's my life and I love every moment I can spend out there. My favorite venue is the River Thames a waterway which has seen me bank fish to 44lb plus over recent seasons.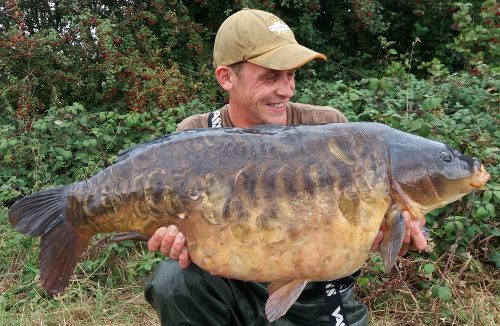 Name: Ash Geden
Age: 28
Hometown & Country: Berkshire
Mirror PB: 44lb 14oz
Common PB: 42lb 4oz
Other PB's: Surface PB 38lb 12oz Mirror
Favourite boilie: ComplexT
Most used rig: Hinged Stiff Rig
Venues fished: Peewit, Rowley, Black Park, Thorney Weir, River Thames, Bedfont Syndicate to name a few and allot of quieter/tucked away water's I keep close to my chest.
Favourite venues: Anywhere quiet, where I can go about my own thing chasing my dreams.
Target fish you would most like to catch: To catch a 40lb+ Common and 50lb+ Carp from the Thames, Also a 50lb+ Mirror that i have been after for 10+ years from a quiet water, I have a score to settle with it.
Top carp fishing tip: Put as much time into your target water as possible, always watch the water, you will learn so much and never give up on your campaign and targets.
Aim in angling: To make something of my angling and be respected as good, honest angler and not a glory seeker and help people achieve their own set targets and dreams along the way, seeing a friends wishes come true gives me just as much of a buzz as it would my own.
Highlight of angling career: Catching the 40lb+ Common i had been after for 10+ years, that one meant a lot to me it was a huge part of my life/angling and a target that I never gave up on pursuing, it all come good on a big moon in June, the atmosphere was electric that night, I just knew it was time! I will never forget that writing that chapter in my angling life.
Countries Carp Fished: UK
Other types of fishing: All rounder
Facebook: Ash Geden
Instagram: ash_geden