20 February, 2019 | Carp | News
140 Comments
#WIN
The UK launch of our 2019 products is nearly here so to celebrate we're offering you the chance to get your hands on a bundle of the carp goodies.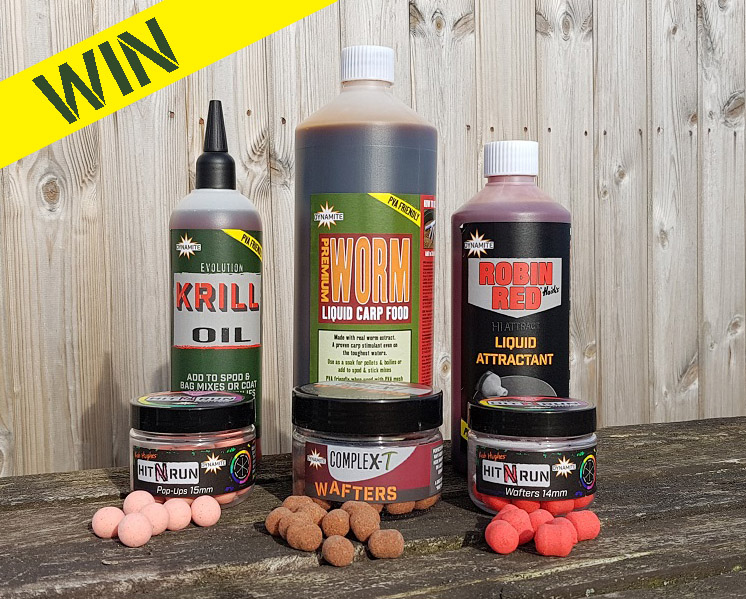 What you can win:
1 litre of PVA friendly liquid attractant just bursting with natural aminos and proteins including real worm meal. Great for spod mixes, boosting hookbaits or feed boilies. The liquid joins a list of seven CSL based liquids in the range.
All fish love krill and this winterised oil creates a lovely fish attracting slick when used in spod mixes or PVA bags. A handy removable nozzle makes it easy to inject solid bags to give them a lovely fishy flavour of oil which contains natural fish oils and real Antarctic Krill meal. Krill joins a list of seven Evolution Oils now in the range including new Tuna flavour!
Due to popular demand we've created wafter hookbaits for all five of our top boilie ranges including The Source and Monster Tiger Nut. Critically balanced and oozing with the same flavour/ingredients as the boilies themselves. Available in 15mm dumbell only.
One pot of the flavour of your choice is on offer in this competition
Designed in conjunction with Rob Hughes, utilising years of experience and his underwater studies. The hookbaits come in four colours – Pink, White, Yellow and Red, all selected by Rob himself. Each colour is designed to suit various lake/river bed conditions from clay and silt to gravel and weed. Each hookbait has its own highly attractive, unique flavour containing essential oils. The baits have already been accounting for some stunning catches.
There are two pots on offer in this competition.
We've updated all the liquids in the Hi-Attract boilie ranges for 2019 including the ever popular Robin Red. A 500ml PVA friendly liquid which is great for spod mixes and boosting hookbaits or feed boilies. Packed with natural ingredients. Check these out they smell great!
How To Enter:
All you need to do is make sure you have signed up to our newsletter and comment below by telling us how many different flavours are in the Evolution Oil range? (answer above)
One entrant will be picked at random and contacted before the launch date of the new products which is the first week in March. Good luck.
Rules:
ONE entry per angler/name
Only anglers entrants who have signed up to our newsletter are eligible
Dynamite hold the right to change the prize without notice including flavours of products within the prize (depending on availability).
By entering the competition you allow Dynamite to hold your personal information and to be used only for the purpose of this competition