4 March, 2020 | Match & Coarse | Tips | Articles
8 Comments
Six Specimen River Fishing Tips
As we approach the end of another river fishing season, specimen ace, Tony Gibson reveals his six top tips to help you bank those big fish.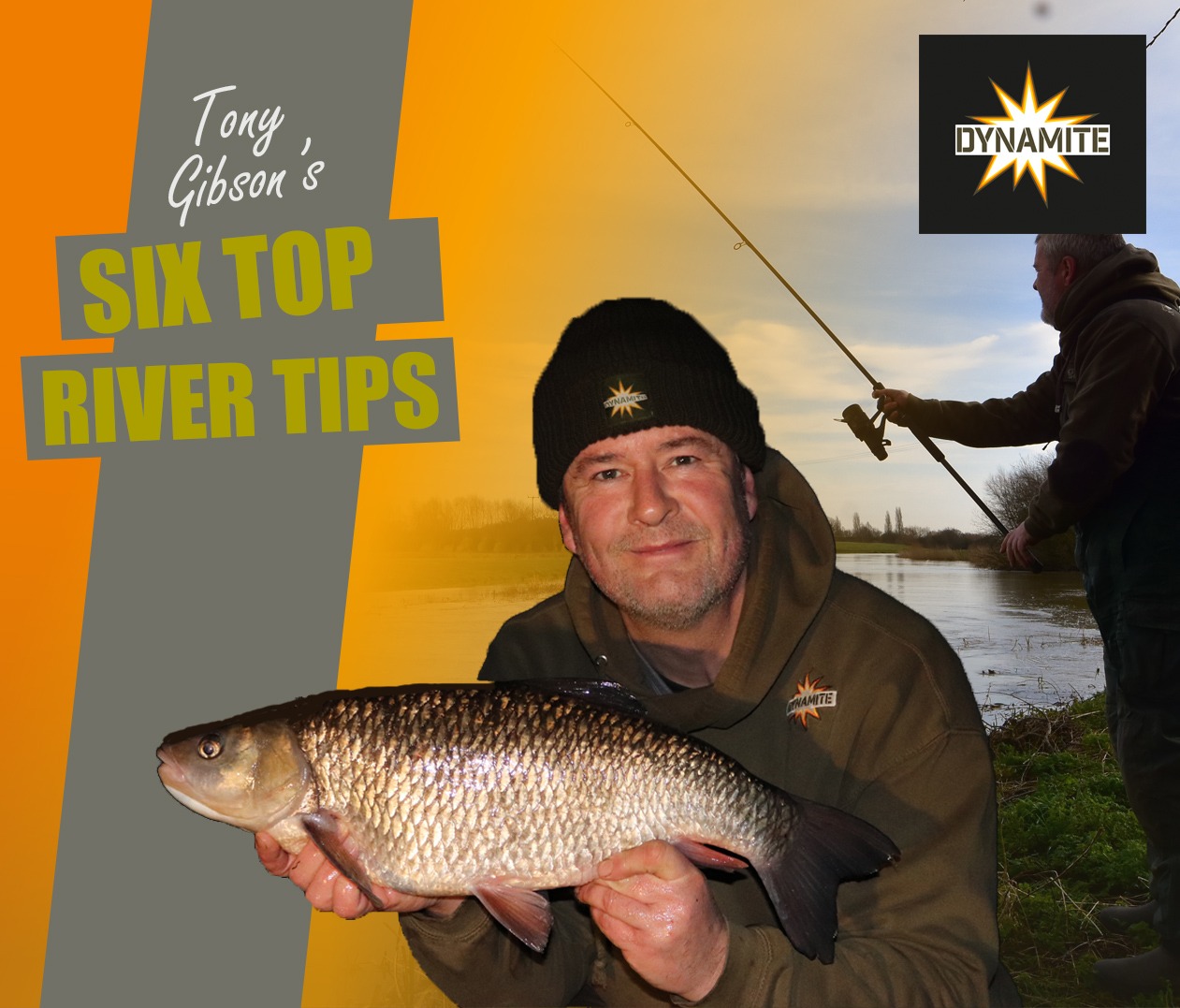 Be prepared (tackle and clothing)
The UK weather can be difficult to forecast at the best of times, but that period between the end of the winter and the start of the spring seasons in late February and early March can be particularly unpredictable.
A sedate stream or the upper reaches of a river with sluggish, clear water can be turned into a forceful flow of turbulent muddy floodwater with just two days of steady rain and a relatively warm, pleasant looking sunny morning can turn nasty and very comfortably if a persistent shower and a cold wind suddenly appear from nowhere.
Preparations need to take this unpredictability into account and I try to take enough gear to enable me to fish effectively for a number of different species in a variety of different river conditions and enough layers of clothing, including an all-important waterproof top layer, so I stay warm and dry whatever the weather on the day decides to throw at me.
If leaving gear in the car on the day isn't going to be a problem and I'm unsure what conditions I'm going to be faced with, then I'm usually tempted to take the 'kitchen sink'. This will consist of a couple of ledger rods (one 'heavy-duty' 1.75 to 2.25tc rod to cope with strong flows and heavy leads and a lighter ledger rod with interchangeable quiver tips for more delicate work) plus a float rod…and all the matching reels and accessories to go with them. Then once I've seen the state of the river, I can slim down the kit and just take the gear that is best suited to conditions on the day and leave the rest in the motor.
Unfortunately, there are too many places nowadays where leaving tackle in the car isn't recommended, as it too tempting for the low-life ne'er-do-wells to try and steal. In these situations, I'll initially pack less gear and will usually forgo the float rod and all the associated accessories and just stick with the two ledger rods so I can carry everything with me on the day.
Be mobile
Often, if the chosen stretch of river isn't too busy with other anglers, then I like to be as mobile as possible and fish a number of different swims throughout the session. Not only can the weather and river conditions be unpredictable at this time of year, but the whereabouts of the fish can be equally difficult to suss, and a mobile approach provides more opportunities to find and catch them.
Mobility on the bank will be governed by the distances required to walk to the river and between swims and the amount of kit actually carried; especially once rods are made up and landing nets assembled etc. Therefore, there needs to be a balancing act between being adequately prepared and travelling light enough to ensure that moving between swims isn't too much of a bind.
I usually find that I can walk good distances and be quite mobile between swims if I restrict myself to carrying the two tackled up ledger rods in one hand, a made up landing net in the other, then a small rucksack on my back containing the rest of the tackle, bait, camera gear, scales and weigh sling, food/drink etc., any spare clothing and with an unhooking mat clipped or strapped to it.
A lightweight folding chair (with a strap that goes over my head and shoulder) and finally a lightweight quiver type holdall (that again has a strap going over my head and shoulder) containing a small umbrella if required, plus any banksticks and spare quivertips etc.
When the river is especially quiet and it's secure enough to do so, I'll sometimes use a central swim as a base and just take the essentials to go exploring other swims in the vicinity.
In these instances, the essentials can be pared down to just a single made up rod and landing net, banksticks, a pouch of baits and a few necessary tackles items such as baiting needles and forceps and an unhooking mat that can be used as a temporary cushion to sit or kneel on while fishing.
If a good fish is caught in these circumstances, then after unhooking it can be left in the landing net with the handle securely rammed into the foliage and the net pegged to the bank with a bankstick, while a trip back to 'base' is made for the weighing and camera gear.
Find some features
Being mobile will allow more opportunities to fish a number of swims and different features, which is especially important on the rivers at this time of year. Pressure, whether from anglers, or predation from cormorants etc., can eventually migrate the fish towards the relative safety of cover and/or snags. Sometimes, whole stretches of river can appear quite barren of fish, with just one set of snags/cover holding the vast majority of the fish from the whole area.
The remnants of weedbeds can also provide sanctuary, with early spawning species such as perch also searching out this type of feature in preparation for their annual orgy. Obviously fishing towards snags, or the remnants of old lilly beds and suchlike requires the use of stout tackle and the ability to detect a bite and react to it instantly before the fish has bolted into the cover and got itself snagged up.
Safe rigs should also be used in these situations and nearly all the ledgering I do on the rivers make use of a simple running rig and a quick-change lead attachment system that in theory will release the lead and allow the rest of the end-tackle to be retrieved should it be just the lead that gets snagged.
Ring the changes with bait
Taking a variety of baits helps to make the most of whatever conditions are found to be on the day is an excellent way of increasing the chances of a bite or two when the going gets tough. However, the more natural baits such as maggot and worm can be difficult to keep in top condition and can be bulky to carry.
A great way around this, and especially handy to ensure that you have bait suitable for a variety of different species and river conditions, is to use baits such as boilies, soft pellets, meat and pastes, that can be trimmed very small for delicate presentations for species such as roach, or used big… and perhaps made even bigger and more attractive for the larger species such as barbel, with paste wraps etc.
To make life easier I usually use the shelf-life versions of boilies, pellets etc., enabling me to keep a spare supply in the motor at all times. This means I'm never without bait should I forget to stock the rucksack that day, and I'll also have additional supplies should I be fortunate enough to enjoy a rare "red-letter day" and need extra bait when bites are coming thick and fast.
On the same theme I also carry around a tiny tub of flavoured plastic baits, that can also be used as alternative hookbaits on their own, or more often as tippers on boilie or pellet hookbaits to add as additional attraction or to help prevent crayfish pulling the bait off hair-rig type presentations.
Pastes can be used in whatever size you fancy and can be brilliant hookbaits in their own right. They can also be wrapped around other hookbaits to create a slowly dissolving stream of extra attraction leaking downstream from the hookbait and can even be simply wrapped around the lead to help draw the fish towards where the hookbait is presented.
Dynamite produce a variety of different shelf-life pastes that will last ages simply stored in the bait pouch in the rucksack. However, when the river is carrying extra water and is heavily coloured, an over-flavoured paste can help to bring even more pulling power to the hookbait. If I have the time, I'll sometimes make up a one egg mix of fresh paste from the basemix kits (usually CompleX-T), using a couple of extra mls of flavour, or a small dollop of the hookbait dip, for use just as hookbaits or hookbait wraps.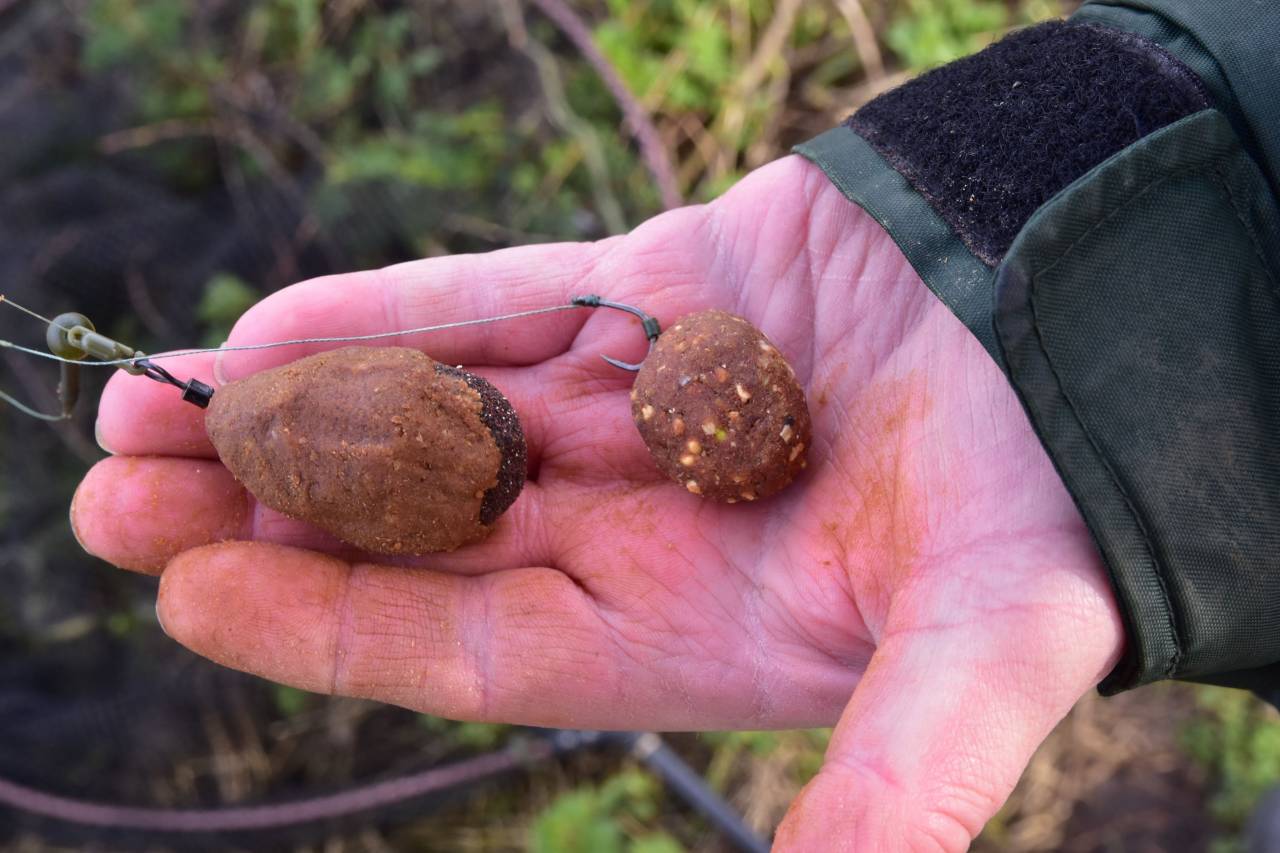 Groundbait can also be very useful as another effective way of drawing the fish towards the hookbait, but it breaks down a lot quicker than paste. I like to get as much attraction as possible into the groundbait, so I prefer to mix up some groundbait from the Dynamite "Big Fish" range with the matching liquid the evening before. This allows the liquid to soak in properly before the session and gives you a chance to tweak the mix to get it just right… and is easier than messing about on the riverbank.
I take just the quantity of made up groundbait that I need in either a bait tub, or strong plastic bag to keep fresh. Then I fish the groundbait in small mesh feeders, or in shallow swims might simply squeeze the groundbait around the lead, just as I would with the paste.
Small PVA bags of pellets or crushed boilies are also great for nicking on the hook when roving.
Dawn and Dusk
At this time of year, the daylight hours are noticeably starting to draw out and being at the river for a full day can be both time consuming and tiring. If it's practical, especially when fishing local, it may be a better bet (and more family friendly) to split a long full-day session into two separate short sessions concentrating around the periods of dawn and dusk.
Those first two hours of the day from first light and the hour leading up to dark followed by the first hour of darkness are the prime times for the fish to be on the feed. Therefore, it makes sense, especially if fishing time is limited, to be concentrating your efforts during these periods. Fixing an isotope attachment to the tip of the ledger rods and quivertips is essential for bite detection once the light has faded, but it's a relatively simple process and I have this type of attachment as almost permanent fixtures on nearly all the tips on my ledger rods I use for river fishing.
Just Do It!
Dragging yourself to the riverbank on a wet and windy day in late February or early March may not seem like much fun at times, but it is a period when the fish tend to group together and the fishing can be very good if you can find them.
Once the Close Season on the rivers has arrived, it seems like an eternity before the rivers are open again, so it also makes sense to make the effort and have a go at some point in the last few weeks before the long shut-down. It might just lead to that memorable catch… or even a fish of a lifetime!