10 March, 2020 | Match & Coarse | Tips | Articles
1 Comments
Rob Wootton: Your Feeder Fishing Questions Answered
We recently offered our Facebook fans the chance to grill England Feeder Team match ace, Rob Wootton with their feeder fishing questions. Rob was inundated with queries ranging from 'how long should I keep the feeder out for' to 'what groundbait mix should I use when targeting bream'. Here's the anglers questions Rob picked to answer…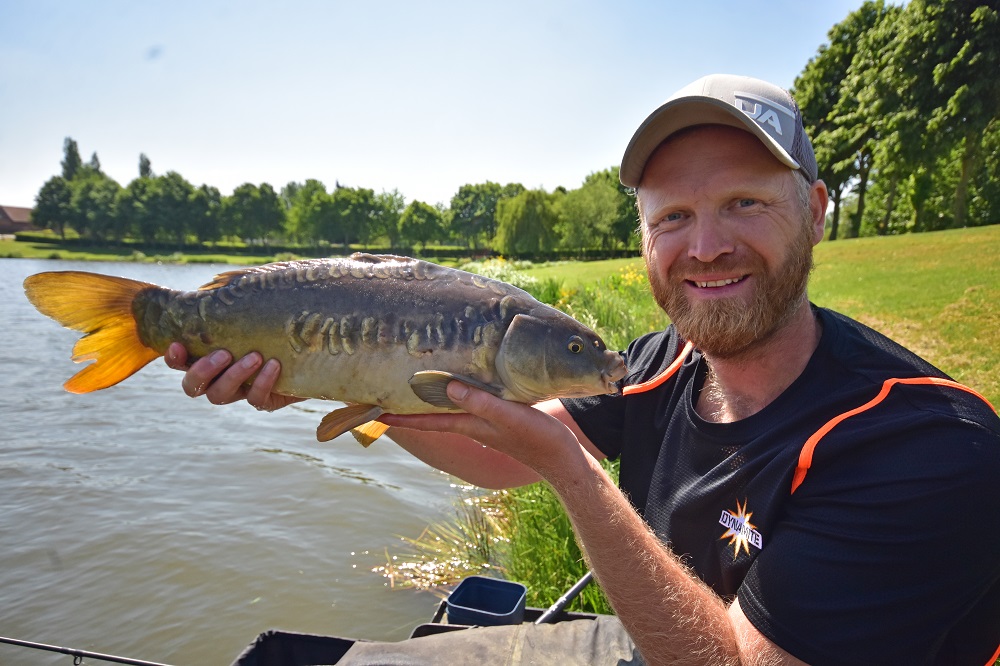 Q: Pete Morley – W

hen distance feeder fishing what's the optimum drop between the rod tip and the feeder before you cast out
Rob Wootton said:
"A
good guide is to have a drop of about half of the rod length that you are using when fishing up to about 60m. If you're giving it the big heave ho' then a slightly shorter drop is needed. This is because your back swing is longer and you risk hooking up behind you if you have too much line between the rod and the feeder when casting."
Q: Stephanie Marie Ellis –

If your swim starts fizzing while feeder fishing what would be your options; would you start a new line or reduce the amount of feed you put in for a few casts?
Rob Wootton said:
"
If it's fizzing like mad then I'd start a new line but not too far away from the original spot. There's obviously fish in the Swim but the bottom has been kicked up too much so a move of a couple of metres left or right could be the answer to start getting clean takes."
Q: Gary Marjoram –

What non-fishmeal groundbait would you opt for when fishing for skimmers?
Q: Robert Jordan –

How long should my hooklength be when river fishing for barbel?
Rob Wootton said:
"
I've always found that a longer hooklength is better for barbel on any river and in the past I've used up to 5ft but I guess a good starting point is around three feet. You can shorten it if you're getting lots of small rattles and indications that fish are close to the feeder. Keep changing it until you are getting proper bites"
Q: Freddie Holding – Do you always put particles in your feeder when fishing for skimmers and roach, if so how much should I add?
Rob Wootton said: "This is really interesting as it depends on the venue and particular situation. First of all I like to use a groundbait that will help hold fish in the swim without using loads of loose feed.
My mix usually revolves around Frenzied Hempseed Match Black and Dynamite Brown Crumb mixed 50:50 if I'm targeting solely roach. If there are loads of fish present and it's case of targeting the bigger roach then I'd mix the groundbait on the damp side so that it becomes quite inactive, almost like a play dough. This 'dead' mix goes to the bottom and without loads of particles drifting about the swim the small fish soon lose interest.
Tailoring the amount of grub I put through the feeder is done as the day progresses, I never add all my loosefeed at the start as I want to try different things throughout the day. For instance if I was catching small roach and wanted to increase the stamp I might include a bit of chopped worm for a few casts and see how the fish react.
Likewise if I wanted to just get a few fish in the swim then I could start to add some maggots and cast more frequently. I do these adjustments as the day goes on by using a small 'working tub' on my sidetray with a small amount of my mix in and I then keep the bulk of my groundbait in a bucket behind me. Doing things this way means I can be far more proactive with how I fish and feed the swim."
Got a question for Rob? Why not comment below with your query…