17 October, 2019 | Match & Coarse | News
13 Comments
Pairs set for 2019 Canal Final battle
With all the qualifiers completed, and some big names in the hat, the 2019 Dynamite backed, Canal Pairs Final is set to be another epic. We look at who lines up for the event.
There's also a chance to win a bundle of canal baits. Scroll down to check out our competition…
56 pairs will line up on the Shropshire Union Canal at Norbury Junction and Little Onn aiming to win the Dynamite Baits canal pairs crown for 2019. Four previous winning pairs including Simon Nickless and Steve Dudley, Dave Edgerley and Kevin Clarke, David Gough and Paul Middleton plus Division two national winning team members, Simon Preece and Simon Mottram line up this year in what will be a battle of epic proportions.
Last year David Gough and Paul Middleton claim and unexpected victory on the Trent & Mersey Canal at Rugeley despite being relatively new to canal match fishing. This year, given the quality of the finalists, the odds will be on another new pair lifting the crown. After, by their own high standards, a disappointing result in the recent national championships, could the Turner Brothers return to winning ways.
Who would bet against the likes of Graham Smith and Lee Newson, Jason Cunningham and Ben Sharratt, Andy Curless and Andy Donnelly or Darren Massey and James South? Or could it be complete outsiders such as Kye Jerrom and Liam Darler who storm to victory. A list of all the finalists is below. Who will you choose? You can watch events unfold on Canal & River Trust Angling Facebook live on Saturday 19 October from 8.00 am.
Here's the full list of the 2019 finalists:
1 James Drakulic & David Tebbutt
2 Simon Preece & Simon Mottram
3 Barry Smith & Ian Orbell
4 Paul Murrin & Dave McCall
5 Dave Holbrook & John Garbett
6 Thomas Fairhurst & Dave Walmsley
7 Lewis Kenyon & Lewis Breeze
8 Jan Verbruggen & Shaun Birchall
9 Jason Evans & Mark Roberson
10 Richard Guest & David Lloyd
11 Barry Jones & Mel Wood
12 Thomas Sexton & Peter Kay
13 Simon Nickless & Stephen Dudley
14 Jon Tocknell & Gary Townsend
15 Shaun Bryan & Mark Gaylard
16 Charlie Vallender & Andy Pollard
17 Andy Jane & Andy Richings
18 Darren Massey & James South
19 Ben Sharratt & Jason Cunningham
20 Alan Donnelly & Andy Curless
21 Bryan Hawkes & John Freeborn
22 Ian Freeborn & Ramunas Subacius
23 Bernie Leatherbarrow & Phil Johnson
24 Richie Reynolds & Paul Bick
25 Darren Hall & Pat Daley
26 Steve Brookes & David Mawby
27 Daniel Abbott & Peter McFayden
28 Steve Crawley & Sau Phung
29 Peter Laughton & Andrew Webster
30 James Lewis & David Lewis
31 Michael Davies & Paul Robinson
32 Dave Jones & Mick Heath
33 Graham Saynor & Wayne Kearney
34 Dave Edgerley & Kev Clarke
35 Adam Slade & Lee Woodhouse
36 Rob Casterton & Malc Appleby
37 Scott Geens & Ed Warren
38 Kye Jerrom & Liam Darler
39 Dean Meadows & Dean Turner
40 Paul Turner & Neil Turner
41 John Waples & Kane Woodfield
42 Karl Johansen & Steff Johansen
43 Asa Cooper & Pete Allwood
44 David Trafford & Stuart Bird
45 Martin Mansfield & Paul Greensmith
46 David Gough & Paul Middleton
47 Lee Newson & Graham Smith
48 Bob Parish & Peter Burrell
49 Alan Crook & Dave Bradley
50 Martin Kettle & Jimmy Byrne
51 Ben Dukes & Robert Randall
52 Paul Waddington & Rob Skellet
53 Ian Spanswick & James Carty
54 John Brogden & Chris Gorrell
55 Carl Whalley & Liam Killinger
56 Ian Fewtrell & Rob Porter
COMPETITION *NOW CLOSED*
Win this bundle of top canal baits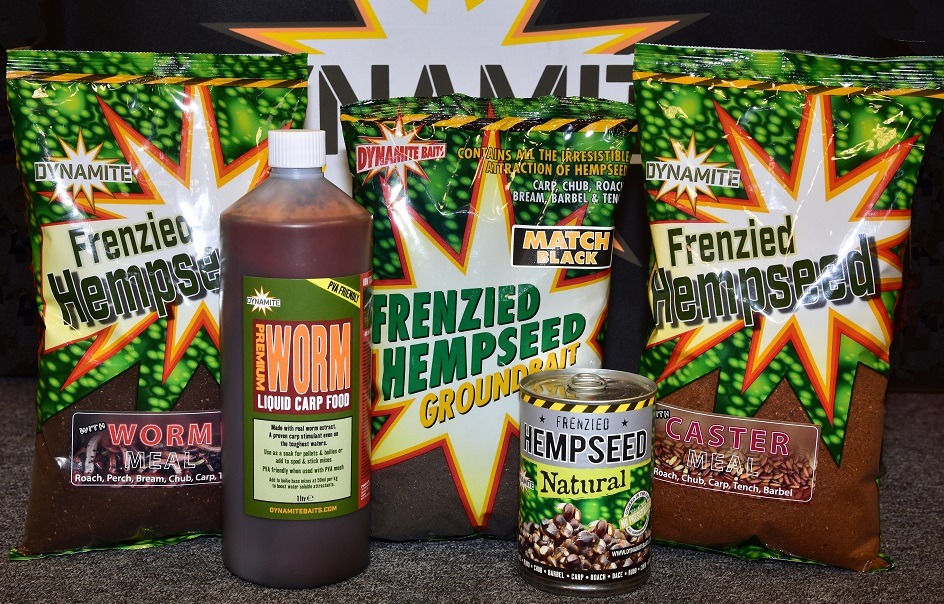 To win the bait in the photo, simply comment below with who you think will win this year's 2019 Canal Pairs Final using the entrant list above. We will select one winner from all those who guess correctly. Good luck
Rules
Only one entry per person
Entrants must agree to provide Dynamite their personal details for the purpose of the competition and delivering the prize only
Dynamite have the right to alter the prize or change the rules at any given time
Competition closes at 11am on Saturday 19th October 2019