31 August, 2021 | Match & Coarse | Competitions | News
3 Comments
Matty Higgins Wins Dynamite's In The Mix Match!
Full results from 2021's £10,000 event including video…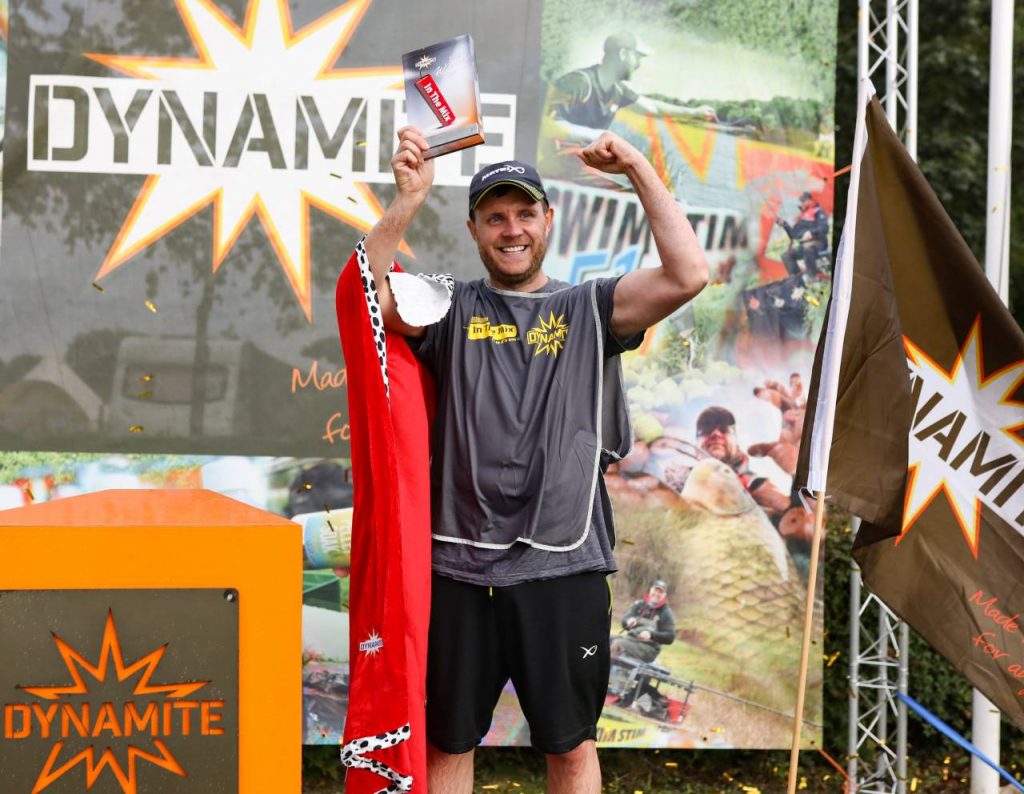 Liverpool lad Matty Higgins secured his first major match fishing title on Wednesday and pocketed a cool £10,000 paycheque when he stormed to victory in the In The Mix big-money match at Maver-Dynamite Hayfield Lakes.
With 89 anglers booked on to fish both lakes at the South Yorkshire venue, including lots of big names such as Jamie Hughes, Lee Kerry and Alan Scotthorne, all eyes were on them at the draw but the beauty of an In The Mix match is that you don't need to be a super star to be in with a chance…
In the end it was Matty who proved this notion true when he weighed-in an impressive 173lb 3oz of shallow-caught carp from peg 36 on Adams Lake to take the top spot and claim his first major match win.
A TOUGH EVENT FOR SOME
As the all-in was sounded, it was clear that the winner would likely come from Adams as anglers took advantage of the mild weather and carp that were frequently swirling on the surface. Dale Shepherd on Peg 7 cashed-in quickly with a 15lb mirror on the first put-in, followed by a number of smaller carp which were being matched by Artur Hilmi in the next peg on 6. It wasn't long though before carp were being netted from all corners of the lake with Matty, Jamie Hughes, Craig Edmunds, Steven Roe and Rob Harbour all looking to be pulling ahead.
It was a completely different story for the anglers over on the Island Lake however, with just the odd carp showing here or there to anglers fishing the feeder or pellet wag tight up to the island. Other than Daniel Bennet on Island 71, who ended up winning the entire lake with 81lb 3oz, anglers just weren't catching enough fish to keep up with the pace set by a number of anglers over on Adams.
RESOUNDING WIN FOR MATTY
During the final two hours, a late flurry from Dale Shepherd looked like it could put him in contention but after owning up to having a bit of a lull-period half way through the match, eyes soon turned to Stephen Roe just three pegs down, Craig Edmunds on peg 66 and Matty down the split who were bagging comfortably.
Matty was enjoying a near perfect match however with hardly any fish lost and he never had to wait more than 15 minutes for a bite. His solid performance was backed up at the final whistle with four well-guesstimated nets totalling 173lb 3oz which was nearly 50lb heavier than Craig Edmunds' 124lb 15oz in second place. Third place turned out to be a much closer affair with Steven Roe pipping Dale Shepherd to the spot by just once ounce! He finished with 92lb 6oz on peg 10 and banked most of his carp on the pellet wag.
In 2019's contest, Craig Edmunds finished in third place. Now he's finished in second place! Could he go on and win in next year…?
The emphatic win proved to be Matty's first major win of his match fishing career but with a spot secured in the Maver Match This Final on September 4, can he do the double and pocket the £60,000 grand prize? Head on over to Hayfield Lakes this Saturday to find out!
THE FULL RESULT
First: Matty Higgins – 173lb 3oz, Peg 36 Adams Lake
Second: Craig Edmunds – 124lb 15oz, Peg 66 Adams Lake
Third: Steven Roe – 92lb 6oz, Peg 10 Adams Lake
SECTION WINNERS
1: Island 81 to 15 – Ryan Sheridan – 53lb 10oz, Peg 81 Island Lake
2: Island 17 to 26 – Dave Scott – 60lb 5oz, Peg 21 Island Lake
3: Island 27 to 45 – Ben Townsend – 56lb 13oz, Peg 36 Island Lake
4: Island 46 to 57 – Ryan Lacock – 34lb 9oz, Peg 48 Island Lake
5: Island 58 to 71 – Daniel Bennet – 81lb 3oz, Peg 71 Island Lake
6: Adams 6 to 19 – Dale Shepherd – 92lb 5oz, Peg 7 Adams Lake
7: Adams 22 to 35 – Shaun Woodward – 65lb 1oz, Peg 25 Adams Lake
8: Adams 36 to 53 – Rob Harbour – 89lb 2oz, Peg 51 Adams Lake
9: Adams 54 to 81 – Steve Clegg – 49lb 4oz, Peg 79 Adams Lake
https://youtu.be/MMq6YbsHL7M