25 June, 2018 | Match & Coarse | Articles
2 Comments
Specimen fishing ace Tony Gibson looks back on a successful campaign from the 2017/18 river fishing season targeting chub and pike…
It was a period which produced some stunning fish for Tony from monster chub to giant pike….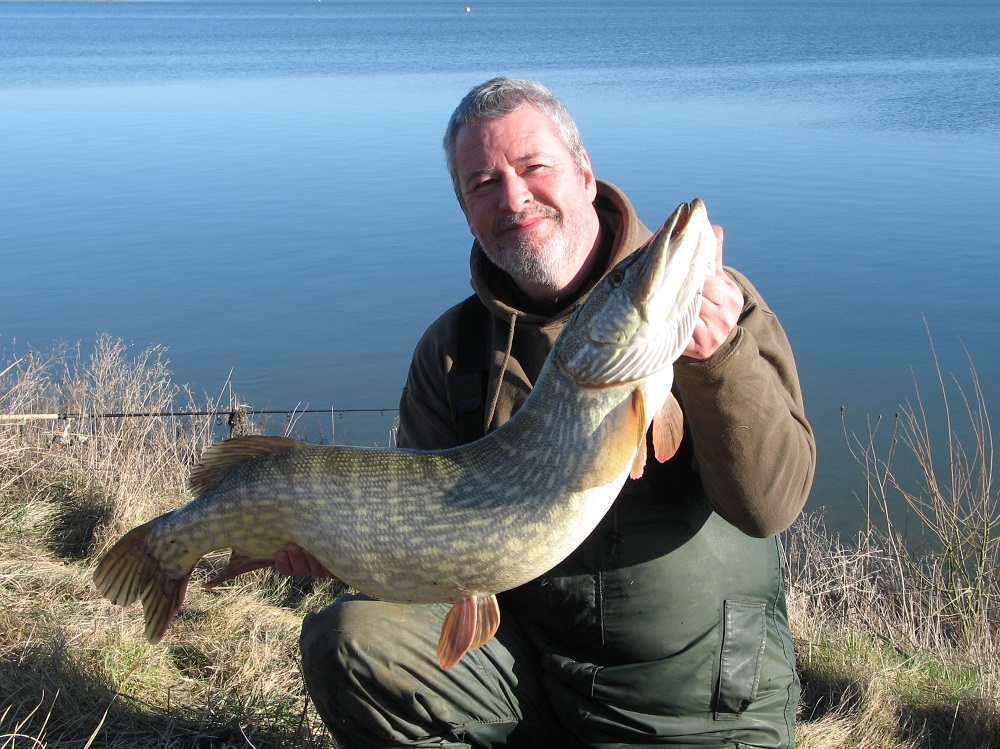 Tony continues….
In my own mind at least, winter had arrived once PAG duties had me attending the first of the winter carp shows at Sandown around the middle of November, which also seemed to coincide with a degradation of the weather and the first prolonged spells of heavy rain. This in turn saw the rivers start to come well up, making conditions difficult for consistent results with the chub campaign. I stoically carried on for a couple of weeks under deteriorating conditions and managed one decent chub of 6lb 10oz and a couple of smaller fish, but eventually, once we were well into December, with no sign that the rivers would be back to good chub catching condition any time soon, it was time to consider other options. With the long-range forecasts indicating plenty more rain to come, Plan B, which was to swap over to pike fishing on some large stillwaters, was put into operation.
The switch to the pike fishing brought with it its own set of challenges to overcome, not least of which was location, especially as the main water which was to receive the bulk of my attention over the colder months was close to 1,000 acres in size! I'd got very little prior knowledge to base my initial choices on, so time was spent in the evenings studying maps and photos of the water, trying to work out what features visible above water might indicate areas below the waterline that might be of interest. Then a couple of afternoons were spent roaming around with a marker rod setup, trying to add extra detail to the ideas that I had in my mind of the depths and features in some of the most promising looking areas. With such a huge expanse of water, there was an awful lot of bank to explore, but there was a fair amount of out-of-bounds areas and with a varying water level, some areas were practically un-fishable due to the state of the bank or an unsuitable water depth at practical casting range. I was soon to discover that the wind strength and direction was also a factor that needed to be considered, as a big wind whipping across such a large open expanse of water could make fishing into it very difficult and uncomfortable. Most especially during December, when a strong wind would send large quantities of ripped up dead and dying weed drifting along the 'current' to catch along the mainline, eventually creating enough force to pull the line out of the indicator clip, constantly causing false runs.
Once I'd started the pike fishing in earnest, I was soon to learn that on the big water they'd been a couple of big fish out back in November, but the fishing had since got harder. I tried to cram in plenty of sessions in as many different areas as possible to help get a feel for the main venue and to work out if there were any particular 'hot spots', or areas where the bigger fish were to be found. However, despite a fair amount of effort I could catch quite a few jacks and the odd low double, but I was struggling to find any big pike and I couldn't seem to work out any particular pattern to the catches. My results, although a little disappointing, seemed no worse that most of the other pike anglers who were also targeting the venue, so I resolved to keep fishing the place as often as I could and hope that things eventually clicked into place. Livebaits may have made a difference to the results, but they were strictly banned, so I continued to fish my deadbaits at different points around the place, always hoping that the next time the line was pinged from the clip on the drop-off a monster pike would be responsible, but the lack of big pike continued well into the New Year.
It wasn't until the end of January that I came to grips with my first big pike from the venue. I wasn't doing anything particularly different from what I'd done plenty of times before, when suddenly a run on a 'bluey' with it's head cut off and cast out around 40 yards produced a solid fish weighing in at 22lb exactly.
I was obviously hoping that I'd found an area containing a few big fish, but the venue continued to provide more questions and answers and the next big pike, taken a few days later came from a completely different area. This time a smelt deadbait produced the goods, with a chunky pike spinning the scales round to 23lb 4ozs.
Later in the day I was getting excited about the prospect of landing another big pike, when the recast rod was 'away' again an hour or so later. The fish I started playing didn't appear to be putting up much of a fight as such, but felt pretty heavy as I slowly guided the fish towards me. I was starting to imagine that I was attached to a very decent pike that hadn't yet realized it was hooked, as there was some very solid feeling resistance out there, as the fish either kited slightly to the right or to the left, but otherwise did very little as I carefully coaxed it towards the waiting landing net. Just as it got within a few yards of the bank I eventually got a look at my potential 'prize', as was rather shocked to see, not the big pike I was expecting, put a modest "double", with its mouth wedged wide open due to a rock stuck between its top and bottom jaw! The resistance that I'd experienced as I was playing the fish towards me, was down to the fact that the wide-open mouth was acting like a drogue as I tried to pull it through the water and made the fish feel loads heavier than it really was. Once I'd got the fish landed and on the bank, I discovered that it was hooked normally in the scissors and easy to unhook, but getting the rock free was actually quite difficult, as it was firmly wedged, with one end jammed between the teeth in the top jaw and the other end in the teeth in the lower jaw. Eventually I managed to carefully extract the offending item and release the pike; hopefully none the worse for its odd experience. I can only assume that it had somehow picked the rock up at the same time as it had picked up the deadbait and couldn't then get rid of it as I wound it in. Bizarre!
Thankfully that wasn't quite the end of the big pike action, and about a week or so after catching the 23.04 I again found myself attached to a good fish that had picked up a sardine. This was towards the end of the day and towards the end of the piking season on this particular venue, but thankfully it had saved the best 'til last and the very chunky specimen weighed in at 26lb 14oz. Holding her for a few quick self-takes in the rapidly fading light made quite a fitting finale to my winter piking.
With a couple of weeks left of the standard season left before the close on the rivers I tried to fit in a couple of evening chub sessions on the Ouse, but still the conditions were not ideal, and I only managed a couple of average fish around the 4lb+ bracket using a range of Dynamite boilies including the Source and Crave. A trip to the River Nene targeting the barbel produced a nice 9lb 15oz fish which rounded the season off quite nicely, but I think that I was already looking forward to the spring and some fishing for bream, tench and carp on the stillwaters, which I'll write about in my next piece…