9 November, 2020 | Match & Coarse | Tips | Articles
1 Comments
Jon Arthur's Winter Match Fishing Tips
Following his victory in the 2020 Daiwa Pole Masters at Tunnel Barn Farm, Jon Arthur reveals the tips which helped him claim top spot in the event.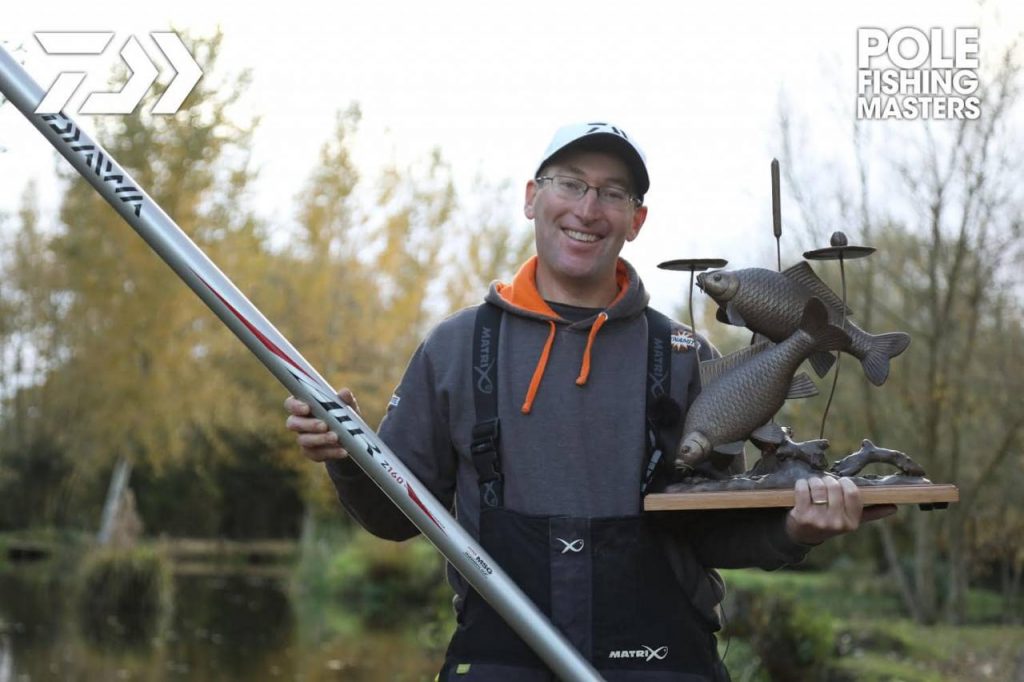 Key Baits
There are four key baits I have on my side tray at this time of year: pellets, groundbait, maggots and bread. I never know which will be best on any given day, so having the option to swap and change is vital. I have lost count of the days I've assumed I would catch best on maggots but pellets have been better, or vice versa.
Usually if there is some colour in the water and it's a mild day then pellets are really good. I also prefer pellets whenever tiny fish are a problem or if new fish have been stocked. I generally like to start on pellets, so bites should be from carp, F1s or skimmers. If you start on maggots you are as likely to catch a little roach, perch or gudgeon, as they are less selective.
Pellet Prep
I have been feeding hard banded 4mm and 6mm pellets most of the year, but now it's softened 2mm micro pellets that are my number one feed. Whether it's fishery pellets or my favourite 2mm Swim Stim it's vital that they are properly soaked.
On a really cold morning they won't always be softened properly if you do them on the bank. If you prepare them the night before you can be sure they are fully soaked and spongey. Simply place some in a tub, just cover them with water and then pop them in a fridge with the lid on. I then occasionally give the tub a shake to ensure they are evenly soaked. They'll then be perfect by the morning. Prepared this way you can even hook them on rock-hard days.
Cool Water Soak
I've always experimented with baits and additives and one I've had particular success with this season is Swim Stim Pellet Soak F1 Sweet, the Cool Water version. Importantly, I never overdo my flavours or additives as you can easily have too much of a good thing. Just one or two capfuls added to the water you soak your feed pellets and expanders is ample.
Treat it like a palatant rather than completely overpowering the bait. I liken it to adding a bit of seasoning when cooking. Yes, food is perfectly edible on its own, but even tastier with a bit of salt and pepper – but never overdo it!
Depth Dilemma
You could have the best bait in the world but that means nothing if you don't feed it in the right area of the peg. Near and far bank features are important, but I believe depths are even more crucial at this tricky time of year.
I have marks on my top kits every six inches and the two key depths to find on many venues I fish are 3ft and 5ft. Some days it is obvious that the fish are happiest at one of these levels. Having specific rigs for specific depths can make a big difference.
Carp & F1 Groundbait
I love a dark mix of Dynamite Milled Expander as it's lovely and fine and really attractive to carp and F1s. I use various quantities of natural brown, green and black to get the exact shade I want. Some lakes have a noticeable green tinge so I quite like a dark green mix for these. The most important thing for me is the addition of some black Milled Expander to darken it, which is something I do on all clear venues.
I like to overwet the mix then allow it to stand and soak up all the moisture. I then push it through a maggot-mesh riddle before adding a bit more water so the final mix is nice and damp.
A small tub of water on my side tray allows me to wet my fingers and run it through the mix to get just the right consistency. If in doubt, always err on the damp side so it is fully saturated and sinks well. If it's too dry it can sometimes hang in the water column too much, which can drift away or lead to foul-hookers.
Commercial Silverfish Groundbait
On venues where I am after both F1s and silverfish, such as quality roach, perch and skimmers, I use a 50/50 mix of Dynamite Milled Expander and SwimStim Silver Fish. This is a sweet fishmeal mix that has worked really well for me ever since it was released. It's quite a fine but fibrous consistency that takes on lots of water and works well when fed loose or in squeezed balls. Again, I prefer to use a dark brown or dark green mix.
Little nuggets popped in a small or medium Toss Pot work brilliantly. I like to add a pinch of dead maggots and/or pinkies to each ball and fish one or two on the hook. This mix also works really well with finely minced worms, feeding little stodgy 'depth charges' for quality silvers!