9 septiembre, 2021 | Carpa | Novedades
0 Comentarios
Traducción nativa francesa no disponible para esta publicación, ¿le gustaría que lo traduzca la máquina?
Around the World in 80 Seconds – August
A short review of carp fishing catches from anglers using our baits across the globe…
Here's some of the best Dynamite catches recorded across the globe during the month of August:
CROATIA
Despite ridiculously hot weather, Kristof Cuderman and his good friend Srecko Karadzic enjoyed a superb 10 day fishing session at Lake Šumbar in Croatia. Some days the temperature reached 38 degrees and the water temperature nudged 31 degrees on the surface! For most lakes, these conditions mean really bad fishing but as Šumbar is spring fed, fresh water and oxygen pour into the lake and inspire the carp to feed.
By the end of the trip, the duo landed 13 fish over 20kg between them with Kristof's largest fish weighing 31.6kg and Srecko's, 25.5kg. All fish fell to Sweet Tiger & Corn and Squid & Octopus snowman rigs, but by far the best combination was a 20mm Sweet Tiger & Corn Hard Hookbait topped with a matching 15mm pop-up…
To keep up to tabs with catches from Croatia, make sure you follow our Dynamite Baits Adriatic page, here.
CZECH REPUBLIC
Czech team member Radek Bis swapped stillwaters for running water in August and enjoyed a memorable trip to a stretch of his local River Labe. Using 20mm boilies from our Monster Tiger Nut Red-Amo range, he managed to tempt this fin-perfect 15.5kg common carp.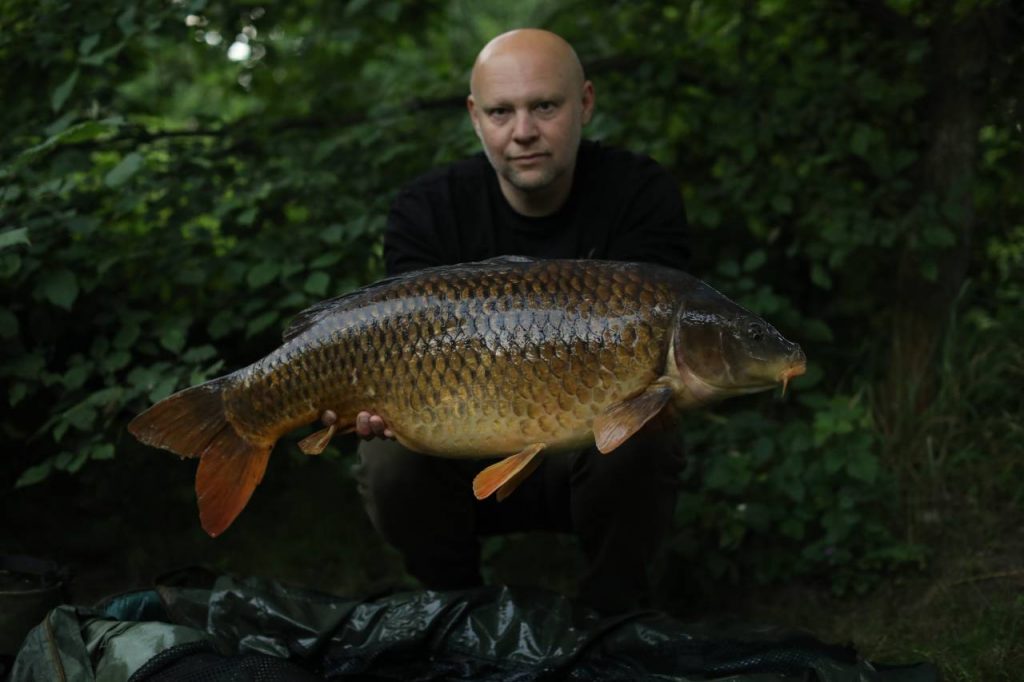 To keep up to tabs with catches from Czech Republic, make sure you follow our Dynamite Baits Czech page, here.
GERMANY
Continuing the theme of catching big carp on 20mm boilies was Mathis Korn. He continued his impressive run of form with our Crave hookbaits to tempt these two beauties from a weedy spot on a local gravel pit.
16-year-old Janina Mildenberger made use of our Spicy Shrimp & Prawn range to catch this plump ghostie.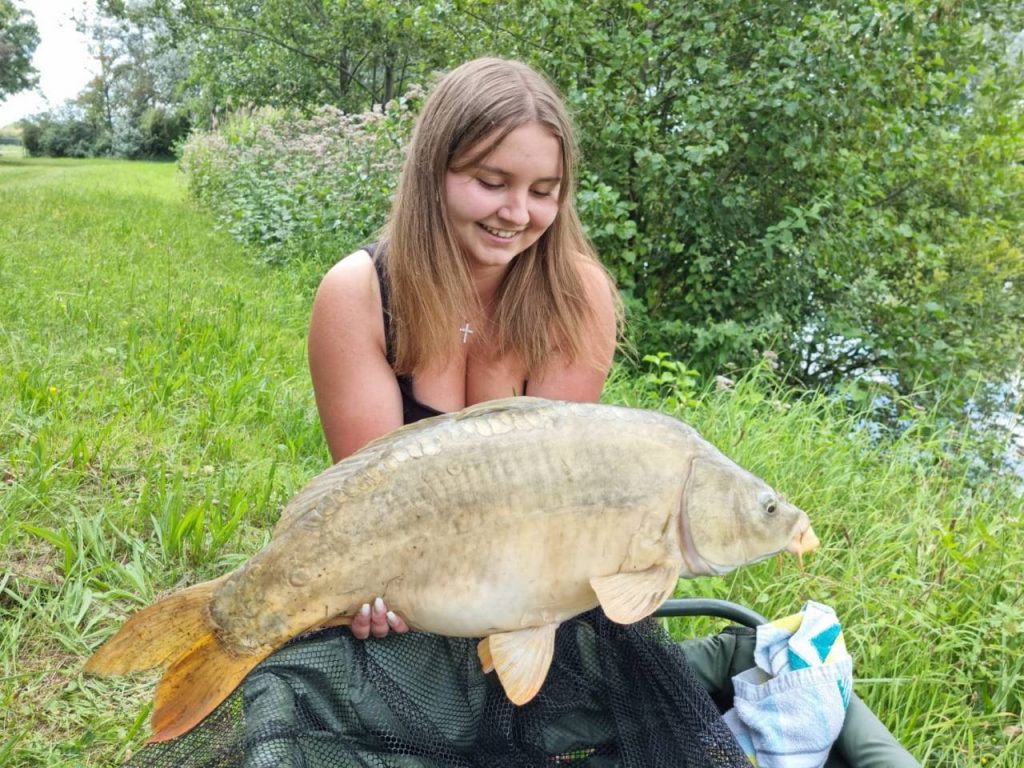 To keep up to tabs with catches from Germany, Austria or Switzerland, make sure you follow our Dynamite Baits DACH page, here.
SPAIN
Check out the colours on this mirror carp for Frank Granados! The Spaniard fished a CompleX-T pop-up over a bed of Frenzied Hempseed to tempt this beauty.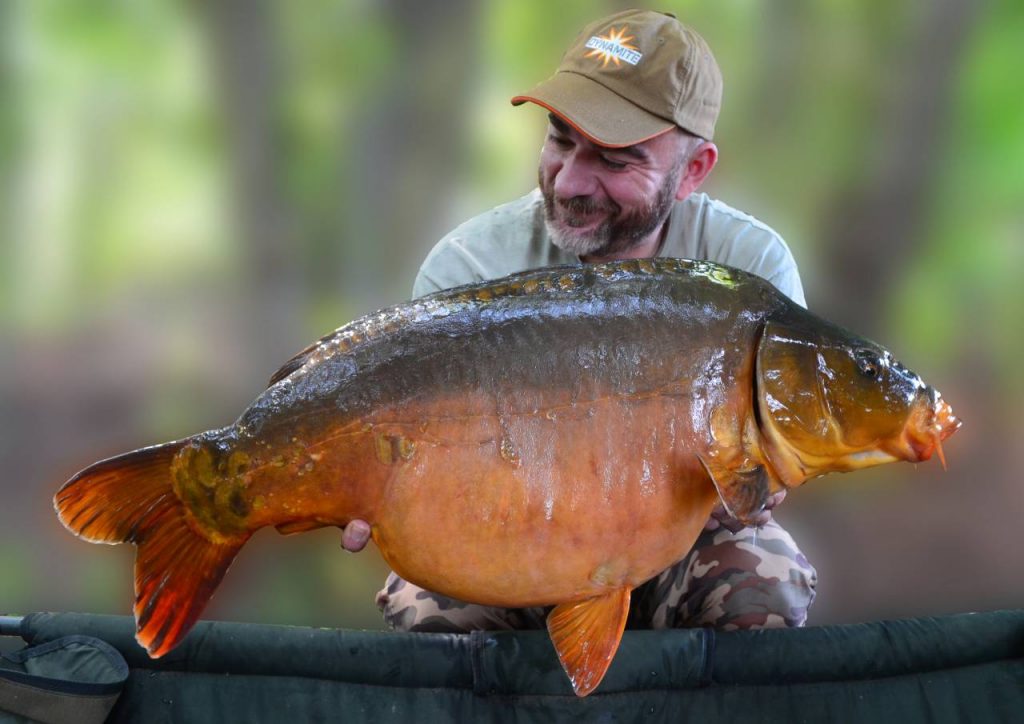 Carlos Mateo has also showed no signs of slowing down with a number of impressive carp catches recorded in August. Using boilies from our Monster Tiger Nut and Red-Amo range ensured bites came thick and fast!
PORTUGAL
Rui Branco managed to up his carp PB to 37lb 7oz with the capture of this fine mirror. It took a Fluro Banana & Pineapple Wafter fished over a bed of 6mm Red-Amo pellets from Estrela Lake.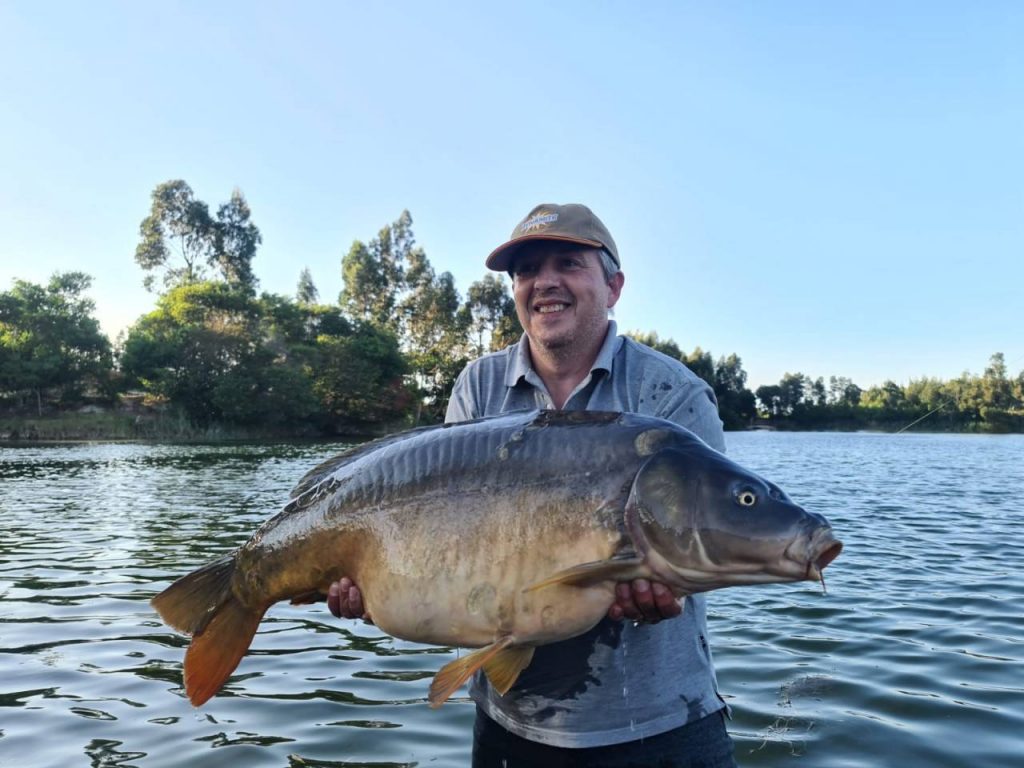 Jose Belbuche also used a hookbait from our new Fluro range to bank this stunning 16.150kg mirror carp. A single Mulberry Florentine pop-up fished on a chod rig was all that was required to get the bite!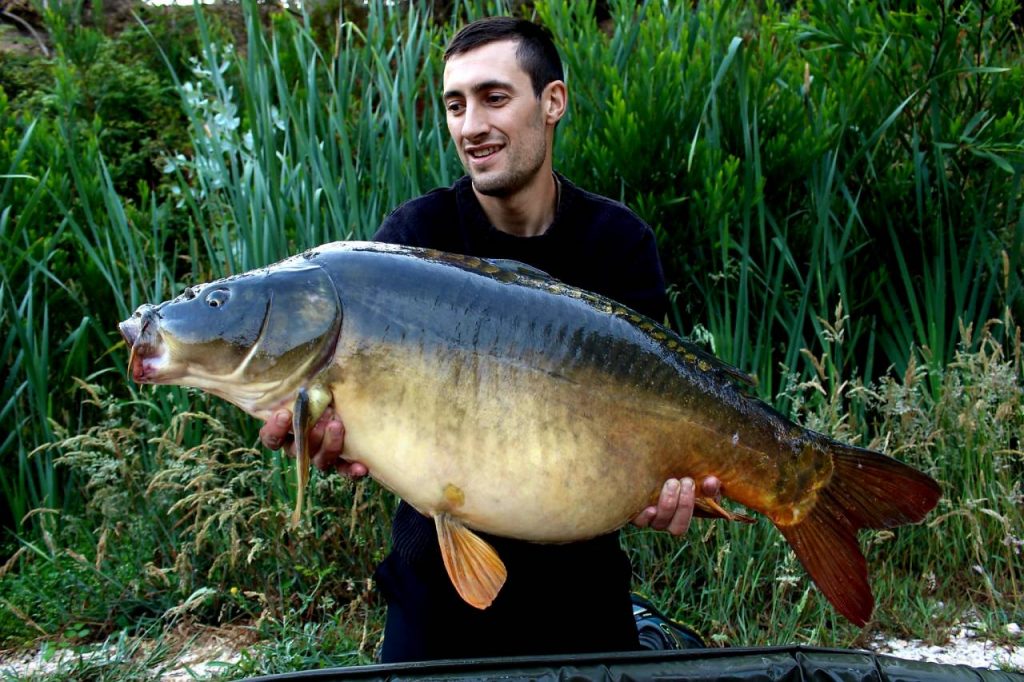 To keep up to tabs with catches from Spain and Portugal, make sure you follow our Dynamite Baits Spain page, here.
FRANCE
Ludovic Gourlin couldn't believe his luck when he landed this beautiful, wild river common twice in two weeks! She has a soft spot for Source boilies as she took a 20mm offering on both occasions!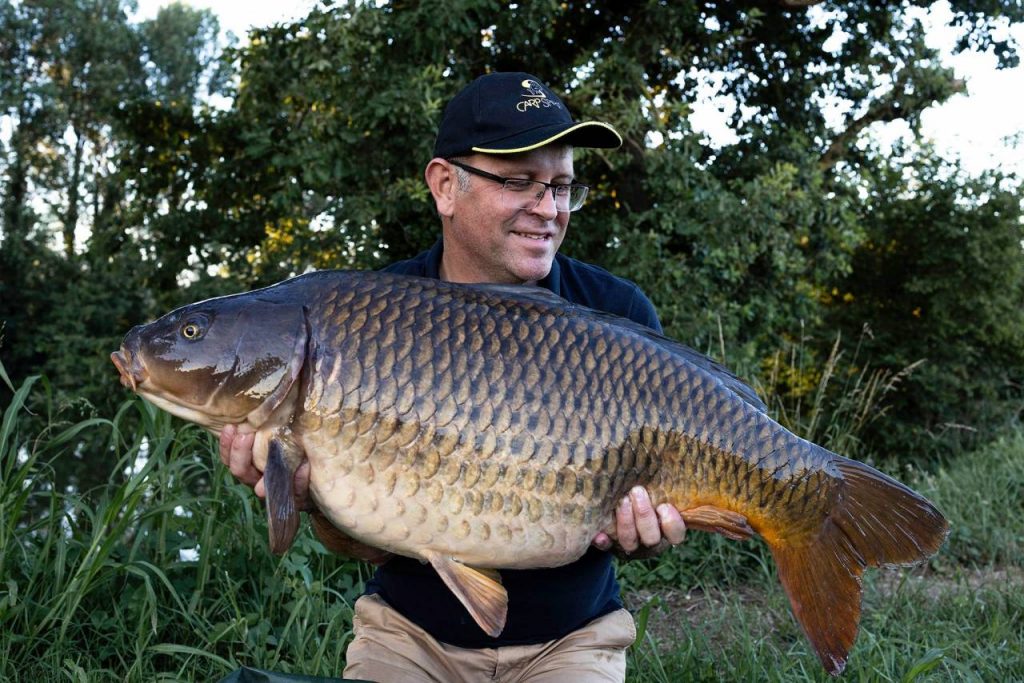 Targeting a deep channel between two bays helped Benjamin Lautrey capture this large-mouthed mirror. He first primed his swim with Hot Fish & GLM boilies before casting out a snowman rig incorporating a 15mm Hard CompleX-T Hookbait with a 12mm Crave pop-up on top…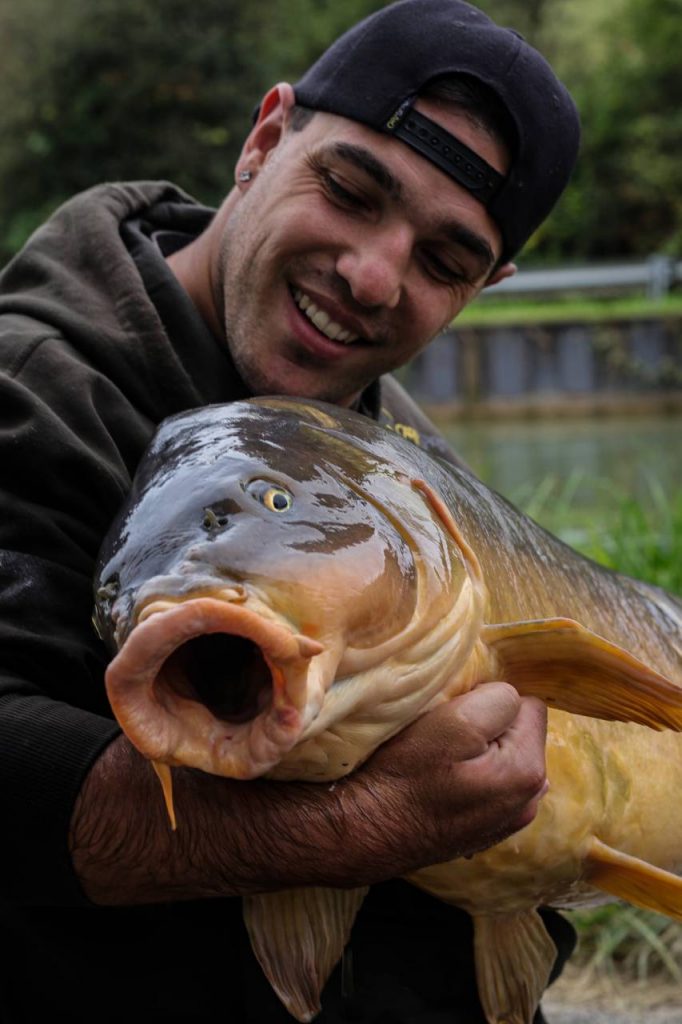 Dutch team members Lizette Beunders and Bianca Venema spent a lot of time visiting French fishing lakes in August. These were just a couple of stunning carp they caught from Etang des Gaulois and Lac Du Grand Tarnaud.
To keep up to tabs with catches from France, make sure you follow our Dynamite Baits France page, here.
UNITED KINGDOM
Phil Kingsbury had wanted to catch 'Iggy' from Longfield's Fox Pool for years so you can imagine his elation when he finally slipped his net under her at a spawned-out weight of 28lb 12oz during a recent 48-hour session. Taken on a double CompleX-T wafter hookbait over a bed of crushed 15mm CompleX-T boilies fished over a firm yet silty spot…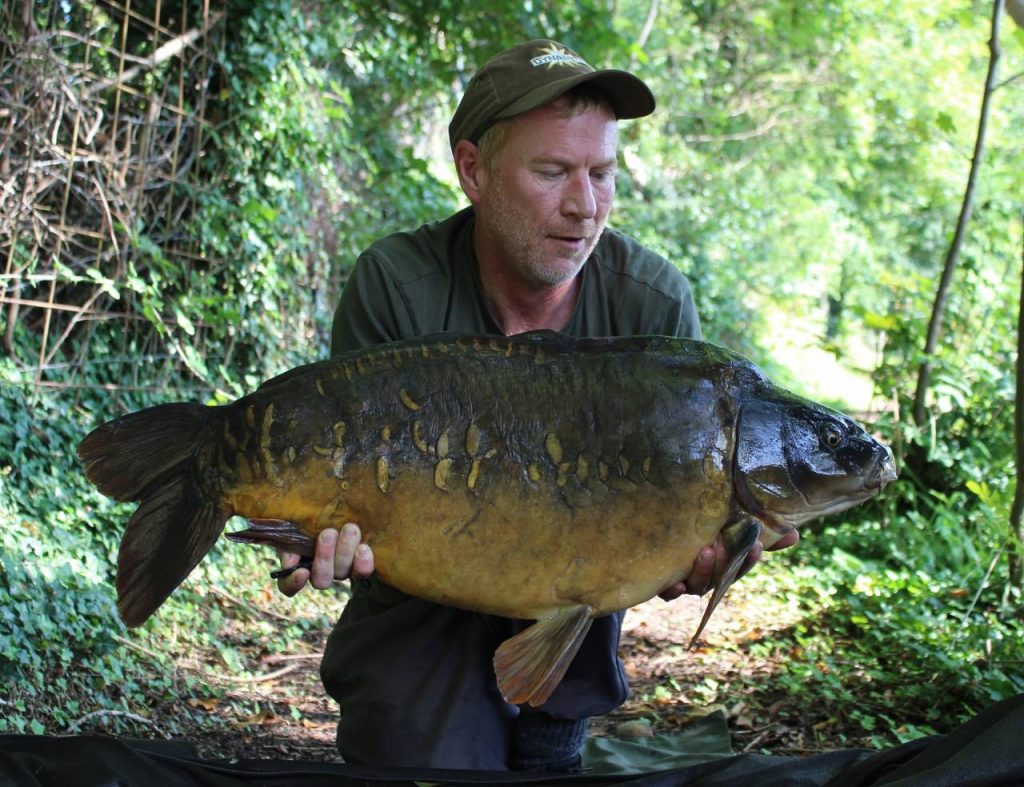 This 39lb 2oz mirror was the larger half of an incredible brace banked by John Stembridge during the Carp Couture social at Waterside Fishing. She proved to be the second largest fish in the lake and took a 12mm Pink Hit Run pop-up fished over a handful of 12mm and 15mm CompleX-T boilies. An incredible fish from a very difficult venue!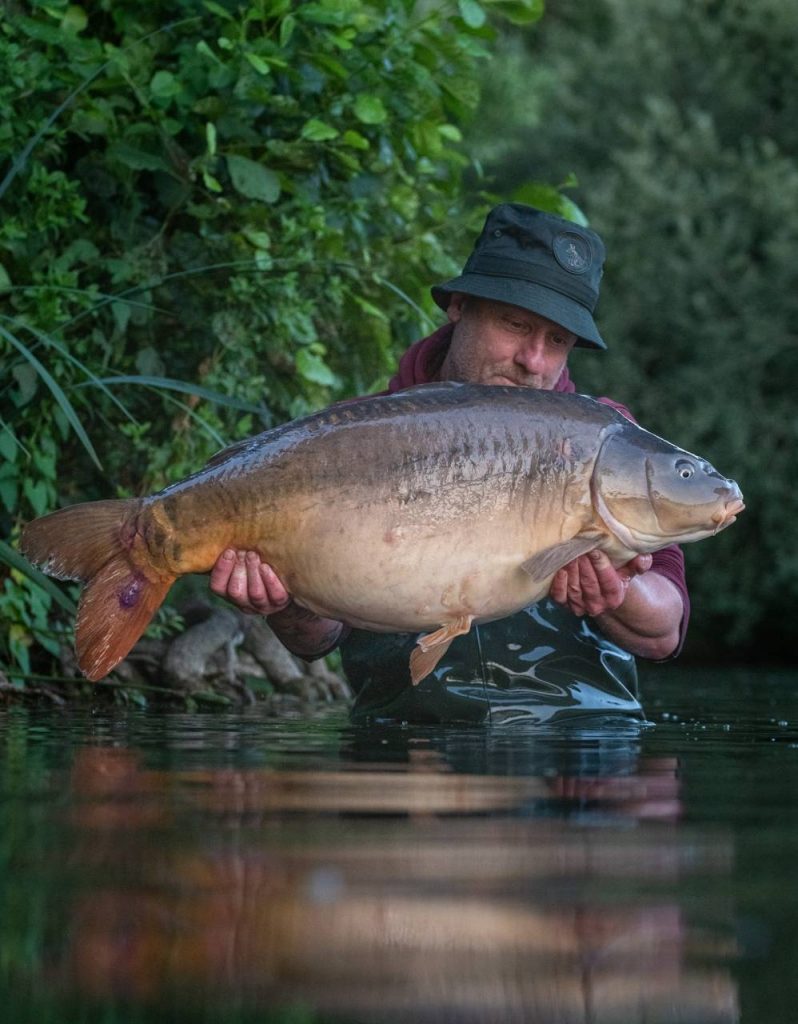 We couldn't sign off without having another look at Sam Mcmurray's incredible mirror carp taken on Monster Tiger Nut boilies from a tiny local river. If you haven't watched the video behind Sam's session yet, just click here.