13 září, 2022 | Angler Blogs | Carp | News
0 Poznámky
Nativní překlad není k dispozici, chcete strojový překlad?
Gold at the Women's World Carp Fishing Championship!
Pictures and reaction from Dutch team member Bianca Venema following her triumphant win in the individual pairs event at this World Carp Fishing Championships!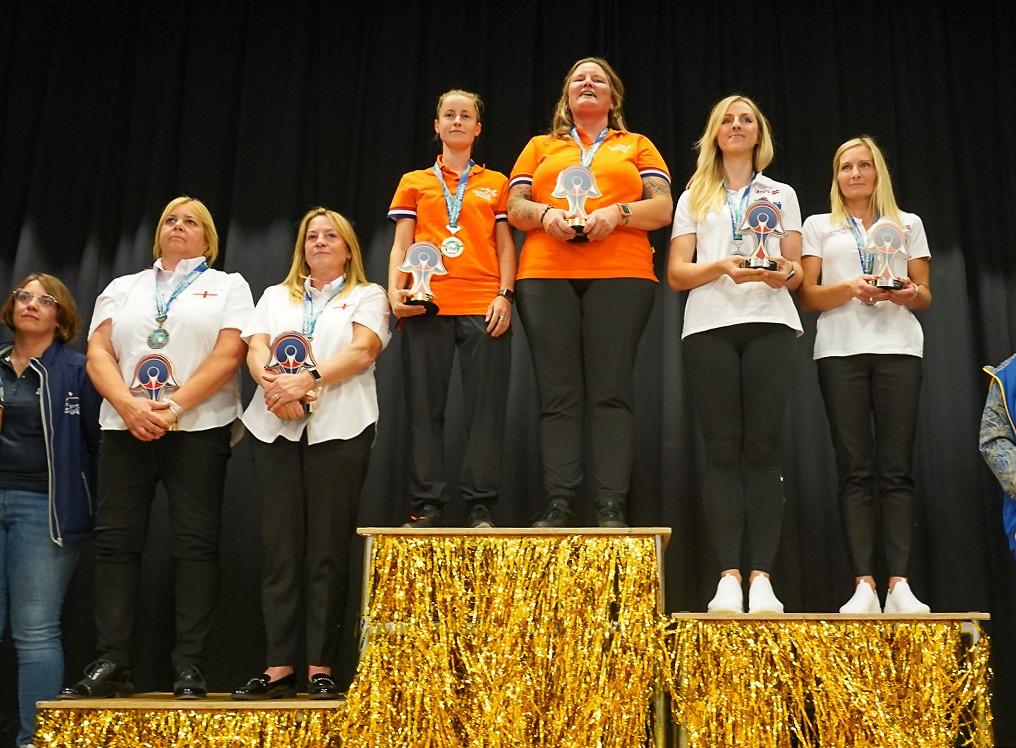 Bianca says:
For many months now the Women's Carp Fishing Team Holland have been working hard together to prepare for this second World Championship for Women's Carp Fishing, held at Linear Fisheries in Witney Oxford, UK.
A few weeks ago we went pre fishing on this beautiful carp lake with our enthusiastic and combative team led by national coach Lizette Beunders. This practice session was successful with some very nice catches for all pairs so that gave confidence.
All in all, eight countries, consisting of a total of 24 couples, took part in this second world championship for women's carp fishing. That means that three couples can represent their country.
The competition field was divided into three sectors on Linear's Brasenose 2 and Hardwick & Smiths. The world championship lasts 72 hours in total.
On Wednesday, August 31, the time had come. After a good draw for the entire team, Anoek Bonnet and I were allowed to build up the swim in sector B at peg 8 on the legendary Brasenose 2. We were all really looking forward to it and as a team were cheering at this beautiful draw. Everyone was happy with there swim.
The go-ahead sounded and I immediately found a few nice spots with the Blax marker rod to offer the bait in a targeted, subtle manner. We made the Spod mix from new Dynamite Baits boilies that will soon be released in the Big Fish series mixed with CompleX-T boilies in 12mm and 15mm.
The day before we had soaked it in matching liquid and some water. In addition to these boilies, our Spod mix consisted of XL Sweetcorn, Frenzied Hempseed soaked in White Chocolate Liquid and enriched with Krill Evolution Oil and Sweet Tiger Liquid.
This last liquid clouds beautifully and gives a nice horizontal effect. The added Evolution Oils again ensures a vertical distribution of the attractants. In this way the carp are lured to the swim in every possible way.
The first day of competition were were on the money. After a hard run and a screeching drag from the 8K Okumas, my first UK 30 pounder was in the net! Anoek and I were so very happy with this catch! We stood cheering on the swim and hugged each other. Assistant national coach Kenny van Neucker also jumped into the air. The team spirit was great and the experience intense. Always nice when you made a start!
We caught this thirty pounder on Hit 'n Run pop-ups presented on a CarpSpirit Opti-Mex rig with a size 4 MCS hook with the ideal casting gravel distance lead on a lead clip. The main line was Sufix Advance. A strong, supple line that can handle the weed-rich Barsenose 2 well and is hardly noticeable due to the low-vis colour.
At Sector A, team members Jessica van Elleswijk and Kelly van der Laan also got off to a good start. They had a quick bite on the Zig-Master hook link at the start of the match, but unfortunately this fish got stuck in the weeds right away.
Completely inspired by this quick bite, both ladies worked hard for the fish. However, Sector A proved to be the most difficult sector during the match. It turned out that the least amount of fish would be caught here.
At Hardwick & Smiths in Sector C, team members Sabine Groenhof and Angelique de l'Ecluse also caught a nice carp and unfortunately lost one. Overall there was enough action in our national team, so we kept fighting hard together for a podium place.
We were even third for a while, but Ukraine, England and Latvia turned out to be the better countries, finishing in first, second and third place respectively. For which, of course, a big congratulations! A TOP performance from these countries.
Team Netherlands fell just outside the podium in a nice fourth place. This left us behind countries such as Wales, France, Italy and Hungary. All the girls from all countries gave a great battle during this World Championship and it was fantastic to see this effort from all countries. In that sense, this World Championship was not just about winning, but more about connecting and being together with avid carp anglers from all countries.
However, in the individual World Championship the battle between us, Wales, Latvia and Ukraine was a very exciting one. During the last morning the difference was even only 25 grams with Ukraine. Wow!
Driven by this very small difference, we put in all four Magnum X5 rods on the money. This time we also presented the Hit 'n Run pop-ups over a feeding spot of CompleX-T, Marine Halibut and Monster Tigernut pellets soaked in matching liquid and Krill Evolution oil for an optimal and fast attraction.
This worked 100% because the last morning we caught no less than three carp, which made the difference with second place at 30 kilos less.
In total we caught 13 carp with a total weight of 143 kilos.
We cashed in on every run, which means that Anoek and I can call ourselves individually WORLD CHAMPIONS in 2022!
A great honour with big thanks to our team sponsors Dynamite Baits and CarpSpirit.
Of course, this achievement would not have been possible without the entire Dutch team. All supporters, reserve anglers, anglers, bank runners, the national coach and assistant coach have worked very hard to make this achievement possible and I am extremely grateful to them for that. Next year the World Championship will be held in France and then we will all be there again.
– Bianca Venema