4 March, 2019 | Carp | Anglers
0 Comments
Lizette Beunders lives in The Netherlands and has been a passionate carp angler for around 10 years since being introduced to the sport by Bianca. Lizette has been a member of the Dynamite team since 2012.
Name: Lizette Beunders
Also known as: By LiZ
Age: 49
Hometown & Country: Neede, Holland
Occupation: Sales Manager in HR
Mirror PB: 38.25kg
Common PB: 25kg
Other PB's: Sturgeon 26kg, Tarpon >100kg
Favourite boilie: Monster Tigernut Red-Amo, CompleX-T and White Chocolate & Coconut
Most used rig: The Withy Pool Rig
Venues fished: Rainbow Lake, Lake Bolsena, Ebro river, Lac de Madine, Lac de Villedon, Domaine de Bouxier, Michèle's Lake, La Ramade, Tzaneen Dam SA, Jurassik Carpe, Etang 5, De Karperhoeve, Abbey Lakes, The Great Lake, Carribean Sea CR, Novomlynska CZ, Twentekanaal, Lage Vaart and many other public and private lakes
Favourite venues: Rainbow Lake, Lac de Madine, The Great Lake, Lac de Villedon, Michèle's Lake, Ebro River and Lake Bolsena.
Target fish you would most like to catch: I like all carps, but a strong common is still my favorite.
Top carp fishing tip: Use Dynamite and enjoy the outdoor life!
Aim in angling: Together with Bianca and our 3 dogs to enjoy the outdoor life.
Highlights of angling career:
Ladies World Record 2012
World Carp Classic 2013 world champions in Italy
First female pair in history to be carp fishing world champions
Runner-up at the World Carp Classic 2015 in France
Member of Carpteam The Netherlands Ladies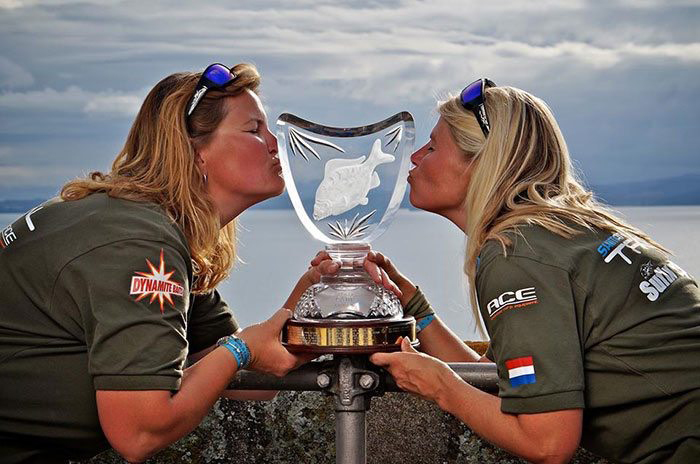 Countries Carp Fished: The Netherlands, Belgium, France, Spain, South Africa, Costa Rica, Italy, Czech Republic and Germany
Other types of fishing: Big Game fishing
Facebook: https://www.facebook.com/Carptravels/
Instagram: @Carptravels @Lizettebiancarpfishing